Business profile: Master Drive Services
---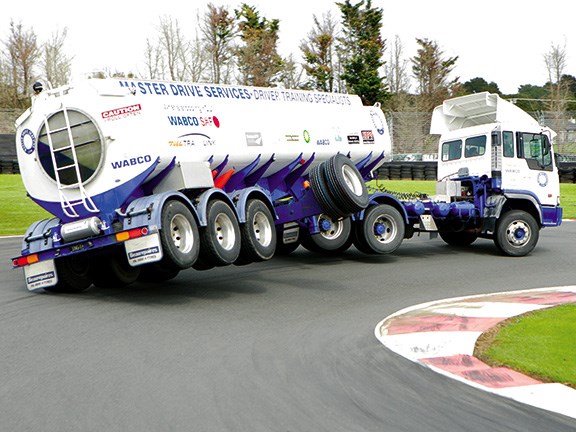 The window at the back of the tank shows where the 'product' is sitting at any one time.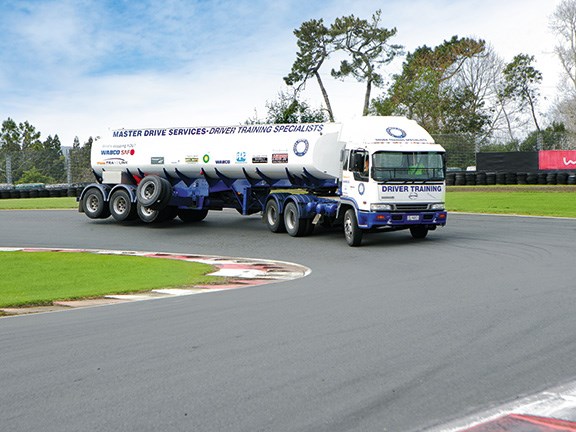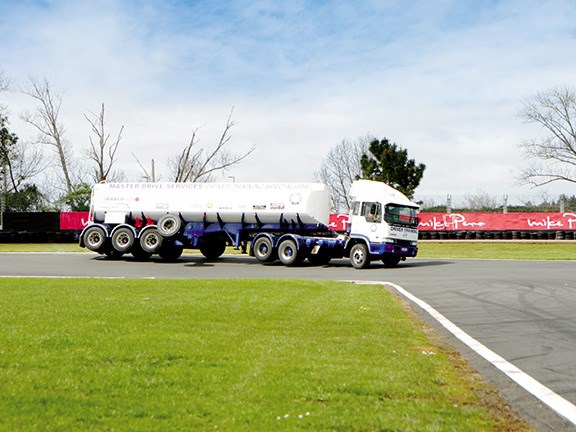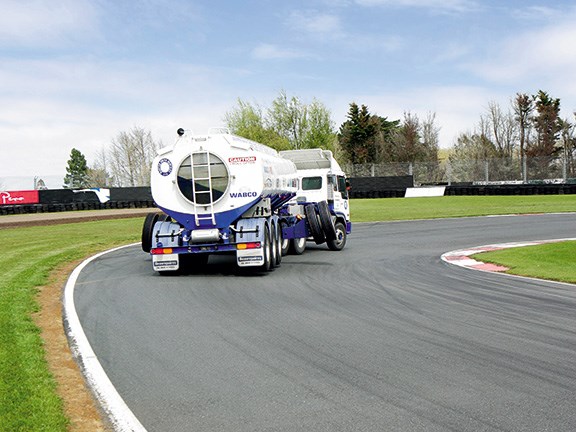 Paul Rosser, Jeff Rana, Kamran Sabzehi and Murray Campkin.

Most of us have probably seen pics of Master Drive Services' Hino tanker that is outfitted with stability outriggers, so when I heard they were in my vicinity I figured it was an opportune time to see the rig in the flesh.
In business for over 20 years, Master Drive Services was originally setup by ex-Ministry of Transport staff, after that government department was merged with the New Zealand Police in 1992. Expanding over the years, the business now operates out of 12 locations throughout the country.
As a training provider, its core focus is primarily on heavy vehicles (including buses), but there is also a big crossover into specialist vehicles, such as warehousing (think forklifts), agricultural equipment and smaller vehicles. It could be fair to say that pretty much anything else that moves and requires a license to be legally operated is covered by the Master Drive team. They also train the trainers, so can move those steel-nerved people through the whole training and assessment process until they too are qualified to sit in the instructor's seat.
The practical session
My contact for the day was senior training consultant/QA and development manager, Garry Jones. The branch he leads operates out of Manukau City in South Auckland, and frequently uses Pukekohe Racetrack for some of their practical courses.
Today, Jones and his team were conducting a practical session that formed part of a refresher course that was being run for experienced drivers from a number of bulk fuel companies.
Warming the students up and getting them into truck driving mode after their classroom sessions was a braking test. This involved stopping a rigid truck on a wet surface, with the goal being to maintain control and safely pull the truck up before demolishing a road cone. Once the instructor of that evolution was happy with each student driver, they then moved over to the articulated tanker run.
Consisting of a 6x4 Hino FS 1KLL tractor unit and half full (with water) tri-axle trailer, the articulated tanker evolution had students taking a slightly different steering line into corners, simulating being distracted by losing concentration, but at the same speed that they went through the corner on their first time 'round and experiencing a roll-over. Most of the danger is averted as the students are well-prepared beforehand and have an experienced instructor (remember what I said about steel-nerves before?) sitting in the passenger seat.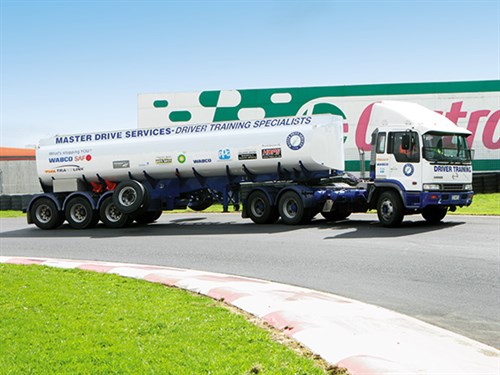 Bolt on outriggers
Another very important safety feature of the tanker unit is the two outriggers which are fitted to each side of the tanker. These bolt-on/bolt-off pieces must add a high degree of comfort-factor to the training session and give a true reality that video games will never surpass. Being able to install and remove the outriggers also means that the truck and trailer can be legally driven on the road when needed.
Before a student is allowed to take the wheel of the tanker truck, there is a fairly lengthy one-on-one familiarisation that is followed up by a stint behind the wheel by the instructor to demonstrate handling techniques first-hand. Only then is the student placed in the driver's seat.
Chase car
Following behind in the chase car, it's pretty easy to see that Jones has done this quite a few times before and he quickly demonstrates what should (well, actually shouldn't) be done as he puts the trailer right up onto the outriggers, seemingly without much effort at all.
Without a photographer to help me out, I have temporarily co-opt one of the students, Paul Rosser, to be my stunt driver for the moving shots. This not only leaves me free to shoot a few pics, but we are able to discuss the practical aspects of handling large rigs full of fuel.
The tank is half empty
Rosser points to a window on the rear of the tanker, commenting that the handling of tankers becomes more difficult when they are half empty. This make perfect sense as we watch the contents slosh from side to side, while the student driver simultaneously tries to put the tanker up on the outriggers and maintain control as it takes each corner.
Watching as different student drivers take the wheel, I notice that some are a bit more reluctant than others to put the tanker on its side and figure that it must be quite difficult to mentally do something that goes against everything you have been taught and done in the past.
Student opinion
Parking up while drivers are swapped over, I take the opportunity to join in on a conversation that some of the drivers are having. All of them agree that refresher training such as this is important for upskilling and prevention of bad habits. They also agree that employers who send drivers to courses such as these have got the best interests of their employee's safety at heart.
It is also interesting to hear them discuss the training session in-depth and I soon form the opinion that they take what is being taught very seriously. Standing in the midst of a few guys that probably move millions of litres of highly flammable fuel along our public roads each year, I'm kind of glad they do.
Contact Master Drive Services on (04) 566 2341 for more information.
For the latest news, reviews and features, subscribe to Deals On Wheels magazine here.
Keep up to date in the industry by signing up to Deals on Wheels' free newsletter or liking us on Facebook.