Marsh Transport's new Freighter trailers from MaxiTRANS
---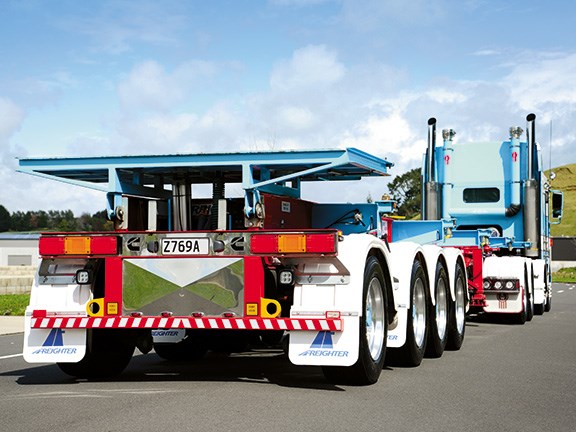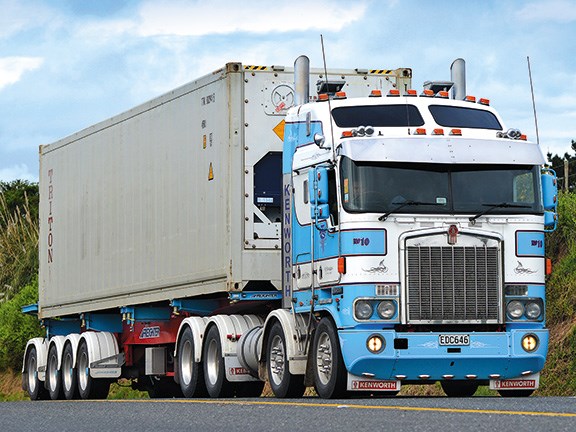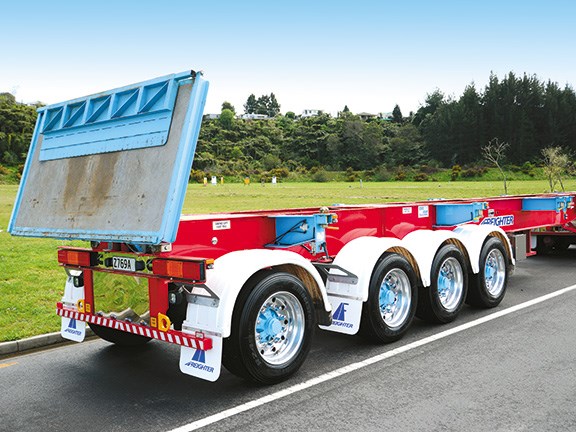 This unit has a custom-made loading platform.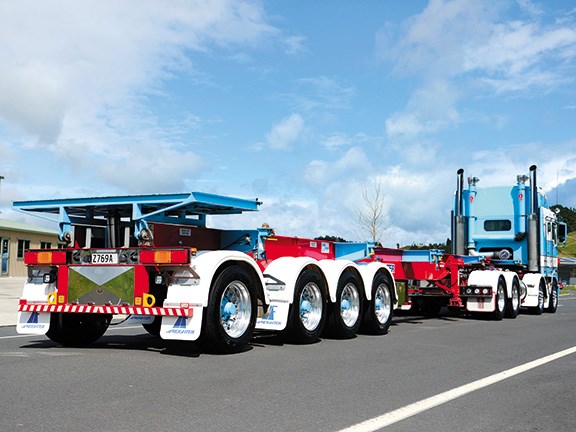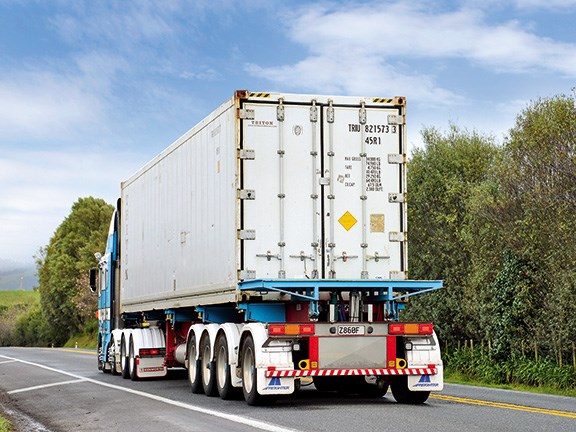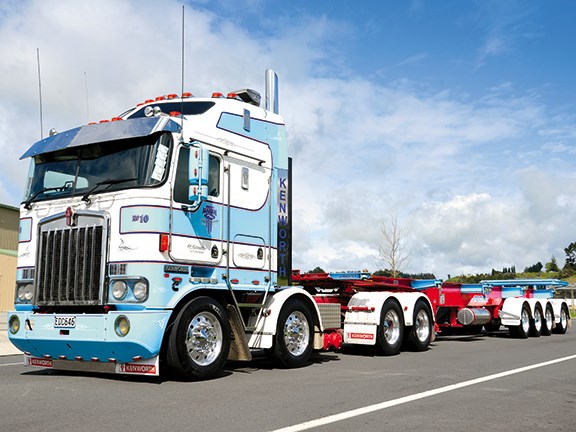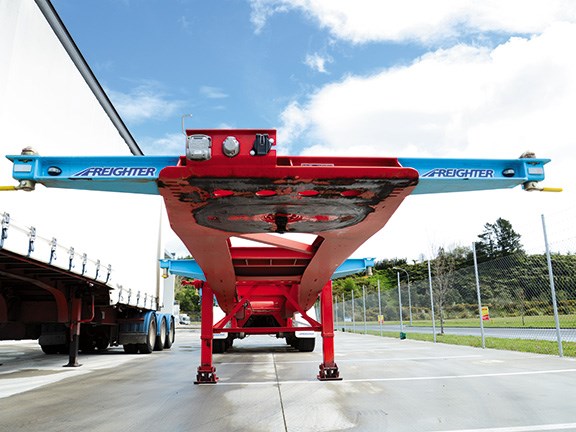 The long, thin gooseneck can accommodate an 8x4 tractor unit.

Marsh Transport, an organisation based in the Bay of Plenty, knows all too well the demands for short lead times that can be placed upon transport operations.
Owner, Brett Marsh, recently received an opportunity to take on a new line of work, carting export produce in refrigerated shipping containers. While he was keen to take on the job, Marsh knew that he would need to obtain equipment as soon as possible in order to win the contract.
Requiring several new quad skeletal semi-trailers in quick time, he called upon leading trailer brand, Freighter, to assist.
Freighter is a brand of trailers from Auckland-based trailer manufacturer, MaxiTRANS. The company is also known in New Zealand for its Maxi-CUBE refrigerated trailers. The Freighter brand produces skeletal, flat-top and curtain sider variants for the New Zealand market and has been one of the country's leading sellers over the past few years.
Marsh was already familiar with the Freighter brand, his company runs several Maxi-CUBE units in their refrigerated division and he had often discussed with his MaxiTRANS sales representative the benefits of the various Freighter products. He'd heard they were offering brand-new, New Zealand designed and produced quad skeletal and flat-deck semi-trailers, with lead times as low as two weeks.
Marsh made the call to MaxiTRANS, and within weeks, the three new Freighter quad skeletals were painted in Marsh's fleet colours, perfectly complimenting his existing trailers and tractor units.
The requirement for turnarounds such as this is becoming more and more frequent. "With it being difficult at the moment to obtain new trailers in a timely manner, MaxiTRANS have seized a business opportunity by supplying equipment quickly," says MaxiTRANS general manager, Andrew Millar.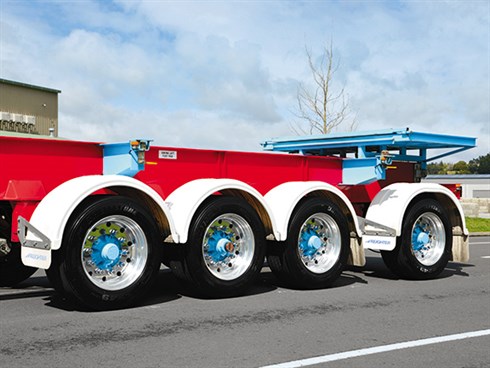 With lead times for most transport equipment manufacturers typically a matter of months, MaxiTRANS says they can locally design and produce quad skeletal and flat-deck semi-trailers, usually within two weeks of order. Prefabricating sub-assemblies and standard components means there is less to do when an order is received.
Correct design by MaxiTRANS also ensures that when under tow, a trailer will perform as a driver would expect. Customers report that the Freighter trailers feel safe and stable, with good tracking ability.
Regardless to say, MaxiTRANS in-house engineers design the trailers to maximise their payload under HPMV rules, and the company takes great pride in the design that goes into its trailers, from the perspective of tare weight, strength and durability, as well as handling on the road.
One unique design feature is the skid plate design, which incorporates the bottom chassis flange and runs seamlessly all the way to the landing legs. This is claimed to improve design, strength and durability. With it being difficult to build a very lightweight, durable trailer with a long thin gooseneck that can accommodate an 8x4 tractor unit, MaxiTRANS says it believes the excellent feedback they are receiving from customers is a strong indication that they have got this right.
Operationally, the Freighter trailers can be spec'd with numerous options to suit individual transport operators' requirements. High-strength, low tare designs, help achieve profitable payloads.
Transport industry suppliers have acknowledged the challenge to meet current and forecasted industry needs. In this exciting and demanding space, some long serving players have suggested that this level of activity has not been seen in a lifetime. With a strong mandate for more of the same, as seen in the recent New Zealand Government election, it's difficult see confidence in the economy abating anytime soon.
For the latest news and reviews, subscribe to Deals On Wheels magazine here.
Keep up to date in the industry by signing up to Deals on Wheels' free newsletter or liking us on Facebook.