Business profile: Conroy Removals
---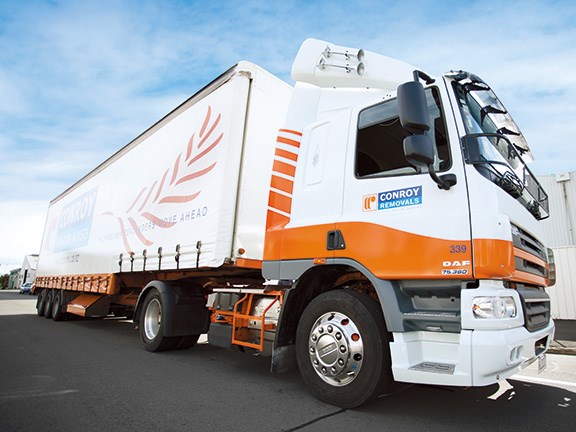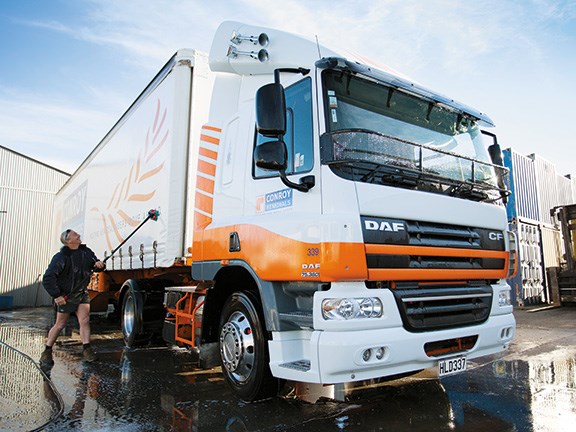 4x2 configurations are not that common in New Zealand.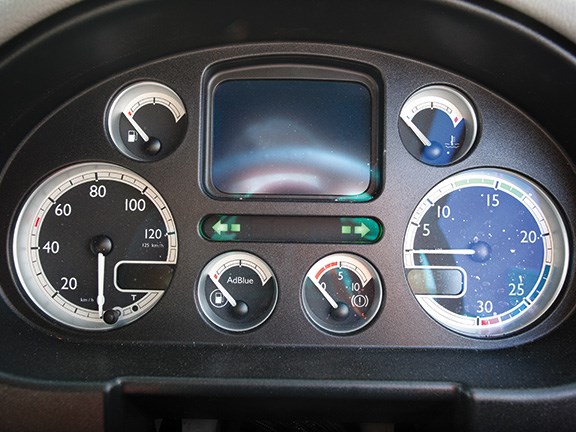 Simple and easy to read avoids any confusion.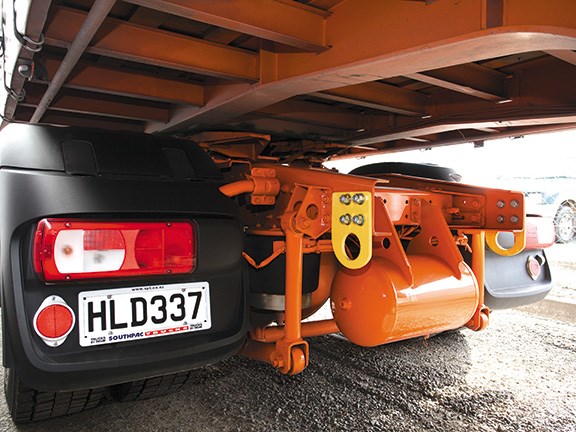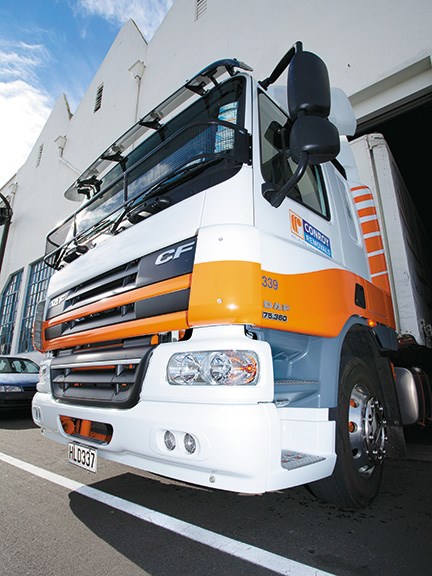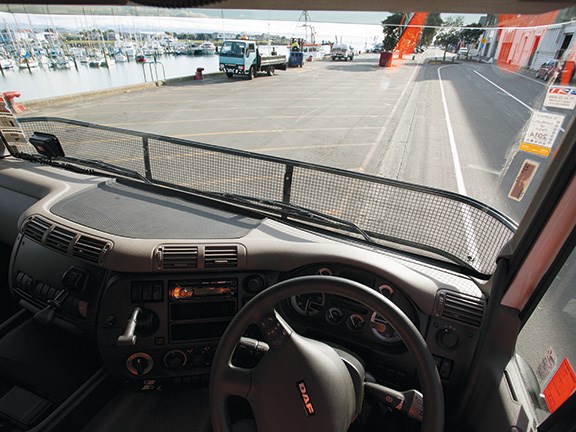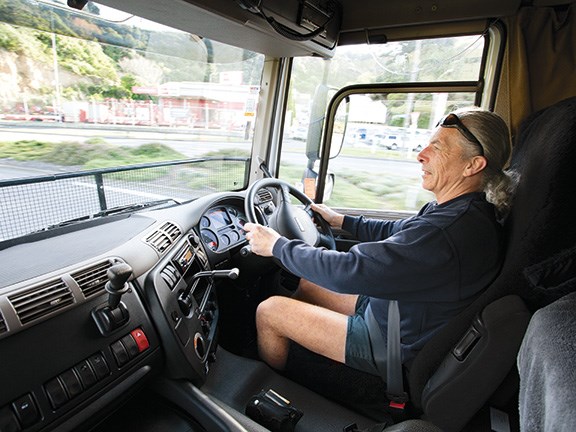 Pete Tinsley behind the wheel of the DAF CF 75.360

Mention the term four-by-two (4x2) and most Kiwis will think of sawn timber and home repairs. However, in Europe and at Conroy Removals Ltd, it's simply a savvy cost-effective truck configuration. A ride in one of Conroy's newest DAFs soon proved it to be a refined package, ending any timber analogy.
Starting in 1972 with just two trucks, brothers David and Gary Conroy seemed to have followed a similar path to other successful New Zealand transport companies. That path involved a strong family involvement in the business and hands-on work from the ground up. As the business grows, they continue to stay involved in the daily operations.
David and Gary both operate as managing directors while David's daughter, Fiona Conroy has worked her way through the business to become the general manager. Gary's sons also work for the company, with Simon heading the international division in New Zealand, and Mathew managing the Townsville branch in Australia.
The company also have its own Australian depots in Brisbane, Sydney, Melbourne and Perth and its Kiwi drivers get opportunities to work over there at times. In New Zealand, it has a head office and depot in Napier, plus branches in Auckland, Tauranga, Wellington, Nelson and Christchurch. Internationally, Conroy is affiliated with several major international associations and confidently offer a global service.
Conroy Removals is the first transport company in Hawke's Bay, and first national removal company in New Zealand to achieve 'Gold' in the new ACC programme, aimed at reducing injuries stemming from heavy vehicle crashes.
The 'ACC Fleet Saver Programme' is open to any company with a fleet of five or more trucks. It offers reduced ACC levies up to $186 per vehicle to those going beyond compliance and aiming for best practice safety standards.
After a ride in the DAF (more on that shortly), it was evident that this company was more than just any old furniture removal crowd. Sitting down with its national operations manager, Wayne Moody at Conroy's head office, I soon learnt more about what keeps them ahead of the pack.
With a slightly mixed fleet, I was keen to hear Moody's thoughts on trucks. When asked about decisions on new trucks, it's "what suits at the time, what's available and the application it's intended for." He says they've had a good run with the DAFs and the drivers like them. A few Renaults have crept into the fleet but they have a good relationship with local DAF dealer and they get looked after.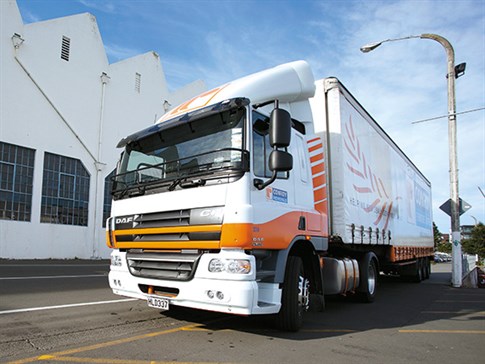 Deals on Wheels gets a lot of enquiries about how to enter the industry and many recommend furniture as a gateway so I was keen to ask Moody if they train new entrants in the industry.
Moody says they do welcome new drivers but must have a minimum full class-one licence. He continiues, "They must show some drive and really want the work". As furniture trucks are the nature of its work, the double-crewed environment makes it easy to watch and learn.
Conroy will help suitable applicants gain their class-two licence and fund their training but say it must be paid back if they leave the company. Although with plenty of long-term staff, it looks like few leave. There are plenty of opportunities to be promoted within the company.
Moody insists the job is more than just driving and prospective employees need to understand it's a team environment where they help one another out.
With over 200 employees, 80-plus drivers, and more than 135 equipment items (trucks, vans, and trailers) on inventory, there's a lot for Moody to keep track of day-to-day, but has the EROAD system installed on all Conroy trucks to help out.
Previously, Conroy have used other GPS-type devices but Moody says of EROAD; "It's the best tool ever purchased for the business, it supersedes all previous units in terms of useful business information provided."
Although fuel usage isn't a major issue on lightweight furniture trucks, it's still a cost. Over the last 12 months, Moody has started using EROAD in conjunction with fuel data, aiming to reduce the fleet's fuel bill by seven to 10 percent. The fleet has recently grown to the size that enables the prospect of a full-time driver assessor to lift the bar higher, so those plans are underway.
It's clear this business understands that investing in its workforce helps keep it at the top of its game. This is also reflected in the fact the company puts its drivers in motels whenever they're away from home. It believes in looking after its drivers so they are well-rested and properly presented to clients.
Alongside the truck fleet, Conroy also own over 900 shipping containers with some shipped by rail. Moody has the numbers down to last cent per kilometre, and uses rail wherever it makes sense.
Entering Conroy's Napier yard on a Monday morning I was introduced to a cheerful Pete Tinsley, starting his week off giving the new DAF CF 75.360 a good wash. Tinsley says the new truck is a lot better than the older models, although they were good too.
Tinsley has been driving since he was about 16, starting out on an old RL Bedford doing silage and hay work on farms. A truck he describes as "Hot as hell... practically sitting on engine". After the Bedford, there were "noisy ERFs" and it seems the modern day DAF's comforts are well-appreciated.
Tinsley says, "The DAF is a good truck, a comfortable ride, quite different to old ones in a good way and it handles better." He likes the 16-speed AS-Tronic auto box but often uses it in manual so he can change the gear earlier. The tiptronic-style earns praise for its ease-of-use.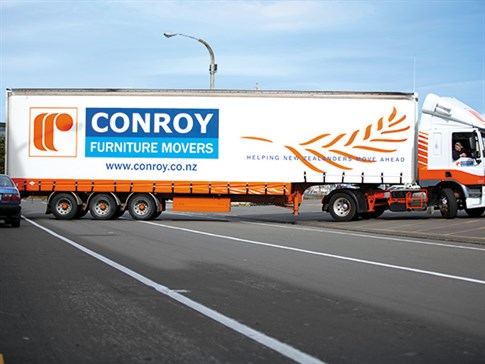 Checking the fuel gauge, the DAF has done 1120km since filling up the 400L tank – and still showing a quarter-tank left. The DAF also uses AdBlue for emissions control and Tinsley says it takes some time before it needs topping up.
All washed up, we jumped in for a short journey on some local pickups. First impressions, aside from the almost taken for granted European truck comfort levels, is the beautiful engine note. The PACCAR PR 9.2L engine sounds bigger than it is. And that's not to take anything away from the generous 360HP/256kW that the mid-sized engine produces. It seems to be more common with these Euro four and five compliant engines, with the SCR exhaust systems generating a nice deep note.
A nice spread of 1460Nm torque from 1200 to 1700rpm takes the DAF anywhere it needs to go. Many drivers in New Zealand think twin-drive axles are a must-have but Tinsley struggles to recall more than two occasions where traction has been an issue on the 4x2 DAF. Even then, it's in places like the steep Napier/Taupo road where even the big boys of the 600HP-plus line-haul crowd have traction issues.
Hauling up the DAF is well taken care of with a three-stage retarder and engine brake that offers 170kw of braking at a maximum 2800rpm, although most drivers would probably keep the revs lower with good driving technique.
Tinsley has worked for Conroys for 15 years, "They really look after you, a good company to work for" he says. "The job is pretty easy work, it's only as hard as you make it." Something he likes is that the company is quick to effect repairs once notified that something needs doing.
Conroys has taken Tinsley to some interesting places – just about everywhere in New Zealand and over to Townsville, Australia doing containers.
His most memorable stint was in Antarctica after working at the Christchurch branch in the nineties. That job involved helping replace bedding and wardrobes by setting up dormitories. Not many trucking companies can take you that far.
When not travelling the tarmac with Conroys, Tinsley enjoys off-road racing in a cougar-framed machine powered by a Suzuki GTi1300 engine – and that's just the start of the spec list.
Quite a contrast to the careful driving and freight handling needed to shift other peoples' belongings, but symbiotic of the wide-skill base at this firm and that they're capable of going anywhere. After seeing the complete package I know I'd certainly trust the DAF and Conroys to move my gear anytime.
Never miss an issue. Subscribe to Deals on Wheels magazine here.
Keep up to date in the industry by signing up to Deals on Wheels' free newsletter or liking us on Facebook.