Women in trucking: Tracy Carter, Ridge Road Quarry
---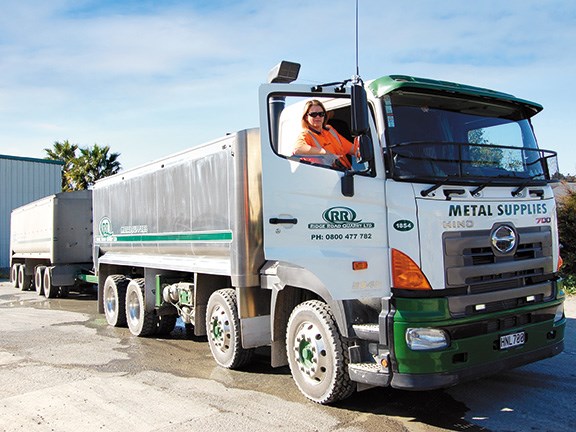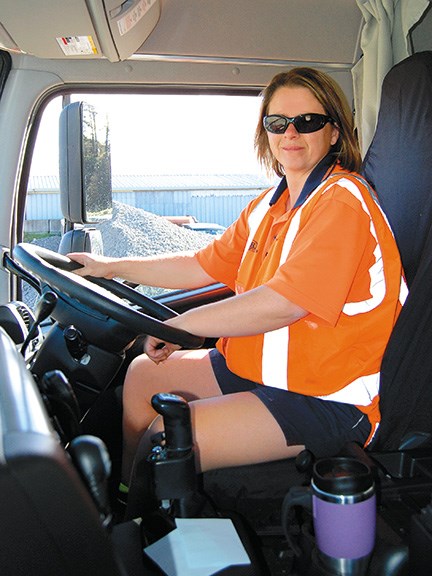 Tracy Carter in the brand new Hino 700 8x4 wheeler with a four-axle trailer.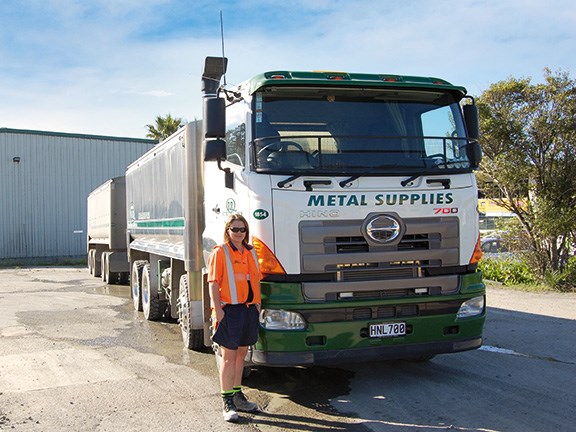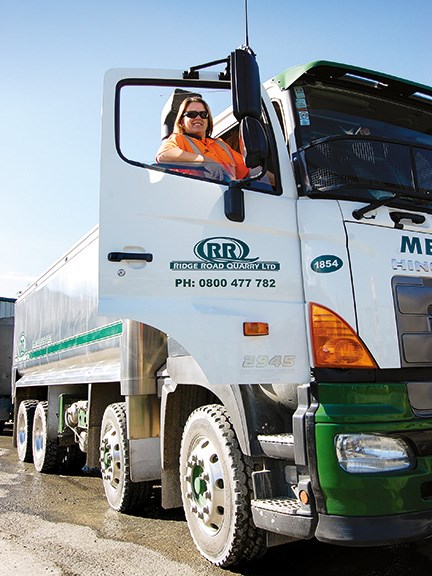 Truck driving remains a largely male-dominated industry in New Zealand, so we sought out some women who drive trucks for a living – including Tracy Carter who works for Ridge Road Quarry Ltd.
Like most other drivers on the world's roads, Hibiscus Coast truck driver Tracy Carter started out on three wheels. Next, she successfully got the hang of moving forward on two, and then on four wheels. Unlike most other drivers, on the heels of these every-day standard achievements, she went on to learn how to operate vehicles with eight wheels and more.
Finally, she became one of the minority group of people in the world to gain an Artic (UK Class CE or equivalent New Zealand Class 5) licence, enabling her to drive and operate an articulated vehicle with a gross combination weight of more than 25,000kg — riding on probably 18 wheels — here in her new homeland.
However, Carter, who recently happily settled herself and her iPod into her first brand new truck in her 16-year driving career, says for her, driving a big, powerful monster is all in a day's work. "It's just a job… But it's a great job."
The new truck is a white Hino 700 8x4 wheeler with a four-axle trailer, bought by Carter's employer, Ridge Road Quarry Ltd, from Hino Distributors Ltd in Mt Wellington. The cab and chassis was ready in May and Hino Distributors Ltd then delivered the truck to Transport & General Engineering Ltd in Hamilton for outfitting work. The aluminium body was manufactured and once completed, delivered to Ridge Road Quarry Ltd in Albany.
Carter says, "I would never last sitting an entire day inside an office. This self-knowledge motivated me to volunteer for advanced driver's training in my first job." She recalls, "After school, I didn't know what I wanted to do with my life, so on my father's recommendation I joined the Royal Mail in London in 1991, where he also worked before he retired."
Over the next 13 years, she delivered mail by bike, did indoor sorting at the Worcestershire Distribution Centre and Kent post office, and in time progressed to delivering mail by small trucks.
"When I started to drive, I liked it. It was good, driving around London at night. The best thing about driving is you know what you have to do and you just do it, there's nobody who looks over your shoulder." In 1998, with her brand-new Artic licence in her handbag, she found work through the very first agency she approached.
The supervisor of the company to which she was posted, however, was not impressed — not because she was a female, but because she was a female who at the time wanted to drive his expensive truck with little experience. "During my driving days at the post office, some of the men were sceptical, waiting for me to mess up.
"But by then there were women with Artic licences, not many, but those who had it had a good reputation in general. So I offered to prove myself and drive the night without pay — and then the supervisor could appoint me if he was satisfied," she says.
She got the job, working weekends and holidays, and soon took a transfer to the Dartford branch of Royal Mail. For the next four-and-a-half years, she did permanent night shift line haul in England and Europe.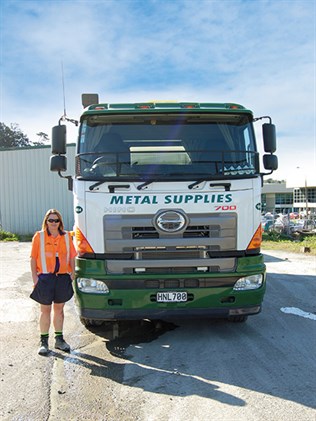 But in the back of her head, New Zealand was calling.
"I had been coming over every two years to visit relatives, and really liked the people and the lifestyle. So, in 2004, I reckoned a change is as good as a holiday, and decided to live here," she says.
In time she found a job with Brady's Transport from Mt Wellington This was night work too, driving produce from Auckland to Hamilton in a Hino truck and sometimes an eight-wheeler with a four-axle trailer.
Although she enjoyed the work and liked her colleagues, after two years she felt it was time to switch to day work.
"Night work is lonely work, and I wanted the people contact, the sunny outdoors again," she says. And that is exactly what she got. A friend introduced her to her next employer, Smith&Davies. "Tipping work drew me, and the working environment was good. I also fancied a change of truck. I got really good experience, driving a Mercedes Actros."
Seven enjoyable years on, she started working for Ridge Road Quarry Ltd nine months ago. "It's something different again. Different trucks drive differently, every truck has its own challenges and learning curves, differences in gearstick operations and reversing, and I like the variety," she says. She is pleased with her spanking new wheels and reckons she's been lucky to always work in good environments and with good people.
"I've never experienced gender discrimination — as long as a person does their work and expects no special treatment, all is good. I like job security, staying with the same company for long stretches at a time. It's important that you can have a good laugh at work, that you can give as good as you get. However, boundaries are important and in a good work situation, people don't cross those boundaries and still have fun.
"What I like most about being a truckie is the variety, the freedom. You get told what your jobs for the day are, and off you go. You can't predict what time you will finish, because you can't predict the traffic. Some days this works for you and others against you," she says.
However, she says it is not a job for everyone: "I think many people underestimate and do not appreciate what truck drivers do for a well-ordered civil life and the economy. We do a lot of hours under often difficult circumstances dealing with sometimes challenging road companions, and when something goes wrong on the road, it's easy to blame the truckie. In fact, nine out of 10 such incidents are not the truckie's fault."
That may well be because a truck has "…a lot of speed and weight and the majority of truckies are well aware of their serious responsibilities on the road in this regard."
The roads here can be unforgiving, and it tests your concentration — you have to consciously 'drive' all the time."
Her advice to prospective woman drivers? "The famous Kiwi 'can do' frame of mind is all you really need. Any person can do the job if you are prepared to do the hours and are not delicate about hard, and often muddy, work. It is all about experience, you can never learn enough — I learn something new every day. Just get in there, fit in, and get on with the job," she advises.
Carter adds it is very important truckies take good care of their health, as they often spend long periods sedentary and delicious-smelling bakeries are ever present along the roads. "I stay healthy by packing my own balanced meals, keeping hydrated with enough water (not sugary fizzy drinks) and getting regular exercise through golf, soccer, and gym.
"Music keeps me on an even keel. I have many iPod playlists to go with the weather or my mood. I love ZM in the mornings — it's funny and makes me laugh, which is a good start to the day. And very importantly, truckies must rest enough. My friends always tease me, because I see weeknights as school nights and tuck in early.
"Enough sleep for us truckies is critical to protect our own safety, that of our road companions, and the security of our livelihoods," she says.
For the latest news and reviews, subscribe to Deals On Wheels magazine here.
Keep up to date in the industry by signing up to Deals on Wheels' free newsletter or liking us on Facebook.