Women in trucking: Amy Edmonds of Edmonds Transport
---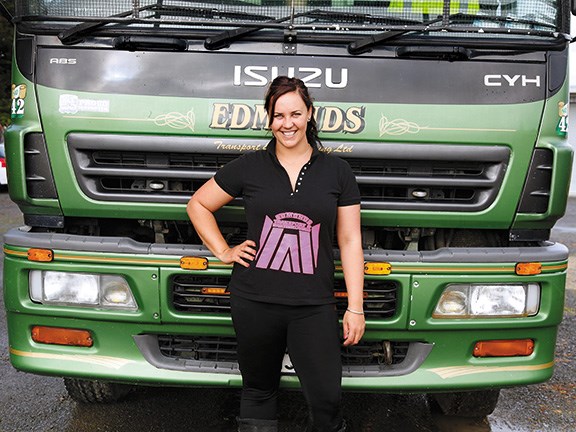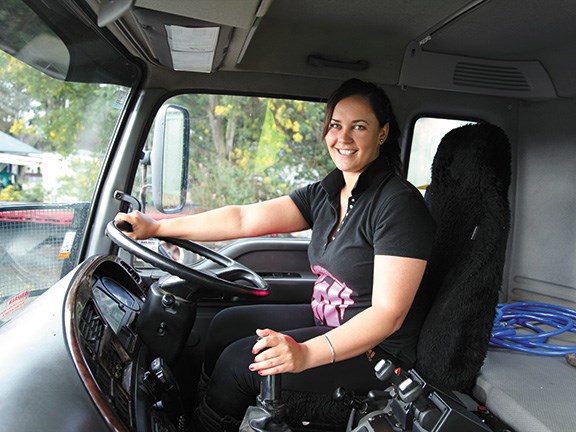 Although truck driving remains a largely male-dominated industry in New Zealand, Deals On Wheels sought out some women who drive trucks for a living – including Amy Edmonds from Edmonds Transport.
Amy Edmonds grew up in a trucking family, so it's no wonder truck driving comes as second nature.
Her father Steve's business, Edmonds Transport, operates from Ongaonga, a rural village in the middle of a busy farming district in Central Hawke's Bay.
Amy says, "Dad started out with haymaking trucks, then bought a digger. Now we do everything, including earthmoving, cart metal, fertiliser, silage, and drainage — plus we do tree work and chop and deliver firewood."
Edmonds Transport runs three trucks: an Isuzu 460, two Mitsubishi Shoguns, plus two diggers: Hyundai and Sumitomo.
"I always thought I'd end up driving a truck. When we were kids we'd drive the hay trucks around the paddock. When dad was short of workers, we'd be out there behind the wheel. When I left school, I thought I would do a few things before I settled down to proper work. I went away breaking and schooling horses, as well as regularly competing my own, but last year I sold them all because we got so busy," says Amy.
"Once silage starts, if it's fine, we're out working. Truck driving involves long hours, especially during the harvest season so at the moment I'm putting my head down and concentrating on work."
Amy learned on a big, old Mitsubishi V8 and then went onto a smaller Nissan diesel. She then changed to a Mitsubishi six-wheeler before taking the helm of her current one, an 8x4 Isuzu 460 Gigamax with an 18-speed Roadranger gearbox.
"When dad had a motorbike accident and was off for six months, I suddenly had to get my trailer licence as well because a job came in requiring one. He was in hospital and I asked him, 'How do you hook the trailer up?' I learned as I went," she says.
"I had to cart grain from Porangahau to Marton, while the Manawatu Gorge was closed so I had to go over the Saddle Road. I only had my learner's licence, so a friend came along too. That road was a bit of a challenge but I did OK."
Nothing phases the bubbly 26 year old — she'll tackle any job. She's not boasting when she says, "I can split 10 cord of firewood a day, hop on a chainsaw, and drive a truck and a digger." I reckon she's a bit like superwoman.
The only task she finds difficult is lifting tarpaulins onto trucks, but she's figured out a way around it. "Before I leave, I park the truck next to the loading ramp and I roll the tarp back out when I get there. If I know there's a tractor around, I put it on the forks and have the tarp lifted onto the truck. Anything else is pretty easy."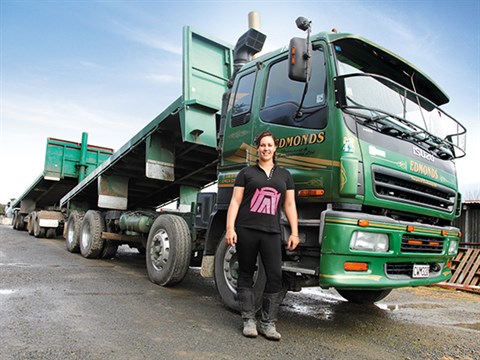 Like Jonelle and Tania, she plans ahead. "I sit back and have a bit of a think before I act. If something doesn't look like a good idea, I'll see what else I can do. Today, for example, I know it's going to be wet. The boys would just go out and turn up to the job with nothing to get towed out with, whereas I will take my big tow strap and make sure there's another tractor where I'm unloading, in case I get stuck. You don't want to turn up and go, 'Oh, now I'm stuck. What do I do?'
"I don't like getting towed around with chains so we have big bungees with a bit of stretch to them. It's far better to get pulled out with one of those, especially at this time of the year when the ground is soft and wet."
The road between Napier and Wairoa is quite a challenge with its steep, narrow terrain but Amy keeps her cool on the many runs she does through here, carting silage with the trailer in tow.
"Those big logging trucks are pretty scary to meet around corners because there's just no room for both of you. And on hills when the lighter trucks are on my tail, I cruise along and don't let them pressure me. That's how people get into trouble. When I can, I pull over and let them past."
Taking care of basic mechanical breakdowns is no problem. "You have to have some idea when something goes wrong. You can't just ring up and say, 'My truck doesn't go.' You've got to look around and figure out what the problem is. It's expensive to get a mechanic to come out to you.
"I was in Wairoa and one of my hydraulic hoses blew while I was tipping so I went and found a farmer and got some hydraulic oil off him – enough to get the load off and back to town. Another time, one of my airlines broke so I cut it and rejoined it. Simple things like that you need to know. You can't just say, 'Oh, there's a hissing sound coming from somewhere. I don't know what it is but my truck doesn't move anymore!'"
She's encountered the odd negative comment about her line of work from "old-fashioned folk" but usually people are positive. "Most people think it's awesome," she says. "It's interesting with some though, when I say I'm a truck driver, their reaction is, 'But you don't look like a truck driver.' So I ask them, 'What does a truck driver look like, then?'
For the latest news and reviews, subscribe to Deals On Wheels magazine here.
Keep up to date in the industry by signing up to Deals on Wheels' free newsletter or liking us on Facebook.