Business profile: Baylis Brothers
---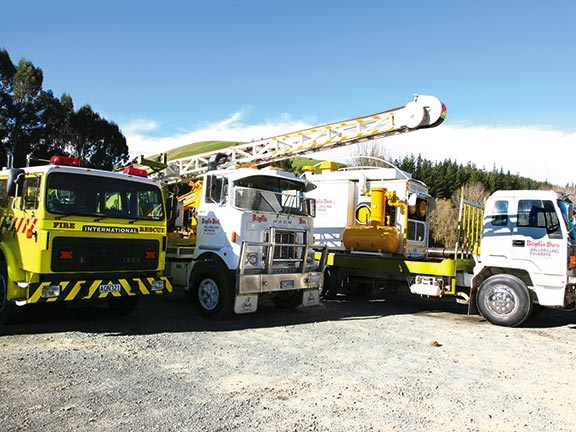 The Baylis fleet lineup includes a fire truck for rural firefighting emergencies, as well as a Caldwel and Elgi air compressor.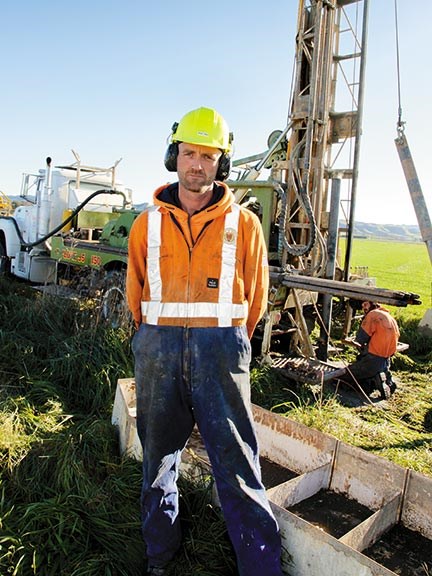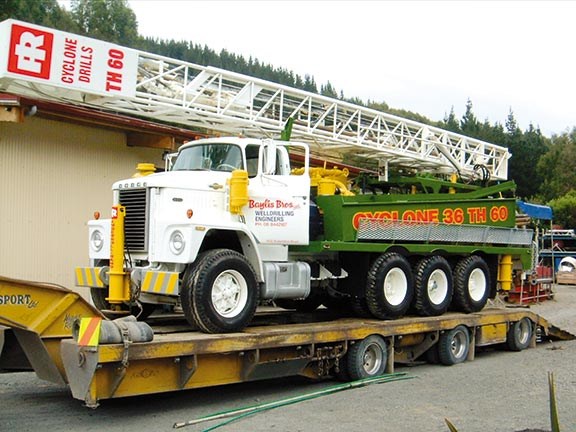 The Cyclone 36 TH60 drilling rig before it got certification for left-hand drive.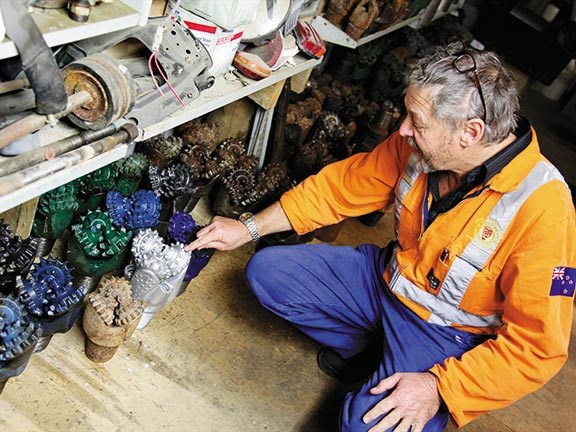 Russell Baylis (with drill heads) says they always keep a plentiful supply of equipment at home base.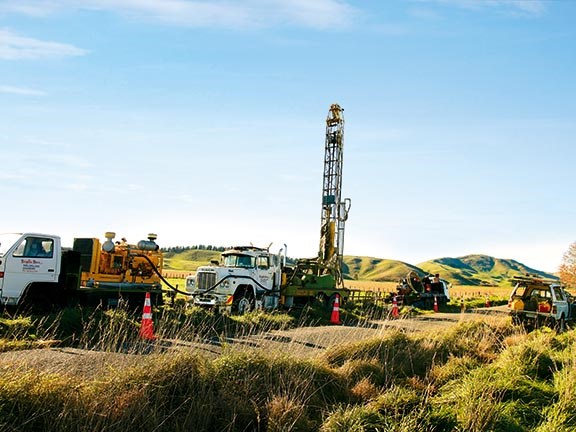 The Cyclone 35 TH50 drilling for artesian water for the Hawke's Bay Regional Council in Central Hawke's Bay.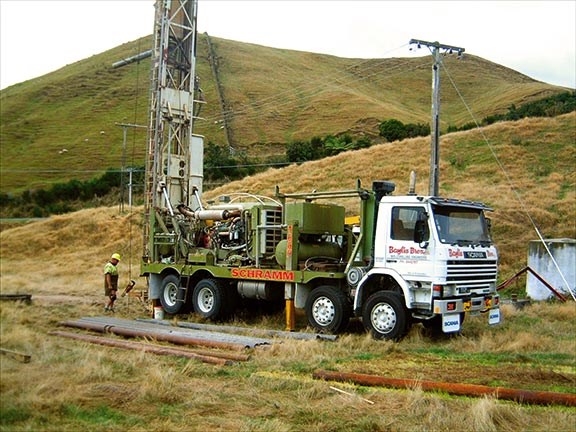 The Schramm carries a compressor and rig drilling. Luke Dysart is drilling a waterbore.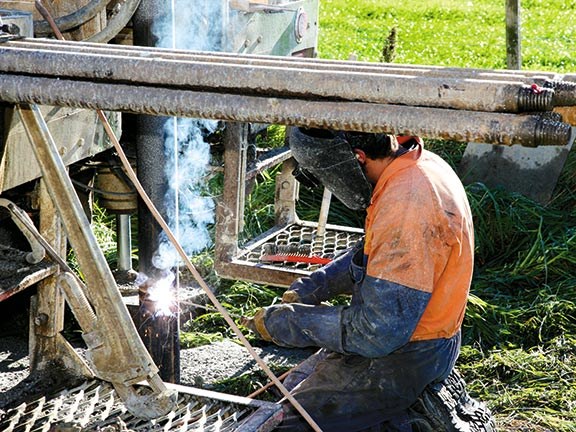 Driller Simon Dick welds a section of pipe before drilling commences.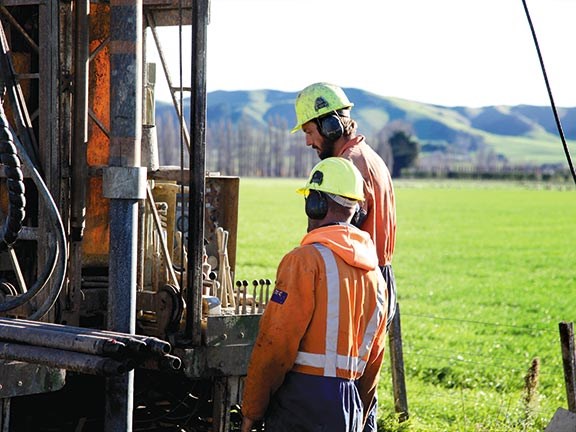 Simon and Rob checking samples.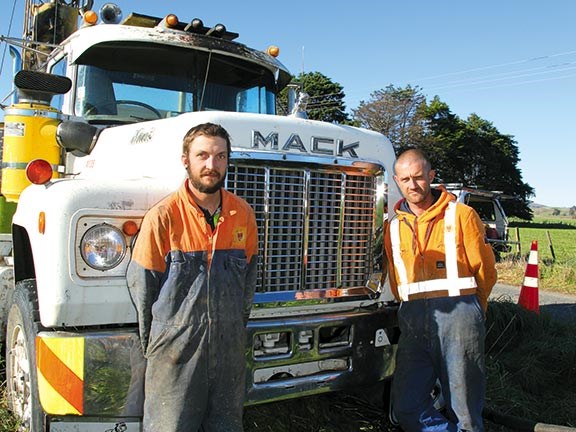 Simon and Rob enjoy the variety of work they do.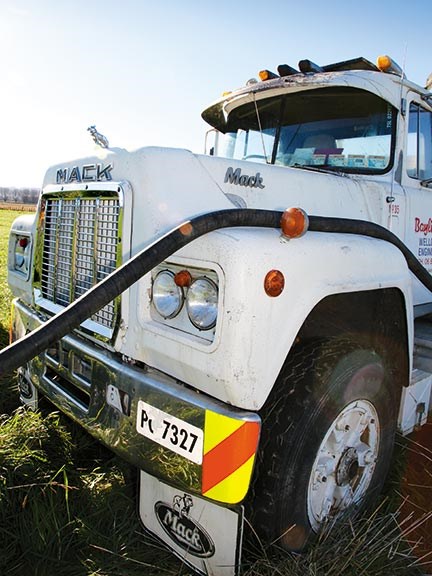 The 1984 R Series Mack is still earning its keep.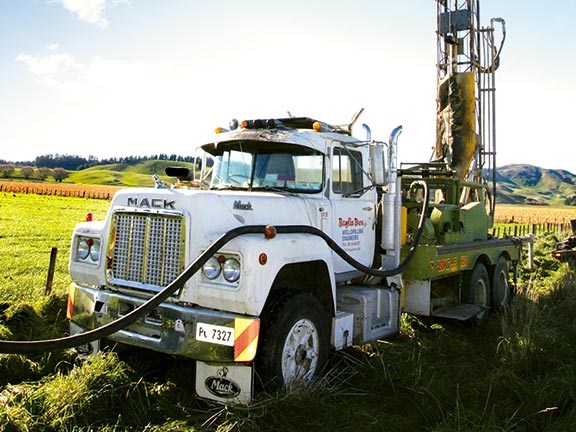 The Mack is good for this typre of work as it is very versatile.
When brothers Richard and Frank Baylis began their well-drilling company in Hawke's Bay in 1946, they set in motion an enterprise that is still going strong today.
Richard's son, managing director Russell, and grandson Stephen, who is the fourth generation, are in the business too. Operations manager Shane has been with the company for 10 years and Scott Lyall, one of the senior drillers and drilling supervisor, has been with the company for 33 years.
Richard spent 46 years in the business before retiring in 1994.
There's not much that Russell and Scott don't know about what lies beneath the terrain in Hawke's Bay. Russell says the Hawke's Bay aquifers are one of the province's best natural resources.
"Hawke's Bay has a unique artesian aquifer — there is nothing like it anywhere in New Zealand. It's a fantastic supply of water and the quality is amazing. From its source at Whanawhana (the headwaters of the Ngaruroro), it takes roughly 50 to 55 years to flow underground and out to the sea. We can clip it on the way through at different places, such as Meanee, Pakowhai, and parts of Napier."
Drilling equipment
In the early 1970s, Richard went to the States and picked up a lot of drilling equipment, and brought rigs and drilling techniques back to New Zealand. 
In 1975, Richard and colleagues formed the NZ Drillers Federation Inc. "That gave the industry a code of ethics and it's still going strong today," says Russell.
The company's longevity means it has a vast database of geological information at its fingertips that can be used to predict likely depths, yields, and costs of proposed bores.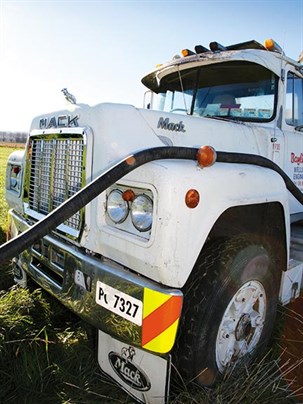 Water isn't the only thing the company drills for and in the past it's done seismic work for Shell in the early days of oil drilling in Taranaki and foundations for bridges and buildings all over New Zealand.
At Baylis's original headquarters in Greenmeadows, it also manufactured drilling rigs. "We made a few of them for companies throughout the country, such as the Ministry of Works and the DSIR, which are still in service today," says Russell. 
The company currently has drilling rigs working at Lochinver Station on the Napier-Taupo Road and drilling on the new bypass on the Kapiti Coast.
Deals on Wheels tracked down two drillers who were working in Central Hawke's Bay doing an exploratory bore for the Hawke's Bay Regional Council.
Based rurally at Puketitiri near Napier, there's a constant flow of jobs in the pipeline. Baylis Brothers finds it is often working for a third generation of clients, many of them farmers.
"The good thing with an experienced company like us is we've done most of it before. In our industry things can change daily, even though you're in a similar location. If anything does alter, we've got plenty of back up in terms of a store of materials and machinery. Same with our crew — many have been with us for a long time."
Imported machinery
Modern technology now makes life easier compared to when they first began, but the nature of the work still means a lot of skill and resources are required. They rely on state of the art equipment and they've never shied away from investing heavily in this area.
"Much of our machinery, including trucks like the Schramm, Mack, and Cyclone, comes from America. In the past we also built combination machines — three rigs in one — at our previous site in Greenmeadows. It makes it easier when you go on site to cable drill or rotary drill. A lot of our air compressors are imported new — this allows us to drill to greater depths and pre-develop aquifers as we drill."
"We believe the technology, gear, and equipment they build in America is very good — they keep up with new methods of technology and the drilling equipment is nice and heavy. We have dealt with them since the 1960s, when Richard went over. We've had good experiences with many of the well-known drilling companies and manufacturers over there. It's a very specialised area."
That goes too for the drivers who require training and a heavy-duty traffic license to drive the big rigs, and a special permit is needed to drive the trucks on the road.
"We always travel on permits. Safety is huge. The larger machines are very top heavy," says Russell.
Looking to the future
After 36 years, Russell still enjoys being hands-on in the business. "I do a bit of everything. We are outside all the time at different sites — it's fantastic. There's such a big variation of work.
He relies on a highly-skilled team of eleven employees that include fitter welders, fitter turners, and mechanics.
"Senior technician Les Carrington started work here 30 years ago. He went away for a time to work at the DSIR drilling on the geophysics side of things and now he's back on board doing that — using seismoelectric survey (SES) and radar equipment. We've always kept up with the latest technology and now digital technology."
Baylis Brothers still owns the original Ford truck and rig that Frank and Richard started out drilling with. "When the brothers built it in 1949, it was ahead of its time. It had everything on board: cable tool, rotary, air compressor, mud pump, and sand line. That rig set them up for a long time. We believe it's one of the first in New Zealand and the only machine of that capacity and drilling techniques back then."
They are in the process of having the truck restored and it will feature at the Baylis Brothers Welldrilling Engineers 70th anniversary in 2016.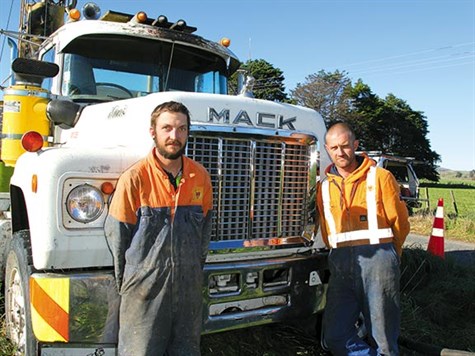 Baylis Brothers' truck fleet
Schramm T66H — Top drive rig with 650/350 on-board air and Welco Beal 1262 pneumatic casing hammer. Imported from America.
Elgi 900 350 — air compressor mounted on a V8 Isuzu.
Cyclone 35 TH50 — combination rig manufactured in New Zealand. Top drive rig with 41/2" x 5" mud pump.
Cyclone 36 TH60 — combination rig imported from America. Top drive rig with 5" x 6" mud pump. Leroy air compressor.
Caldwel 200A — Manufactured in the USA. Auger rig.
Tadano DT600, Tadano DT 800 — Crane rig with auger attachment.
Ford F250 — Preston 100. Small top drive rig.
Heliportable equipment
Track-mounted rig
Other equipment
Air/mud rotary rigs
Crane-mounted auger
Down hole hammers
Water level data logging
Pump test measuring equipment
Ground penetrating radar for shallow aquifer investigation
Seismoelectric survey (SES) for deeper aquifer investigation
Baylis Brothers: What they do
Water wells, domestic and irrigation
Environmental drilling
Geotechnical investigations
Seismic shot holes
Galleries and spring taps
Well rehabilitation
Pump installation
Borehole camera inspection
Aquifer investigation
Caldwel holes up to 1100mm in diameter to 15m deep
For the latest reviews, subscribe to Deals On Wheels magazine here.
Keep up to date in the industry by signing up to Deals on Wheels' free newsletter or liking us on Facebook.