Special Feature: ATJ Drifting Experts
---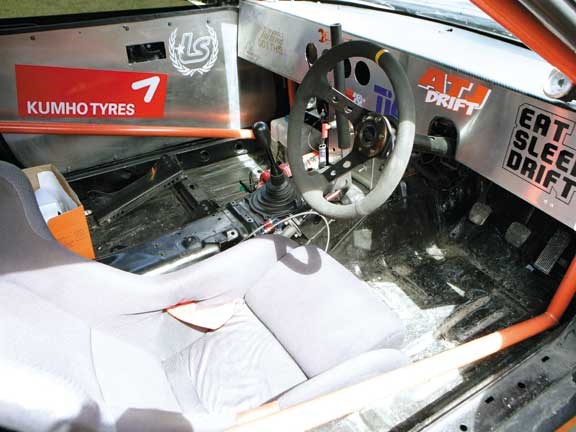 Eat Sleep Drift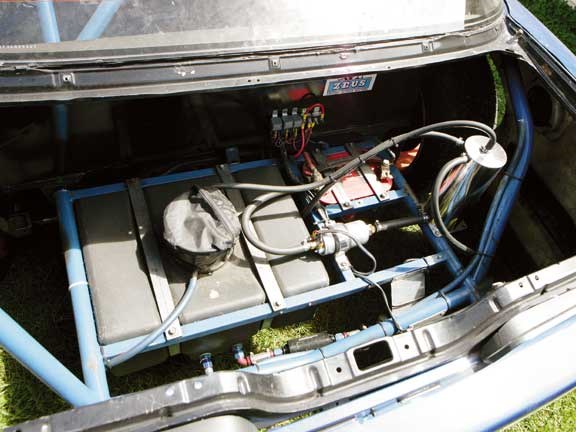 The turbo looks big enough to power an 18-wheeler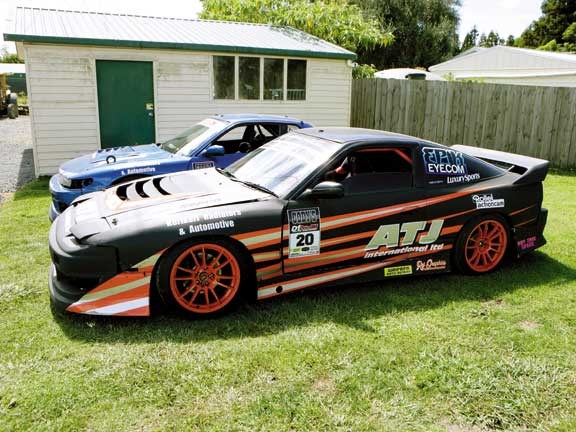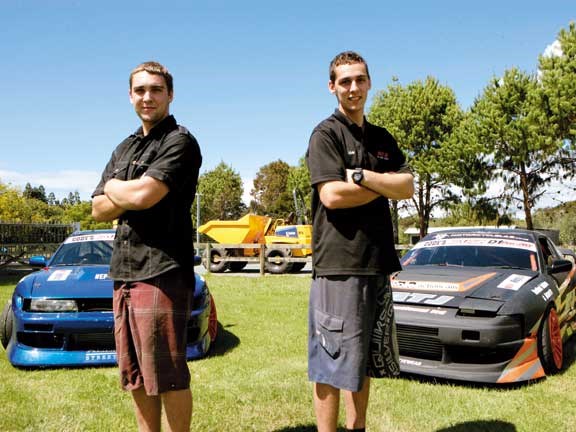 Brothers Tom Marshall (Left) and Joe Marshall

Here at DOW HQ, we're always interested in seeing what people in our industry get up to in their spare time. A couple of weeks back, our Editor met up with drifting experts, Tom and Joe Marshall
Most readers will be familiar with the Marshall family-owned company, ATJ. The Northland-based business is the New Zealand distributor of the well-known English-built Thwaites dumper brand.
What readers may not be familiar with however, is that ATJ has a couple of champion drift car drivers in its midst, in the form of Tom (23) and Joe (21) Marshall. Competing in the Pro Am series, the two brothers are currently placed first and fourth in the Cody's D1NZ National Drifting Championship.
Most people probably associate drifting with Japanese cars, sideways sitting baseball caps, and guys walking around with their pants hanging half off their butts. There is also the incessant high-pitched engine noise that rattles the hearing aids of V8 aficionados and contributes to the media hype about the 'troubled youth of today'.
There is no denying though that the drift car culture is huge and the organised racing events make it one of the fastest growing motorsport activities around. Thousands of people regularly cram into racetracks around the country to see a combined mix of speed and precision driving skills.
Another indicator of the popularity of the sport can be found when checking out the D1NZ Facebook page, which currently stands at over 43,000 'likes'. The Marshall brothers', ATJ Drift, Facebook page is also very popular, and has an extremely respectable 1600 'likes'.
Both Tom and Joe are fairly new to the sport, with both picking up on it just over 18 months ago. With not a skew-whiff baseball cap in sight, Joe explains the finer points on how drifting competitions are judged.
Unlike most other forms of motorsport, where the first past the pole is the winner, it seems drifting is judged not on speed, but driving prowess, and the ability to keep a vehicle in an over-steer position, while maintaining a clean driving line and keeping a close (or a very close) proximity to certain points on the track — or 'clipping points', as they are referred to.
After single-car qualifying, the finals are a face-off between two cars. In this case, the lead car follows the track clipping points, and the second car will use the front vehicle as a mobile clipping point. There are, of course, a bunch of other rules and conditions that have to be followed, and much like an Olympic gymnast is judged on their performance, so is a drift car racer — suffice to say that spinning of smoking rear wheels and crowd reaction are important factors to taking out the winning trophy.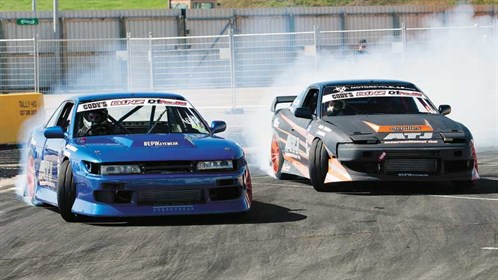 There are two classes in New Zealand drift car racing — the D1Pro class, and the D1Pro-Am class, which is where everyone begins their formal racing career. A look at the D1Pro-Am series results confirms that after Round 4, Tom Marshall sits in first place, six whole points ahead of second-place holder, Joel Hedges. However, not a lot of room separates the top five spots, with only a 16-point spread among them.
There is not a lot to the cars themselves and weight gets shed from a car 'under construction' faster than the first week of a trendy diet. Tom's S13 Nissan Silvia has been completely gutted, with even the inner door skins removed to ensure the vehicle is a light as possible. Like the rest of the car, a look inside the boot area reveals, well, nothing, except for the tubular frame and fuel tank. It's all a bit sobering when you think of them hooning along the track at a great rate of knots.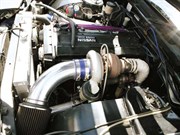 Joe tells me his Nissan 180SX runs a "pretty much standard Nissan 2500 twin-cam six-cylinder engine", but he has recently beefed it up with the addition of what looks like a truck-sized turbocharger.
As you would expect, a costly expense is the tyres for these beasts, with several sets being required for each race meeting. The suggestion of second-hand tyres being used is quickly dismissed. It seems that what may be suitable for an amateur clanging along a deserted farm track is no match for the heat and speed generated in a hard-out race situation. As the lamination peels away quickly from normal road tyres, the Marshalls are thankful their business contacts allow a small saving to be made on the 'real-deal' drift racing tyres.
One of the most difficult things is finding venues to practise at that are not too far from ATJ's Kerikeri home base. "Some of the places we've found are too potholed or bumpy for serious practice," says Joe. Perhaps readers may know of somewhere suitable and, if so, I'm sure the Marshall brothers would be grateful
to know.
Distance to venues from Northland is another issue that the two top drift car drivers have to contend with, and the brothers are seriously fundraising to make their way to Christchurch for the South Island round, which is being held over Easter weekend. If Tom and Joe are to maintain their standings, this is a 'must attend' event.
Sponsorship and donations are gratefully received and, in my opinion, Northland businesses should put some serious support behind the two brothers, as it isn't often that provincial areas have local heroes they can call their own — especially in a sport as popular as drifting.
"We have had good support from Epik Eyewear, Kerikeri Radiators and Automotive, Repco, Rollei Action Cam and Waipapa Auto Repairs, but we need more to stay competitive," says Tom.
Hot laps are another way to fundraise and the brothers offer a very affordable package for groups of people wanting to try something different. I strongly encourage Northland businesses and locals to get behind these young flyers.
The spotlight is waiting.
For more information contact Tom or Joe Marshall on (09) 407 7750, email atjautoparts@xtra.co.nz, or Facebook: ATJ Drift
For the latest reviews, subscribe to our Deals On Wheels magazine here.
Keep up to date in the industry by signing up to Deals on Wheels' free newsletter or liking us on Facebook.