Business profile: Just Trucks
---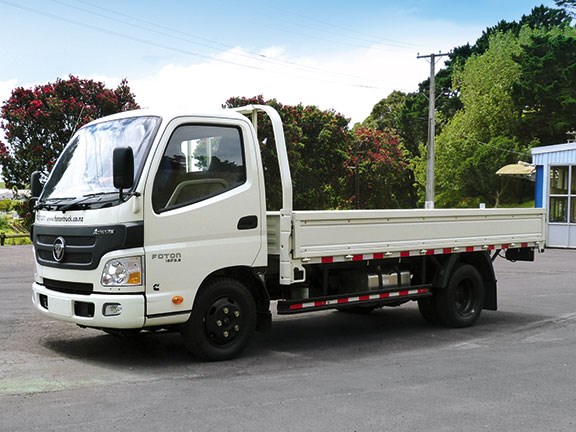 The narrow-cab ISF 2.8 drop-side flat deck is very manoeuvrable and would be ideal as contractor's truck.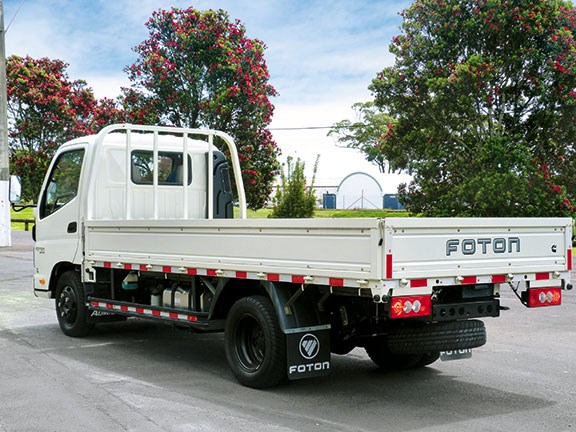 The narrow-cab ISF 2.8 drop-side flat deck is very manoeuvrable and would be ideal as contractor's truck.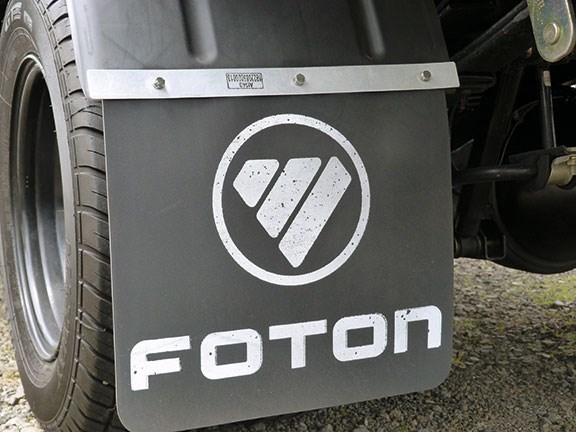 Just Trucks supplies a set of two sturdy 6mm thick Foton-branded mud flaps with every truck sold.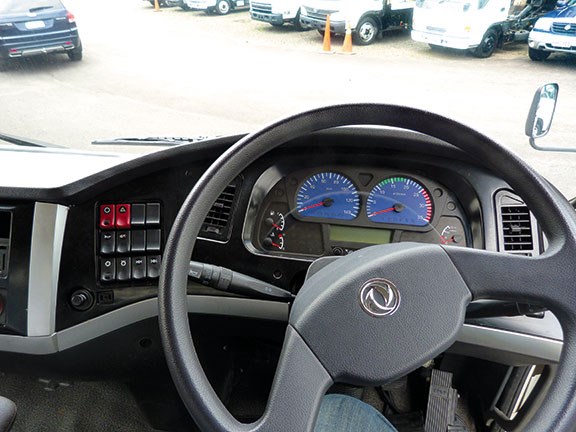 The easy-to-read dash cluster includes an AdBlue gauge.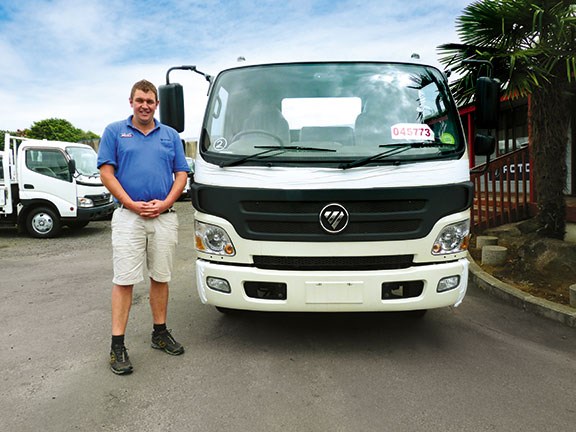 The ISF 3.8 wide-cab pictured is noticeably different from the narrow-cab truck by its larger rear-view mirrors.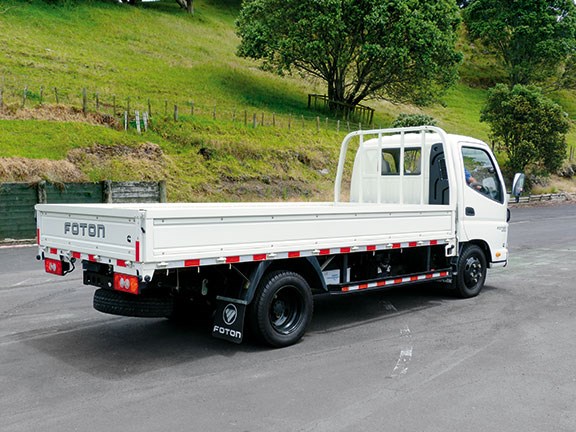 Drop-sides provide easy access to the Foton's factory-build deck.

Just Trucks, the family-owned and operated company at 809 Great South Road, Mt Wellington, recently gained the New Zealand franchise for the Foton Brand.
General manager Cameron Childs tells DOW that after twenty-five years in the business of supplying quality second-hand Japanese trucks to the NewZealand market, it was a logical next step to diversify and grow the business by adding the Foton brand to the company portfolio.
Although it is a relatively new name in New Zealand, Foton has been manufacturing trucks for almost twenty years. Thecompany employs around 29,000 staff world-wide and exports to 125 counties.
In 2012 Foton sold over 621,000 units, placing it as the top-selling commercial brand in China.
Deals on Wheels recently had the opportunity to take a Foton ISF 2.8 medium wheelbase truck out for an afternoon's drive on a number of Auckland motorways and city streets.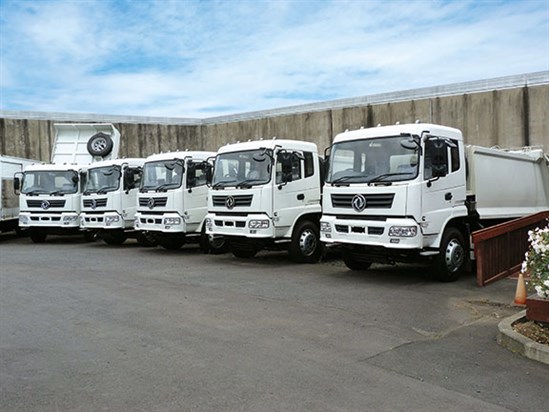 Heading up a reasonable gradient away from Just Truck's South Auckland yard, it was immediately apparent that although the truck was unloaded, the 2.8-litre turbocharged Cummins engine had plenty of 'stoke' and would make short work of any full load that would take the vehicle to its full 5650kg GVM capability.
The truck has a GCM rating of 7000kg, so it would be quite suitable for a contractor who needed to trailer a small hydraulic digger or similar plant, a task easily handled by the 110kW (147.5 hp) Cummins powerplant.
Being unloaded at the time of the test drive, a small amount of imagination had to be applied as to how the truck would perform fully loaded, and while this could be seen as a disadvantage, it did provide an ideal opportunity to see how well the truck rode with no load aboard, a test it passed with flying colours, courtesy of the front and rear double-acting hydraulic shock absorbers. Even driving across cattle stops in some of Auckland's parks and reserves, the ride was like that of a car.
Slowing the truck down on a downhill gradient was well taken care of by a combination of vacuum-assisted brakes (discs on the front) and a very effective vacuum-controlled exhaust brake.
The cab is well-appointed with all the creature comforts to which we've all become accustomed — power windows, air conditioning and the like, and the radio could be easily heard at low volume.
The 2.8-litre Cummins engine is Euro 5 compliant by way of a selective catalytic reduction (SCR) emission system.
Generally this is the domain of larger trucks on New Zealand roads, as the majority of Japanese-manufactured trucks employ the alternative method of compliance by using EGR (exhaust gas recirculation). For that reason it was strange to see an AdBlue gauge as part of the dashboard cluster.
While the regime of keeping the AdBlue tank full will be a new experience for many small truck operators, it will perhaps help to serve as kind of a training ground for people wanting to move on to operating larger rigs.
There is a truck size in the Foton ISF range for most applications, as there is also a wide-cab model available with a larger carrying capacity and a bigger engine.
The Foton ISF 3.8 wide-cab, as its name suggests, is fitted with a 3.8-litre engine delivering 115 kilowatts of power at slightly lower revs (2600) than its narrow cab counterpart which revs to 2900rpm.
The ISF 3.8 is noticeably different from the ISF 2.8. Not only because of the wider track and cab, but also as it is fitted with distinguishably-larger, door-mounted, rear-view mirrors and roof-mounted clearance lamps.
This truck has heftier specifications throughout, allowing it to have a larger carrying capacity of 5.4 tonnes and a GCM of 10 tonnes.
Currently the ISF 2.8 is available only in short and medium wheelbase confirgurations, while the bigger ISF 3.8 is available in medium and long wheelbase configurations, however, more options will be added as brand-awareness grows. Both trucks are available as cab and chassis or factory-fitted drop-side flat decks.
It was an interesting afternoon's activity and after several hours of being driven uphill and down dale on Auckland's highways and byways, the test vehicle was returned Just Truck's yard by one very impressed magazine contributor.
A damn good little truck indeed!
For the latest reviews, subscribe to our Deals On Wheels magazine here.
Keep up to date in the industry by signing up to Deals on Wheels' free newsletter or liking us on Facebook.