Whakatu workhorses
---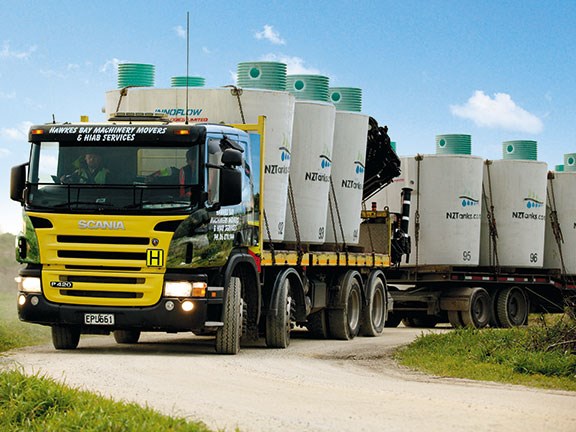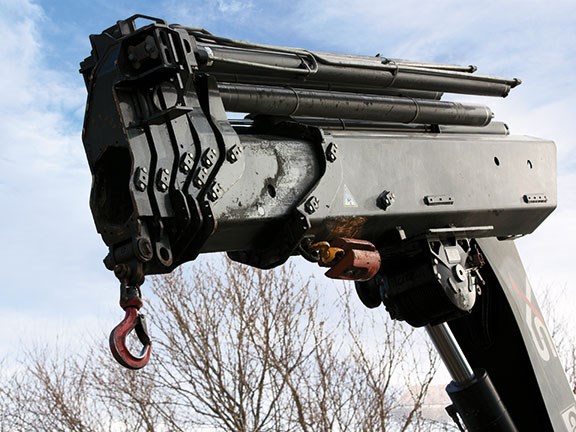 Modified XS322 E-8 HIAB with rope crane under boom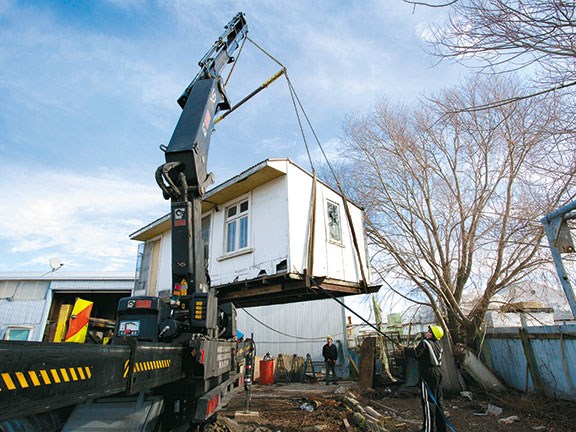 Care and precision as an aging cottage is lifted from under trees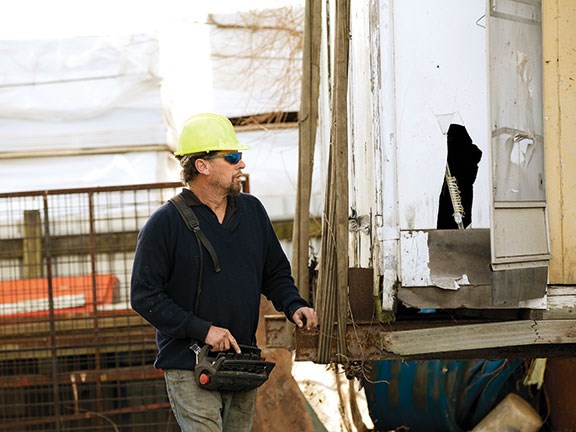 HIAB's hi-duo remote allows the operator flexibility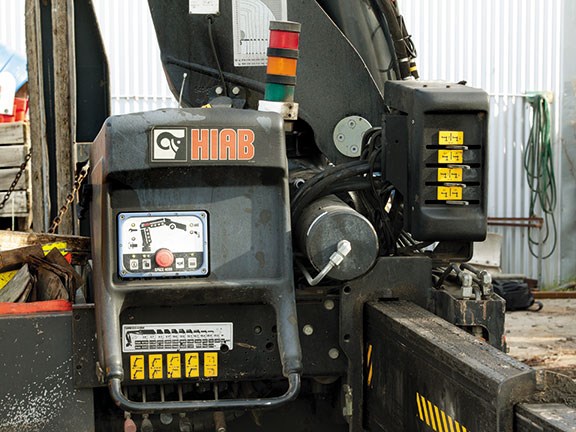 Traditional truck mounted controls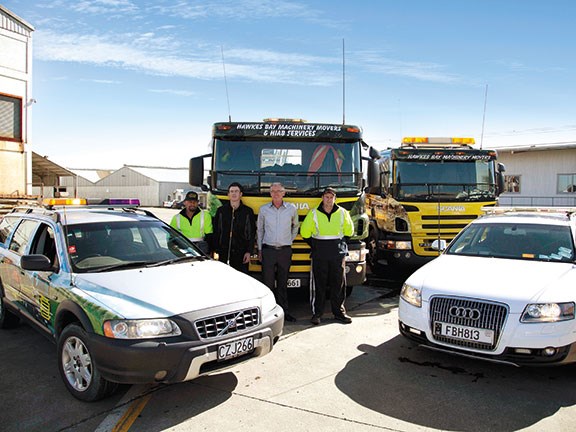 From left: Rossco, Mark, Rod and Stu with the two P420 Scanias and pilot wagons

In the busy Hawke's Bay region, one small fleet's rigs stand out from the crowds of refrigerated, logging and stock trucks dominating the roads.
It's hard not to notice the bright yellow grills and the custom vinyl graphics on the cabs of the two Hawke's Bay Machinery Movers' P420 Scania rigs.
HBMM is a small specialist transport firm with a can-do attitude. Co-managed by the father and son duo of Rod Naylor and Mark Naylor, it operates in tandem with Hawke's Bay Towing under the umbrella of the R.E and C.J Naylor partnership. Rod says the two businesses complement each other and enable a higher level of overall service to both firms' client bases.
Operating from the Whakatu industrial park on the former freezing works site they specialise in moving machinery and engineering projects like winery tanks. Mark proudly says they never turn away work. If it's too big for their own gear, then they'll project manage the job with selected sub-contractors. Rod and Mark are certified class one and two pilots respectively, enabling this start to finish approach to the job.
About 15 years ago the business grew out of requests for Rod's towing and collision repair services to move the occasional tractor and he bought a six-wheeler slide deck. With a name for good service and an ability to get the job done right, this business was assured of success. Today HBMM employs three full-time Bridge Engineering Self Supervision certified drivers and its own mechanic — Rod and Mark share driving duties also. Seven full-time drivers are kept busy on the HB Towing side of things. Mark says they invest in driver training and value their skilled employees.
Safety and adherance to legal requirements is a strong focus, as part of HBMM's specialised services involves being contracted to HB Police for accident salvage work which sometimes needs use of the HIAB-equipped trucks. Rod and Mark are very proud of their five star-rating under the LTSA operator safety standard, with Rod even putting it on display.
This respect for the rules extends into client confidentiality also. With a wide customer base some ask 'where was that tractor going?', but Rod says he never divulges this information, out of respect to his clients. This strong self-discipline helps keep the company's strong reputation intact. As well as storing impounded cars on behalf of the police, they are also entrusted with providing a separate secure storage facility for serious crash wrecks undergoing further forensic examination.
Mark, who takes care of day-to-day management and dispatch, says responding quickly and on time to customer requests is a key focus.
"Any of the three big hire companies could ring up right now and say a contractor needs a digger. Within an hour we will have picked up that machine and be delivering it to the contractor," says Mark. This ability is helped by being centrally located between Hastings and Napier at the Whakatu industrial park, a site so popular it's now fully tenanted, says Rod.
Along with working very closely with HirePool and Porter Hire, HBMM also handles delivery of NZ Brick Distributors' products, Creative Brick and Stone, and shed components for Goldpine. The current movement of some 300 new septic tanks for an upgrade in the Mahia region is also keeping them busy.
Star of the show at HBMM operations is a P420 Scania 8x4, fitted with a XS322 E-8 HIAB crane. Wireless remote capability is offered by the hi-duo control system, which makes Ross 'Rossco' Halgarth's job much easier. The Scania runs an H plate under the HPMV scheme for a little more length on the low-profile, four-axle trailer it normally tows.
While the 420hp engine may seem underpowered in the age of 700hp linehaul trucks, to some it's just the right package for this type of work, especially with the idle time spent powering the PTO for the HIAB. Some of us even remember looking forward to the 'big' horsepower of a 420-rated truck not too long ago.
A rare-for-New Zealand addition to the HIAB is a rope crane fitting. Rod says this is an awesome feature that not many operators have and makes many jobs much easier. This device comes into its own in on-site construction works and vehicle recovery. The rope crane has a double purchase ability, increasing its capacity but Rod says they've not needed to use it yet. The combination makes for a very versatile unit that enhances HBMMs' reputation for being able to do anything.
Factory specs for the HIAB show its various lift ratings as 8.8t at 3.1m outreach, 3t at 8m and 840kg at 21m. HBMM's HIAB has been customised, though, with more than the rope crane attachment.
"We had a couple of sections taken out, reducing the reach to 16m. The reason we have done this is to give us an extra 400-500kg lift capacity," explains Mark.
HBMM operates five trucks — Kenworth, Mack Quantam, Fuso and two P Series P420 Scanias being the flagships of the fleet, especially with their eye-catching custom vinyl print graphics. Also noteworthy is the 2009 Audi Allroad Quattro 3.0 TDI and 2005 Volvo XC70 cars fitted out as pilot vehicles. Rod loves the Audi and says it goes absolutely anywhere, even off-road with no problems. The choice of these vehicles raises the eyebrows of some, but in Rod's view they get the job done and fit in with the reliability of HBMM. Mark says they're very happy with the performance of the Scanias and the drivers love them.
Head driver Rossco operates the HIAB equipped 8x4 flat-deck Scania. With nearly 30 years behind the wheel of a variety of trucks, his skills are valued by Rod and Mark. They speak highly of his ability to pick up anything with the HIAB, especially the delicate and difficult job of serious car wrecks that need to be delicately lifted instead of winched. Watching Rossco lift out an ageing small cottage from under some trees on an Onekawa industrial site, it was clear to see his skills and smoothness with the HIAB controls.
Rossco recalls starting out in an S Bedford many years ago in a combination of farm work involving trucks and tractors. Macks, Internationals, and Kenworths are first mentioned when reminiscing about different trucks driven over the years. Although he enjoys the comforts of the Scania and its strong retarder on the downhills, he still has a fondness for what he says is the climbing power of the Kenworths.
Not being on the same road every day is something that stands out for Rossco when asked what he enjoys most about working at HBMM.
"Every day is different here," says Rossco.
Helping out Rossco on many jobs is Stuart Harkness, with about five years' experience —18 months of that with HBMM. Stu enjoys the variety and drives just about anything in the fleet, except the HIAB, as according to the crew, Rossco doesn't let anyone else near it.
Even though they are a smaller firm, Mark says they have embraced the computerised Translogic invoice and despatching system for keeping track of jobs. The high volume of work on the towing side has made it worthwhile and Mark says although it took some time to set up, he wouldn't be without it now. Furthermore, on the technology front HBMM is also looking to move to digital RT systems due to lack of coverage on the Napier-Wairoa road.
When asked about biggest and most difficult loads carried, Mark recalls a five-metre-wide fishing industry ice-making machine — a category-one load HBMM moved to Wellington. Delicate stainless steel wine tanks being carted into wineries with difficult access also provide good challenges for the team to complete.
"Methodical care is always taken when loading many of the fragile and difficult items and we always commit at least two staff members to the task to minimise the risk of damage," says Mark.
That willingness to commit extra resources to a job typifies this firm's professional approach to getting the job done safely and properly. It's not hard to see why they're such a happy and friendly bunch at this small but very successful firm.
For more information contact Rod or Mark Naylor on (06) 876 7531 or email mark@hbmm.co.nz.
For the latest reviews, subscribe to our Deals On Wheels magazine here.
Keep up to date in the industry by signing up to Deals on Wheels' free newsletter or liking us on Facebook.