Takanini Truck Sales
---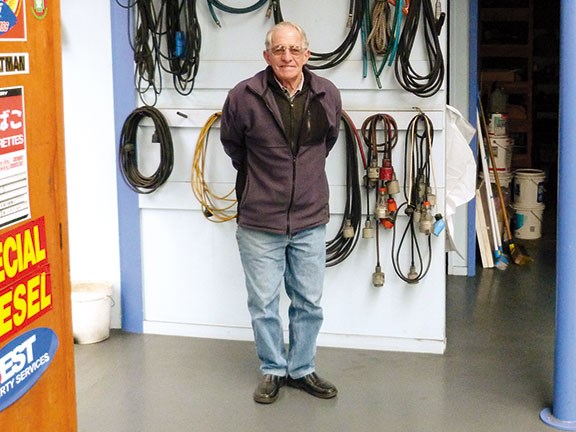 Henry Thompson stands amid an array of neatly-stored cables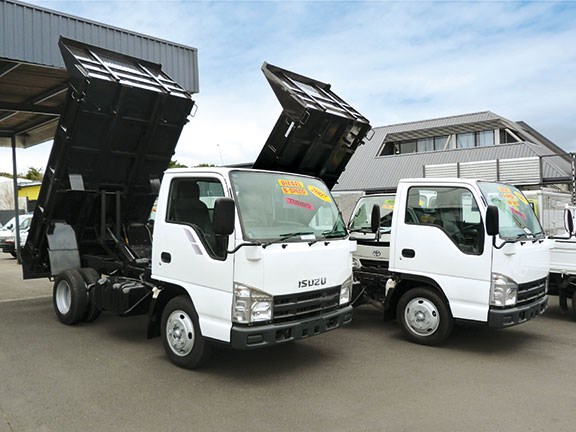 Takanini Truck Sales trucks are presented in as-new condition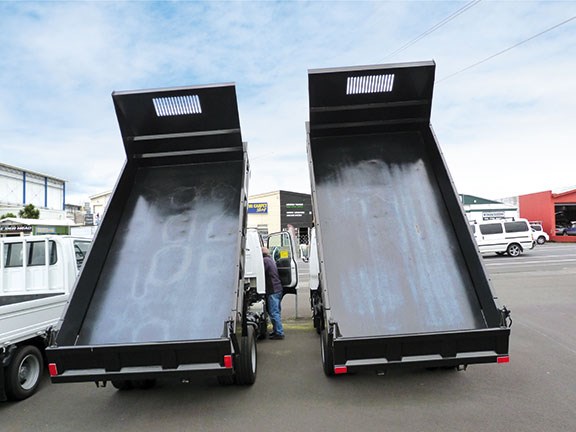 Japanese-built bodies and decks are built tough to carry the roughest of materials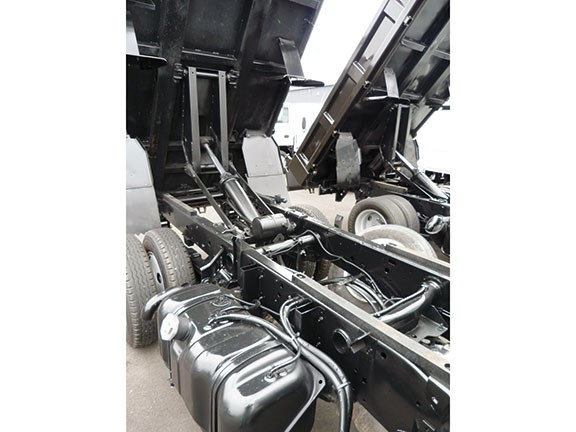 Tippers in the 1.5 – 4.0-tonne range are always a popular choice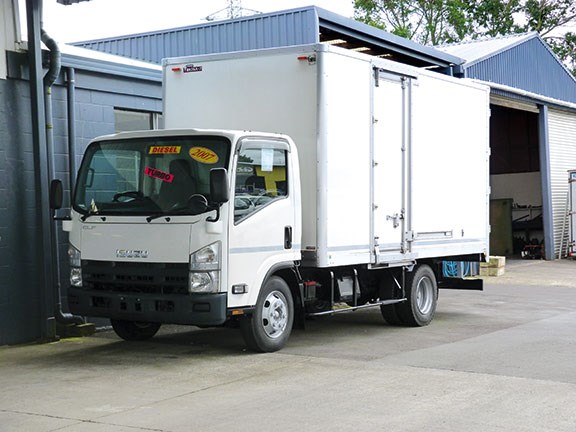 The moment you set foot on Takanini Truck Sales' yard you get the sense that any truck you buy from them will be a very tidy unit and that you'll be dealing with a company of integrity.
Owner Henry Thompson takes pride in the presentation of his operation at 196 Great South Road, Takanini. His philosophy of 'everything has its place and everything in its place' has been the backbone of the business since it opened its doors in 1987.
The Thompson philosophy of tidiness extends throughout the company, from the way the extensive stock is immaculately presented, to the standard of the workshop, the cleanliness of which could be likened to an operating theatre.
Every tool and all work surfaces are cleaned down and everything from jumper leads and electrical cables to floor jacks are returned to their allotted space after every job.
The company specialises in flat-decks, tippers and box body trucks in the 1.5-tonne to 4-tonne carrying capacity range, with most of the stock being priced in the $18K to $42K range. All prices include GST.
Situated on the main road, right in the heart of Takanini, Takanini Truck Sales is well-placed for prospective purchasers who want to test drive a truck, both in city traffic environs and on country roads.
The company generally has around 35 units in stock at any given time and cites its main customers as being small contractors.
Thompson says the used truck sales industry has changed considerably in the twenty-five or so years he's been in the business.
One instance he gave was that back in the '90s most of his stock consisted of New Zealand-new trucks, whereas today his yard is stocked entirely with trucks imported from Japan.
In days gone by he would make frequent trips to as far as the lower half of the North Island to buy his stock and in later years there were also trips to Japan to increase his inventory. However, these days, due to the great rapport Thompson has with his buyers in Japan, most transactions take place by email.
Recent restrictions placed on the importation of used vehicles, whereby all vehicles coming into the country must be Euro 4 or better, have meant it is no longer possible to sell newly-imported vehicles in New Zealand that are older than 2007.
To that extent, other avenues to acquire trucks to suit customer needs have to be sought by TTS (as it's otherwise known).
Enter used-truck game terminology: the 'second time rounder' — a term used to describe an imported vehicle that has served its first New Zealand owner well but is now being replaced.
While a truck may have 200 or so kilometres on the clock, oftentimes all that is required is a tidy-up in the TTS workshop and it's ready to go back into service for its second New Zealand owner.
Anticipating the customer's future requirements requires an advanced degree in crystal-ball prognostication in the used-truck sales game, as there is a vast array of options when it comes to types and sizes of trucks and Murphy's Law regularly comes out to play.
On the day of the DOW visit a customer called asking if there was a double cab, long wheelbase truck available and, as you by now have probably guessed, the answer was no.
However, on other occasions, when a request for a certain size and configuration of truck comes in, invariably the customer's needs are able to be satisfied.
Tip trucks are regular sellers. To this end, TTS usually has its yard well stocked, given it is quite common for the company to receive orders for multiple units at a time.
Trucks coming out of Japan typically have exceptionally strong tipper bodies, which are built tough enough to handle the rigors of carrying and tipping the likes of basecourse, hence their popularity, says Thompson.
Takanini Truck Sales is staffed by a small but dedicated team and with Henry Thompson at the helm, you can bet your boots you'll be buying a good quality, well-presented, reliable truck.
For more information contact Takanini Truck Sales on (09) 298 7034, (09) 298 7033 or email ttsl1988@xtra.co.nz.
For the latest reviews, subscribe to our Deals On Wheels magazine here.
Keep up to date in the industry by signing up to Deals on Wheels' free newsletter or liking us on Facebook.