Deakin Motors profile
---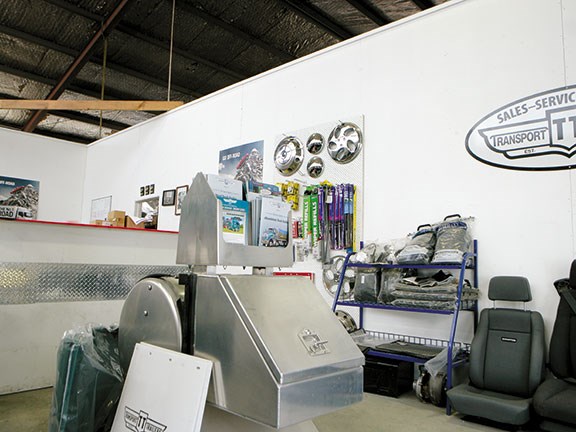 The parts division can supply new and used parts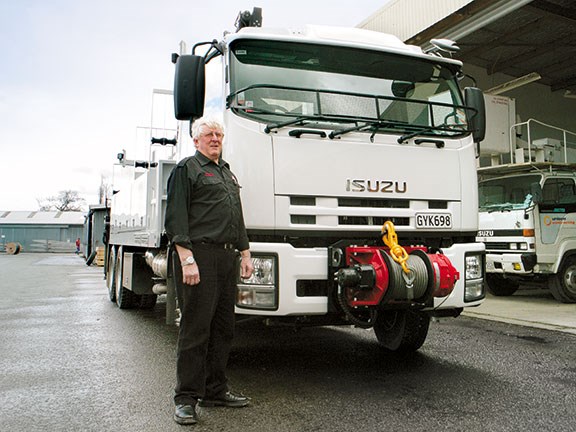 John Somerville with a newly-delivered Isuzu FVY1400L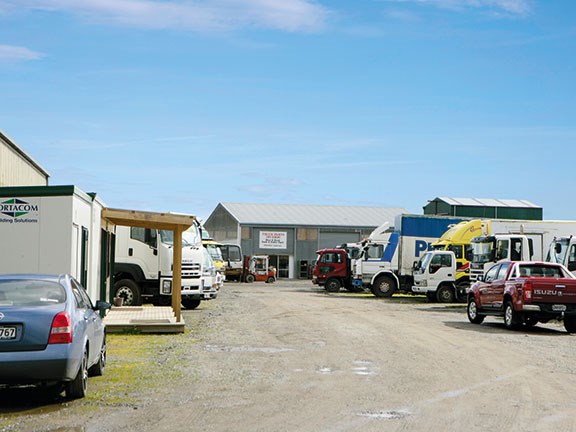 A small part of the new and used truck division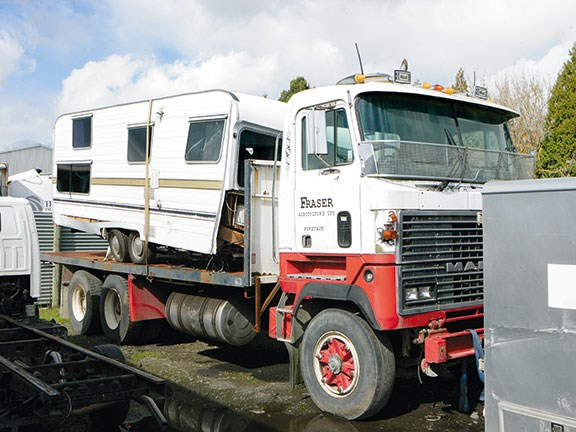 This Mack is crying out for a rebuild to match its classic status

The words 'long established' are bandied around fairly easily these days with some companies feeling they have a right to use the term, despite being in business for only a few years.
One company that can actually use those words without fear of recrimination is Hastings-based Deakin Motors, the business that will shortly be celebrating its 50th birthday.
Started all those years ago by general carrier Ned Deakin, one wonders if his vision back then foresaw what his lone efforts would create as he loaded and unloaded freight each and every day.
However, we shouldn't forget the people in the background that helped grow Ned Deakin's fledgling business into the Hawke's Bay institution it has now become. Family always features heavily when building any business and the same has to be said for Deakin Motors, as the business grew and grew under the command of Ned Deakin's son, Russell.
True to form with businesses that grow far beyond their original beginnings, the Deakin family enterprise is more than just a motor company. These days the business spread includes the local Isuzu truck franchise, second-hand trucks, a massive wrecking yard, new and used spare parts, truck accessories, auto electrical services, an engineering division, a long- and short-term truck, trailer and bus rental division and a paint and panel shop.
All these specialised but closely-related threads mean Deakin Motors can not only trade-in virtually any truck, but it can also completely build up the new truck to a customer's specifications, build a trailer (if required), and then finish it off in its built-for-purpose, truck-sized paint facility, which also includes a mega-size bake oven.
It becomes obvious pretty quickly that this is truly a one-stop shop and must be great for customers who don't want the bother of dealing with a large number of issues when selling and buying a replacement truck or when requiring stand-alone engineering or mechanical work.
Our tour guide on the day we visited was John Somerville, who Deals on Wheels readers may recognise from Deakin Motors ads as the main point of contact for the company. Somerville says the company is not big on job titles, saying his position is "best described as sales". Whatever it really is, it soon becomes apparent he has an in-depth knowledge of the business, obviously gleaned from his near 20 years of service.
Somerville says long service with the company is not that uncommon, with a number of employees having served for many years, which not only casts a favourable light on Deakin Motors as an employer, but also means customers deal with highly-experienced people.
The site tour commences in the truck sales yard and here there are a large number of new and second-hand vehicles of all sizes and descriptions awaiting new owners. There is even a recently-traded motorhome just itching to take a run up the coast of the eastern North Island. Somerville tells us the company sells trucks all over the country and points out a used unit that will soon be heading to the bottom of the South Island.
Onto the parts division, as well as the large inventory of new and used spare parts, we are informed that Deakin Motors are the local agents for Transport Trailers, and notice a large number of accessories for those truckers wanting to add some flash to their rigs.
The wrecking yard is a collectors dream and must sit on four or five acres. If you can't find something here, then it could be time to stop looking. It's also good to know the guys that run this division have been with the company for a long time and their knowledge must be difficult to put a price on. Poking around the yard, our eagle eyes spot a lonely looking Mack Ultra-Liner flat deck that has seen better days, but still looks good enough to be rebuilt in readiness for the next round of classic truck runs.
Moving inside, the big mechanical workshop has a number of trucks being worked on. A sad-looking stock truck gets special attention after an errant car found its way under the front axle. We are told the repairs are carried out as fast as possible to reduce downtime for customers. Hopefully the driver of the car escaped serious injury.
Located in an adjacent building is the huge engineering division. Prior to arriving on site, we were told this place could build anything a truck owner could ever desire. That statement could be very true, with all manner of different types of bodies and trailers under construction.
The engineering division has been busy building up line trucks for Hawke's Bay utility company Unison Networks, and we are invited to have a look at a just-completed unit. Fresh out of the panel and paint division's bake oven, the truck chassis is an Isuzu FVY1400L. With a 306hp (228kW) engine it is a 6x4 configuration with cross-locks, airbag suspension, trailer gear and front-mounted 15,000kg winch. The utility body consists of numerous equipment lockers, support arms set up to carry two concrete power poles, and a PK19502 Palfinger crane to get those poles from the truck to the ground.
One thing we like at Deals on Wheels is being able to visit the premises of advertisers as a magazine ad or online content can sometimes not do justice to the extensive services some companies provide. Deakin Motors is one such example, and is a credit to the staff and people that keep this business running. Sadly Ned Deakin passed on a while back, but 50 years ago he created a legacy that looks set to continue for some time yet.
For the latest reviews, subscribe to our Deals On Wheels magazine here.
Keep up to date in the industry by signing up to Deals on Wheels' free newsletter or liking us on Facebook.