Technology: LED lighting
---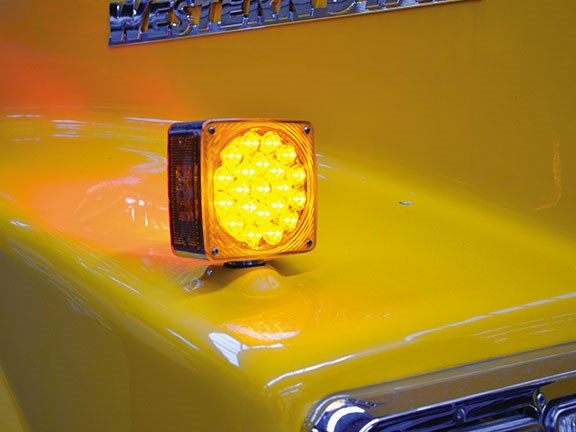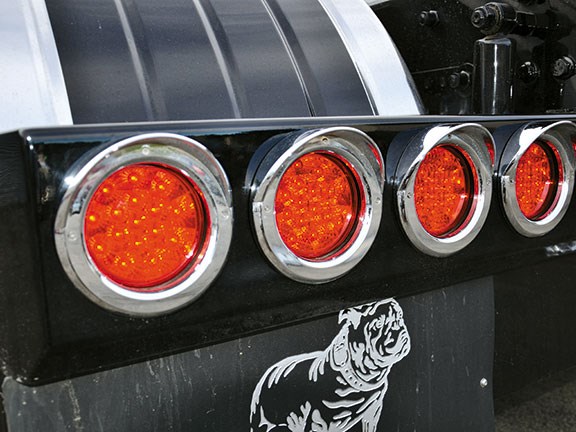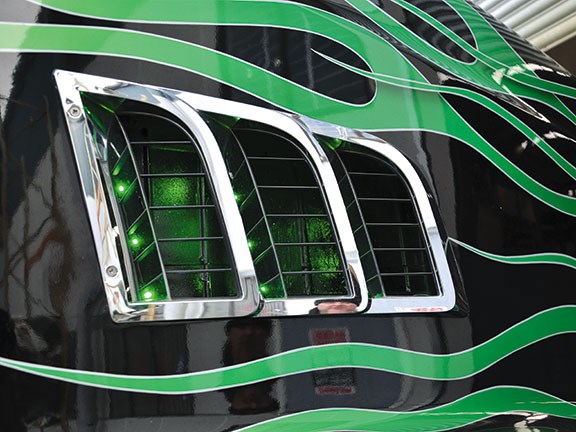 Fitting LED lighting to your rig not only delivers maintenance and operational benefits, it also offers you an opportunity to stir your creative instincts and make a loud statement at the truck stops.
The international trucking industry's migration to LED (light emitting diode) lighting is about a decade old, but with the advent of cheaper and better quality fittings the momentum is rapidly gathering pace. Consider that LED lighting is standard on many OEM trucks today — the advantages of LEDs over conventional incandescent lights is well-documented. The key one is reliability: as solid-state devices they last much longer. Unlike conventional incandescent bulbs with their fragile wire filaments, LEDs are unaffected by excessive vibration.
In addition, intense heat weakens the incandescent bulb's filament over time and it blows, whereas LEDs emit hardly any heat. Depending on which study you read, the average life of an LED is between 50,000 and 100,000 hours versus the 2000-hour average of an incandescent bulb.
A second advantage of the LED is low current draw — typically 80% — 90% less than its incandescent equivalent. They don't sap the batteries and the alternator has a much easier workload — both will enjoy a longer lifespan. In practical terms, you can park the truck, kill the engine and leave the lights on without worrying about the batteries being flattened.
Much of the surge in the LED uptake lies in the retrofit market. Greg Biggs, owner of BiggSpec Custom Trucks in Wiri, Manukau, specialises in supplying LEDs to the trucking industry, and says fleet operators and owner/drivers are tapping into the benefits of greater reliability and lower maintenance.
"The technology is easy to retrofit, and while it costs a bit more initially, the savings come with less downtime. You can fit the LEDs and forget about them — bulbs, by contrast, blow quite regularly. There is no need for truckies to carry an assortment of replacement bulbs — and there is less likelihood of them being pulled off the road because of a dead light."
The vast majority of the LEDs being retrofitted, he says, are tail lights, brake lights, indicators, reverse lights and side lights — and plenty of decorative lighting — with relatively little in the way of headlights.
"While replacement LED headlights are beginning to appear on the market, their use isn't widespread. They are fairly pricey — and if damaged by a stone, you have to replace the entire unit — not just a halogen. Furthermore, replacing a truck's custom headlight fittings is not as easy as swapping the fairly universal rear fittings."
Installing LED headlights is easy on trucks which use the universal seven-inch round head light — typically Kenworths and Freightliners — but it's not really an option on trucks which have their own distinctive, tear-drop style headlights.
Performance
Apart from superior reliability, proponents argue LEDs also provide significant safety benefits through improved visibility and illumination.
A study by the University of Michigan's Transportation Research Institute found LEDs respond on average two tenths of a second faster than standard incandescent lamps. Lights reaching their full intensity at a faster rate translate to improved safety. Using test results at 65mph, LEDs improved reaction time and decreased braking distance by 16 feet.
LED headlights are also reported to offer greater illumination. Biggs says clients who have fitted LED headlights report much better visibility. "The light is much crisper and it's an ice-white, even slightly-blue colour, rather than the yellow hue of conventional incandescent lights."
US manufacturer Truck-Lite introduced the world's first custom LED headlights at the Mid-America Trucking show earlier this year. Initially developed for military use, the headlight's beam pattern reportedly reduces eye-strain for drivers and harsh headlight glare to oncoming traffic.
Compliance
While New Zealand's transport regulations govern the position of lights on trucks, how do you know whether the LED itself meets the required standards? Does it comply with luminosity and colour standards?
"As with many of our technology and industry sectors, New Zealand tends to follow the Australian Design Rules (ADR) framework," says Biggs. "ADR is a robust system for specifying LED performance parameters such as brightness and luminosity — and before buying any fitting you should check that it complies. Ask the retailer."
Buyers also need to be wary about the LED's voltage.
"The preferred option is a 'multi-volt' LED — rated for between 9 and 33 volts DC. Most US-manufactured LEDs are rated for 12V because US trucks tend to run 12V systems.
"European and Japanese trucks, by contrast, run 24-volt systems. So an LED that can handle both systems is ideal because a rig sometimes comprises a 12-volt trailer hitched to a 24-volt truck. To run 12-volt LEDs off a 24-volt truck you need to introduce voltage reducers into the wiring loom — an added complication and expense."
Personalising your rig
A significant segment of the trucking industry's switch to LED lighting, says Biggs, relates to decorative lighting — owners/drivers keen to add a little character to their livelihood.
"The possibilities are virtually unlimited — LEDs come in all shapes, sizes and colours. While you have to stick to the regulations in terms of front and rear lighting, there are plenty of opportunities elsewhere on the rigs."
Many truckies previously resorted to neon tubes to create special effects on their vehicles. But like incandescent bulbs, neon tubes don't respond well to vibration and jolts — and they're an added load on the rig's electrical system. LEDs eliminate this problem and are available in a far greater range for expressing the owner's colourful personality.
Decorative lights can be used on top of the cab (only amber or white if facing forward), on the sides, in bumpers and fenders and within grills.
Biggs says the replacement of incandescent lamps by LEDs in the trucking industry is inevitable. "The only disadvantage is the cost of manufacturing so the switch carries an initial investment — though the costs are falling all the time. But longevity and reliability quickly offset that initial investment — and there's the added benefit of improved performance and safety.
"After weighing up all the pros and cons, I'd suggest switching to LEDs is a no-brainer."
For the latest reviews, subscribe to our Deals On Wheels magazine here.
Keep up to date in the industry by signing up to Deals on Wheels' free newsletter or liking us on Facebook.