Test: FV432 Mk2/1 APC
---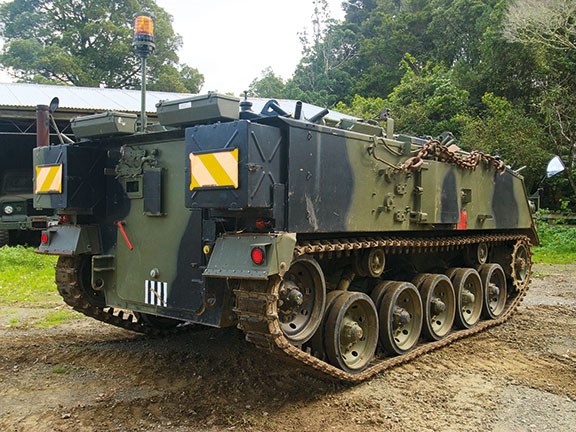 A fighting vehicle FV432 mark 2/1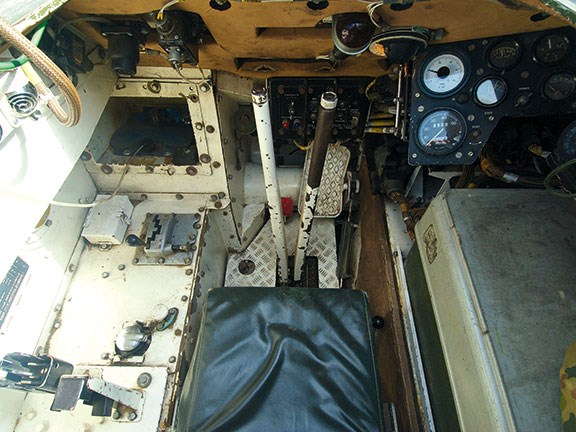 The 60s' design is clear to see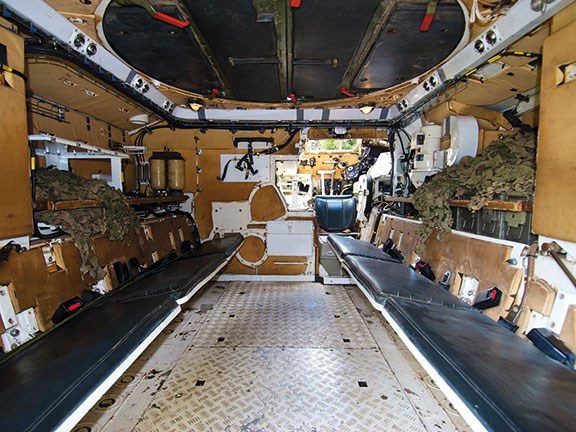 This was once a communications vehicle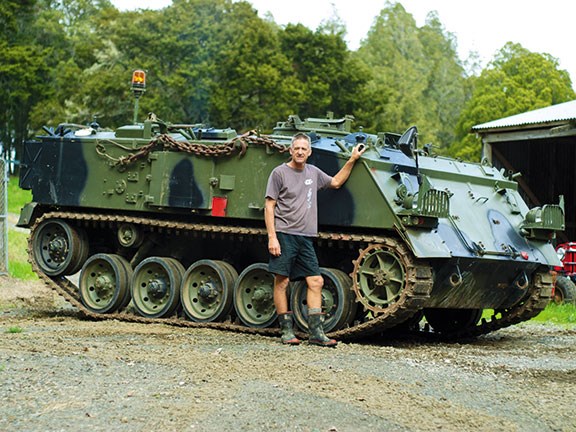 Johnny and his heavy metal toy

It would seem that everyone nowadays has a bucket list. I had never really given it much thought, but when I met up with Johnny Hildreth and he asked if I wanted to drive of his FV432 armoured personnel carrier (APC), I quickly answered, "Hell yes!" I then realised that I must have one too. The boy in me was back!
The collection
A mutual friend introduced me to Hildreth and his modest military vehicle collection, where the APC is actually the odd one out, as Jeeps make up the rest. The earliest is a 1942 ex-US Army model and the latest a 1997 Cherokee.
There are ten different Jeep models in the entire collection, six military and four civilian. His father started the ball rolling by buying an ex-army Jeep after the war.
The interest took hold and soon there were more and more Jeeps around the farm. Now Hildreth is taking the tradition in a new direction with the addition of a fully-tracked vehicle.
Hildreth's father owns a very rare amphibious model – there are only a handful of these left in the world. There's also a gorgeous blue 1970 CJ5 V6 four-speed model that was in the Yogi Bear movie filmed in Auckland a few years back.
I love the Jeeps and I should do a story on them, but it was the APC I was here to see (I'll be back again for the Jeeps).
A brief history of the FV432
Made by Alvis Vehicles, the FV432 was the first purpose-built, fully-tracked APC to enter service with the British Army. It was introduced in 1963 at the height of the cold war, so it's no wonder it can be fully sealed against NBC (nuclear biological chemical) contaminates and provide the crew with fresh clean air.
By the time production ceased in 1971, over 3000 units had been delivered, from the first mk1 to the last upgrade, the mk2/1. They have a crew of two, a driver and commander/gunner, and can carry either 10 fully-equipped soldiers or 3670kg of gear. Most of these vehicles are still in active service in specialised roles.
During the '90s, the British Ministry of Defence sold a number of older FV432s off to private buyers. Johnny Hildreth found one in the UK and shipped it over. The Auckland Museum of Transport and Technology (MOTAT), after seeing it, decided they could do with one and purchased his.
Missing having the APC around the farm, he found a 1968 example a few years later and had it shipped over, just like the first. Considering it's around the same price as a new small car, it's no more expensive than a lot of other male-oriented hobbies found today. Fishing comes to mind…
Besides having fun with it around the farm, it's proven very popular at the local RSA for ANZAC day parades. It can be driven on the road, as it's fitted with rubber-coated road wheels and rubber track inserts. Another favourite use is at kids parties around the district, and I mean kids of all ages. It seems everyone wants to ride around in the APC, no matter what age or gender.
Performance and handling
Driving the FV432 is a dream. There's an accelerator pedal for your right foot and two levers in front that come up from the floor, one for each hand. There's a button on top of each lever to engage the parking brake. Simply select the gear range you wish to use on the left and pull back on the levers to release the brake. It's a semi auto, so just add some throttle and you're moving.
The seat can be raised or lowered to provide driving positions with the head exposed or with the hatch locked down. The driver has both a day and night time periscope option available. Gear options are 1-2 or 1-3, 3-4, 3-5 plus R. By pulling back on the levers together, they act as a brake and pulling only one turns the APC in that direction. It's super easy and straightforward.
The suspension is something in itself. It's like gliding on air. There is no body movement when you go over corrugated judders and or large potholes. When driven over rougher terrain the APC develops a gentle rocking motion. It's a wonderful experience, much like floating above the ground.
However, like all vehicles, go too fast and it can become like a small boat in choppy seas. Unpleasant, especially when you hit the armour plating with your body. The thick, cold metal will easily leave large bruises, as I can attest to.
Powerplant and gearbox
The original mk1 was fitted with a Rolls Royce B81 petrol engine, but with the introduction of the mk2 came a new powerplant, the Rolls Royce K60 six-cylinder, two-stroke, diesel multi-fuel engine. This is coupled with an Allison TX-200-4A semi-auto gearbox, which Rolls Royce made in the UK under licence.
With the experience of WW2 just a few decades earlier, the designers had developed an engine that could run on most fuels. The diesel can be topped up with fuels like petrol, kerosene, white spirits, etc. The engine itself is enclosed in a cage frame and can be removed as one unit. The hoses all unclick and are long enough that the engine can run next to the APC, making servicing that much easier.
Luckily for Hildreth, the local gas station gives him a call when someone has accidently mixed diesel and petrol in their car. Once its drained, he's down there quick smart and pours it straight into the FV432's fuel tank. This makes a nice, fun use of contaminated fuel.
The engine compartment has a Firewire fire-detection system fitted. Understandable, considering this vehicle was expected to take the occasional hit in combat.
In 2006, the remaining FV432s still in active service had their powerplants upgraded to the Cummins 6BTA engine.
Summary
Let's face it — most people have a hobby of some sort. Some people have a boat and go fishing, some people have motorcycles and go touring — Johnny Hildreth has an APC and goes duck hunting in it. And he says it's better to sleep in than a tent!
They both work for me, but I do think the APC wins. If I had the land, I'd get one too.
For the latest reviews, subscribe to our Deals On Wheels magazine here.
Keep up to date in the industry by signing up to Deals on Wheels' free newsletter or liking us on Facebook.