A family affair: the Wymer Brothers story
---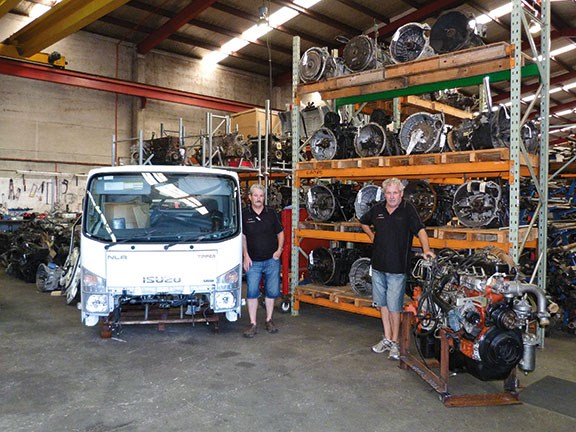 Kevin and Richard amidst a vast array of Isuzu spare parts at the company's Frankton warehouse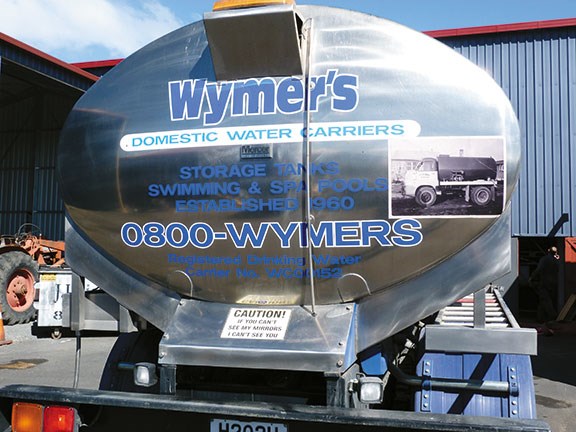 The Wymer Brothers' water truck carries a reminder of a bygone era: a photo of a 1950s Bedford S water cart

"It's in the blood" goes the line in a 1971 Sly and the Family Stone hit single. This is true of the Wymer family of Hamilton: trucks and machinery are in their blood too.
A chance meeting a month or two back with Wymer Brothers Ltd director Richard Wymer – who could be more appropriately named Richard Wymer Jnr. (his father is a 'Richard' as well, but is normally known as 'Dick') – indicated that a good story could result from paying a visit to the company's premises on Ellis Street, Frankton.
Richard and brother Kevin's business specialises exclusively in Isuzu truck parts and they're expecting a bumper year this year – quite literally too…
The company is New Zealand's largest sole Isuzu used truck dismantler and stocks the largest range of Isuzu bumpers and bumper irons you're likely to see.
Richard says that operators are always requiring replacement bumpers, as when they get damaged from 'hook-ups' on farm gates and the like, the resulting damage is more often than not too extensive to be repaired economically. It generally proves more cost-effective to fit a new or near-new replacement part instead.
The Wymer brothers have a range of wide, narrow, deep and shallow configurations to suit the many options available on the market. The company is also able to supply brand new bumpers or near-new 'take off' units in both metal and plastic for any Isuzu model from 1995 to present-day.
Additionally the company stocks an extensive range of the next most vulnerable piece of equipment on trucks – fuel tanks, mounting straps and fuel caps, along with every other conceivable Isuzu part for trucks, from a two-tonne Elf to a 25-tonne GigaMax.
Richard and Kevin come from a long-standing mechanical background, with their grandfather Jim owning a sand-mining business in Hamilton in the 1950s. Jim's love of machinery was passed down to Dick who is an A-Grade motor engineer.
Dick Wymer built a mini-empire on the back of an idea that came to him during a chance chat with a Borough Council overseer while repairing a 1951 Nuffield front-end loader, way back in 1960.
The Council overseer was bemoaning the fact the streets were still being cleaned by workmen using horse and cart, even though larger cities like Auckland used trucks to do the job – for some reason, motorised technology still hadn't reached the Waikato at that time.
This got the fertile mind of Dick Wymer ticking over and he had soon designed a truck on similar lines to those in use in Auckland. The truck could vacuum rubbish off the streets, as well as unblock drains, sewers and culverts.
By the mid 1990s the company operated 80 fleet units and trucks in Whangarei, Hamilton, Rotorua, New Plymouth and Wellington and employed around 65 staff.
On the day of my visit, a nearly 80 year-old Dick was happily working away in the yard building a horse-truck body on the back of a 2007 Isuzu NPR Series. He was building the vehicle for his granddaughter Alena who competes in dressage.
Although Richard was encouraged by his dad to more or less follow in his father's footsteps and serve his time as a motor mechanic with Westside Vehicle Services (the local Nissan and Fiat agents in Frankton), older brother Kevin left at an early age and spent 28 years of his working life at National Airways Corporation (NAC), which later became part of Air New Zealand.
However in 2005 he finally saw the light and joined forces with Richard, putting his Diploma in Office Administration to good use in the vehicle sales and spare parts business.
Richard firmly believes that Kevin's management qualifications marry well with his qualifications as a motor mechanic. It's imperative to stay on top of your game in what is a very competitive market, he says.
When asked why the company deals exclusively in Isuzu trucks, Richard says it's partly because of the Wymer organisation's long association with the brand (Dick Wymer's street cleaning operation ran Bedfords until he replaced them with Isuzus in the 1980s).
But he cites the main reason for their brand loyalty is simply a reflection of Isuzu's volume of units on the road in New Zealand. In early 2000, Isuzu held 26 percent of the truck market here, emphasising the fact that almost one in four trucks on the road is one sort of Isuzu model or another.
To have become New Zealand's largest sole Isuzu used truck dismantler is quite an achievement for a company that started out more or less as a home-based operation. The Wymers' enterprise now occupies an entire street, bisected by Ellis Street in Frankton, and the company owns several commercial buildings in the Frankton area.
While Richard points out that Wymer Brothers Ltd is a separate entity to the now-sold suction truck business, his father Dick is still involved in domestic water carrying – it remains an operation that's built on a proven philosophy of providing a good service at a fair price.
Throughout its long history the Wymer operation has done its share of upgrading and re-powering various trucks and other pieces of plant. So to keep up this tradition, Wymer Brothers has carried out a facelift operation on their small NHR Elf that they affectionately term their 'Botox treatment'
The 'treatment' involves removing the bumper, headlights, grille and other panels and replacing them with parts from newer models. Richard says that this makes the vehicle look eight or nine years younger and doesn't cost a fortune.
Dick intends having his two sons carry out one of these nose-jobs on Alena's horse truck before putting it into service too: he reckons it'll be a good advertisement for Richard and Kevin's business.
As a bit of nostalgia-based marketing, a photo from Wymer's earlier times graces the back of their water truck. The photo shows a short wheelbase Bedford S water cart. The truck has long-since passed into obscurity, but the Wymer name endures. And long may it continue.
For the latest reviews, subscribe to our Deals On Wheels magazine here.
Keep up to date in the industry by signing up to Deals on Wheels' free newsletter or liking us on Facebook.