Dairy for life
---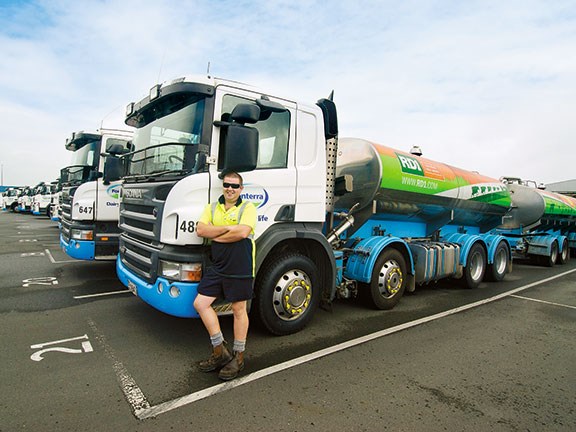 Sam Jefferson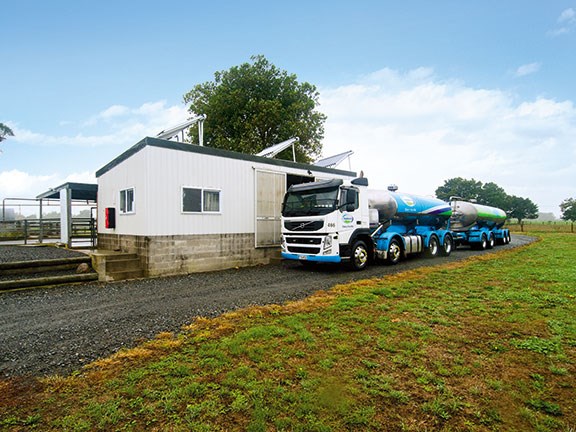 Without a set run, each day is different for Fonterra drivers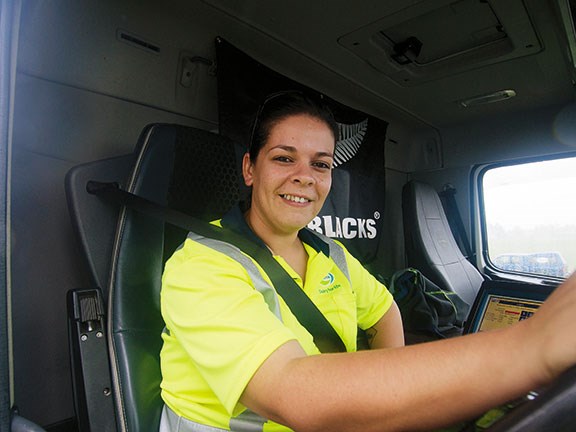 Anna is in her second season driving for Fonterra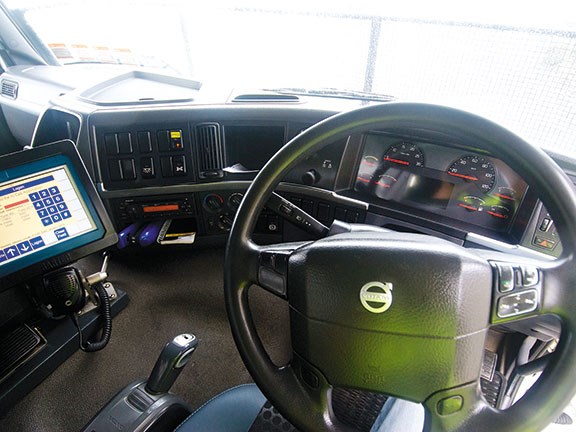 Technology helps keep the Fonterra trucking fleet efficient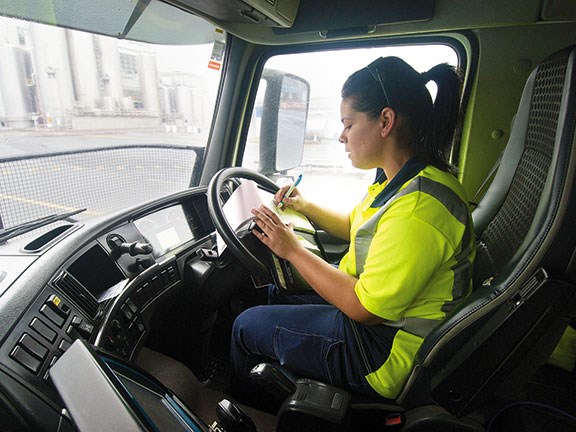 Anna Scanlyn prepares to head out of the yard

Do you sometimes wonder if the people clocking up thousands of dollars in student loans actually carry on and get work in the industry they have been studying for? Dairy for life
No doubt a lot of course tutors start out with many enthusiastic students, only to see the number steadily decline over time as various reasons to exit the course arise. For the dedicated students seeing their time out to its inevitable conclusion, the next step is turning their knowledge and qualifications into a paying job.
One such person applying herself after obtaining qualifications is twenty-seven-year-old Anna 'Spanna' Scanlyn. Three years ago she left her family in Gisborne, and shifted to Hamilton, deciding to follow her passion of truck driving. The next obvious step after arriving in Mooloo-land, was obtaining the relevant qualifications to enable a clear passage into the industry. For this, she chose the 16-week National Certificate in Road Transport course run by Bay of Plenty Polytech.
When completed, Scanlyn dived quickly into some short term stints of work — firstly driving a ready mix truck for Bridgeman Concrete, and then onto tipper work for nine months. Last year (two years after graduating), she started with Fonterra as a milk tanker driver based at the Te Rapa plant, just outside Hamilton. One of around 1500 Fonterra tanker drivers throughout the country and now into her second season, Scanlyn describes the job as ideal. "I work a 3x3x3 shift, meaning I work three days, then three nights, followed by three days off."
She drives a 500hp Volvo FM500, shared with two other drivers. Like all new trucks entering the Fonterra fleet, Scanlyn's twin steer rig features a 12-speed, I-Shift transmission. One would think sharing a truck with other drivers could have its challenges, but Scanlyn says she gets on well with the others. Team manager, Dean Parkes says they try to match teams of drivers so issues are minimalised.
Approximately fifty trucks are based at Te Rapa, and a typical day will see tankers travel all over the Waikato region, with trips north to Kauri (Whangarei), and south to Taranaki when required. Being one of four Fonterra mega-factories strategically-located throughout the country, drivers at Te Rapa have work throughout the entire year, which can be seasonal at other plants around the country.
Without a set run, each day is different and Fonterra tanker drivers will frequently not know where they will be stopping for their breaks. When collecting the raw milk, there are a number of conditions dairy farmers must meet to make the farm pick up a straightforward process for the drivers. Driveway crossings must have enough room so a truck and trailer doesn't have to pass over the centre line when entering a farm — although in reality, this can still sometimes happen on narrow roadways. Another condition is there are set dimensions for the milk shed turnaround area so a tanker can loop around without the need to reverse at any time, and roadways must be kept in top condition.
To keep a good working relationship between tanker drivers and farmers, Fonterra have special liaison representatives to help address any operational issues arising from time to time. This level of diplomacy ensures no drivers are placed in situations outside their comfort zone.
To ensure everything flows as smoothly as possible, monitoring and automation is used as much as possible and trucks are fitted with devices to ensure company safety rules and policies can be easily adhered to. While this may not suit the more independent style of driver, Parkes says it is also there to assist the driver when things turn pear-shaped. He relates the tale of a farmer who called to say a tanker was travelling too fast along his farm road. Parkes says they were quickly able to confirm the driver's speed and advise the farmer the driver was not speeding.
In-cab technology also helps with milk collection by feeding route information to the driver, optimising the driving route and ensuring safe driving hours are not exceeded. Another interesting piece of technology keeps tabs on weight and prevents overloading, while another automatically spreads the load throughout the truck and trailer.
One good thing about working for Fonterra is drivers are able to return to their families at the end of every shift, something Dean Parkes says is precious for a lot of the drivers, especially those moving over from line-haul work.
With Fonterra being a global operation, Parkes says there are good prospects for employees to climb the corporate ladder within the business.
"There are opportunities for staff to move into all levels of the business anywhere throughout the world, and this also applies to drivers. The problem is truck drivers love driving trucks, so it is sometimes difficult getting them to move on to other things." Nonetheless, the opportunity is there should the urge hit.
Coming back to Anna Scanlyn, her original course tutor back then was David Cox, who describes Scanlyn as a "go-getter" who was focused on what she needed to achieve.
"Anna is proof anyone who has dedication to what they want will reach their goal with determination. How many students just a year or so out of a course can earn over $70,000 per year?" Cox says.
With so many milk tankers plying roads throughout the country, it is easy to not give them much more than a second glance when they pass by. Sitting back and thinking about it a bit more, you begin to realise that without the white product getting collected from the farm and transported to the factory, New Zealand's largest company would have absolutely nothing to sell. It also doesn't take much longer to work out that if that did happen, then the country would be in serious financial trouble.
Following on from this, would it be fair to say milk tanker drivers are a huge part of the financial backbone of the country? Some may disagree, but next time a milk tanker drives past, spare more than a second thought for how important this collective of drivers are to our way of life.
For the latest reviews, subscribe to our Deals On Wheels magazine here.
Keep up to date in the industry by signing up to Deals on Wheels' free newsletter or liking us on Facebook.