History: Bulk spreading
---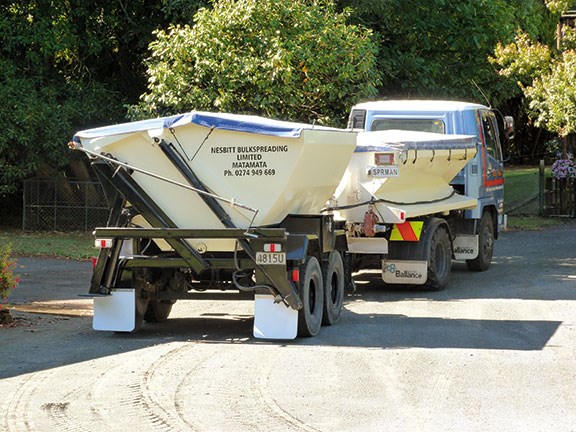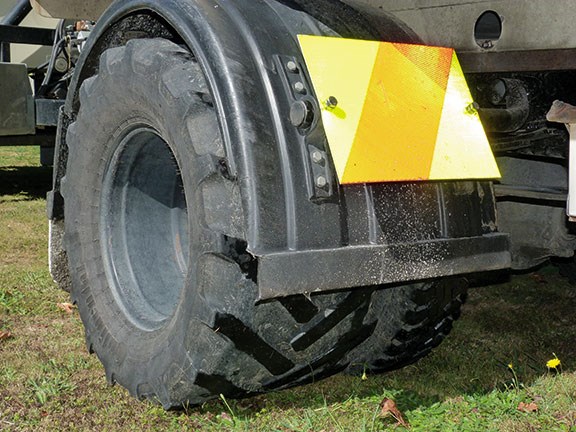 The truck is fitted with over-width tractor-tread tyres on the rear axle to give it improved traction and stability off the road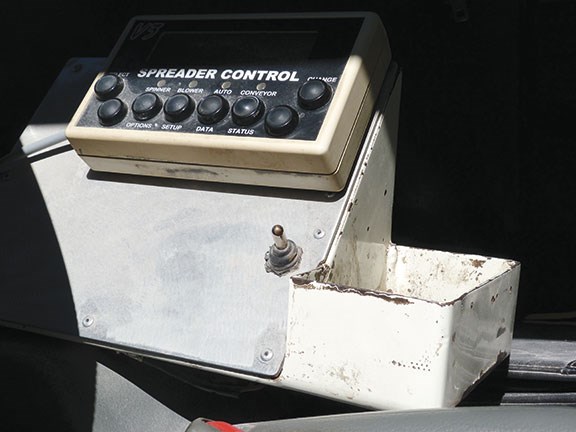 The spreader control communicates with the computer in the cab, which controls ground speed for the desired spread rate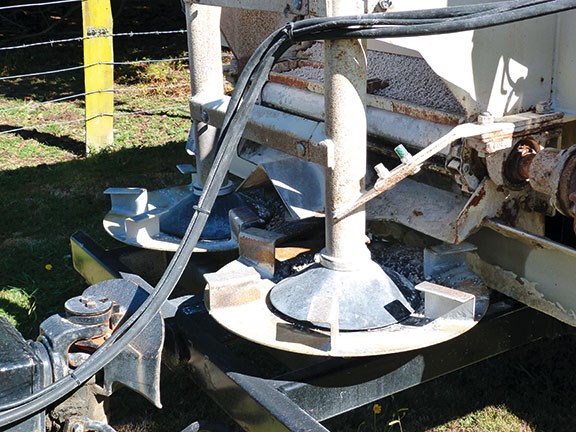 Twin spinners deliver the fertiliser evenly to the pasture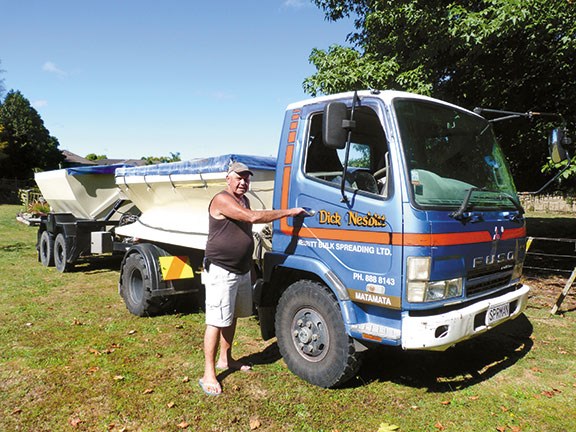 The Fuso has a five-tonne carrying capacity and tows a five-tonne-capacity side tipper trailer

Having had several off-road vehicles in my time and admitting to a huge interest in trucks and machinery, I was delighted when the offer to do a story on not just one, but two of my interests came my way.
Aside from all that, it was an ideal opportunity to take a trip out of the big smoke and breathe in some fresh country air for a change.
I guess my interest in bulk spreading trucks stems back to when I was in primary school, when the firm across the road had several S and RL Bedfords. Even as a 10-year-old I wondered to myself, how was it the 4x2 S models didn't bog down in a soft paddock with a load on.
But then, perhaps they did... I was never cheeky enough in those days to ask any of the drivers.
Dick Nesbitt has been in the game for quite a few years now, after coming back from Australia in 1965 where he worked in the tobacco industry. So it was an ideal opportunity to get the running from someone who knows the industry inside out.
Dick has driven just about everything, both on the road and off it, from a 6x6 GMC which always punched way above its weight, as was the wont of early-day operators, carting five-tonne loads for Huntly Fertiliser.
He even spent some time operating a 1940s Ruston Bucyrus 22RB clamshell for the now-defunct Roose Shipping Company, loading sand and shingle onto barges.
Roose Shipping Company was based in Mercer, south of the Bombay hills and used a fleet of barges to transport aggregates along the Waikato River right up to the 1980s.
They also had a sand and shingle supply operation in Grantham Street in Hamilton, where the rowing club is now.
Another truck he recalls asking a lot of was a 1955 VAK Commer with a petrol engine. This poor old machine was powered by a Humber Super Snipe car engine, attached to a David Brown five-speed gearbox.
It was expected to carry loads of six tonnes (and often more) as its daily punishment, and if that wasn't enough, it towed a seven-tonne Automat trailer as well.
He thought all of his birthdays had come at once when he was given a later-model Commer with its 6-354 Perkins engine delivering a staggering 120 horsepower.
All right, this truck may have had a little more power than its predecessor and had vacuum-assisted brakes but as you might have guessed, its owners expected the beast to not only carry five tonne of fertiliser in its twin spinner hopper. With the seven-tonne Automat trailer behind, the total weight of the rig came in at around 20 tonnes.
Later in the piece he wound up on an AACO International, powered by a 392in3 V8 Inter petrol engine coupled to a six-speed Allison auto transmission.
Again a lot was asked of this truck, with an eight-tonne hopper on its back and towing a 10-tonne Automat trailer. This equates to an all-up weight of close to 30 tonnes.
Like most people, Dick Nesbitt hasn't spent his entire working life in the one industry, he spent quite a bit of time tooling some big rigs for WH Luff Ltd, carting livestock in trucks like an eight-wheeler K I44 Kenworth with a Detroit 8V92T under the cab and towing a two-deck/three-deck trailer behind the two three-deck stock crate on the truck.
He reckons the Kenworth he drove for Bill Luff was perhaps the best truck he's ever driven, in spite of the short front spring set up naturally giving the truck a harder ride.
The reason he was so fond of this truck was the 460hp and the air seat.
One can imagine what a pleasure these innovations must have been for a driver who had spent many years behind the wheel of the likes of 1955 Commer trucks.
By the early 80s Dick was contracting to Waharoa Transport with a much smaller but brand new truck (a 110hp KT Isuzu) and worked his way through a number of the same brand of truck to a KS, and later a 120hp NPR model. But since 1989 the business has operated as its own entity.
At one stage Nesbitt owned and operated an ex-army UNIMOG 1300 L.
Because fertilisers are super phosphate-based, a strict maintenance regime has to be adhered to and Nesbitt says even though hoppers are manufactured using corrosion resistant Core 10 material they do have a relatively short lifespan.
However, he also says that as a general rule-of-thumb they'll be good enough to see out two or three cab and chassis units.
He said bulk-spreading trucks do wear out a lot quicker than normal on-road trucks [a costly exercise for operators when replacement time comes around] hence his current practice of buying used Japanese imported trucks.
His current truck has been in service now for about four years and has given him good service.
Although it wasn't possible for me to go out in the field on the day of my visit, I did however get a good chance to find the answers to questions I'd pondered for many a year:
DOW: What are some of the biggest changes you've seen in the industry?
Nesbitt: Nowadays the spreading mechanism is PTO driven by hydraulics which are computer-controlled, whereas in the old days a chain had to be attached to a sprocket which was welded to the rear axle of the truck and was driven through a gearbox out of a Ford V8 — this contraption had to be assembled in the paddock once you'd got to the job.
The spinners were operated by what was known as a 'side motor' which was usually a Ford 10. In latter times, the material was blown onto the paddock by a fan driven by a 186 Holden motor.
DOW: Do you use the trailer in the paddock to spread fertiliser?
Nesbitt: No, the trailer is only used to transport extra material to the job. This saves extra trips back to the depot with the smaller-capacity truck.
DOW: How many suppliers of fertiliser do you source your products from?
Nesbitt: Several, however, Ballance and Ravensdown are the main suppliers.
The busy periods in the bulk spreading industry are March to May and again from September to Christmas, so the winter months are usually maintenance time with a bit of growth-enhancing urea spreading.
Even with so many years in the business under his belt, Dick Nesbitt says he still enjoys going out to work each day. But when you think about it, who wouldn't?
Let's face it, there aren't many jobs where you can go out, get a bit of off-roading in and get paid for doing it!
For the latest reviews, subscribe to our Deals On Wheels magazine here.
Keep up to date in the industry by signing up to Deals on Wheels' free newsletter or liking us on Facebook.