Smith & Davies Logging trucks
---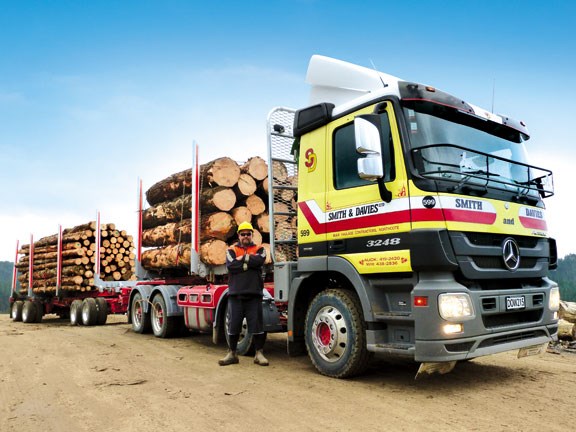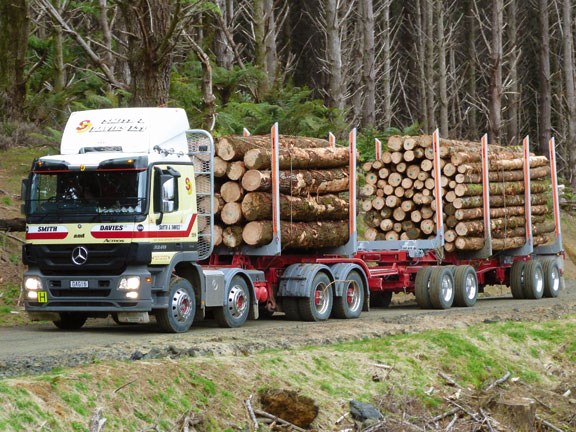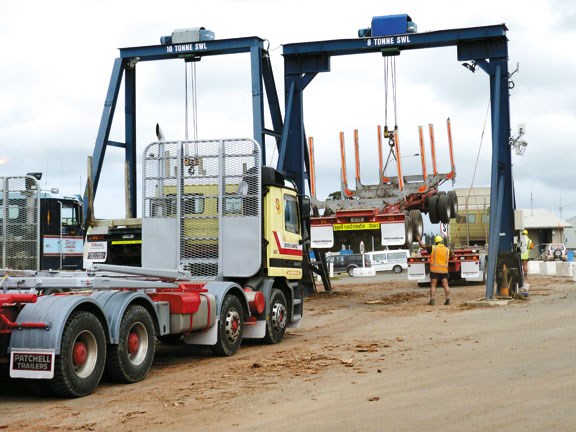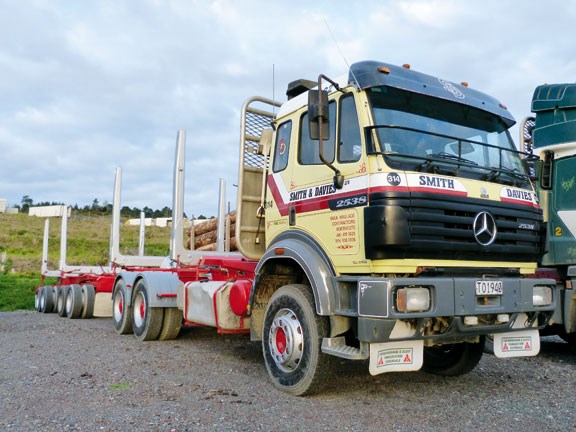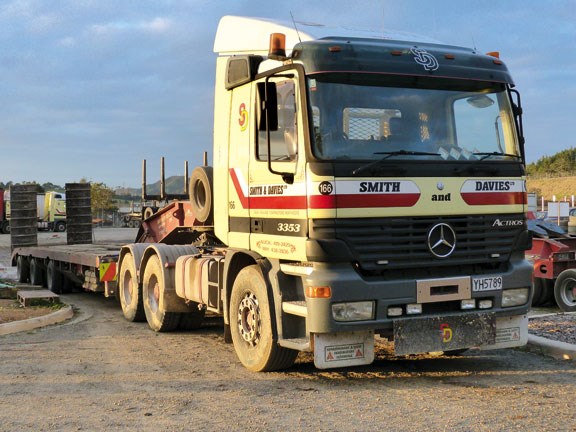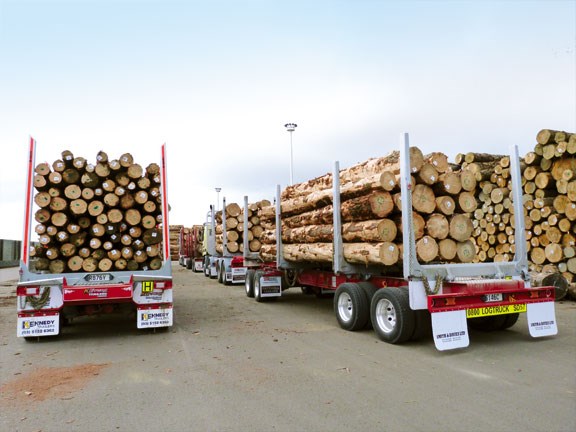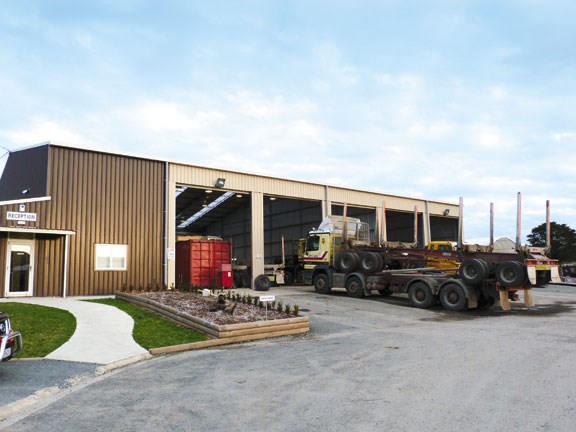 For more than 80 years Len Smith's and Alun Tyler-Davies' surnames have graced the doors of trucks and machinery in and around the Auckland and Northland regions, and for the last 40 or so years the truck fleet has been dominated by one brand – Mercedes-Benz
The pair first purchased two new Mercedes 2624 trucks (26-tonne rated, 240hp) in 1969, to cart logs out of Tinopai. As with Smith & Davies' other business activities, the logging division is now the largest in the region, and it's still growing.
Says managing director Graham MacKinnon: "Prior to 1998 we had around 16 log trucks, but by '98 the log fleet was down to pretty much nothing thanks to the Asian crisis and Carters changing the way they did things. In 2002 we put two new log units on but then the market crashed again in 2003, so we converted the two units to log decks to help keep them going." This way they could cart general freight one way and logs the other.
Some of the most significant growth has been recent, accelerating with the purchase of Tane Logging in 2005 and Williams & Wilshire's Northland division in 2008 (known then as Paragon Haulage). By May 2009 the fleet comprised 27 dedicated log trucks, five owner-operator units and four specialised log deck units.
As of August 2011 the fleet has increased to 52 dedicated log trucks, 12 owner-operators and seven log deck units, with at least three new dedicated log units expected each month from now through to January 2012. The expansion is only slowed by the supplier's capacity to produce new units.
Phenomenal growth no doubt, but how have they managed this? What is it that Smith & Davies does that makes this possible? Logging manager Daron Turner provided the answers.
"In early 2009 it became clear that we were going to increase our fleet size due to demand, and to manage our risk and exposure to the market's highs and lows we began to strategically align ourselves with customers that shared a commitment to the industry and shared our business values. We decided to focus on the needs of these key customers and made sure we did our best to service their requirements."
To say this "worked" is quite an understatement. "Smith & Davies has built a strong business in Northland through our commitment to customers and their commitment to us," says Daron. "Both Graham (MacKinnon) and Bob (Grove) have instilled a strong culture in our business and it flows through the whole company.
"The secret to sound business in Northland is well-grounded, long-term relationships, with commitment that goes both ways. Apart from the acquisitions in '05 and '08 our growth has been totally organic, growing with our customers' needs. We put a lot of effort into the service we provide. It's what we do best."
Looking deeper, it's apparent the company is not only focused on delivering for the customer, but also has a commitment to its staff. Everyone I met seemed to be smiling and quite happy in their work - refreshing to see. Safety and training is of paramount importance, says Daron.
"We presently have the highest number of SAFED trained drivers in the country and have put more than 40 through the course so far."
SAFED is one of several accredited industry training courses available to the staff. To help manage this, the company has a full-time driver trainer (Thomas Murray) on its Whangarei payroll. There are full-time trainers in other divisions too. Thomas also runs a continuous pre-employment recruitment programme aimed at bringing a consistent flow of quality new staff into the ranks. With at least three extra trucks coming into the fleet each month over the next few months, he has his work cut out.
Another reason Smith & Davies is on top of its game is its self-sufficiency. After quickly outgrowing its old site, it recently completed a new, purpose-built site in Whangarei's Te Waiti Place. It opened in September 2010 and provides a solid base.
In addition to the main office block with reception, despatch and lunchroom is a three-bay mechanical workshop, two-bay engineering shop, panel/paint bay, and tyre management facility. All are manned by fully-trained and qualified technicians.
A drive through wash bay helps drivers keep the rigs looking sharp. The repair and maintenance facilities operate a double shift Monday to Friday and single shift Saturdays. There are mobile mechanical service trucks, and also tyre service trucks. Surrounding these facilities is a vast open parking area that should see the company through a reasonable amount of growth.
I asked Graham MacKinnon what the rationale was for doing it all themselves. "It's all about control really. When we need to pull a truck off the road for whatever reason, we can programme it in and prioritise the work-load to suit our business. We've got nothing against the local service agencies - we use their services quite a bit as well. But this way we can call the shots on what gets done and when, and it helps us provide the best service possible to our clients."
Smith & Davies is synonymous with Mercedes-Benz trucks. It has or has had at least one of every version sold since the marque's introduction to New Zealand back in the late 1960s.
Outside a few other makes from owner-operators and the acquisitions, Benz is all it runs. It ties in with its focus on safety and innovation. Mercedes-Benz trucks are renowned for their cutting edge safety features. This also makes total sense in the workshops, as they only need to train technicians on one range of trucks and carry one range of parts.
"We endeavour to have a spare engine and gearbox on the floor ready to go. This reduces the trucks' down time and enables us to do a comprehensive rebuild," says Daron. The repair and maintenance team knows Mercedes-Benz trucks inside out - there is very little they need to go to outside suppliers for.
However they cannot keep up with the entire fleets' requirements and frequently access the Daimler Trucks service network, utilising the services of nearby Mercedes-Benz parts and service agents Keith Andrews Trucks in Whangarei, or Trucks & Trailers Ltd in Auckland.
Long-standing relationships are found throughout the Smith & Davies businesses. Trucks & Trailers Ltd (Daimler Trucks' sales and service agency in Wiri, Auckland) has been supplying the Mercedes-Benz trucks ever since they've had the agency.
Smith & Davies Logging mainly uses Patchell Industries and Evans Trailers logging gear, and has progressively shifted the designs to achieve safer rigs. All new trailers have a drop-centre chassis to lower the centre of gravity and they all are now fitted with EBS braking systems. All the new trucks are equipped with fully automated "Powershift" transmissions and multi-stage hydraulic retarders to increase the safety margin.
Always keen to keep up with new innovations and technologies, particularly when they might improve safety, Smith & Davies recently put a prototype logging unit on the road. Kevin Turner (Smith & Davies' Northland operations manager) had the idea for the design and saw it through to completion.
It comprises another brand new Euro4 MP3 Actros sitting under a self-unloading/loading folding trailer unit. I asked Graham MacKinnon about the new concept. "It's safer to operate. When you see the guys loading and unloading their trailers, it looks like a recipe for drama. We see that borne out all the time, with a steady stream of reflector replacements and silly damages here and there.
"These sorts of things attract attention from the authorities, and the extra repairs and maintenance time make the trucks less productive," says Graham.
If the RUC rules change as has been proposed, I can see the design really taking off, it has so many benefits.
Owner-operator units are not typical of Smith & Davies, but several O/Ds were inherited with the purchase of Paragon Haulage and this has proved helpful for increasing the fleet more quickly, with several more coming on board since.
We all know logging has traditionally been a boom-and-bust game. I asked Graham how Smith & Davies plans to deal with this: "The prospects look quite good with requirements for wood from China and, more recently, with demand from India increasing steadily.
"We are continuously learning and applying what we learn to better ourselves. One of the best things we've learned is to have more control. We've applied this theory and it works well for us. We have some big plans moving forward and this should all help to position us very strongly within the logging sector for years to come."
If only Len and Alun could see it all now - their names are proudly emblazoned across one of the best-run businesses in town, and will be for many years to come. It goes to show: when you focus on your people and provide them with the best platform to work from, the rest just falls into place. It's a lesson many of the cost-cutting businesses out there would do well to learn.
Keep up to date in the industry by signing up to Deals on Wheels' free newsletter or liking us on Facebook.