AerialScope ride-along
---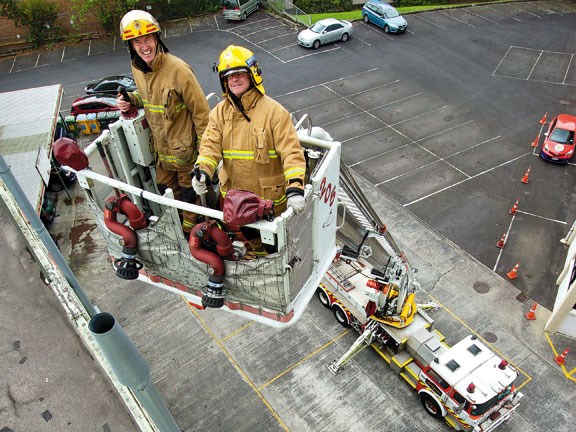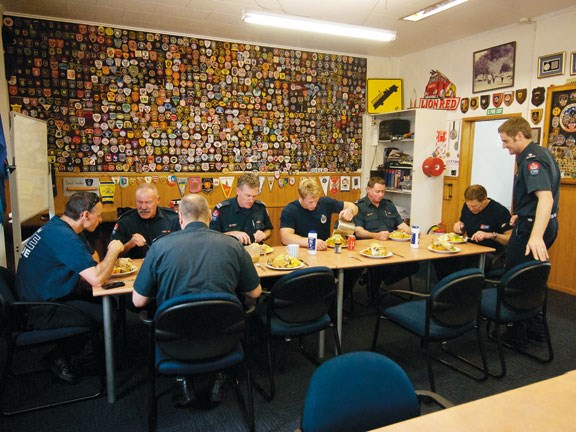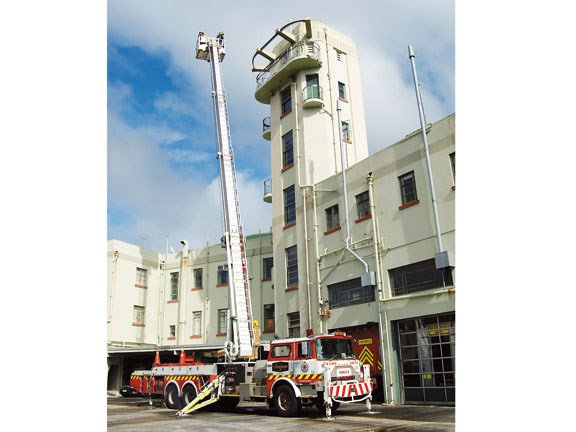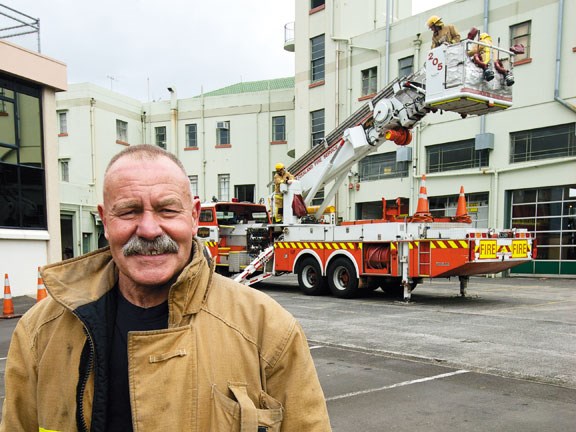 The life of a firefighter involves much more than driving a big red truck and spraying water on a blaze. It's about comradeship, hard work and resilience. In times of disaster, firefighters are always ready to risk their lives to save another.
In the past many believed that beneath the yellow helmet and behind the protective clothing is a man or woman with a seemingly leisurely working life; just sitting around waiting for 'the big call'. In actual fact a firefighter generally finds themselves with very little spare time at all.
If they're not out attending a call (which could be a fire, a motor vehicle accident, a private fire alarm, or most anything else the 111-calling public need assistance with), they'll be doing valuable community education work such as home fire safety checks and installing smoke alarms in at-risk households, participating in a Firewise lesson at a local school, or having a presence at a Home Show.
When they do get some downtime, they'll usually find themselves testing and maintaining equipment, studying for exams and generally keeping the station in a ship-shape condition.
For many growing up, the red truck was, and still is, an icon. As it roared past, lights and sirens blaring, children ran to windows. Firefighters were heroes; they still are. Guys and girls on the frontline who are expected to risk their lives for the benefit of others.
So when I was asked to do a couple of shifts with Auckland City station's Blue Watch, I couldn't say no. My aim was to gain an insight and acquire an understanding of one of Auckland city's busiest fire stations'. I wanted to learn about Auckland City Station on Pitt Street; its history, its firefighters', and the bonds that it has created.
It was 7.30am when I arrived at the station. I found Blue Watch already in the kitchen grabbing a coffee and a bite to eat before line-up and roll call at 8.00am. Mike "Ringo" Harwood introduced me to the station crews and encouraged me to make myself at home.
Not the sort of guy that had aspirations to be an officer, Ringo is the type that wants to be where the action is; the sort of guy you'd expect to see running into a burning house. With over 30 years in the job as a frontline firefighter at the busiest station in the country, there aren't many with more experience than him.
I'm sure he has been everywhere and seen almost everything. He was even one of the first firefighters to ride the Aerialscope when it was newly delivered. Doing some quick sums I figure he's somewhere in his sixties. Fit as a fiddle, he's an inspiration to anyone who's clocking up a bit of mileage. It was clear to see the respect that each firefighter on the watch had for him too.
For those like Ringo, this was a home; a place where things got done and stories got told. The hundreds of brigade emblems pinned to the walls of the firefighters' mess are a tribute to the comradeship that firefighters' from around the world share.
After roll call, each firefighter began their individual tasks and operational checks. Personal protective equipment was loaded onto the truck and each member checked that their breathing apparatus (BA) was operating correctly.
While this was a chance for me to gain a behind-the-scenes look and grab an insight into the operational side of firefighting, I was also there to ride along in one of New Zealand's most well-know and iconic aerial appliances, 'Auckland 205'; the 75ft 1981 Mack/Baker Aerialscope.
This is the truck that has protected property and given hope to many of the city's residents for over 30 years. But 'Auckland 205' has been much more than this; it has created stories and built relationships. It's a truck that features in many memories of the city's firefighting past.
The way the guys talk about the truck was fascinating in itself. There was, and will be for many years to come, an underlying admiration and respect for this massive Mack. There was a noticeably nostalgic feel for many of the guys when talking about its replacement; it became very clear very quickly that the new appliance has some darn big shoes to fill.
Ride-along diary
1030 hrs: It has been a quiet morning in the station with no calls yet. I'm told this is always the case when someone comes in for a ride-along. Naturally, I cop the blame.
1200 hrs: Midday and time for the weekly operational checks of the aerial appliance. The truck gets driven around the back of the station and, once in position, the crew set about their tasks. Once these checks are completed I'm asked whether I would like to have a "fly" in the basket of the aerial. Eagerly I accept the offer and harness up.
Slowly rising into the sky is incredible; a feeling that only a few get to experience. The maneuverability of the Aerialscope is second-to-none as we move about with pinpoint accuracy, firefighting in the air.
1400 hrs: I get my first (and only) call as we refuel the appliance in Ponsonby: an alarm activation across town. For me, the sound of the sirens, the thunderous sound of the air horn and the roar of the truck provide an immediate adrenalin rush. It's interesting to hear conversation continuing as normal as we race across town, the jokes constant.
Ringo handles the beast of a truck like a true professional, swinging it in and out of traffic with ease. A tree planted in an inconvenient spot near the kerb comes very close to becoming woodchips. I wonder whether the guys are nervous, for as we all know too well, things can change in an instant.
1430 hrs: The call turns out to be nothing that we were required for and we return to the station. Ringo quickly backs the truck into the station with millimetres to spare between each pillar of the engine bay; something he's done hundreds, if not thousands of times before.
That was the only call 'Auckland 205' got that day and, for me, it wasn't nearly enough. But that is how things go sometimes: I had had my adrenaline fix.
As the guys got back to work, I'm told that quiet days like these are ideal for delivering public fire safety education or training, cleaning, studying and throwing some weights around in the gym. The perfect opportunity for me to have a wander around the station too.
I began by making my way up various flights of stairs where rooms off long corridors provide firefighters' a bed for the night while on shift. Built for many more people than are housed there these days, some firefighters – like Ringo – have their own rooms. I'm told that some wags played a joke on him a while back, painting his room pink. Needless to say he wasn't too pleased and the décor was quickly rectified.
Years ago, the large station and its facilities were a social hub; a place where families came to celebrate events and spend time with husbands' and fathers' during the long on-duty hours. Shifts are shorter these days, but still socially inconvenient. The large dance hall is now a gym, but no doubt is still able to play host to the occasional party.
The express pole is still in place and fully functional too, providing a fast route to the engine bay for firefighters. It was interesting to see that the whole station was built to channel staff to the engine bay as quickly as possible when the alarms sound for a fire call.
Unfortunately for me, that one quick trip across the city was the only call during my two shifts over 24 hours at city station. Naturally I copped a fair bit of flak from the crews for being a bad luck omen.
Although as I discover later, if I had been riding along on the main pump, I'd have been on the go almost constantly. The Aerialscope doesn't roll out the doors as much as it used to, due to changes to the turn-out system.
Before I arrived at city station, my view of firefighting centered around comradeship, hard work and resilience. This view had certainly been reinforced after spending a couple of shifts with Blue Watch and the Aerialscope.
Thanks for having me guys.
Feel free to make a comment or ask us a question about this story on the Deals On Wheels
page.
For the latest reviews, subscribe to our Deals On Wheels magazine here.
Keep up to date in the industry by signing up to Deals on Wheels' free newsletter or liking us on Facebook.