JAC HFC1061K gas-bottle trucks
---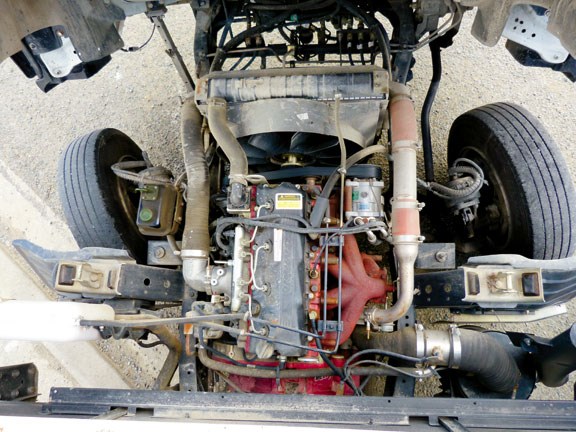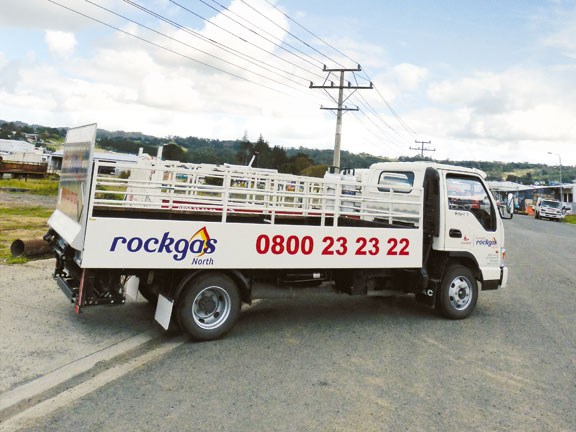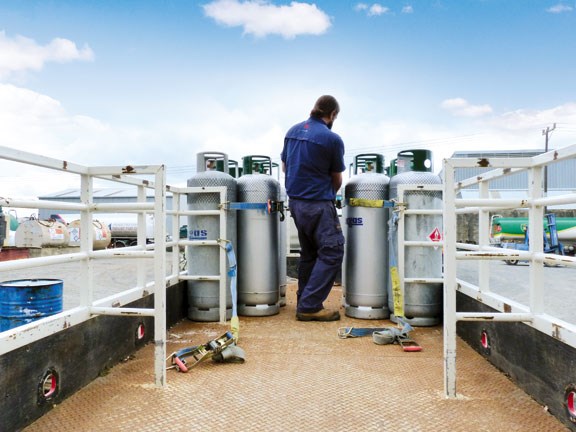 Why did NDS Fuel opt for JAC light trucks over the more technically sophisticated Japanese competition?
When Scott Ware, Operations Manager for Northland franchisee NDS Fuel went looking for new trucks to use, for natural-gas bottle deliveries, he discovered the JAC Trucks brand was available with Cummins diesel engines. Previously on a stint as a long-haul driver in the USA, Scott gained a firm respect for the Cummins product and their strong backup and service, so he decided to take a closer look.
NDS Fuel's fleet of existing trucks was a mix of used imports and older Japanese makes of trucks that had served them well, but were becoming rather tired and unreliable. Scott explains "we would have a problem or need some part or something and they'd say, oh, that'll be 10-15 days out of Japan, or something like that, it's just becoming too hard to keep them going reliably". Working with Peter Coffin - Orix commercial leasing manager, they looked at several options including new Japanese trucks; however, Scott was concerned the latest Japanese trucks might have become a bit too complicated, with their AMT transmissions and regenerating exhaust filters etc. he wasn't sure that was going to be such a good idea, considering they cover everywhere from Albany, Auckland, to the top of the country. If any of this whizz-bang new technology was to fail or cause trouble, how long before they could get help, and would the service agents know how to fix them?
One of the things Scott's big on is using local suppliers where possible, and he found out that JAC has an agent based just down the road from them, right there in Whangarei. Northern Truck and Bus is the local JAC trucks and Higer buses agent, and Arthur McKechnie is the area sales consultant. Scott couldn't speak more highly of the backup and support they are getting from the local suppliers; he says "if it wasn't for the local suppliers behind these trucks, we probably wouldn't keep buying them, Arthur from JAC, Allan from All Transport Engineering, Logan from Cummins, and Gary from All Truck Repairs, these guys all go the extra mile to help us and we really appreciate that".
To date, via Orix leasing, NDS Fuel have put two JAC HFC1061K 7999kg GVM trucks to work, they have a third in build and another two to follow: one will be a 5999kg GVM unit to allow for car-licenced-only drivers. Scott explains, "The boss was finding it a pain to keep track of the fleet by rego number so we decided to name them: we called the trucks 'Rocky' after the Contact Energy Rockgas they carry. The first one (Rocky 1) uses a slightly modified and upgraded deck from a previous truck, the second (Rocky 2) had an all new deck built locally by All Transport Engineering (ATE), with the third also having a new deck fitted by ATE. We're learning and developing the bottle carrying and delivery systems all the time and with All Transport Engineering being local, we can easily keep working with them to fine tune it."
The first NDS Fuel JAC went on the road November 2011 and at the time of writing had travelled 20,000km, it's the longest travelled JAC in Australasia to date; the second went on the road in January 2012 and has already done 10,000km. The only niggles they've had are some issues with the engines randomly de-rating, they think it may have something to do with the AdBlue system, or with the engine ECU, JAC and Cummins are hot on the case and Scott is more than happy with their efforts to date to resolve the issue. A couple of the drivers have found the driving style adjustments required have taken a bit of getting used to; thanks to the high torque Cummins engine, full air braking system and heavy duty steering box, the JAC HFC1061K is not like any other eight-tonne GVM truck to drive, it's far more like an older-style large truck to drive.
Troy Crutcher, NDS Fuel driver, says, "The main complaint we have so far with the trucks is the turning circle, it's not that great, but you get used to it. The wheelbase could be shorter for the work they do, which may help with the turning circle."
I drove a brand new JAC HFC1061K box body demonstrator on test for Deals on Wheels last year and was interested to see what one was like with a few km's on board. The demonstrator proved more than worthy overall for the price, but I found the steering to be very vague, the transmission shift rather stiff and the interior plastics quality, fit and finish less than desirable.
My first impression on entry into Rocky 1 was the interior didn't look new at all; it could have been five or more years old. There were many scuffs and scrapes on the plastics and several of the interior panels and fittings didn't look like they fit together very well. Troy mentions that "the glove box lid has fallen off both trucks a few times".
This wasn't Troy's regular truck, and to be fair, the interior showed signs of a truck that was used as an appliance; which can sometimes be an issue when trucks have multiple drivers. This wasn't that unexpected, as the interior never did have a very durable look. However, it didn't look overly shabby and over time a well looked after interior should keep fairly well.
Just like I found in the demonstrator last year, the steering column adjuster was excessively stiff to use, making you force it, which will no doubt eventually break it. The gear shifter sits well forward and quite high, still very notchy and stiff to use, you need to be patient with the shifts to avoid baulking. One thing I found disconcerting was the shifter was really sloppy when in gear, you could stir the gear stick around and it didn't feel very secure.
Scott says "The gear shift was really tight when we got the truck, so we had it loosened; now it works much better" it didn't feel very good to me, but once you got the hang of how it worked, it was fine. Troy said "the gear shift in the other truck is much stiffer".
The seat in the demonstrator last year had the optional suspended base, which made the seating position very high, this truck had the standard fixed base seat, which was the total opposite, you sit very low. It didn't take long at all to find out that this is because the seat base is very thin, transmitting every bump, jarring up through your spine, and Scott says, "Yeah, some of the drivers reckon they feel a bit more tired after spending a day in these trucks, we're getting some pads made for the seat bases to try and help with this". The driving experience can only be described as "old school", the noises, the brakes, the ride, the gear shift; all conspire to bring back memories of old. To some older drivers this could be quite nostalgic, to the younger ones, I'm sure they won't quite know what to make of it.
Having said all this, the JAC provides a simple cost effective solution. Scott explains "looking at the Japanese range of trucks, we could really only afford to possibly upgrade 3, but with JAC we've managed to upgrade five for similar money. When I'm reporting to the accountant, this carries some serious weight".
The drivers are happy to have new gear, the business owner is happy to get five trucks instead of three, and Scott is happy to have a new fleet of simple, reliable, effective trucks. For those still a bit unsure of all the new technology coming out in new trucks these days, the JAC range of trucks might just be a good place to start looking.
Feel free to ask a question about this story or leave a comment on the Deals On Wheels
page.
For the latest reviews, subscribe to Deals On Wheels magazine here.
Keep up to date in the industry by signing up to Deals on Wheels' free newsletter or liking us on Facebook.