MAN KAT 1 6X6 MILITARY VEHICLE CONVERSION "OVERLAND KIWI"
---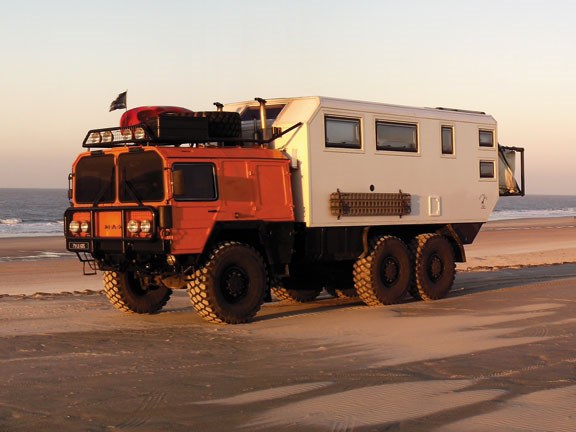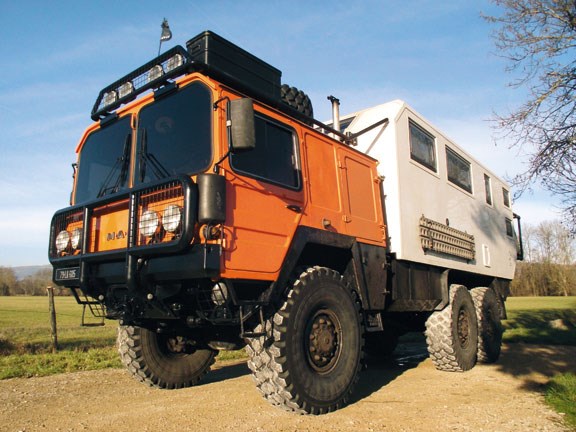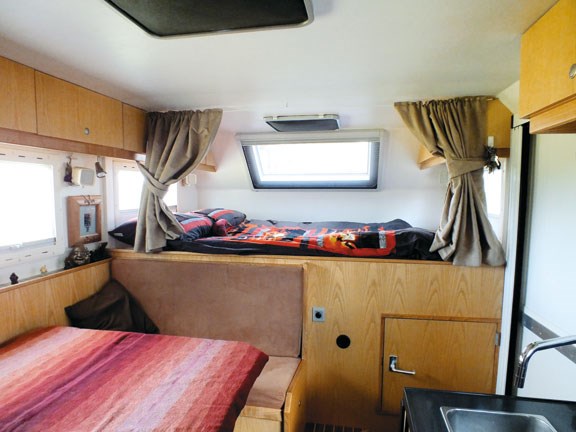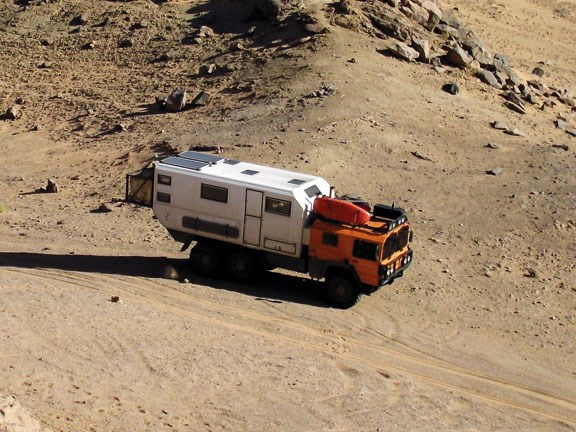 Outdoor adventure is everything for this ex-SAS soldier and his converted MAN Kat 1 military truck.
Born in New Zealand, Dale Fry spent 12 years working in some of Auckland's top restaurants as an award-winning chef before his sense of adventure and love of travel took him on a path that would change his life completely. After riding his Suzuki DR 800 motorbike through Africa, he soon realised that travel would always be an important part of his life.
In 1998, after applying for the New Zealand SAS and completing a tough nine-month selection course, he began serving in Afghanistan, where he became an advanced medic and tracker. In 2004, Dale left the SAS but continues to work in some of the world's toughest war zones as a security consultant.
Any opportunity to travel is quickly pounced upon by Dale, driven by the sense of an unknown adventure and the chance to combine his many skills in order to create an extraordinary and breathtaking adventure.
For six months, Fry found himself researching military vehicles in an effort to find which one would allow for self-sufficiency and the freedom to travel anywhere. Eventually he decided upon the MAN Kat 1 6x6, an ex fuel carrier in the German military. The trucks ability to cross rugged terrain thanks to its independent suspension and the minimal flex in the chassis made it perfect for the job. Much of its reliability and performance accredited to its German engineering.
A small team based in the Netherlands was employed by Fry to bring his dream to reality. A boatbuilder employed to craft the vehicles interior due to the similarities in build quality and everything required to be locked down and stable. The conversion saw the engine and cab kept in their original form however an increase in fuel capacity was required in order to travel longer distances. This came in the form of one 270-litre main tank and two auxiliary tanks of 500 litres. The camper box itself required a steel frame for strength and was then covered with fibreglass panelling. The trucks primary design for indoor and outdoor living saw a tray added to the rear, dropping down to allow for an outdoor stove and shower to be connected. The finishing touches were applied through the addition of larger tyres and a lively orange colour chosen for the truck, which Fry nicknamed 'Tanifa'.
A Taniwha (pronounced 'Tanifa') is a fierce and huge sea serpent of Maori legend, capable of taking many different forms and tunneling overland. The Taniwha is similar to a great whale or shark and is often seen as a guardian or protector. The colours of Fry's truck reflecting the orange, black and white that the Taniwha is usually painted in.
For Fry, 'Tanifa' does much more than just offer a means of transportation, carrying a kayak, paraglider and KTM 530 motorbike. Additional equipment can also be fitted to the roof of the cab when required.
With the truck's main purpose in mind, Fry has designed and equipped it for travel to remote regions where resupply is not an option. The truck uses large batteries to power lights, heating, water pump, cinema screen and stereo. The batteries are charged by solar panels on the roof, with the truck alternator also offering charge. In order to run bigger electrical items such as the dishwasher, washing machine and oven, a 6 kVA generator is needed. The design also allowing for an external power source to be connected in order to keep the batteries charged and to run all electrical items.
For what is effectively a home on six wheels, a 400hp Deutz diesel engine and the 6.5kVA generator combine to help power this mighty vehicle.
The inside features a kitchen complete with fridge/freezer, gas hob and fan-assisted oven, a dishwasher and washing machine, bathroom with shower and also includes a flat screen TV, stereo and cinema system.
A crate at the rear of the vehicle is controlled by a winch system and provides access to the motorbike, extra fuel and water containers.
While, for the most part, travelling can be fun and exciting, some situations require quick thinking and a level head can mean the difference between freedom and a prison cell. On one of his many adventures, Fry faced the following situation: "I was crossing from Morocco to Spain once by myself and I had to leave the truck to get my passport stamped. As I was doing this, two young lads climbed onto the crate at the back of the truck where the motorbike is kept. They were hidden under the canopy. As I went to cross the border, I was stopped and searched by the police/customs. They must have seen the young lads climbing on. People smuggling is not taken lightly at that border but with some fast talking it all ended well."
While boarder patrols can be cause for concern in themselves, many truck drivers can recall once or twice in their life when a different route was required in order to cross. The size of the truck making bridge crossings near impossible with many bridges not built to support the trucks immense weight. Anyone who drives a big truck knows that bridges aren't the only issues faced. Fry recalls how, on a narrow road in Sweden, he underestimated how soft the verge on the side of the road was, nearly ending up with his truck in the ditch.
"You try one thing and if it doesn't work it helps knowing when to stop and change tactic, move to the next step, either release air pressure from the tyres or get the sandtracks out… but in saying that if you don't get stuck you're not trying hard enough," he adds.
With a strong determination to experience survival, adventure has taken Fry and his truck across some of the toughest terrains on earth, experiencing a uniqueness that only each country can offer. Every adventure seeing man and truck pushed to their absolute limit. The truck's unique design making it perfect for off-road transportation and allowing for many types of terrain to be crossed - a vehicle perfectly adapted for overland travel.
Feel free to ask a question about this story or leave a comment on the Deals On Wheels
page.
For the latest reviews, subscribe to Deals On Wheels magazine here.
Keep up to date in the industry by signing up to Deals on Wheels' free newsletter or liking us on Facebook.