Terex TR35 rigid truck
---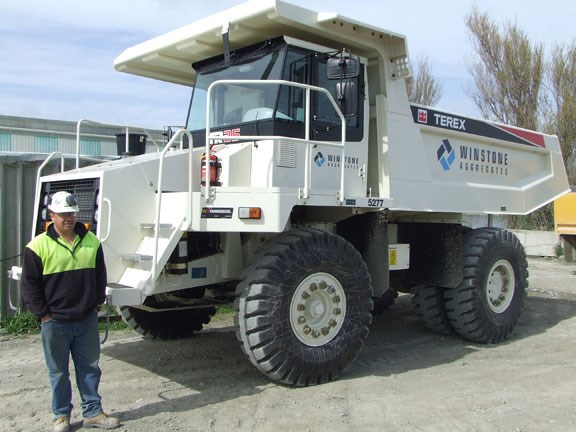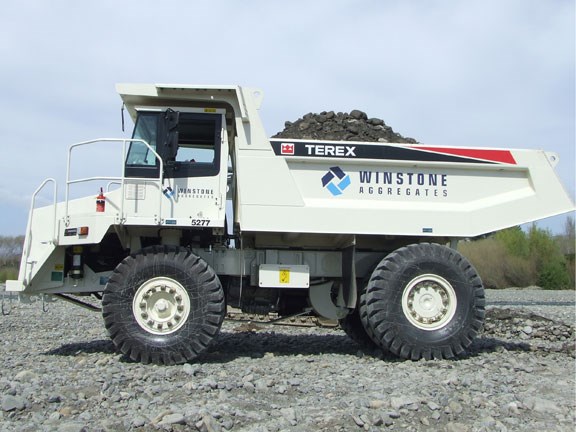 Winstone Aggregates' quarry in Otaki has just taken delivery of a new Terex TR35 rigid truck
These trucks have indeed played a key role over the years in aiding the extraction of greywacke rock from the Otaki riverbed, to facilitate supply of aggregates for the New Zealand roading and concrete markets.
Quarry manager Gary Edwards in particular has a long and highly regarded history with Terex. He recalls that it was his father who drove the very first 3305 rigid truck the quarry took delivery of in 1974 in Otaki, and this same machine is still operating to this day on the site. Another 3305 rigid truck purchased in 1991 also makes up the current Terex fleet at the quarry.
"The Terex TR35 is considered to be the most suitable truck for this quarry and meets all the criteria set by Winstone Aggregates. The site has numerous bridges and ramps to navigate and the truck has to make several river crossings on each haul it does. It also needs to be able to carry a substantial load each run," Edwards says.
"After trialling numerous machines, we have found the TR35 to be the most capable and suitable machine to handle these demanding site conditions and desired workload." 
The rugged and robust frame of these trucks provides superior levels of productivity in the roughest terrain.
"Taking into account the load it can carry, the long hauls it undertakes and the hours it operates," Edwards adds, "the rigid truck enables lower operating costs."
Each return trip is approximately 6km, but extends up to 12km for some hauls. The fleet of trucks works 11-hour days carting the rock from the riverbed to the quarry site for further processing.
"The dual shoe air braking is exceptional, and coupled with a non-wearing hydraulic retarder and an engine Jake brake, ensures better driver control and faster haul times.
"This is a huge factor with regards to safety, due to the truck being operated through the river," Edwards says.
The TR35 has independent front and rear braking systems actuated by a single treadle valve with auxiliary control. An operator controlled wet/dry road valve reduces front brake pressure by 50 percent for improved control in slippery conditions.
Edwards says the high-visibility cab is another excellent feature of the truck and its very roomy and comfortable interior. 
"We often train operators in the rigid trucks and the TR35 is excellent for this, with its wide two-person cab offering a superior working environment. It provides a very safe and comfortable working environment for the operator."
The cabs come as standard with air conditioning and an air suspension seat.
Powered by a Cummins Tier 3 emission certified engine rated at 400hp, it has an 11-litre, four-cycle, six-cylinder, turbocharged engine, with air to air after cooling. It incorporates a selection of power enhancing and cost saving features.
There have been significant improvements in acceleration and gradeability, with maximum torque now 1400lb/ft at 1300rpm. The engine has lower fuel consumption rates and fewer maintenance requirements, all helping to reduce the overall running costs of the truck.
It is also fitted with a heavy duty Allison 4500 RDS transmission, which is remote-mounted in the frame with integral torque converter, hydraulic retarder and planetary gearing. The maximum payload for the TR35 is 31.75 tonne (35 US tonne).
Edwards fitted the TR35 with a few optional extras, including a reversing camera and an automatic greaser.
Overall the Terex series of rigid trucks has a qualified reputation for reliability, durability and performance.
Keep up to date in the industry by signing up to Deals on Wheels' free newsletter or liking us on Facebook.