Komatsu ADTs tough in the rough
---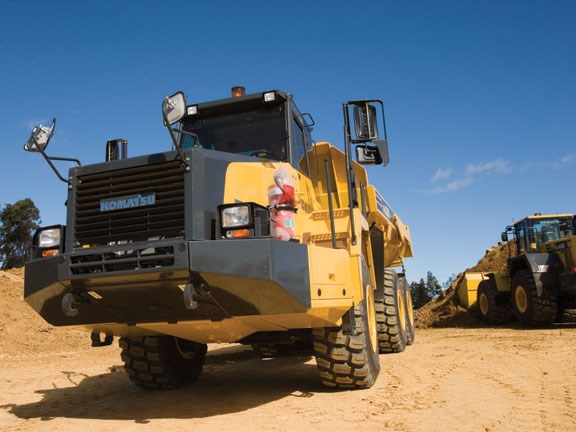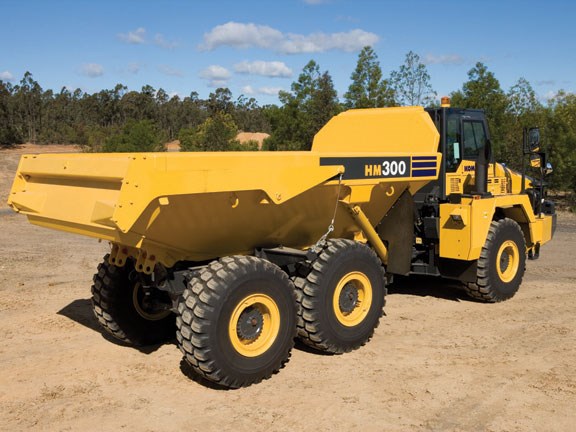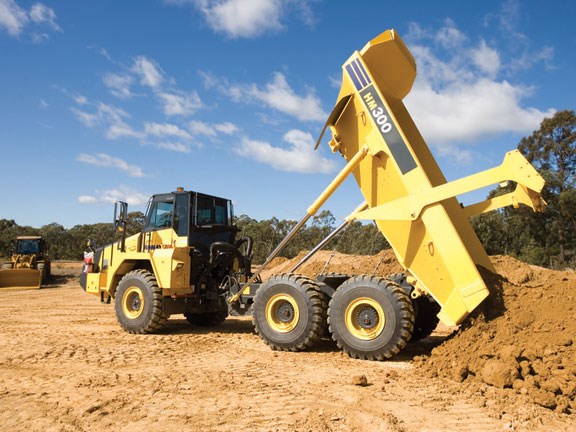 Since the New Zealand release late last year, Komatsu's HM300-2 and the 36-tonne HM400-2 articulated dump trucks have gone into applications in some of the toughest conditions in the world
For example, five HM400-2 dump trucks are currently working at the Stockton coal mine – which is located 25km north-east of Westport on the West Coast at an altitude of 600-1100m above sea level and receives six to seven metres of rain a year, making it impossible to keep haul roads maintained in optimum conditions.
That means trucks have to be able to handle the rough, potholed roads and very steep gradients.
Key features of these trucks, allowing them to handle tough conditions with maximum reliability, include:
Wet multiple-disc brakes, providing reduced maintenance requirements and downtime, along with greatly improved braking ability
The most advanced transmission and suspension systems on the market, combined with the durability and reliability of Komatsu's rigid
frame trucks
A hydraulically-controlled retarding system with an absorbing capacity during continuous descent of 370kW on the HM300-2 and 389kW on
the HM400-2
A large operator's cab –  common with Komatsu's current range of loaders, excavators and dozers, and the largest on the market – fully isolated from the body of the truck using silicon oil and rubber viscous type cab mountings
Independent front axles – the only ADT on the market to feature this system – which greatly reduces the operator "roll" common to ADTs in rough conditions
Major NZ contractor, Kaipara Ltd, has had two HM400-2s at Stockton since early 2008 that have logged around 2200 hours so far. Project manager Daryl Sutherland says the trucks, which are being used for overburden removal and roadworks, have been working hard and have excellent reliability.
"We're getting a good run out of them. Reliability is very important for us, and we're achieving what we need to – and these would be some of the toughest conditions in the world," he says. "Our operators appreciate them; they certainly prefer them to the other trucks we have on-site, and their stability appears to be better than other trucks, as they are a bit wider in the wheelbase."
Another contractor with HM400-2s at the mine is Galeo Contracting, which has three of the trucks there carrying out rehabilitation works.
"Because road conditions can be rough, as part of our purchase decision, we placed high priority on getting as good a ride as possible for our operators, and we find Komatsu provides this along with good reliability," says a spokesperson for the company.
Steve Haines, Komatsu NZ's sales manager, says the durability and strength built into Komatsu's articulated dump trucks is resulting in strong demand for them in New Zealand.
 "They are built much more strongly than any other ADTs available; they have been proven with contractors in New Zealand and Australia, as well as around the world.
"Our articulated dump trucks offer 100 percent Komatsu componentry, higher power-to-weight ratios, better operator comfort and greater stability than competitive makes.
"Both trucks have more power, giving better performance in any combination of conditions; they have the highest braking capacity of any truck in their class, and are more comfortable than any other ADT on the market," Haines says.
"In addition, Komatsu's ecot3 [ecology and economy technology 3] approach combines advanced electronic control, engine, transmission and hydraulic technology.
"Every machine component is designed and manufactured by Komatsu to work together as an integrated whole."
The HM300-2 is powered by Komatsu's low emission Tier 3-compliant SAA6D125E-5 cooled EGR engine, rated at 254kW, while the HM400-2 is powered by the Tier 3-compliant SAA6D140E-5 rated at 337kW. Komatsu's ecot3 engine technology delivers increased engine power and smoother running, through a high-pressure common rail fuel injection system and cooled EGR (exhaust gas re-circulation).
Dual-mode engine power settings, combined with automatic transmission with automatic control of gear-shifting, further lowers fuel consumption.
According to Haines, all these features combine to provide lower emissions and increased fuel efficiency, along with improved operator comfort and safety in a fully integrated machine/component package.
In addition to the ultra-low emission Tier 3-compliant Komatsu ecot3 engine, the new trucks have lower noise levels and luxury-car standard cab comfort.Komatsu's electronically controlled K-Atomics transmission, an electronic clutch modulation system, ensures proper clutch pressure when the clutch is engaged.
A recently introduced feature on Komatsu articulated dump trucks (as well as other Komatsu construction and utility equipment) is the KOMTRAX remote monitoring system.
KOMTRAX uses an on-board modem to communicate with a central Komatsu database, with information generated by each machine delivered via internet to customers, allowing them to constantly monitor the machine's load frequency, its location, cautions and abnormalities that may arise.
The KOMTRAX modem is connected directly to the machine's on-board monitoring system and provides operational data on a whole range of factors – fuel levels, engine speed, oil pressure, hydraulic and transmission oil temperatures, as well as operational cautions – to the owner.
"Contractors are finding the KOMTRAX system has become a vital tool in managing machine operations – and also in highlighting incorrect operator techniques," says Haines. "The KOMTRAX system alerts owners via email and SMS to any potential issues affecting a machine – not only performance and component status – but also when the machine is operated in a potentially unsafe or inappropriate manner.
"As a result, customers are seeing their operators adapt their work habits to ensure they are always operating the machines safely," he adds.
Keep up to date in the industry by signing up to Deals on Wheels' free newsletter or liking us on Facebook.