Truckie profile: Joyce and Arthur Guptill
---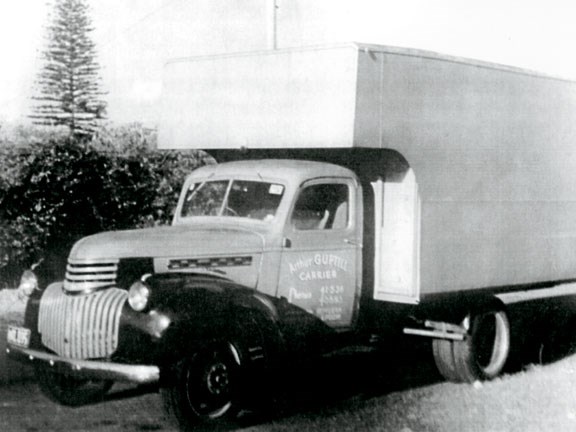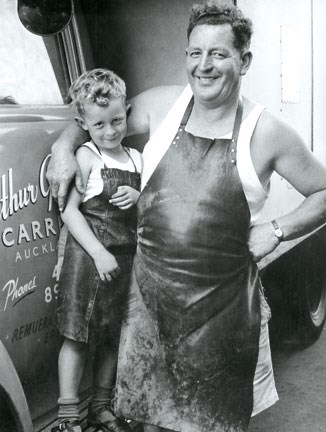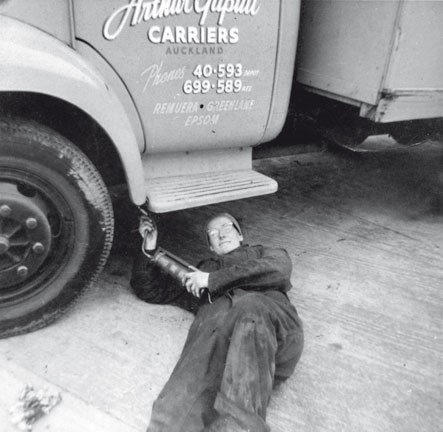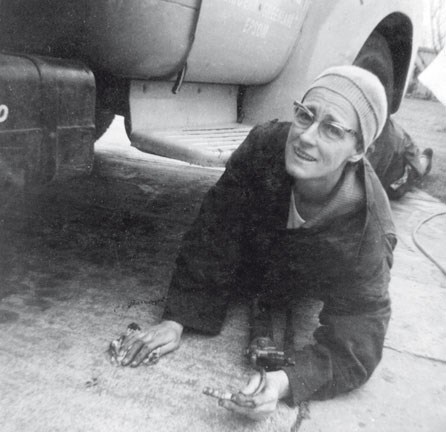 Joyce Guptill has seen many changes in the trucking industry since she and husband Arthur first started trucking in 1951. But one consistency over the years has been her family's passion for the industry
Together in their Chevy truck, Joyce Guptill and her husband Arthur got stuck into their general carrying duties. They bought their first truck in 1951 and started up the well-respected Arthur Guptill Carriers, which has since been handed over to son Peter and is still running today. 
The Guptills and their business were a well known fixture in the transporting industry in the 50s and 60s. Business duties included deliveries and pick-ups around the Auckland area, not to mention the after-hours job of keeping the truck in top form, as Joyce was never afraid to get her hands dirty.
When Arthur passed away in 1965, Joyce was left to look after four young children and take sole control of Arthur Guptill Carriers. An extremely busy worker and mother, Joyce followed through with her work commitments.
"I continued driving on and off for quite a few years. If my drivers didn't show up, I'd go out myself."
When it came to sorting out their supplies and materials for distribution, Arthur and Joyce used a depot which was located on Little Queen Street. In those days, Little Queen St was between Queen and Albert streets, running toward the ferry building.
"People would bring stuff into the depot and we would load from there."
The depot, which was a pick-up base for a lot of carriers, eventually moved up to Union Street, resulting in the closing of the Little Queen Street depot.
The Guptill's bought their business as a going concern off their friend Fred Woodward. Fred already had numerous contracts with firms around the city so the couple carried on with the existing contracts and eventually succeeded in attaining more, including EC Attwood, which was on Anzac Avenue at the time.
Another major contract Arthur Guptill Carriers held was with Smith and Caugheys. The delivery area included Parnell, Newmarket, Greenlane, Remuera and Meadowbank, back through Greenlane to Epsom.
They eventually upgraded from the Chevy truck they bought off Fred to Fords, and in the end they had four trucks altogether.
"We had the covered-in furniture wagons, you know – the big ones."
At age 83 it's been a while since Joyce got behind the wheel, however the business is still going in many respects. Keeping it in the family, Joyce's son Peter bought the business and it is now called Peter Guptill Carriers, which is based in the South Auckland suburb of Mangere.
"He does a lot of deliveries all around Auckland and we used to do a lot of furniture removals on the weekend."
Peter Guptill Carriers Ltd has a wide range of services available, including logistics solutions, freight fowarding and distribution services.
A love of trucks and the industry definitely runs in the family, with each of Joyce's three sons buying trucks as soon as they could and ultimately working in the industry. Peter's son (Joyce's grandson) Ben has bought a carrying business of his own too.
"One day when we were picking up from Dominion Paper Products to deliver some paper bags, Eddie Attwood came out and asked if we'd deliver a bail of twine to Warrells for him. I can still remember that, that was the first delivery we did for him and Peter's still doing his carrying 50 years later."
A longstanding member of Auckland Owner Drivers, Joyce didn't get a chance to go to the social gatherings much in the early days. When Arthur died her children were 17, 12, 7 and 3 so her time was very much spent. After retirement she's been involved in the golden oldies dinners, "at one of the dinners recently I was presented with an OBE, an 'Over Blimmin' Eighty' – they give you a certificate!" she laughs.
In the ever changing world of trucking, no doubt things are done a little differently than they were when Joyce was driving.
"I wouldn't like to be on the road today, goodness me! But meeting the public was always really nice." 
Keep up to date in the industry by signing up to Deals on Wheels' free newsletter or liking us on Facebook.