Eating up the competition
---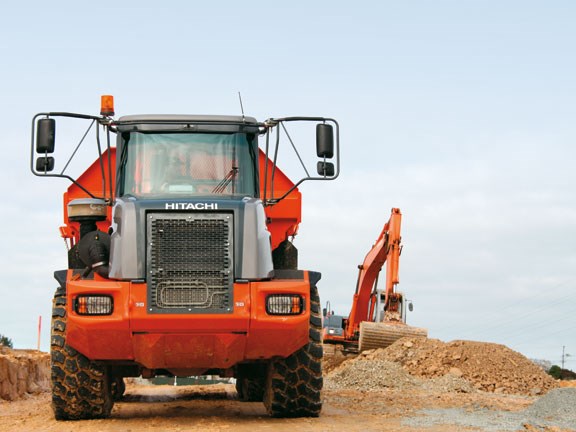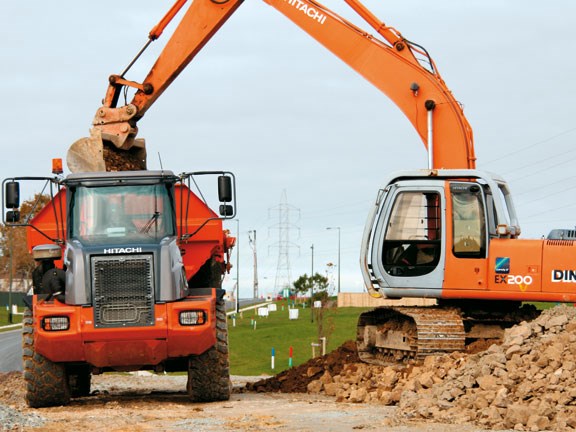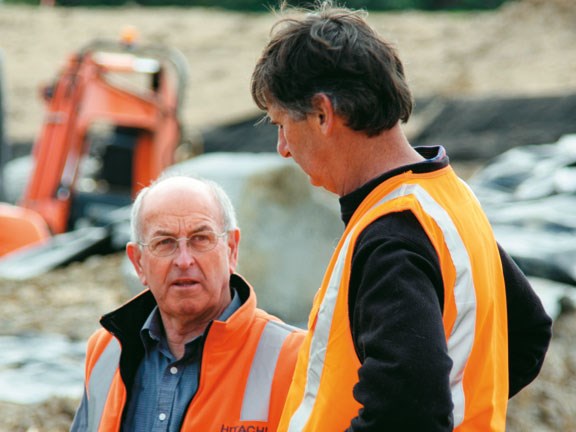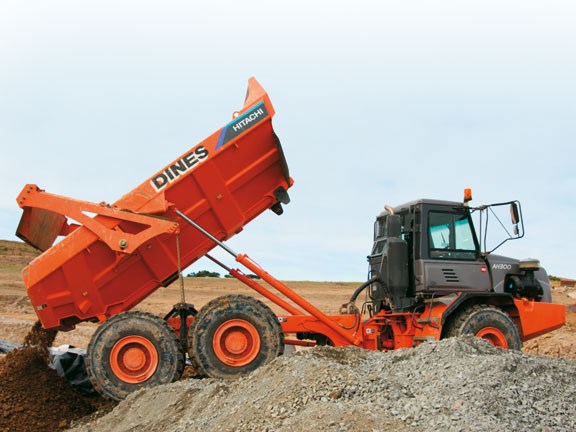 Dines Limited finds its two new Hitachi AH300D 30-tonne ADTs have an appetite for work
Specialists in residential and commercial subdivision and occasionally road upgrade contracts, Kerry Dines Limited (KDL) has recently purchased two 30-tonne Hitachi articulated dump trucks (ADTs) for subdivision work within the greater Auckland region.
KDL currently work from Silverdale in the north, down to Pokeno in the south and out Waitakere City in the west. The company has a staff of just over 50, including a significant full-time survey and supervision component. It has recently added a new Hitachi ZX270-3 27-tonne excavator to a fleet already consisting of a 23-tonne, five 20-tonne, two 12-tonne and a number of smaller excavators, some bulldozers, as well as the two new Hitachi AH300D dumpers. 
The exceptional summer and mild transition into winter meant that KDL has been able to really put the new dump trucks to task and chew up some hard hours. 
Standing next to the newer AH300D, Bill explains "approximately this time last year we took the sister to this one here on a trial". He says they found the 198kW 46.8-tonne orange dumper was well suited to the conditions. 
"They're lighter so they're kinder on the ground that you are travelling over, which means there's less of an issue in terms of haul road maintenance and they seem to cope well in comparatively soft ground.
"We've also done a bit of comparison and we've found that the creature comfort for the operator is right up there in terms of being nice to drive and that's made the operators proud of what they're operating," Bill says, indicating his operators' input has a big say in the purchase decision.
"There's no point buying a tool for someone to use if they don't like it – they won't use it."
You only need to see how clean the cabin of the ADT is to know that the truck's main operator, Dan Bunning, takes pride in it. Having already worked a full season, the cabin still looks as if it were new, and, as Dan comments candidly, he's "stoked with it". He says the computer system is easy to use and the on-board scales (an industry first for ADTs) are excellent for preventing overloading. Additionally, he comments that the wider base of the AH300D helps prevent the machine from sticking in poor underfoot conditions and provides a smooth, comfortable ride.
"We felt the overall operation was a better choice," says Bill, "and we're very pleased that during this last summer, on comparison to some hire ADTs and by watching our opposition working with other brands of ADTs, we've outperformed them with the Hitachis."
During the summer both trucks were covering a haul distance of roughly 2km, one way.
"The weather in the summer was absolutely excellent, but there were times when the haul roads were deteriorating," explains Bill. "We made a point of repairing these roads to keep the trucks working with good underfoot conditions to keep their return times up. It makes them far more efficient and far more pleasant to operate as well.
"At one stage we had our two Hitachis and seven other dump trucks [of a variety of makes] working on the same site," and according to Bill, "the Hitachis were far more fuel efficient.
"We had the Moxys on dry hire, so we were paying for the fuel and the differences were absolutely blindingly obvious."
And in terms of their ability, Bill says, "the Hitachis would simply overtake the Moxys and were faster than the 30 tonne-Cats as well".
At times, Bill says, the trucks were carting up some reasonably sharp gradients loaded, and once again he says, "the Hitachi dump trucks were far more efficient up hill".
A pragmatic character, Bill points out that there are always things that can be improved on with machinery, how it's operated and the servicing of the gear, and says "we're continually nibbling at those things".
But he believes, more importantly, it's how a problem is handled rather than the problem itself and says this is where CablePrice, as the distributors and subsidiary company of Hitachi Construction Machinery, has excelled itself.
"Our relationship with CablePrice has been absolutely excellent."
Bill singles out his CablePrice sales representative, Malcolm Pascoe, for some praise saying, "he's always made a point of looking after us, and if there is a grizzle he's always seen to it".
"Most of the servicing of our gear, certainly the dumpers and the newer Zaxis diggers, has been taken care of from CablePrice's Silverdale workshop," where Bill says the service is "superb".
The Hitachi AH300D combines reliability and comfort with exceptional performance and productivity to make a thoroughly pleasing and rewarding truck to operate and own. Kerry Dine's truck operators are seemingly "stoked" with the purchase, and the management are just as ecstatic with the productivity. Add into the mix the consistently reliable back up KDL receives from CablePrice and it's easy to see that sticking with Hitachi has been an easy choice for Bill Jones and Kerry Dines Limited. 
CablePrice offer five models of dump trucks ranging from the 25-tonne AH250D through to the industry's only 50-tonne rated dump truck, the AH500D. The trucks are used predominately in quarrying and mining applications throughout New Zealand, though many have been put to work into construction earthmoving and have even been modified for log extractions in forestry.
For more information contact Andrew Crane, national equipment product manager, ph 04 568 4289 or Glenn Croasdale, national marketing brand manager, 04 568 0879.
Keep up to date in the industry by signing up to Deals on Wheels' free newsletter or liking us on Facebook.