Magpie on a mission
---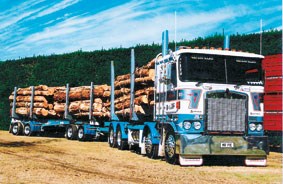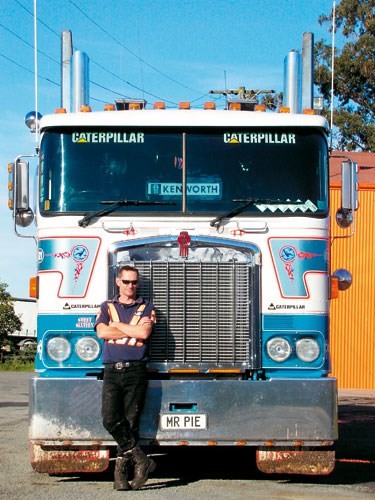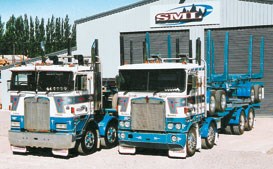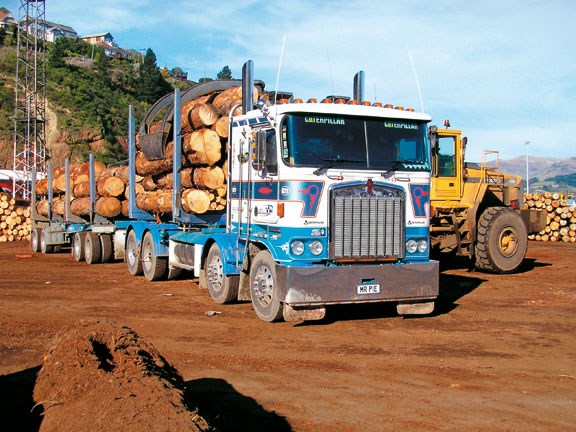 Truckie Profile: Mark Amer
The shiniest truck in Canterbury is, no doubt, the 600 horse-power Kenworth owned by Mark Amer, or "Magpie" as he is commonly known.
 His small logging business, Mark Amer Transport Limited, is based in Kaiapoi, just north of Christchurch. The company has been running just short of two years and is independently owned and operated by Magpie himself.
He replaced his old truck late last year with his beloved Kenworth, a reliable logging truck marked with a well-known and respected brand. The upgrade was made to improve business and enhance his workload and it appears the upgrade was worth it, as Magpie genuinely enjoys his job and loves his truck. "I clean my truck too much according to my wife."
When he's not putting in the hard hours on the road or enjoying motorsports and cars, Mark's likely to be tending to his much adored truck. "I'm pretty fanatical with my truck, it takes up a lot of my time. That's how I got my nickname, Magpie, because I like everything all shiny." His nickname also inspired his number-plate, 'Mr Pie' – "it's not because I eat a lot of pies".
Mark contracts to Steve Murphy Limited, who he worked for previously for three or four years. Murphy eventually offered him an owner driver contract, and, it seems "hounding him until he gave in" eventually paid off, as contracting is something Mark's wanted to do pretty much all his life. "I'm pretty lucky. The people I contract to dispatch me the work as they would their own trucks, so there's no favoritism towards their own trucks or me. It works out both to my advantage and to the company's advantage."
The long hours and hard work prove Mark is a keen worker and a hungry businessman. He enjoys being his own boss and being out and about.
While he carts logs throughout the whole of the South Island, he concentrates mainly on the Canterbury region. "Doing what we do, we're sort of out in the country, so we get to see a lot of things."
Mark has an enthusiastic outlook on his job and it seems the team at Steve Murphy Ltd recognise Magpie's dedication. "They really look after me and they make sure you're turning over enough money. If you have a drama, you can go to them and have a bit of a yak about it."
As well as support from the team at Steve Murphy Ltd, Mark has the NZ Trucking Association to turn to if he requires some good, honest advice. "There seems to be a new rule the government brings in all the time. The regulations they keep enforcing on us make it hard sometimes."
NZ Trucking helps to keep members informed and up to date with these changes. Mark has been a member for two years and appreciates their services – particularly the fuel discounts!
He is soon to become a member of the board at NZ Trucking, "but don't ask me what it entails because it hasn't happened yet!" he jokes.
There's an AGM (Annual General Meeting) coming up soon, a chance for the members to get together socially to eat, drink and "talk a bit of bullshit". 
Wife Leigh-Ann also plays her part in the industry. Working as an office administrator at the local Mitsubishi truck workshop, she fully understands the demands of being a truck-driver, especially considering Mark was
doing the same kind of work when the two met.
 When asked if he's ever considered expanding his business, Mark replies, "if the opportunity arose I'd look at it, but the way it is now with the fuel and the road user charges, it makes it pretty tough to make a living out of it".
And why would he expand? He's getting the best of both worlds: the independence of being his own boss and the security of a dependable workload from Steve.
Keep up to date in the industry by signing up to Deals on Wheels' free newsletter or liking us on Facebook.