Granite - rocking the trucking world
---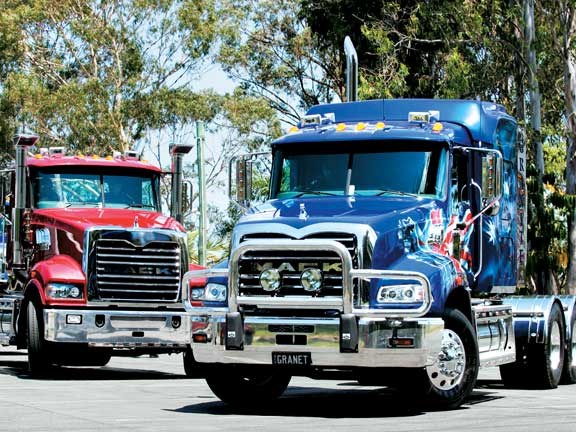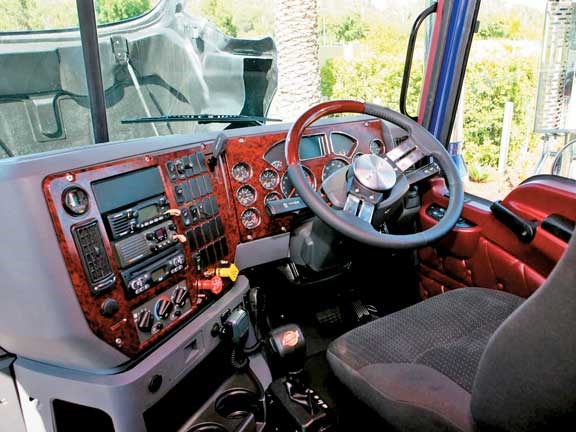 New from the ground up, as solid as the name suggests and packing the meaty new MP8 engine under the bonnet, the Granite brings comfort, handling and unmistakable Mack Truck style to an impressive range of capabilities.
Discussing the first regional model refresh for Mack Trucks in over 20 years, Dean Bestwick, National Sales Manager said, "The wheels are still round, the heart's still pure Mack – but almost everything else has been redesigned and reengineered from the ground up to take on the challenges of the future." The new Granite raises the bar in durability, performance and emissions control.
At the heart of the model is the mighty, new, USA born MP8 engine (ie Mack, Power, 800 cubic inch engine). "If you thought that meeting emission targets has to mean asthmatic performance and reduced fuel economy, prepare to be blown away by the MP8's EGR technology and restrained fuel consumption," Dean enthused. "You'll be running with 24 valve technology, 435 to 500 horsepower, variable geometry Turbo flexibility, improved cooling and oil filtering and lower running cost thanks to extended service intervals." With up to 90 tonnes GCM and up to 500Hp, you can point the Granite at heavy construction, local distribution or interstate highway running.
The new Fusion Cab has been designed for driver comfort and maximum load efficiency.  Optional keyless entry can get you in, and a wraparound dash lays everything out just where it should be. Radio and CD, overhead speakers, full featured co-pilot display and high visibility gauges keep you informed, while suspended pedals, two inches of extra belly room and electronic ventilation controls keep you comfortable. Up front and now recognised as the industry best, Halogen headlights throw a longer, whiter, brighter beam and show the rest of the industry the way forward.
The New Breed steps up with VMAC-IV Electronic architecture. Handling everything from power train and engine management, to torque limiting and full data logging, the VMAC-4 system also features VCADS service support. This all-in-one, record keeping software ensures service efficiency and maximum service life for the vehicle. Also new for the Granite, is the T310 MLR Maxitorque transmission. The triple countershaft, high torque design in one piece aluminium housing is lighter, dissipates heat better and reduces lubricant breakdown.  It also brings a shiftable, multispeed reverse capacity to the entire New Breed range.
Continuing the Mack Truck obsession with strength and low tare weight, the Granite chassis is 10% stronger and 10% lighter. Add low vibration engine mounts, improved steering geometry, 26 inch fuel talks, full width safety step for entry and exit safety, air or inverted leaf suspension and massive cooling packages - and the Granite is modern history forged in steel. 

Granite Quick Specs
Engine: Mack MP8, 465 and 500Hp
Transmission:  Mack or Eaton application specific
Front axle: Rated up to 9.1 tonnes
Rear Axle: Rated up to 24 tonnes of ground loading
Options:  Sleepers up to 52 inch mid and high rise, ABS and Traction Control
GVM:  Up to 33 tonnes
GCM:  Up to 90 tonnes 
Keep up to date in the industry by signing up to Deals on Wheels' free newsletter or liking us on Facebook.