A Sterling purchase for Dynes Transport
---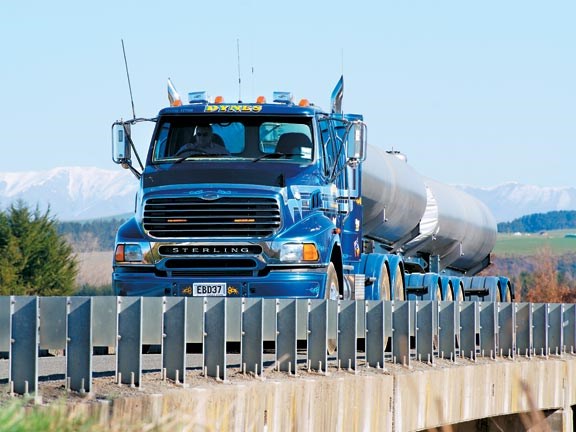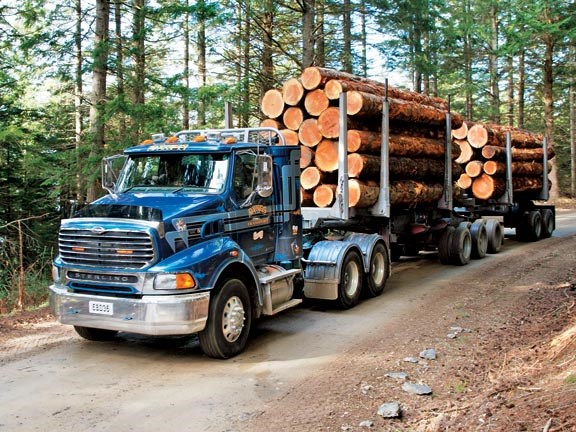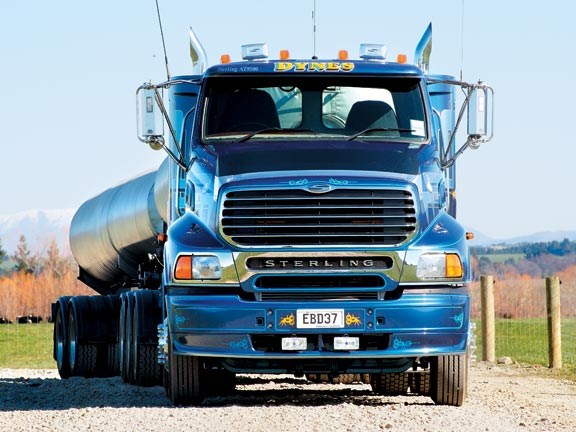 One of the countrys' hardest working transport operations
Just how hard working? CEO Pete Dynes explains: "Around 30 per cent of our trucks are double-shifted and doing 250,000km a year.
And we can't run trucks much over a million kilometres in our sort of work because we can't afford breakdowns carting products like milk."
One of the new Sterlings faces that sort of work right from day one – based in Timaru, double-shifted, pulling a B-train carting milk around the clock. It's an AT model tractor unit with a 500hp, 12.7-litre Series 60 Detroit Diesel under its bonnet.
A second Sterling tractor unit, based in Dunedin, has a multi-purpose role that exemplifies the Dynes attitude. It's fitted with a headboard, so can haul logs.
But it's just as likely to be seen carting milk powder in a freight B-train or whole milk in a tanker B-train.
Dispatchers at Dynes have four of these versatile rigs for flexibility in meeting demand peaks and to keep the wheels turning between them.
The Sterling is a new LT model with a 14-litre Series 60, rated at 575hp and 1850ft/lb and running an Autoshift RTLO20918B Eaton gearbox and Meritor 46160 diffs on air suspension.
The other two Sterlings are lengthened 6x4, 500hp tractor units fitted with tipping curtainsider bodies and pulling four-axle tipping curtainsider trailers.
Based in Dunedin and Tapanui, they will cart a variety of bulk commodities, particularly milk power and wood chip.
Dynes Transport is a wide-ranging group employing 150 people and operating more than 100 trucks. It's the dominant carrier of forest products in the lower half of the South Island and a major participant in the South's large and growing dairy industry.
"And we are still growing rapidly," says Pete Dynes. "Two of the new Sterlings are fleet replacements, but the other two are to accommodate expansion."
The Dynes Group now includes West Otago Transport, Icon Logistics Ltd, Dunedin Carrying Co, Herberts Transport Ltd, Tuapeka Transport Ltd and Clinton Waipahi Holdings Ltd, and, as these firms were absorbed into the group, the mix of truck brands widened.
"Dunedin Carrying had Mitsubishis and we carried on with them," says Pete Dynes. "That's how we got to know Russell Marr (Dealer Principal of Trucks South Ltd), who is one of the most passionate truck salesmen I've ever dealt with.
"I believe one of the keys to a successful business is passion," he adds. "If you have passion you will make it work.
"I'm impressed with the Sterlings and the price is right – it's horses for courses."
While Pete Dynes adds that "there's nothing wrong with European trucks either", he wanted to stay with familiar North American powertrains. "They are what the mechanics know and what the drivers know," he explains. "If it's not broken, why fix it?"
Dynes Group has workshops at Tapanui, Dunedin, Clinton Waipahi and Lawrence, and carries out all its own maintenance and repairs on prime movers and trailing gear, right up to in-frame engine overhauls.
The performance of the four new Sterlings in the blue Dynes Transport livery will be monitored closely through the company's sophisticated systems that track costs for each unit in the fleet.
"But these Sterlings will do the job," Pete Dynes adds. "I'm confident of that."
Keep up to date in the industry by signing up to Deals on Wheels' free newsletter or liking us on Facebook.