Event: NIIEX Show 2018
---
The recycling of waste material, whether food, metal, plastic, or other, is becoming big business across the world and a vital one to help improve the environment.
Handling waste can be a complex task, but thanks to innovative minds and new technology, there is a huge range of machinery on the market that can assist in waste processing.
It's certainly a sector that many machinery and equipment manufacturers are becoming increasingly involved in as demand for waste handling machinery grows.
There are, however, not so many mainstream exhibitions of this machinery held around the world but that trend is changing fast as the popularity of recycling increases.
Green cycle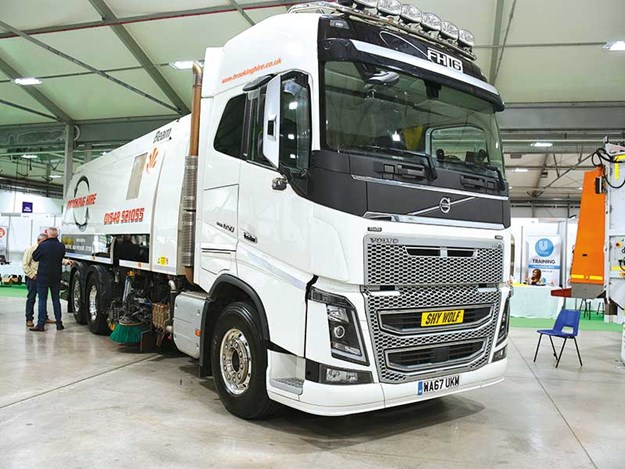 One recent event showcasing some of the latest machinery was held in Northern Ireland where a number of products on show are being replicated and exported to many cities around the world.
Just under 80 exhibitors were present at the NIIEX show at the Eikon Exhibition Centre outside Belfast, which attracted more than 1000 dedicated visitors over its two-day duration.
On show were a number of different trucks, many of which had been transformed into waste collection vehicles, and a few exhibiting how versatile they can be with fitted bodies. One of the more interesting concepts highlighted at the show was how an increasing number of cities in the UK are using gas-powered trucks to collect food waste, deliver it to an AD plant and then refuel on the very gas being produced by that plant.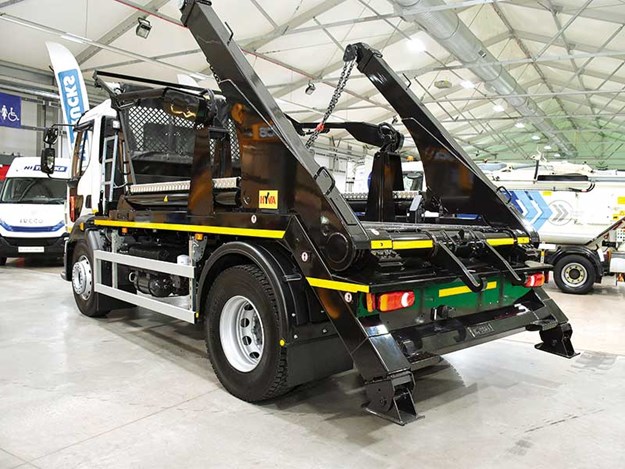 MacPac Refuse Bodies Limited is based in Antrim and manufactures the bodies that collect food waste, among other equipment.
Sales manager David Hyde says, "There is a big movement towards the gas-powered (CNG) vehicles for food waste collection, particularly in cities and towns.
"We are seeing increased demand to fit our bodies onto Iveco trucks that run on gas. It is a green circle, as the trucks can fill up on the gas produced by the AD plants manufactured from the food waste they deliver there.
"The Iveco trucks are based on a 16-tonne chassis and our body on the back has a 7.5-tonne payload of food waste.
"It takes around one tonne of processed food waste to make enough gas to fill up one tank on the truck.
"This will give the truck enough fuel to run approximately 200 miles (approximately 321km), which is a few days use in some cities depending on the length of the journey from the food waste collection point to the AD plant.
"We have already sold three of these units into Northern Ireland and eight into England, all to private contractors."
Terex TWH220 materials handler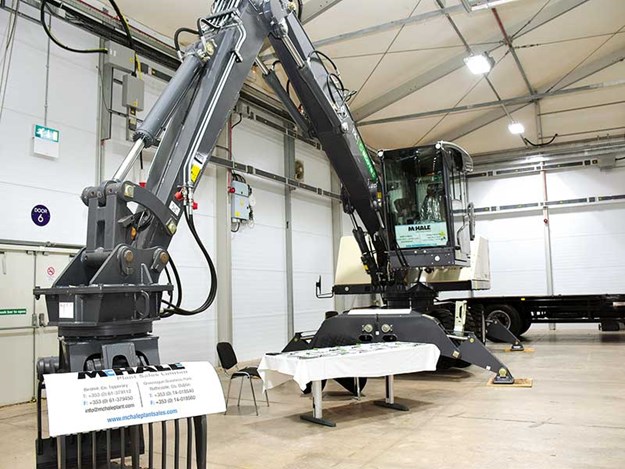 One of the larger pieces of machinery on display was the Terex TWH220 materials handler exhibited by Irish dealer McHale Plant Sales Ltd.
Sales manager Paul Mullally outlined the benefits of this machine that is proving popular in the recycling industry.
Paul says, "It has a reach of up to 9.2 metres and is powered by a 95kW engine. Overall, the Terex TWH 220 weighs in at 22.9 tonnes and uses a state-of-the-art engine and cooling technology."
Terex says the TWH 220 can be operated at temperatures as high as 50°C, thanks to the divided cooling system on the machine, which comprises a hydrostatically-driven fan for the oil cooler and a viscous-clutch driven fan for the water and charge air cooler.
To facilitate operation in the sorting hall, options such as additional suction boxes or a pressurised cabin system with a protective ventilation system are provided.
Both the lifting cab with its panoramic windows and the advanced function monitor, which permits comprehensive surveillance of all operating data, increases visibility. Ergonomically arranged operational controls and a comfortable seat that provides lumbar support are components of the basic equipment.
AEBI Schmidt UK Ltd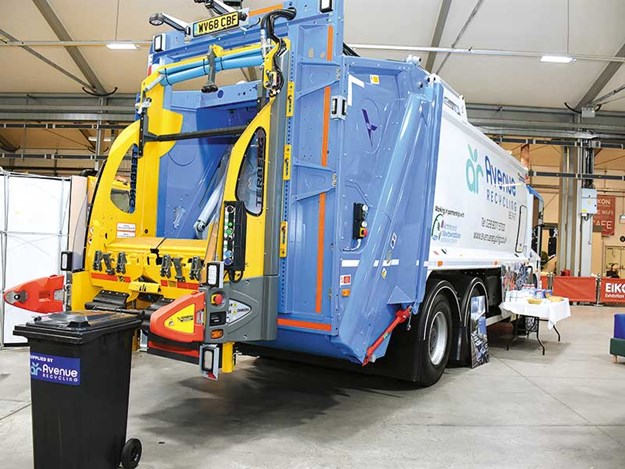 One of the other exhibitors, AEBI Schmidt UK Ltd, displayed a number of options for road sweeping. UK area sales manager Diane Curran said the Swingo compact sweepers and the Street King range of larger sweeping units were popular among councils and utility companies.
Diane says, "The Street King 660 truck mounted sweeper has a hopper capacity of seven cubic metres and a dual sweep width of up to 3.5 metres.
"This particular example is mounted on a DAF LF220 sweeper chassis powered by a Deutz 75hp engine. These are most commonly used by councils or private contractors and have proven very reliable with them."
Show organiser Raymond Martin from Greenbridge Innovations Ltd says, "This is our second show here relating to the waste and recycling sectors and we continue to grow each event. 
"There is a developing interest in the machinery and services dedicated to the waste, recycling, and shredding industries across the world and, therefore, a big need for a show like this.
"It is a specialist show for the industry, and we are happy with the number of exhibitors and visitors but already have new plans to further expand these next year.
Keep up to date in the industry by signing up to Deals on Wheels' free newsletter or liking us on Facebook.