Cover Story: Hino track day 2018
---
Following on from a hugely successful track day at Hampton Downs Motorsport Park in 2017, the team at Hino Distributors had a pretty hard act to follow at the same venue a year later in 2018
Like the previous year, the 2018 event saw participants separated into four groups of eight and taking part in two sessions—one in the morning and the other in the afternoon.
Each group took turns at participating in four events, with the difference this time around being a circuit of about half-a-kilometre of off-road track in a couple of Hino 4x4 300 Series trucks.
Around the track
The well-sourced course incorporated several obstacles such as a mud trap, some particularly steep, sharp turns, and a couple of bone-shaking rock obstacles.
A casual overview of the course initially led the onlooker to think of the whole affair as being a little ho-hum, however, it only took a few minutes of being behind the wheel or even in the passenger's seat to realise that this was serious stuff, especially being in a truck that had a load of truck tyres on the deck.
While from the photos it seems there's only a bit over half-a-tonne of load on the truck with the tyres on the back, but when you consider the fact that a lot of that weight is stacked nearly to the top of the headboard and then add to that gradients of around 25 degrees in two directions, the handling dynamics change considerably.
The other 4x4 300 Series Hino with the concrete block on a pallet probably was loaded with a tonne or so of concrete block and it performed just as well in the rough conditions as did the 300 Series that had its load stacked higher.
Turning circle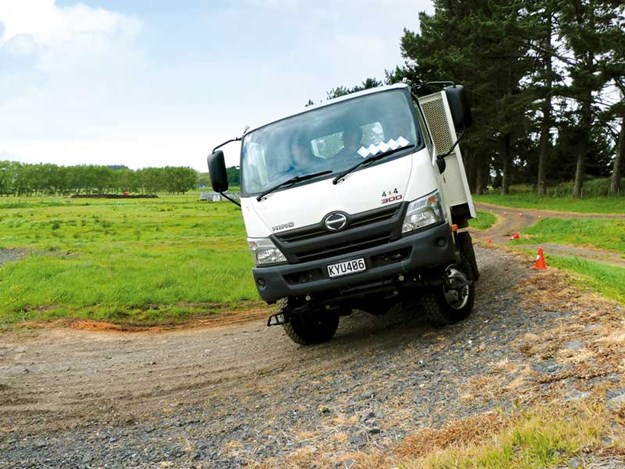 While a compromise usually has to be struck where turning circles are concerned with most four-wheel-drive vehicles, the designers of the 300 Series 4x4 Hino have somehow overcome the problem to a large degree.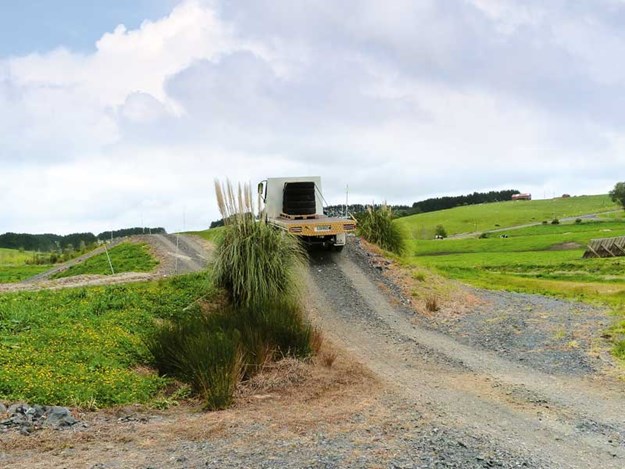 This was evident when the 4x4 Hino encountered a turn of approximately 120 degrees on a steep slope and completed the manoeuvre with an easy three-point turn; a four-point turn in a two-wheel drive truck of the same size would have been a reasonable expectation.
Cab comfort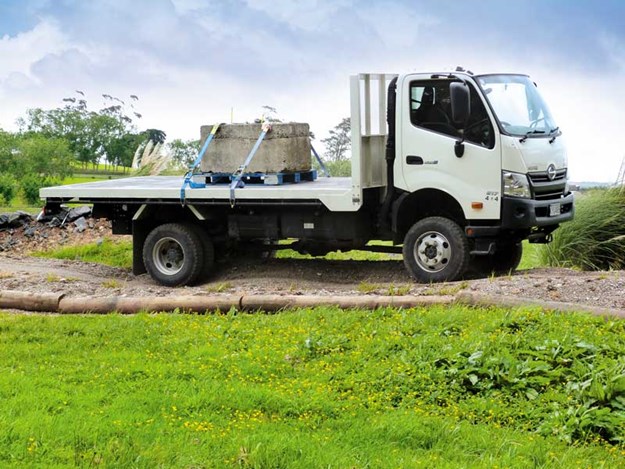 In-cab comfort, even in quite rough off-road conditions, was as good as could be reasonably expected from a higher-end double-cab ute.
Safety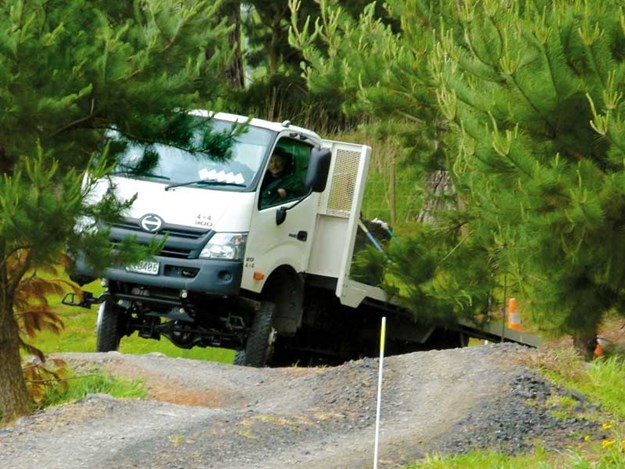 Hampton Downs' skid pan with its built-in irrigation system provides the perfect setting for drivers to experience driving on a smooth, wet concrete surface at around 30km/h and yanking hard on the steering wheel while still keeping the foot flat to the floor and safely making two 90 degree turns in quick succession with the Vehicle Stability Control (VSC) system engaged.
Something just doesn't feel right the first time you're instructed to carry out the manoeuvre, and most of us tend to go a little too quietly on the first time round, however, subsequent passes are always made with greater confidence – an experience worth having. VSC is fitted throughout the range of all new Hino trucks.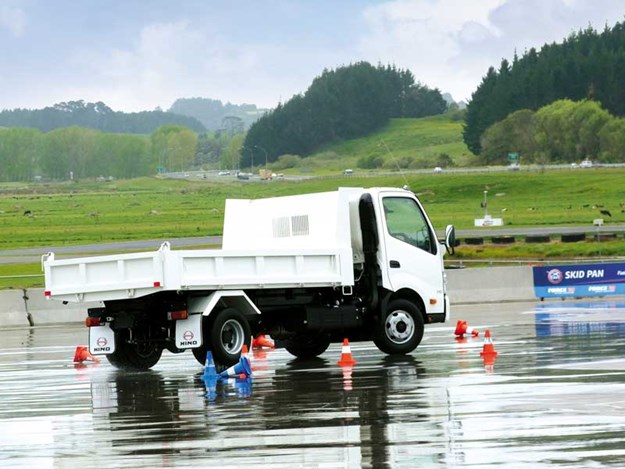 Next up was the reversing challenge that saw us manoeuvring through a chicane of road cones using only the rear vision mirrors for guidance; the winner got a few laps of the track as a passenger in a Porsche 911.
And it's a wrap
Time on the track was naturally limited, so it was logistically impossible to drive every vehicle in the range but nevertheless, there was enough time allocated for a few laps around the track to gain a small sampling of what Hino has on offer throughout its range of trucks.
As was the case with the 2017 Hino Hampton Downs track day, the 2018 event was informative and fun-filled, so with planning already underway for the 2019 one, we'll have to wait and see what the team at Hino will have in store.
Hino 300 Series features
Reversing camera
ECE-R29 cabin strength
Antilock Braking System
Vehicle Stability Control
Electronic Brake-force Distribution
Brake Assist
Four-wheel ventilated disc brakes
Dual SRS airbags
Hino 500 Series features
Reversing camera
ECE-R29 cabin strength
Heated electrically operated external mirrors
Differential cross locks
Antilock Braking System
ISRI 6860 driver's seat with integrated belt
Vehicle Stability Control on FG, GH, and FM models
SRS driver's airbag
Hino 700 Series features 
Reversing camera
ECE-R29 cabin strength
Differential cross locks
Heated electrically operated external mirrors
ISRI 6860 driver's seat with integrated belt
Antilock Braking System 
Vehicle Stability Control
SRS driver's airbag
Front under-run protection 
Video: Hino Track Day 2018 
Check out what went down at the Hino Track Day 2018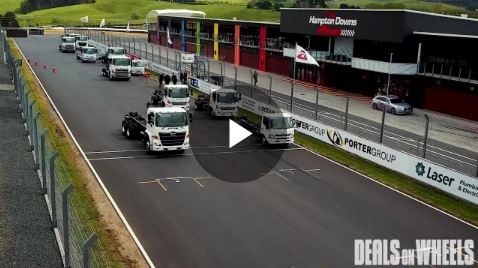 For a complete inventory of features across the range, visit hino.co.nz.
Keep up to date in the industry by signing up to Deals on Wheels' free newsletter or liking us on Facebook.