The big return of truck racing to Pukekohe Raceway
---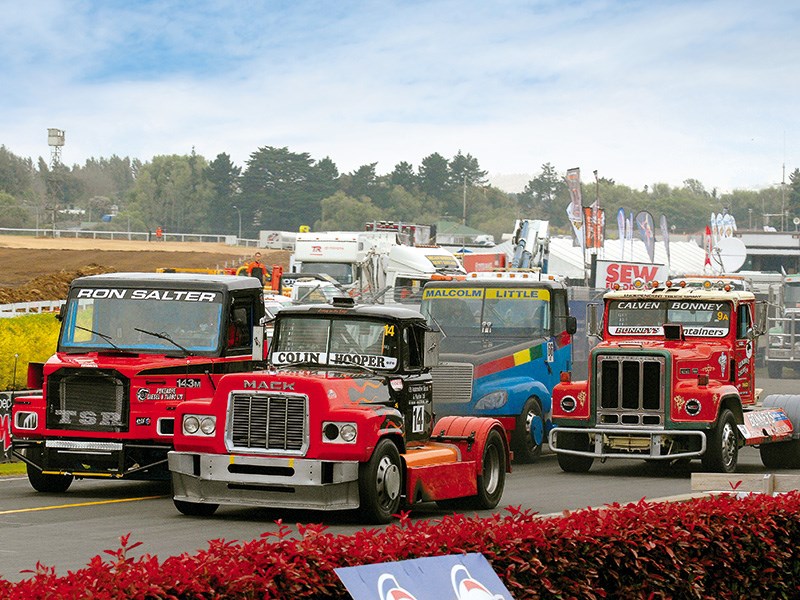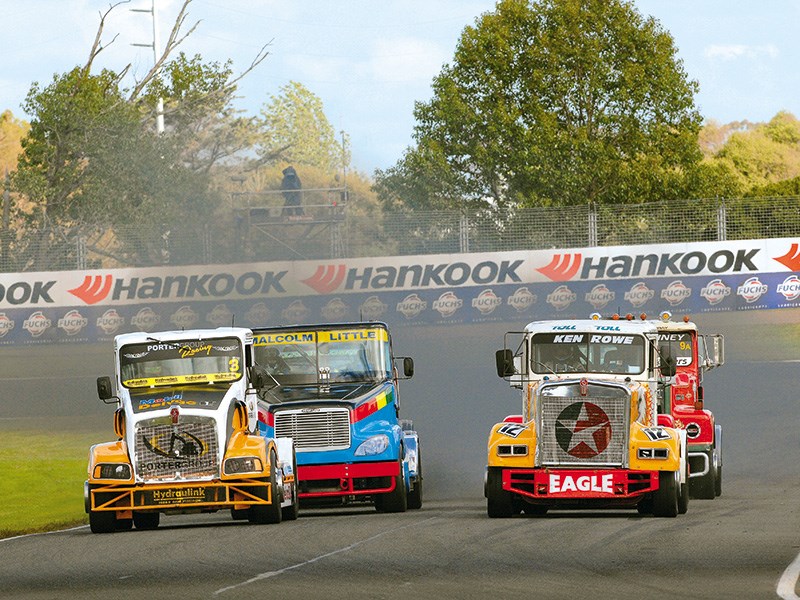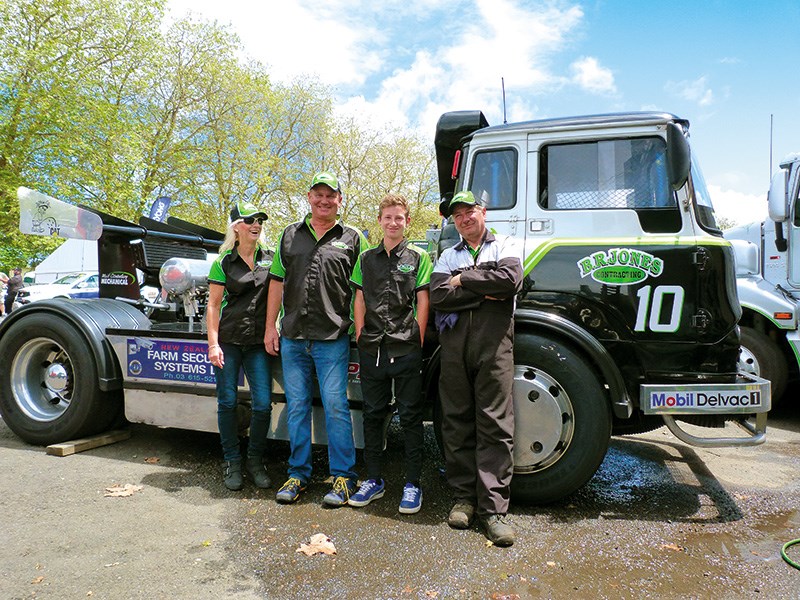 Some of the BR Jones Construction team.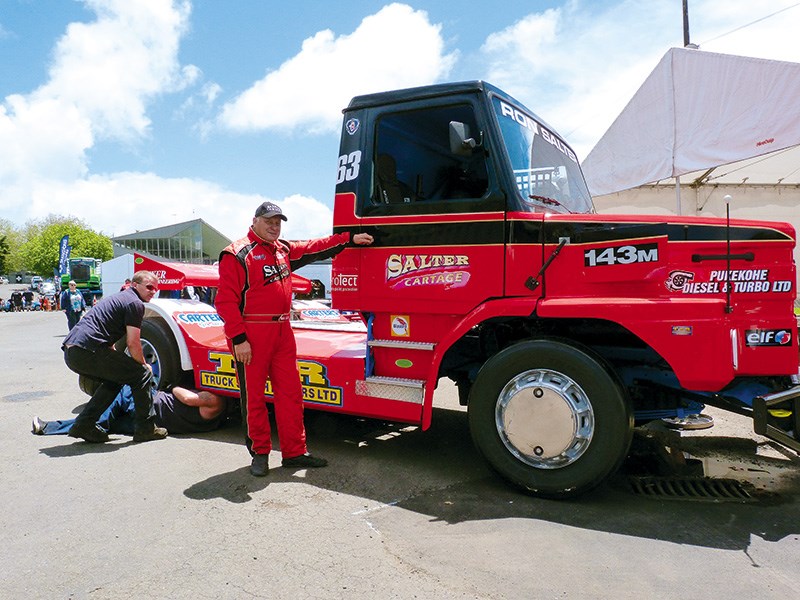 Ron Salter.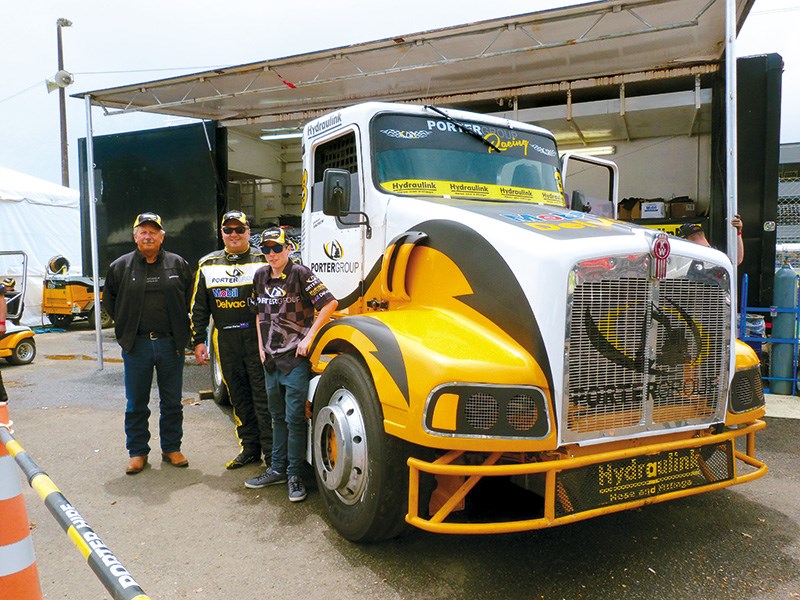 Three generations of Porters: Robin, Andrew and Liam.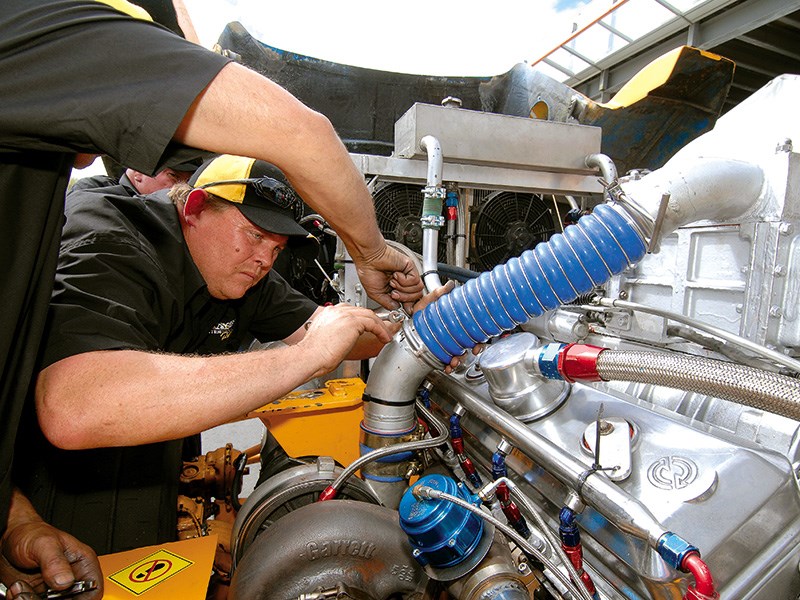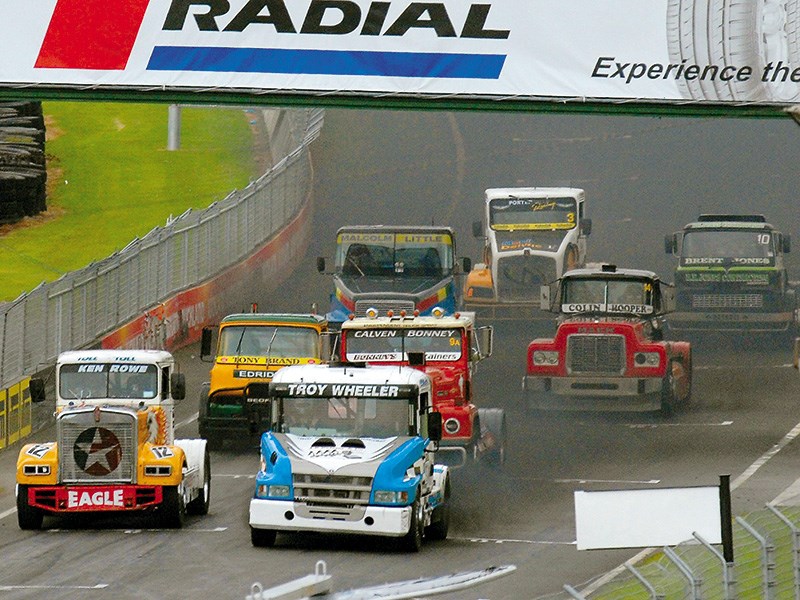 The Ed had been unexpectedly called away and had asked me to take his place at Pukekohe Raceway to get the inside-running on the truck racing that just this season, returned to the iconic South Auckland circuit, after a decade-long absence.
"Nice work if you can get it", I thought as I proceeded through a line of pristinely presented racing trucks and made my way to the media office to meet up with F2 Promotion's Freddy Foote, whose invitation it was that had me here in the first place.
There were big trucks and little trucks – well the smaller trucks were actually Utes – but let's not split hairs on that score.
Anyway, it was a bit of a departure to see vehicles that we normally see in a working environment being prepped for going out on a racetrack.
When I caught up with Freddy he was busy tapping away on his laptop, so not wanting to waste too much of his time I limited myself to a few minutes talking to him, in which time he gave me the names of a few key people to go and talk to about the day's events.
V8 Utes
One guy he reckoned I should go and see was Richard Gee, marketing manager of NZ V8 Racing Ltd. When I met up with him he was chatting with Peter Ward of Ward Demolition fame.
Pete (Kaos) Ward is a larger-than-life character who works hard and plays equally as hard, drives Holden ute number 69, the major sponsors being Ward Demolition and Porters.
Unfortunately I never did get to ask how he came by the number 69.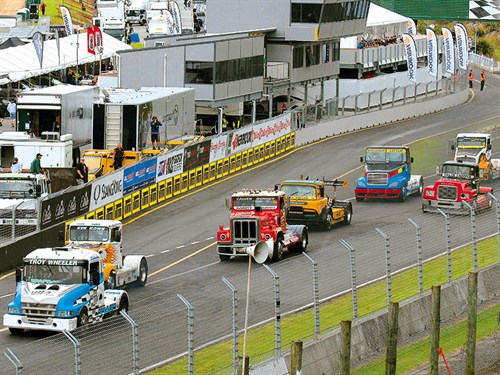 Ward who is renowned for going hard-out on the racetrack has been racing for four seasons (that has a familiar ring to it) he says he's even tried his hand over in Australia.
It doesn't take a whole lot of imagination to see what a great way it must be of taking your mind off the pressures that come with heading a large company.
"I love it," he says, it goes without saying that when you're out there racing there isn't any time to think of anything other than what's happening at that particular split-second in time, "It's fairly intense," he says.
Ward says he can't overemphasise the importance of having Jake Stoneman of Stoneman Race Tech Ltd and his mechanics prepare his car. He says virtually all he has to do on race day is hop in the ute and turn the key.
When asked what it was that got him into racing utes as opposed to any other kind of racing machine, he said it was mainly because it was a good "fit" with the contracting image and the branding of his company, Ward Group.
In his own words Ward says the ute is a "bit of a handful" on the track. As he points out, utes don't handle anything like a car on the track. "It takes a bit of effort to stop and corner 1.8 tonnes," he says.
Other sponsors are Metalman, Bealey Ale House and Distinction Hotels.
The Stoneman Race Tech team also prepares cars for Simon Ussher (United Movers), Mike Lightfoot and Matthew Spratt.
Truck racing
With it being ten years since any truck racing has taken place in NZ, there must have been a lot of action in truck workshops across the country over the previous few months.
Porter Group's Kenworth is one such example. It's been sitting in the corner of the workshop while its driver Andrew Porter has been off racing V8 cars.
The poor old Kenworth must have been thinking it would never race again, as it had had its twin turbo chargers stripped from the engine for use on another truck.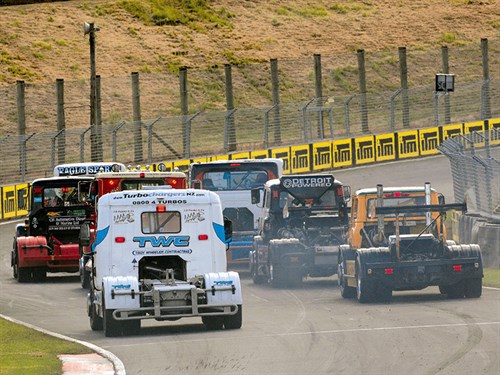 However Don at Pukekohe Diesel and Turbo managed to source a couple of replacements that were suitable for the application and the old girl was race-ready once again.
The ten-year hiatus in Porter's truck racing career obviously had no adverse effects on his ability to cross the finish-line in first place.
The Porter Kenworth won three of the championship races over the two days of racing at Pukekohe, however Porter is quick to point out that the glory of winning belongs to the entire support crew and not just to him.
It would appear that the Porter family does pretty well at truck racing, as patriarch Robin Porter has in the past won three national championships, add to that the four that Andrew has won and you've got a pretty impressive record.
Ken Rowe, who also has a pretty impressive track record in truck racing circles, happens to be Andrew's second-uncle. It must be in the blood.
Porter Group along with co-sponsors Allied-Mobil and Hydraulink hosted a trackside corporate event which was attended by over five hundred guests who mixed and mingled amidst a display of Porter equipment.
There were lots of sights to see over the two days of racing, not the least of which was the sight of a couple of old TK Bedfords screaming around the track at a hundred miles an hour.
It kind of makes you wonder what the blokes who used to drive those trucks for a living must think about the spectacle of it all.
For the latest news, reviews and features, subscribe to Deals On Wheels magazine here.
Keep up to date in the industry by signing up to Deals on Wheels' free newsletter or liking us on Facebook.