NZ Road Transport Hall of Fame 2014
---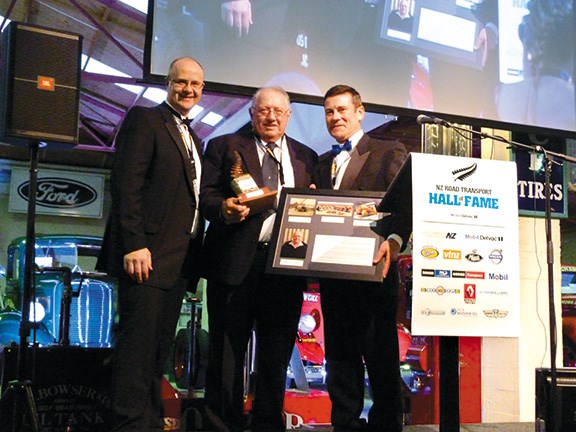 Mike Lambert receiving his award.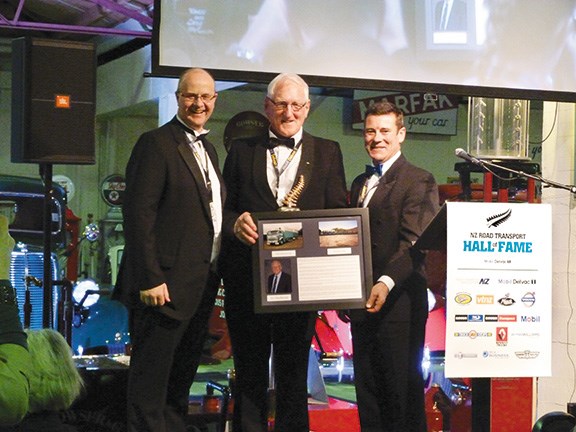 Les MacKenzie holding his plaque prior to it being placed on the Hall of Fame wall.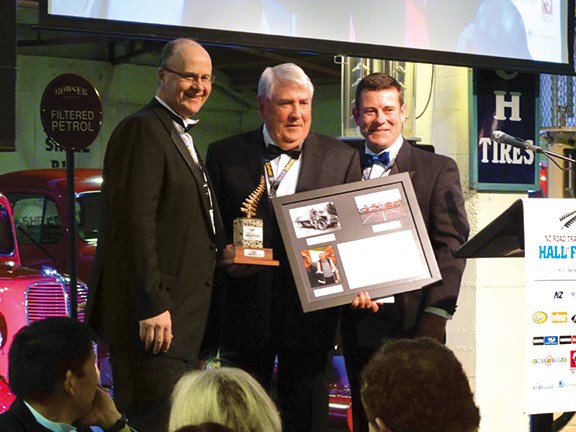 John Anderson of LG Anderson Group proudly displaying his awards.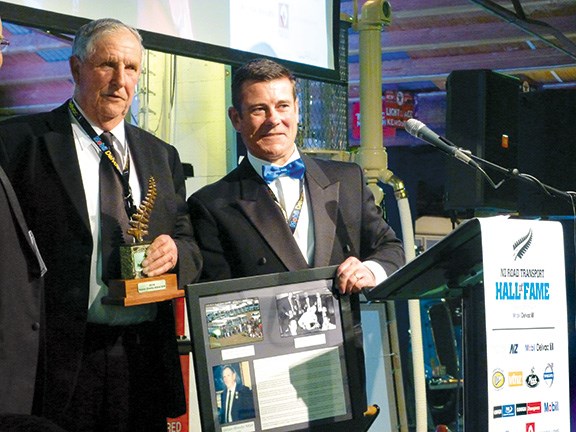 At 79 years of age, Melven (Rowdy) Aitken currently heads a large operation.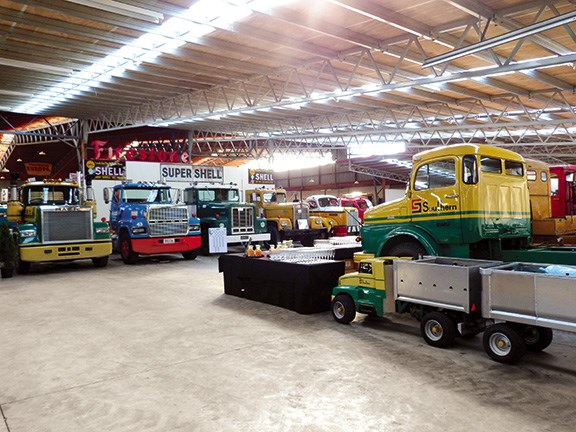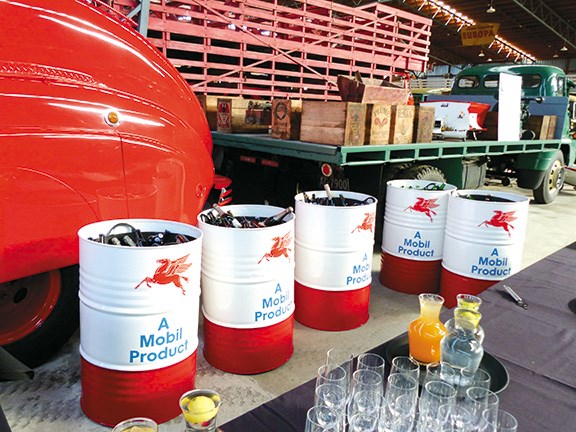 The ice-filled Mobil drums make ideal beer chillers.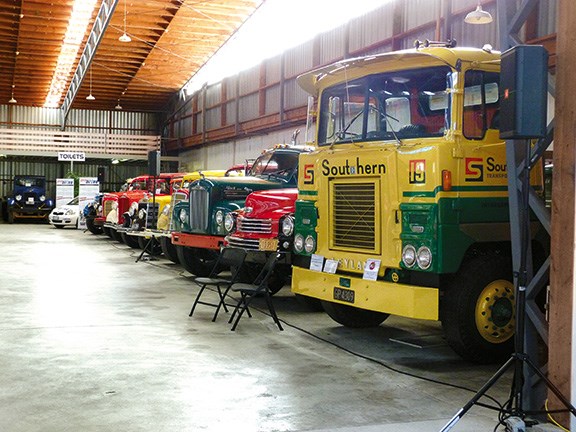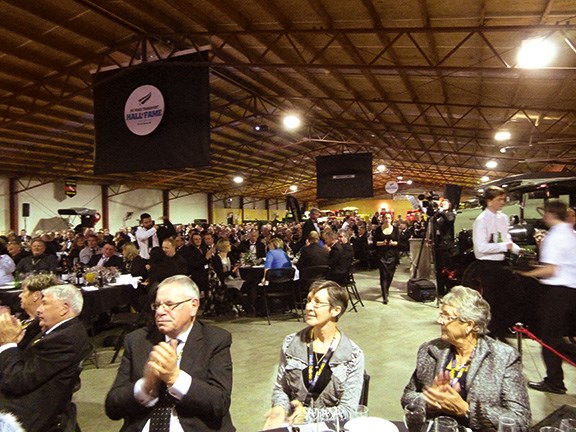 Now into the third year since its inception, the NZ Road Transport Hall of Fame has become a 'must do' in the calendar of those with an interest in transportation.
The 2014 event saw five new inductees being honoured in the presence of 500 guests for their contribution to the New Zealand road transport industry.
The event was held at Bill Richardson Transport World in Invercargill, formerly known as the Bill Richardson Truck Museum.
Prior to the induction and black-tie gala dinner, invited guests partook of refreshments at a welcome ceremony where Jocelyn O'Donnell, HW Richardson Group director and daughter of the late Bill Richardson, unveiled plans which are already well underway for a redevelopment and rebranding of the iconic museum.
An ongoing commitment by the family to the museum's late founder, to preserve the history of transportation in this country and the rest of the world, will see the museum expand in size by 4500 square metres.
When opened towards the end of 2015, Bill Richardson's Transport World will be open to the public seven days a week and will proudly display a recently added collection of rare cars sourced from an Australian collector.
Later during the course of the evening, many items including mystery travel vouchers and a signed All Blacks jersey were auctioned-off netting in the region of $12,000. The proceeds will benefit ProActive Drive, a free driver training programme designed to keep teenage school students safe when driving.
One of the five inductions into the Hall of Hame was made posthumously to Les Cleveland who died in 2013, aged 82. His award was accepted by his daughter and son-in-law, Shirley and Alistair McLennan.
2014 award winners
John Anderson
Born in Wellington in 1947, Anderson left college in 1963 to join the family company, L G Anderson, driving a van doing metro deliveries.
L G Anderson operates in the Greater Wellington area and is a member of Kiwi Carriers. The company was formed by returned servicemen as a hub for small operators. Kiwi trucks were painted orange and black, colours they still use today.
Anderson and his wife took full control of the company on the death of his father in 1988. Their drive and energy has seen the business grow through the Greater Wellington region with a modern vehicle fleet of 30.
Anderson currently holds the role of managing director of the L G Anderson Group of Companies, where he continues to be actively involved in the industry after a lifetime of service.
Les Cleveland (1931 – 2013)
Cleveland began his working career at the age of 15, juggling two jobs – one sorting rabbit skins at Wright Stevenson and the other unpacking and stacking tyres at Goodyear.
By 17, he'd moved to Massey University in Palmerston North to begin a Bachelor of Agriculture only to return south 18 months later to rejoin Wright Stephenson in the wool classing division.
In 1955, he saw an opportunity in the motor trade for a company specialising in heavy machinery and trucks. Along with another Goodyear manager, Jack Shaw of Christchurch, he and his wife Connie set up business in their garage in Fairfield, Dunedin, under the name of Transport Supplies Ltd.
In 1988, he sold his hugely successful nationwide business to Kent Robinson of Transpecs, and Peter and Michael Domet of Domet Trailers. Four years later, it was sold on to Gough Group.
His honours include OBE 1995; Commonwealth Medal 1990; St John's Gold Star Medal; Paul Harris Fellowship of Rotary Foundation 1991; and Dunedin Citizen of the Year 1997.
Les MacKenzie
MacKenzie was born in Middlemarch in 1941. After leaving school at 15 he spent three years working on the family farm before obtaining his heavy traffic licence at age 18. His childhood passion was to be a policeman; he pursued this by graduating from Police Training College in Trentham.
He married Hazel in 1964 and a year later, along with his sister and brother-in-law, formed Clinton Transport Ltd, a small three-truck operation.
In 1969, he took over full ownership of the company and in 1983, he purchased T A Graham Ltd, taking the number of trucks in the fleet to 15.
In 1992, Freight Database Ltd was formed when he developed an innovative system to provide coordination of backloads for operators, but within two years it was sold to an Auckland operator.
He later became president of the Otago branch and in 1982 was elected as the Otago representative of the New Zealand Council. After a restructure of the Council he became the director of the NZ Road Transport Association; and from 1990 to 1993 served as vice president.
He was a director and past president of the Road Transport Co-op Otago Society; and in 1993 was awarded life membership to the Otago Road Transport Association.
Mike Lambert
Born in Portsmouth, England in 1941, Lambert travelled to New Zealand in 1950, where the next five years were spent living as a military kid on various camps before finally settling in Tauranga.
From an early age, trucks and machinery were never far from his mind, a passion that continues today. On leaving school, his first few jobs involved driving trucks; and in 1961 he purchased his first truck, a 1959 Bedford C6LC3.
He married Judy in 1962 and the log trade industry remained his primary focus; he purchased of one of the first Kenworth trucks in the country in 1967. Since then, around 200 units have been purchased.
He served as president of the Tauranga County Licensed Carriers Association from 1968 to 1971.
In 2006, after 45 years in business, he sold most of his companies, allowing him to retire and spend time on his collection of Caterpillar tractors, refurbishing them one by one.
Melven Aitken
Rowdy, as he is known to his mates, was born in Dunedin in 1935, where he spent a short time before moving to Beaumont.
He left school at 16 and spent the next eight years labouring on a farm before moving on to driving bulldozers until the late 1950s. He moved to Timaru and embedded his life in the transport industry, starting out at Millers Transport, driving predominantly stock trucks and lime sowers.
In May 1967, Aitken, along with Trevor Walsh and two other drivers from Millers Transport, compiled a deal to buy an ailing Temuka Transport, acquiring a yard and 17 trucks. The two drivers decided to sell out after a couple of years and later, Walsh and Aitken decided to split the business.
Aitken retaining the general and rural cartage side of the operation, trading as Temuka Transport.
At the age of 79, he continues to run the business as the manager/director.
A recent acquisition is one of his first trucks, a 1962 Bedford, which he found laying dormant and bedraggled in a paddock in Luggate. Restoring it to its former glory will keep him busy – for a while at least.
Next year
Bill Richardson Transport World operations manager, Sally McDonald, says that planning for next year's event is already underway and will take place on Friday 25 September, 2015.
For the latest reviews, subscribe to our Deals On Wheels magazine here.
Keep up to date in the industry by signing up to Deals on Wheels' free newsletter or liking us on Facebook.