The best eatery on the road 2014
---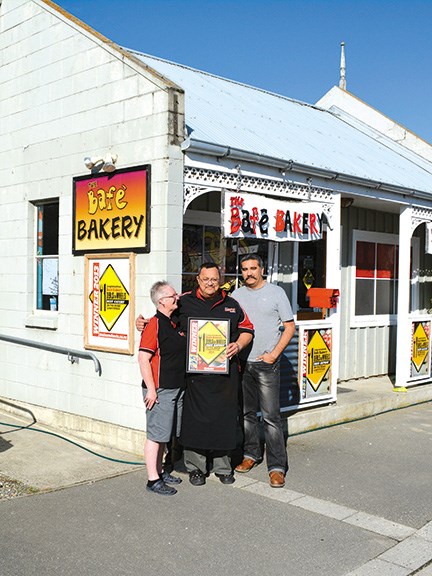 The Ed with Bafe Bakery owners Chris and Jude Paama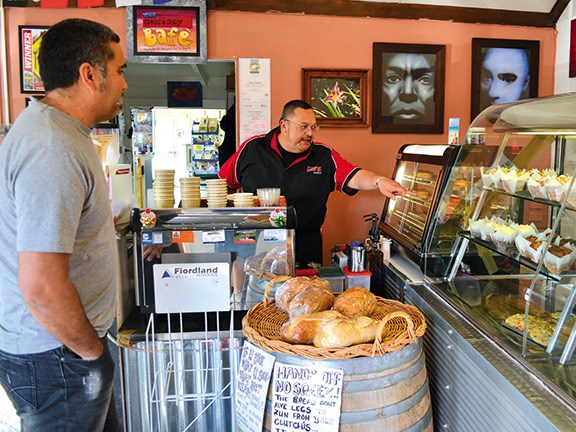 The Ed decides on what to eat at Bafe Bakery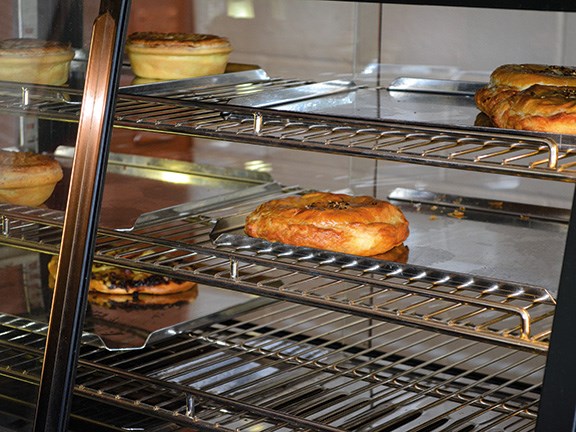 Good food is made on the premises at Bafe Bakery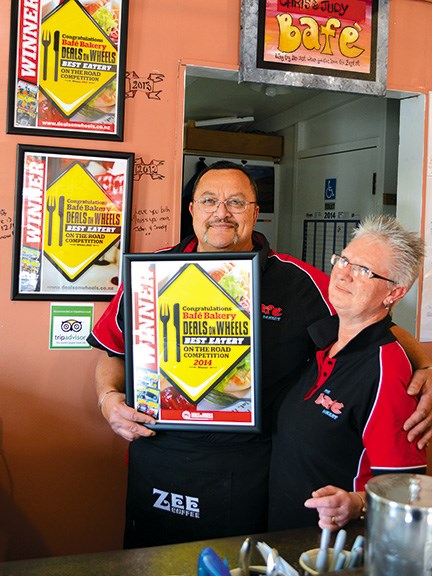 Things will need to be rearranged to fit the latest award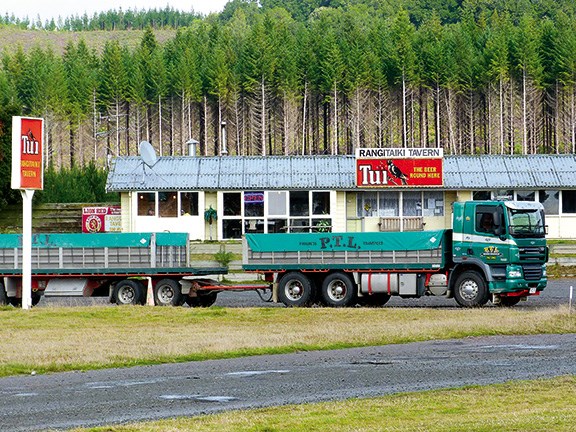 The legendary Rangitaiki Tavern, Taupo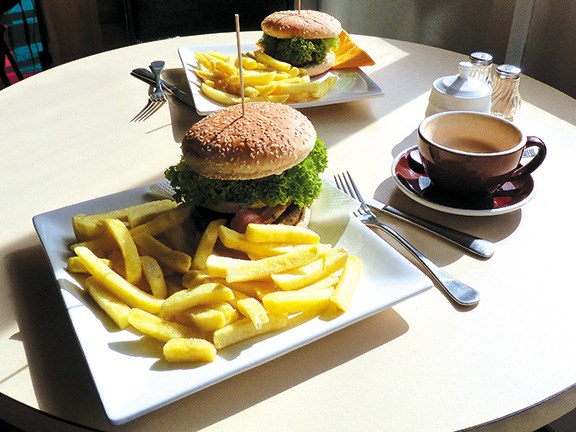 The Bugger Burger's small brother with a generous helping of tasty chips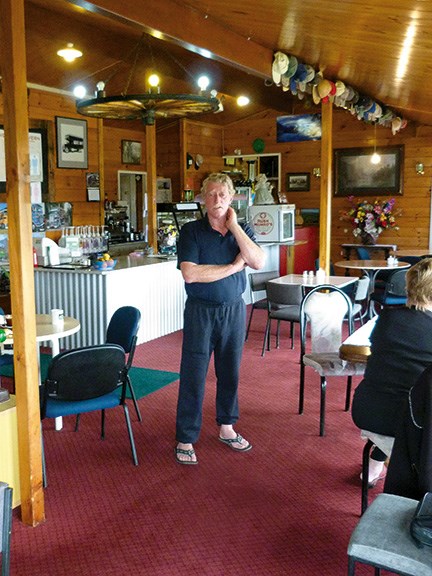 Rangitaiki Tavern's Duncan Klaus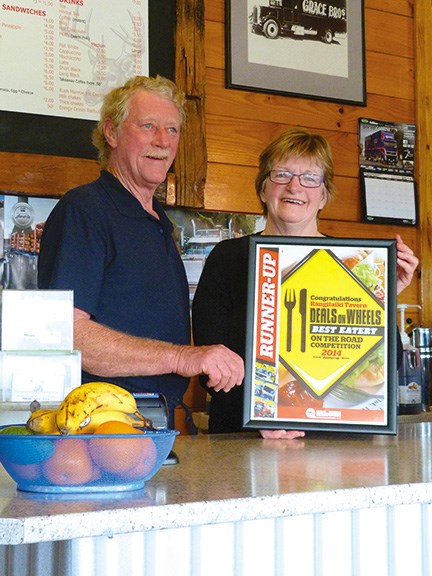 Rangitaiki Tavern owners Duncan and Marion Klaus look pleased with being the runner-up in DOW's best eatery competition

Deals on Wheels is pleased to announce the winner of the Best Eatery on the Road Competition 2014 – long-time readers will get no prizes for guessing who it is…
Winner: Bafe Bakery, Lumsden
I've started getting used to my jaunts to Lumsden, having visited the Bafe Café in the lower South Island now for the third year in a row to award owners Chris and Jude Paama with their award for best eatery.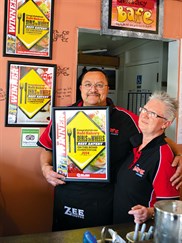 Being quite happy with two wins under their belt, they say they took their foot off the gas for a while during the run for the latest title. This was evident when looking at the votes that were submitted by readers during the three-month competition, with a number of eateries separated by only a few votes going into the last couple of weeks. However, it was at this stage that the Bafe Café stepped up a notch, and pulled away from the crowd to secure its third win.
The Bafe owners tell me the free advertising and promotion that goes along with winning the competition has been very beneficial to the business.
"After we won the competition for the second time, our accountant asked us what we were doing differently, as our turnover had increased by 50 percent that year. The only thing we can put it down to was the profile that winning the competition has given us," says Chris.
Winning a competition is one thing, but providing good food that makes people vote for your establishment is another. Judging by the continual flow of customers that enter the premises during our visit, it appears that business is indeed good.
A favourite of the Deals on Wheels crew are the Man-Nuts, or "Jumbo's" as they are now politically-correctly called. The giant-sized doughnuts are indeed a sight to behold, and a couple of special occasions have seen a shipment of Jumbos make their way north to DOW HQ from the Deep South.
If you have the good fortune to be in the lower South Island, I definitely recommend stopping in to say g'day, and grabbing something to eat. Unfortunately for me, future trips to the Bafe Café to deliver (yet another) winning award will be no more, as Chris and Jude have decided to exit on a high note, electing not to participate in next year's competition.
Runner-up: Rangitaiki Tavern, Taupo
If you're on the Napier-Taupo Highway and you've worked up a bit of an appetite, then you'd be doing yourself (and your hunger) a big favour by calling in at the Rangitaiki Tavern.
The tavern's easy to find. All you have to do is look for the red and black Tui sign about 40km south of Taupo.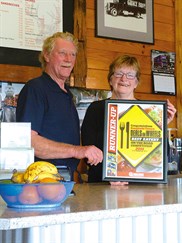 Deals on Wheels readers voted the tavern, runner-up in the 2014 Best Eatery on the Road competition. It's not hard to see why once you get your laughing gear around one of its famous Bugger Burgers.
A word of caution, though — it's probably best if you prepare yourself for the experience by doing some jaw-opening exercises beforehand. The burger is six inches high and is constructed of all the meats (except fish) and a homemade salad, capped off at either end with freshly-baked oversize buns.
The Rangitaiki Tavern is open Monday to Saturday from 5am and from 9am on Sundays. The business caters to around a hundred truckies and contractors a week and it's not uncommon to have eighteen rigs parked up in the yard at any given time.
If you've worked up a bit of a hunger, you can phone in on 0800 284 425 — although you may have to plan the phone call in advance due to cellphone coverage being sparse in the immediate vicinity.
Drop in and see Duncan and Marion Klaus next time you're passing by. It's worth the stop to just to have one of their delicious coffees.
Readers will again get the chance to nominate their favourite place along the road to eat when the next competition kicks off later in the year. For the latest reviews, subscribe to Deals On Wheels magazine here.
Keep up to date in the industry by signing up to Deals on Wheels' free newsletter or liking us on Facebook.