Massive turnout for trucking protest
---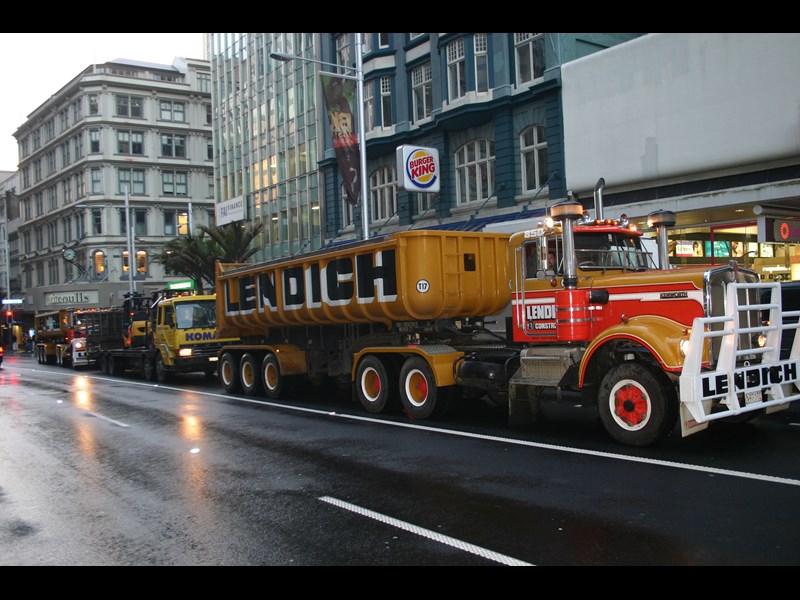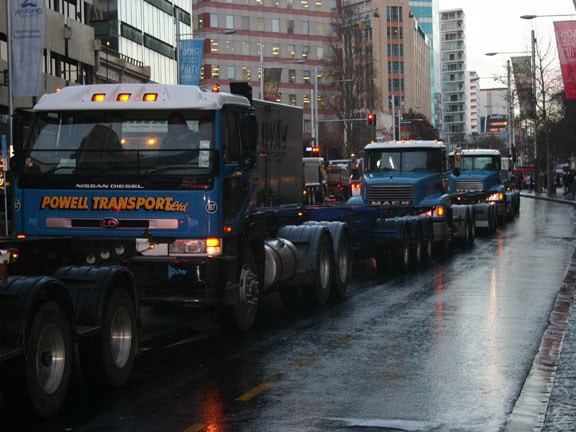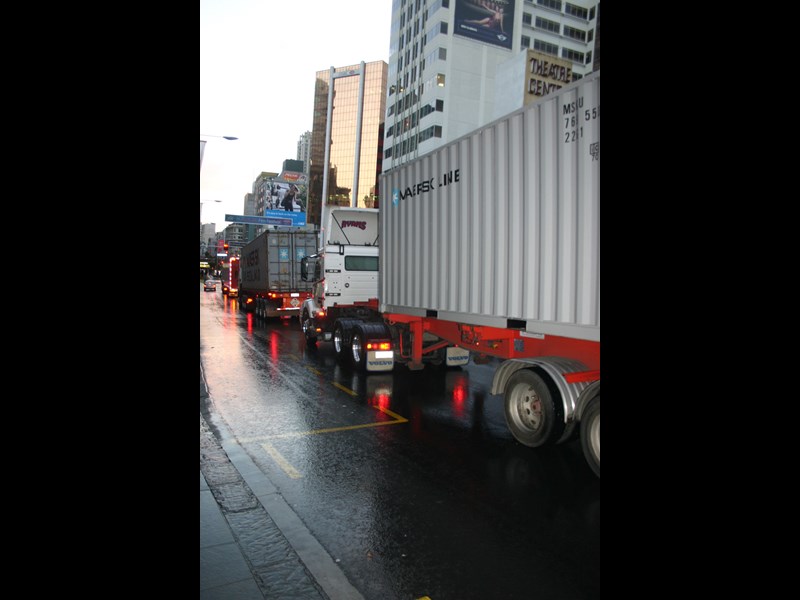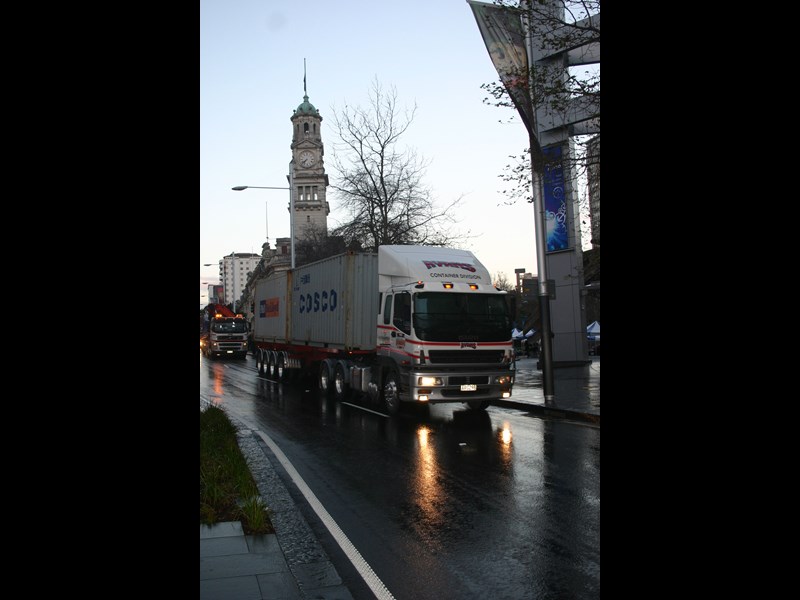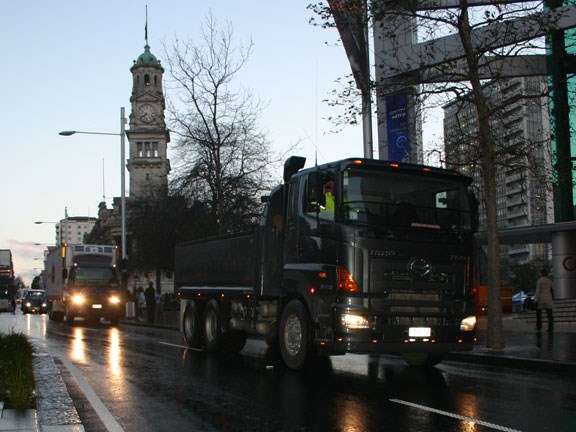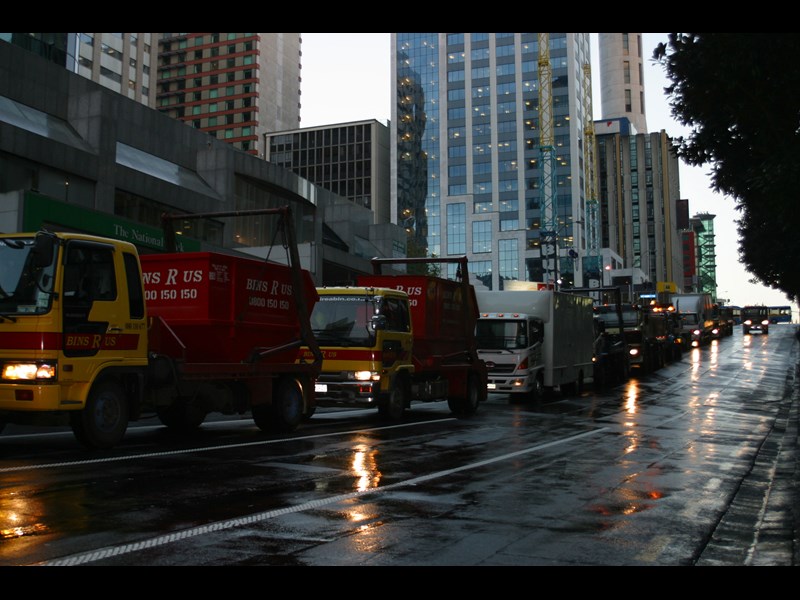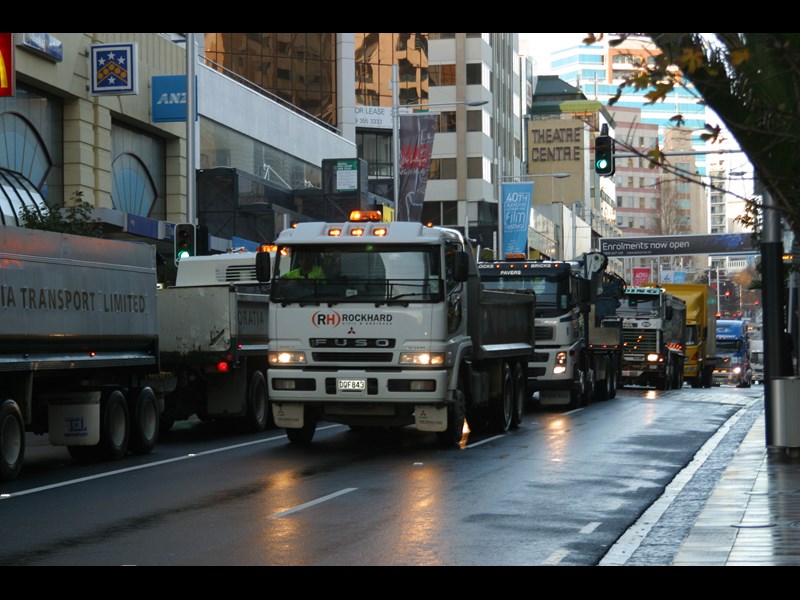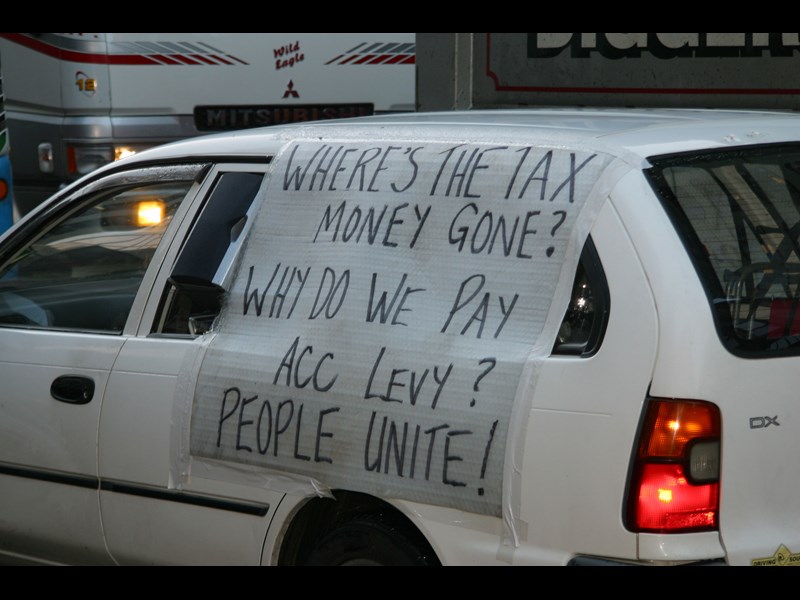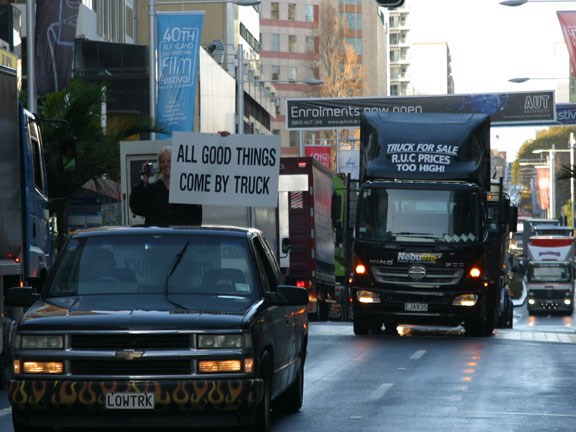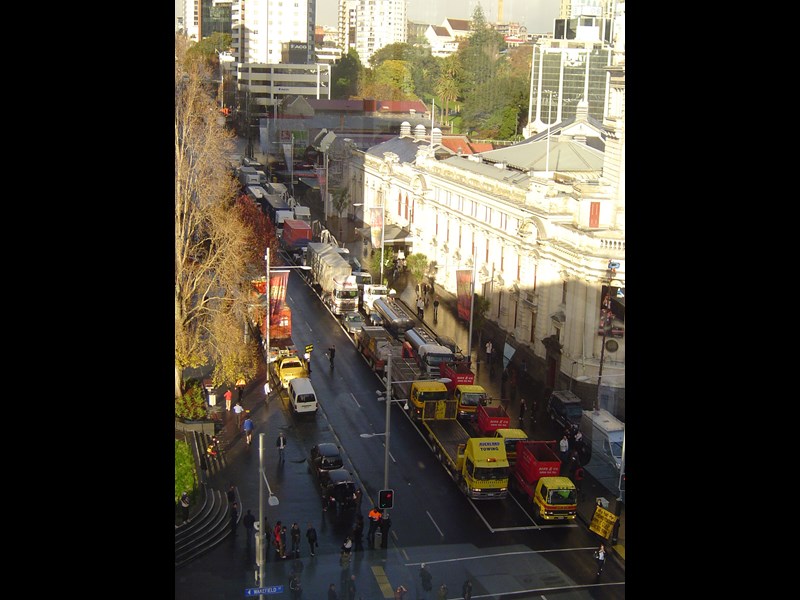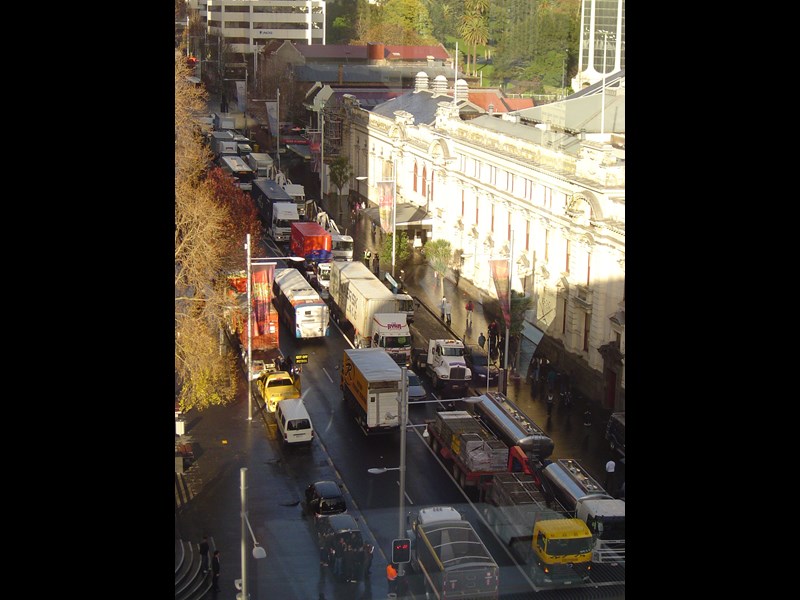 Big rigs take to city streets - photos from Auckland
Hundreds of big rigs descended on cities around the country this morning in protest of the Government's decision to increase road user charges, including Auckland, Wellington, Tauranga, Rotorua, Whangarei, Hamilton, Rotorua, Palmerston North, New Plymouth, Nelson, Dunedin, Gore and Invercargill.

By 7.30am the sound of trucks and their horns filled Queen Street in Auckland, and the mood was electric. The skies cleared and truckies were in high spirits as the public cheered them on with "Good on ya mate!" and were passed free coffees, ice creams and magazines.

Behind the smiles, though, was concern for the future of the industry. The general feeling from the drivers we talked to was that behind the increase was a political agenda, and that the extra cost would be passed on to customers and could force them out of business.

One truck importer we spoke to said it was "interesting timing" that the charges were introduced immediately after the Government bought the rail system and that the Government "wants road users to fund other projects". He said, "I had a million-dollar business before Christmas; now I have nothing. If it's not the emissions laws it's something else."

A driver from Ian Spedding Limited said, "We don't pay a fair share? How long have we been paying these charges? We pay our fair share – and we provide a service to the country.

"It's good that the public is behind us – but they have no idea. All they see is big, flash trucks. They don't see the hours we work and the skill involved. They are behind us, but it's the Transport industry that's actually had the balls to do this [protest]."

Judging from this morning's turnout, it seems trucking has some new supporters, and the issue is definitely more in the public eye.
Check back on the website shortly for video coverage of the event in Auckland
What's next?
Transport Minister Annette King has asked acting Transport Secretary Wayne Donnelly to convene and chair a working party including industry members to examine the formula to set Road User Charges (RUC) for heavy vehicles.

"There is no doubt that there is dispute on both sides of the argument as to the accuracy of the formula used to set RUC charges," she said.

Ms King has also asked Mr Donnelly to speed up policy work to enable legislation to be taken to Cabinet for introduction this year which would amend the Road User Charges Act.

Road Transport Chief Executive Tony Friedlander and Ms King have agreed to meet soon with Mr Donnelly and discuss the details of the working party and what it will examine. "All road users must pay their fair share towards maintaining our roads, building new roads and improving passenger transport.

"What I want to be sure of – and I am sure Mr Friedlander and his members want to be sure of – is that the formula for setting RUC delivers that fairness."

Background
On Monday 30 June, Transport Minister Annette King announced an increase in the Road User Charge (RUC) for diesel vehicles weighing more than 3.5 tonnes, to take effect the following day. Truckies around the country were outraged at the short notice given, especially after Ms King promised them a month's notice following the last rise in 2007.

Ms King said no notice of the increases was given to avoid mass pre-purchasing of RUC at the old rates.

Road Transport Forum Chief Executive Tony Friedlander said it was hoped that protest action in city centres on Friday would impress upon Ms King the vulnerable state of business across the country. "It could not be worse for our industry, which is facing record fuel prices and other cost increases, or for the country as a whole as the economy heads into a recession."

Ms King defended the increases, saying trucks cause the most damage to roads, and Road Transport Forum members are trying to avoid paying a fair share of the cost of building and maintaining New Zealand's roading system.
Ms King said the increases will mean that for a small diesel car it will cost $3.28 more to drive 1000 kilometres, or $32.80 more for a typical year's motoring of 10,000km. A larger vehicle, such as a three tonne SUV, will cost an extra $49.20 per 10,000km; a typical five tonne truck will pay an additional $53.80 per 10,000 kilometres, while a 23 tonne four-axle truck can expect to pay an additional $198.

"As diesel is not subject to any taxation apart from less than half a cent per litre, compared to the 42.524c per litre petrol users pay, these increases to RUC will help restore the balance between charges paid by diesel and petrol users so diesel users make a fairer contribution to the National Land Transport Fund."

She said she had promised only to amend legislation to address "notice issue" and this amendment hasn't yet been passed.
Keep up to date in the industry by signing up to Deals on Wheels' free newsletter or liking us on Facebook.