Vögele 1603-3 wheeled paver
---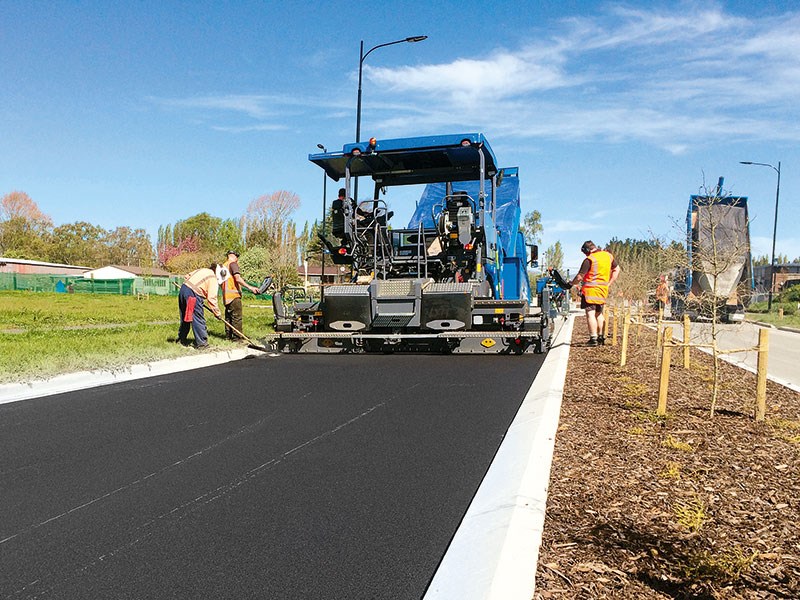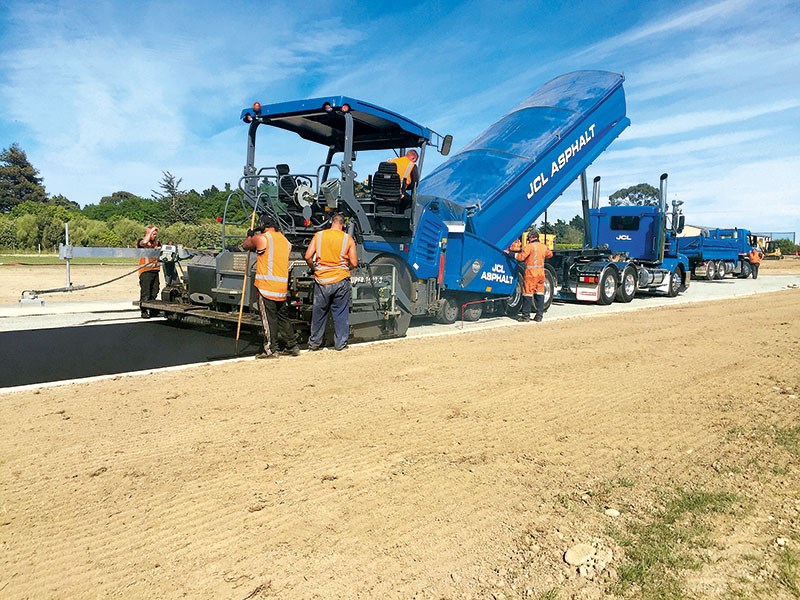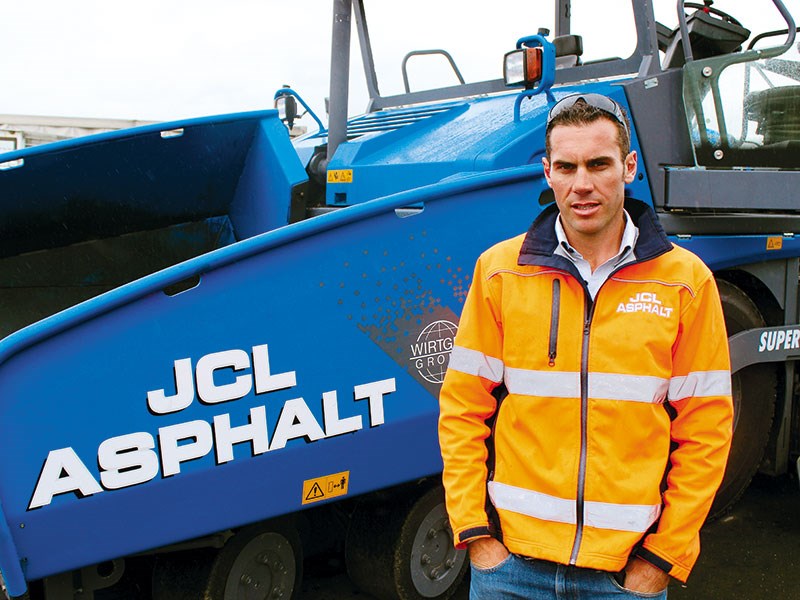 James Clay and the V�gele 1603-3 wheeled paver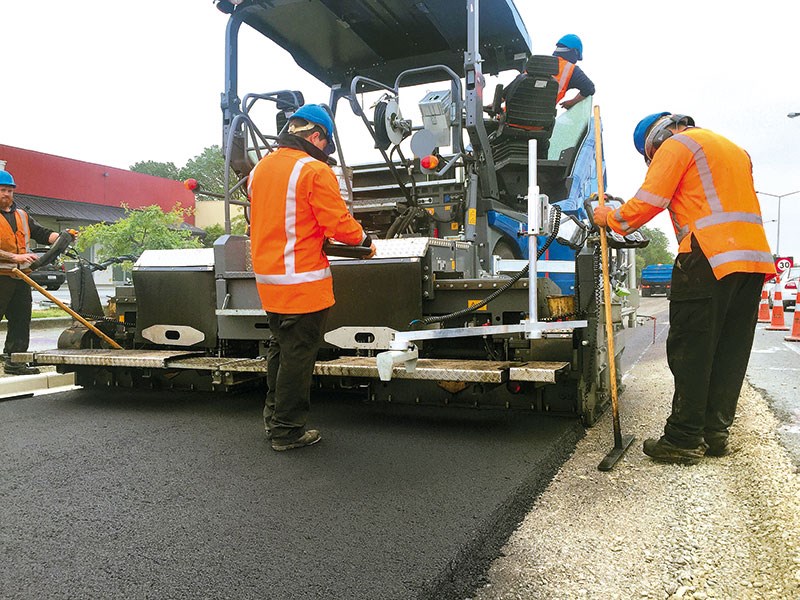 Christchurch's JCL Asphalt Ltd has recently added a third Vögele paver to its fleet. With huge reserves of power, impressive standard and optional features and the ability to pave to widths of over five metres out of the box, the 1603-3 already impresses director James Craw and his busy crew.
With the addition of his new Vögele 1603-3 wheeled paver, James Craw of Christchurch's JCL Asphalt Ltd says his team now has the complete fleet.
"The new 1603-3 joins a Vögele Super 600 footpath paver and a smaller 1303-2 we've been running for a couple of years now. When I find a brand I really like, I tend to stick with it and, as far as our frontline paving plant goes, Vögele makes a very good machine."
Craw spent some classroom time on an application trip to the Vögele factory in Germany last year, learning about the technology the 1603-3 and its siblings in the range feature. In addition to the robustness and power the machine offers, Craw says he also likes the intuitiveness of the controls – something that commonality across the paver fleet helps with.
In fact he says that within an hour of the machine arriving at JCL's Christchurch yard, his team were running test paves with it. The 'dash 3' was on a transporter and off to its first assignment the very next day.
Supplied through Wirtgen New Zealand, the new Vögele 1603-3 is the first in the South Island and joins the blue-liveried JCL fleet, which will be a familiar sight to those in Christchurch as the company sets about all manner of residential and larger commercial asphalt work.
When I suggest his painter must be rushed off his feet on a continual basis Craw laughs, "They actually painted the machine for us at the factory! It was great; we sent off a paint sample to Germany and it arrived here in our colours."
JCL is running Vögele's AB 500 screed with extenders on their 'dash 3', giving it a maximum paving width of 5.5 metres total (each extender adds 250mm). The bolt-on extensions do mean that the paver needs to be piloted between job sites, but Craw believes the extra coverage the extended screed gives the crew on jobs befitting the machine's capabilities is worth the extra logistical considerations required to transport it.
In fact Craw is going wider still, having recently ordered new 1250mm extensions for the paver, enabling a total width of 7.5 metres in order to complete a seven-metre-wide, 2.35km long private race track the company has scheduled soon. This new set will be the first of its kind in New Zealand.
Perhaps the single biggest advantage the new machine carries with it for the JCL team though, is the MultiPlex Ski.
The MultiPlex Ski system consists of three sonic grade sensors arranged in a row which take individual reference points of the ground being traversed. Based on the values being picked up by the sensors, the system calculates a virtual reference and adjusts the screed level accordingly, meaning that irregularities are accurately levelled out over the pave length.
"The MultiPlex Ski is truly awesome. It was an additional investment, but well worth it," says Craw.
"It's quite job-specific, but it's on the large scale stuff that it comes into its own. And as a company that's where we're looking to play, so it's a vital tool for us. It's really impressive what sort of ride you can achieve with it; we've already had very positive feedback on work we've completed using the Ski.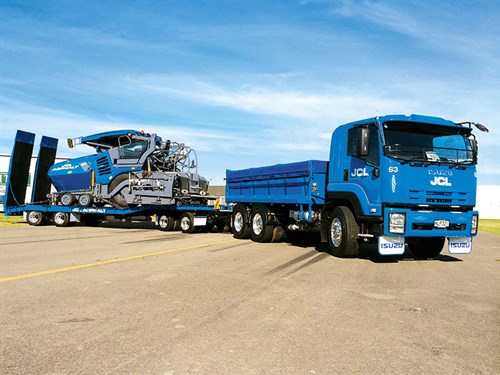 Among the optional extras Craw ordered for the JCL 1603-3 are heated side plates and a hydraulic crown.
"The elements under the side plates work really well when you're running against a cold join; that extra bit of heat just makes the join to the existing mat that much smoother.
"This is also our first machine featuring a hydraulic crown. It's a feature that needs real finessing, but the 'dash 3' control system makes that easer. It works on percentages, with each push of the button adding 0.1 percent. One touch per four or five seconds is usually enough though, so you might've gone to one percent over 10 metres.
"You have to remember that's 10mm difference, so there's a risk that a motorist travelling over that at 50km/h or 80km/h will feel it."
In addition to the optional extras, Craw says he's also impressed with just how quiet the machine is, thanks to Vögele's EcoPlus low-emissions software which also governs noise levels.
"I've walked past the 'dash 3' a few times and have been fooled into thinking the operator isn't giving it enough power because it isn't revving hard. But in actual fact, with the machine in ECO mode it doesn't need to be screaming.
"If you're paving a car park to four or five meters at 30mm, you can keep the machine in ECO mode the entire time. To be honest, for the average job I really can't see a need to ever take it out of ECO mode; it still has plenty of grunt."
That grunt comes courtesy of a powerful Cummins diesel featuring high capacity liquid-cooling. The power pack offers up 116kW at an efficiently low 2000rpm, while still boasting a maximum laydown rate of up to 600 tonnes an hour.
Switching over to ECO mode governs the engine to 106kW at 1700rpm, which is more than adequate for most jobs, as Craw and his paving crew has discovered.
As to the completeness of the fleet, Craw says that between the Super 600, 1303-2 and 1603-3, he's covered with a comprehensive line-up of equipment for any job.
"Our Vögele fleet now gives us complete coverage with regards to screed size and horsepower," concludes Craw.
"The wee Super 600 is great for smaller jobs and trench work, the 1303-2 is in constant use for car parks, tennis courts and those sort of mid-size jobs and the 1603-3 is already proving a worthy addition for roading and other large scale projects we're engaging in.
"It's fair to say the 'dash 3' has really lifted our technical abilities as a company to the next level. It has given us the ability to expand the scope of what we're engaging in and will enable us to seek out bigger, high profile contracts in the future.
"When your reputation rests on your ability to turn around the big jobs, you need to have faith in your guys and your gear. To that end the 'dash 3' definitely plays a part in our company's growth strategy."
For the latest reviews, subscribe to our Deals On Wheels magazine here.
Keep up to date in the industry by signing up to Deals on Wheels' free newsletter or liking us on Facebook.