Product profile: Rockster R900
---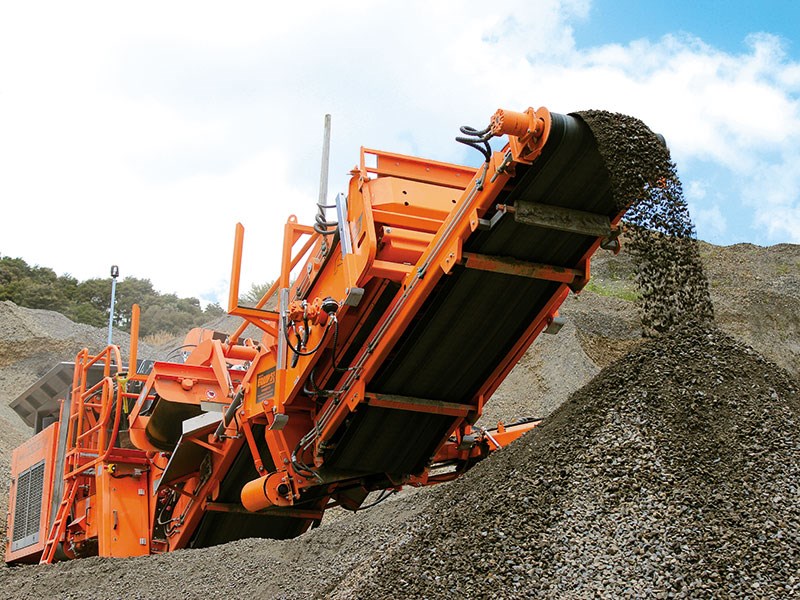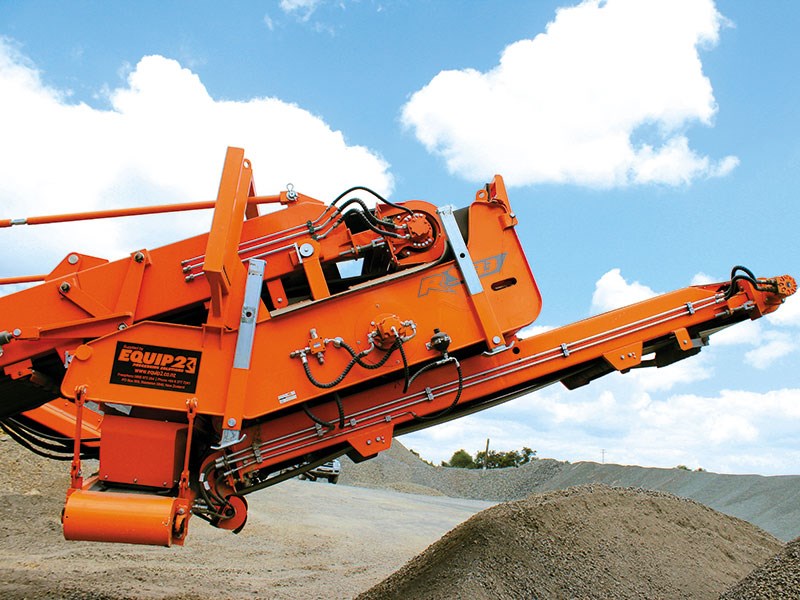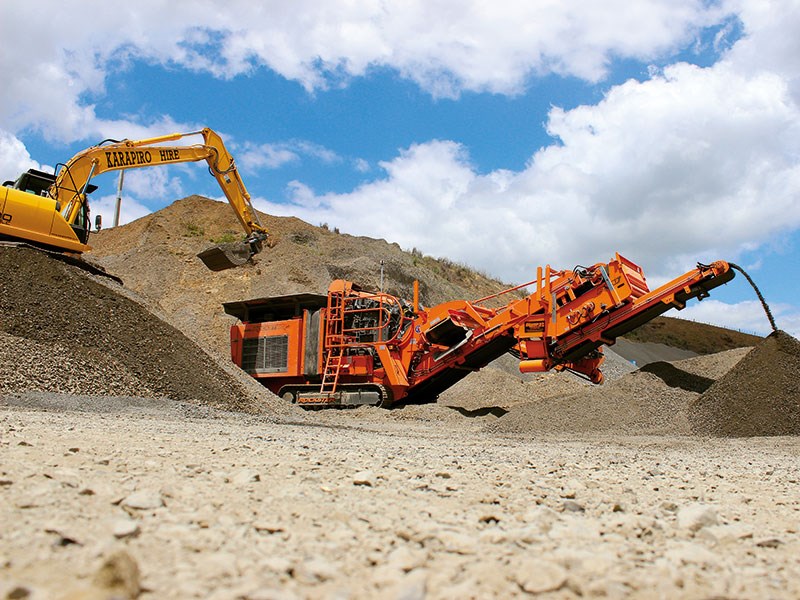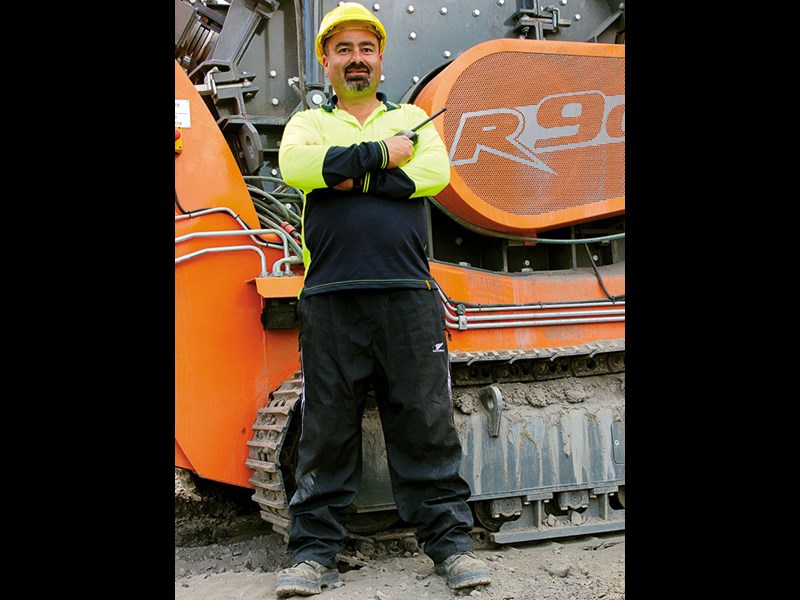 MCS crusher operator Brandon Faulkner.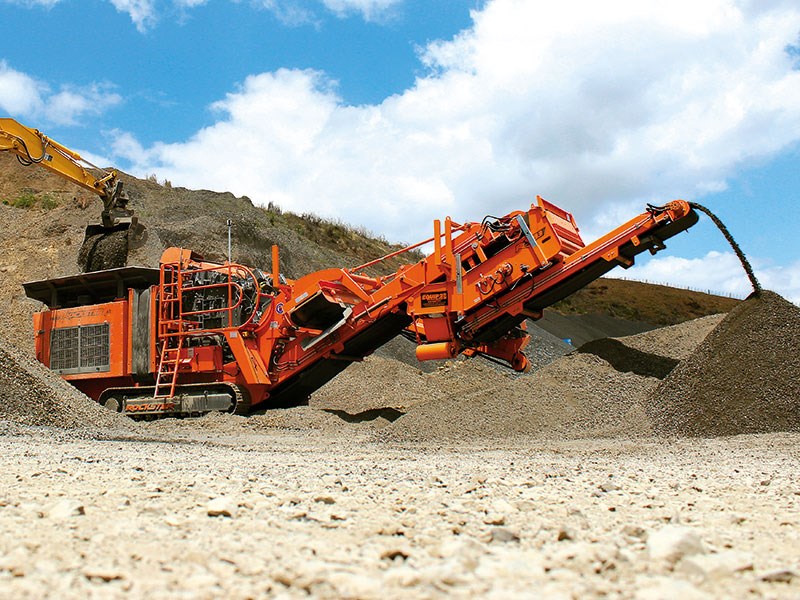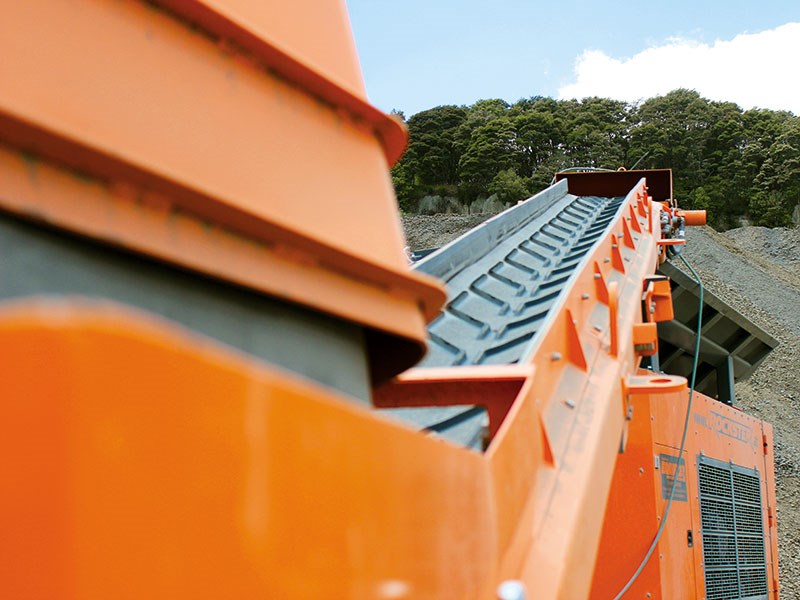 Equip2 Processing Solutions has supplied the first Rockster R900 in New Zealand to Mulching, Crushing and Screening Ltd. The machine already looks set to add speed, precision and flexibility to the Hawke's Bay company's expanding machine fleet.
Barry Maunder and Gareth Fryer from Mulching, Crushing and Screening Ltd (MCS) are firm believers in reaping the rewards of sound technology through plenty of research.
The brand-new Austrian-manufactured Rockster R900 impact crusher and jaw currently working the hard yards for MCS on contract at Winstone Aggregates Whitehall Quarry on the outskirts of Cambridge is the only one of its kind in New Zealand.
"I did a lot of homework on the Rockster before we bought it," says Maunder. "I looked at it from every angle and I was really impressed, not only with its basic operating capacities but also what the flexibility of the unit's design means for our company."
Maunder says the R900 stood out because of its potential as a future-proof investment for the company.
"In addition to our work for Winstones, we also complete contract work for the Department of Conservation, building access roads, helipads and other infrastructure in some pretty remote and difficult-to-get-to terrain.
"Logistically this sort of work can prove challenging. We've had situations in the past where we've been crushing 100mm aggregate into 40mm product and have needed to get a jaw, cone and screen into the bush, incurring thousands of dollars in transportation fees in the process.
"The R900 is very much an all-in-one unit, so Rockster's technology will help mitigate this level of expense for us, as well as the need to tie up a large portion of our machine fleet in one location."
Maunder was immediately impressed with the R900's ability to convert from an impact crusher to a jaw inside of three hours.
"Change the screen size and the screen box and you're away. This really is fantastic technology and very intuitive to use too," says Maunder.
MCS's crusher operator at the Whitehall Quarry, Brandon Faulkner, agrees.
"I'd never set foot near a Rockster before, but it's really impressive. Setting changes are so easy with it. I've come from the old style of crushing where everything is done with a spanner, undoing the toggle bolts and springs, cranking it forward and then locking it back up.
"Until recently it has been a very manual process, but the R900 is all hydraulics-based. It really is as easy as pushing a button. We haven't done it yet, but you can even adjust the settings while the machine is running, which is pretty amazing."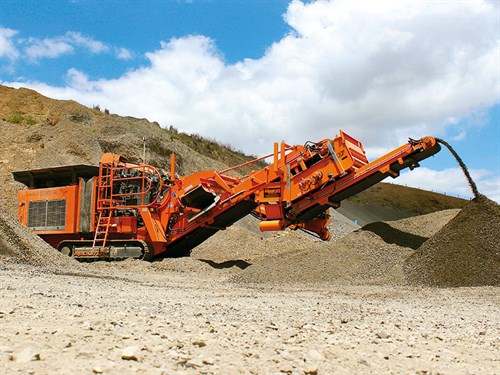 MCS needed a machine that could hit the ground running with minimal fuss: just as well too, as the Whitehall Quarry is supplying aggregate to the wider Waikato Expressway network, one of the country's big Roads of National Significance projects.
The Rockster certainly copes with the large scale production required of it too, offering up a high quality operating platform and delivering high performance crushing.
The machine features two hydraulically adjustable swing-beams and variable rotor speed, meaning the operator has precise control over final grain specification at all times.
Drive comes courtesy of a grunty 197kW electronically regulated Volvo six-cylinder engine, located at the rear of the R900 inside sound-proofed bodywork which can be opened up for easy access for service interval checks.
The impact crusher features an inlet opening measuring 900mm x 720mm, with an impact circle diameter of 1020mm. Four rotor hammers provide for a crushing ratio of between 1:10 and 1:50 at speeds of up to 850rpm. Rockster says the system can deliver up to 240 tonnes of crushed aggregate per hour.
The R900 also boasts a robust Hardox 400 reinforced feed hopper offering a volume of 4.2 metres-squared.
The machine is relatively compact, with transport dimensions registering 9.6 metres in length, 2.5 metres in width and 3.2 metres in height. The standard 400mm-wide tracks – operated through a two-speed hydraulic drive system – make it easy to relocate around the quarry and on and off transporter equipment.
"It's a baby when you look at its footprint," continues Faulkner. "But it packs a punch as far as output goes. We're running another machine with a similar-sized jaw that weighs in at 45 tonne. The R900 is closer to 30 tonne, but it has similar production capacities.
"We're pushing 40mm to 65mm feed stock through and producing Dirty 20; everything is wound down tight, but the product it's outputting is really consistent."
It might be 'the one and only' R900 in the country for now, but Maunder says he has been very impressed with distributor Equip2 Processing Solution's ability to supply wear parts immediately.
"Bert and the guys at Equip2 Processing Solutions really look to be running a tight ship. Parts availability is certainly something you need to look at twice if you're taking on a new entry to the market, but I've been impressed with the back-up they've offered so far."
"They have a good stock of wear parts and a direct line to the factory in Austria, so I have a lot of faith in the service side of their company," he says.
"MCS has invested over $3m in brand new gear during the last year. The Rockster R900 makes up a fair proportion of that, but I'm really confident the state-of-the-art technological advantages and flexibility it offers our company make it a worthwhile investment."
For more information contact Equip2 on 0800 872 254.
Never miss an issue of Deals on Wheels. Subscribe here.
Keep up to date in the industry by signing up to Deals on Wheels' free newsletter or liking us on Facebook.