Review: Hydralada Twin Lift 200
---
Hydralada, a leader in the field of self-propelled elevating work platforms, designed the Twin Lift to meet the need for a purpose-built machine to work in narrow row width orchards.
Most modern orchards are now being developed on dwarf tree rootstocks with narrow rows. This is to obtain maximum yield per hectare with minimum input costs.
Hydralada sales director Matthew Smith says, "The Twin Lift is a response to this change in planting. When grown this way, the tree canopies tend to be more consistent and can be accessed from the Twin Lift platform."
The Twin Lift diverges from the single lift machine in that it has an adjustable width platform that accommodates two to four pickers.
A Bintrac module can be fitted at harvest time, which moves the bins through the platform for the pickers to harvest into.
It has a two-speed drive control and the machine can be locked into the forward direction to give the machine continual drive slowly down the row. This allows each person to carry out a particular task either side of the platform.
Field trials have shown an increase in productivity, when thinning apples, of up to 150 percent when using the Hydralada Twin Lift.
The platform is powered by a small engine (Kohler CH1440), which operates at a low rev rate. It is very quiet and is fuel-efficient.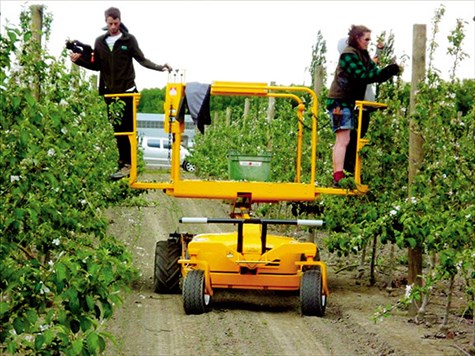 Standard Hydralada hydraulic drive equipment means the machine is very manoeuvrable and will rotate on its own axis, allowing quick turnaround time in the headlands.
In other words, it's a nimble machine that allows the operator to work speedily and efficiently.
It wasn't a huge learning curve to develop the Twin Lift, says Matthew, because it has the same basic componentry as the standard boom lift machines. "All we did was add a platform and change the chassis slightly for strength and stability — a full bin of fruit is about 450kg."
The Hydralada Twin Lift came off the production line in 2008 and has been gaining popularity since. "Over the past few years it's been a tough time for apple orchardists but recently, returns for fruit have improved and as a result we are getting more enquiries for these machines. The feedback from orchardists is that the Twin Lifts are making a huge difference to their productivity. They can generate twice the output of one person on a conventional ladder."
A platform designed to take two or four people means the labour required to manage the upper regions of trees is significantly reduced.
"It increases output by 50 percent at harvest time because pickers are working consistently at one height, rather than going up and down ladders. All the fruit is in front of them and it goes straight into a bin, which sits on the platform. Once the bin is full, it is rolled onto rear forks and automatically lowered to the ground. There is no delay waiting for tractors. They just carry on picking," says Matthew.
A recent American study has shown that platforms with more than two workers result in a productivity decrease with workers generally pacing the slowest person, whereas two work competitively to the speed of the fastest person and the forward movement of the machine.
"Pickers love it — they can stand in one place and are not exhausted from ladder work. It also lessens strain injuries," says Matthew.
For pruning, tree training, and thinning the bin track is removed.
Matthew's father, Andy Smith, who designed the original Hydralada, started Hydralada Company in 1975. Today he is still managing director and his four sons are all now involved in the business.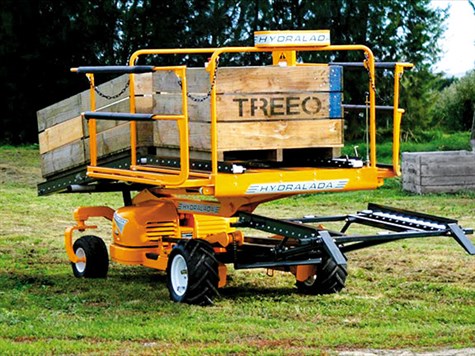 Matthew says, "My grandfather was a farmer and somewhere along the way the family also got into farm equipment. Dad had studied hydraulics and saw the need for lifting machinery in orchards rather than using ladders. He developed a hydraulic lifting machine with an engineer called Phil Sowersby. Phil manufactured machinery for Dad until 2008, when we began to do it all in-house here in Hastings."
Hydralada is an international company and exports its products to ten different countries, including Australia, Thailand, Saudi Arabia, Switzerland, and France. It is also developing markets in South Africa and America, where the market is "huge", says Matthew.
Hydraladas are used in horticulture to harvest apples, cherries, mangoes, dates, and citrus. They are a multi–purpose machine and in addition to harvesting, they are also used for pruning, tree training, and thinning.
Other industries, such as councils, arborists, painters, and the building industry, use various models of Hydraladas too.
"They are often used for farm-shed building. One of our customers told us that Hydralada gave them their competitive advantage. You can have the boom up while still driving around and do all your tasks."
One of the reasons Hydralada is so successful, Matthew says, "is because we are innovative and we always listen to what our customers want. For instance, we created a special attachment for the Hydralada Mango Maxi, used for picking mangoes. A nozzle attached to the picking basket sprays out water to prevent acid that comes from the stem of the mango, spoiling the fruit."
At a broader level, he says Hydralada is guided by industry standards both in New Zealand and in Australia. "We have a lot to do with ISO and work in closely with it to make sure our machines are fully compliant. We are very proud of our position as innovators and market leaders."
For more information contact Hydralada on either (06) 873 0000 or 0800 888 887, or visit hydralada.com
For the latest reviews of farm machinery, subscribe to Farm Trader magazine here.
Keep up to date in the industry by signing up to Deals on Wheels' free newsletter or liking us on Facebook.