Excavator review: Sumitomo SH350LHD
---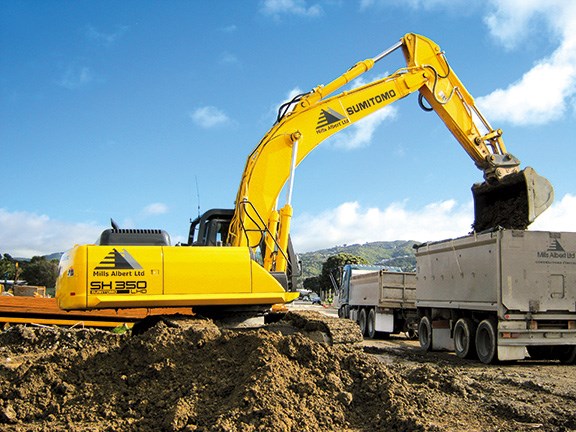 Four passes was all it took to fill the trailers.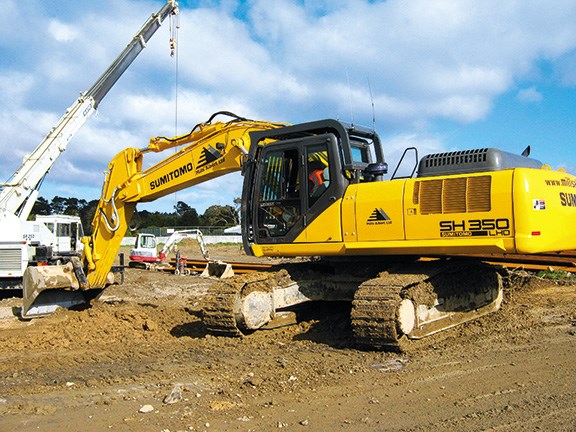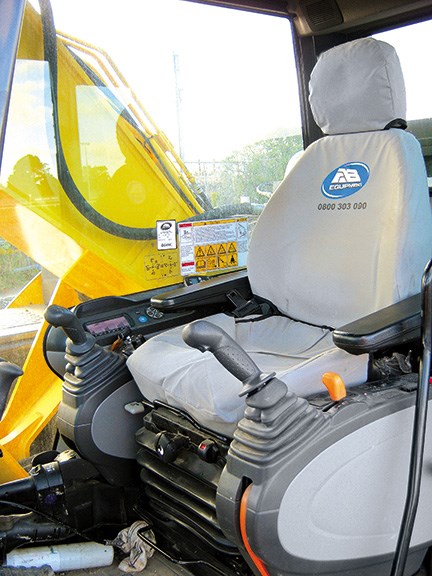 The cab is very comfortable and quiet.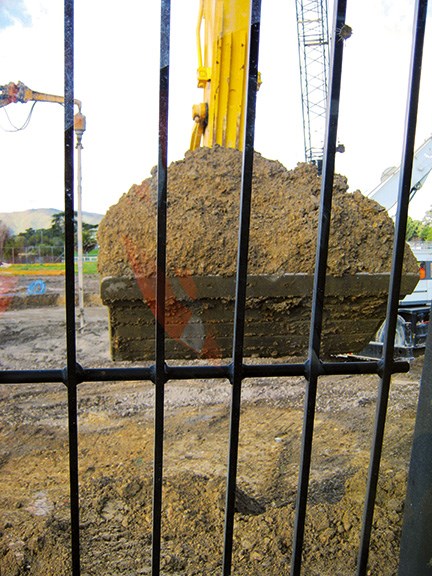 Front window guards give better protection to the operator.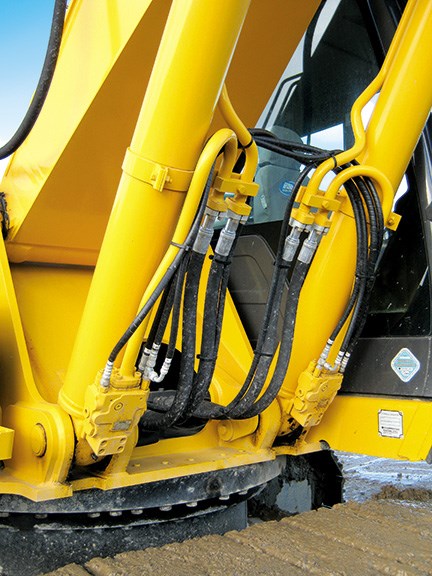 Burst valves come standard.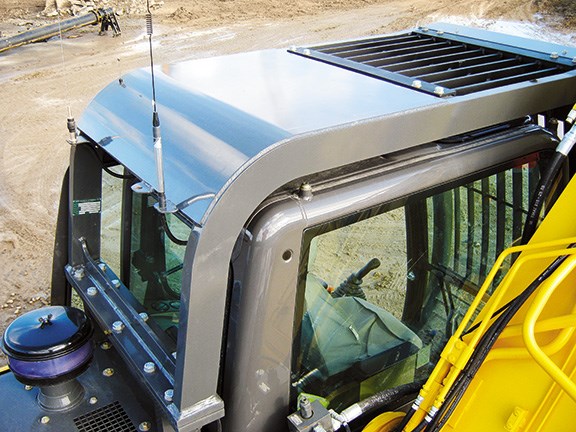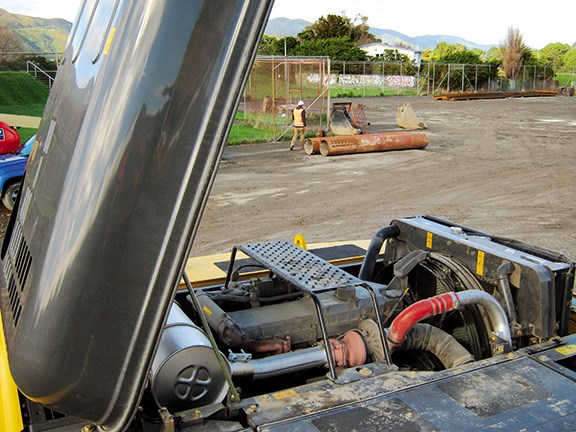 After such a great run from their previous Sumitomo excavators, Mills Albert Ltd didn't need much time to think when it came to adding another one to their fleet. Tim Dittmer reviews the SM350LHD.
Mills Albert Ltd, a family-owned business, was established in 2000 by David and Lisa Mills, and Phillip Albert. It has worksites ranging from New Plymouth to Kaikoura. With 35 staff and 25 machines, including a 1.5 tonne and two 35 tonne Sumitomo excavators; various trucks; bulldozers; and loaders, Mills Albert cover all facets of civil works from subdivisions; drainage; infrastructure; roading; rock supply; and placement. 
They also have a large involvement in the forestry industry and have a logging crew and road/skid construction team working on various sites in the lower North Island. The company trades from its Kapiti Coast base in Paraparaumu. 
Mills Albert's first SH350LHD-3B played a major role as the Earthwork's subcontractor to the Downer project team on Gentle Annie Road between Taihape and Napier. The machine was put through its paces with the extremely hard volcanic rock in the area and it excelled. Today, it is still actively involved in the current operations of loading out the material excavated from the Ryman's Retirement Village site in Petone.
Operator, Eric 'The Viking' Hartshorne is extremely happy with his new SH350LHD-5, and is impressed with the improvements Sumitomo have made by making this machine faster, smoother and quieter than its predecessor. The machine has recently commenced roading and skid formation for FOMS at the Pahautahanui Forest Partnership site at Battle Hill on the Paekakariki Hill Road.
He says his new machine is perfect for the task and Hartshorne is always up for the challenging environment of forestry operations.
Engine and hydraulics
The Sumitomo SH350LHD-5 is fitted with a newly developed 24 valve, six-cylinder Isuzu 6HK1XYSS engine. This 7.8 litre donkey produces a maximum of 1080Nm of torque at 1500rpm. Sumitomo are reporting a 5 percent reduction in fuel consumption over the previous model, the high-pressure common rail injection system helps achieve this by precisely injecting the exact amount of fuel required at the right time.
The hydraulic standby pressure has been reduced so there is less weight on the engine when the machine is stationary. A cooled EGR (exhaust gas recirculation) system, combined with the intercooled turbo, reduces the amount of nitrogen oxide emitted, making the engine compliant with US EPA TierIII and EU Stage IIIA emission standards.
Twin variable displacement axial piston hydraulic pumps each delivering up to 290 litres per minute and a maximum pressure of 380kg/cm2 when power boosted are mounted to the 202kW Isuzu engine. This gives a bucket digging force of 248kN while the 2.63 metre arm produces a healthy 211kN of force. The maximum drawbar pull is 264kN with two travel speeds on offer – a low of 3.5kph and high of 5.5kph.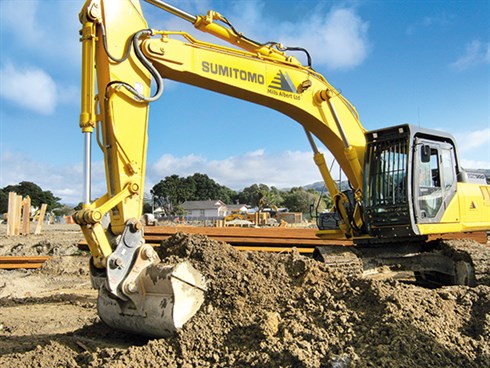 Cab and controls
Sumitomo's newest cab gives three times more rigidity for increased operator protection compared to previous cab designs. Four fluid mounts isolate the cab from the machine, providing a smoother, more comfortable environment.
The interior looks smart and has all the creature comforts we have come to expect – except a rear view camera, which would be a benefit on an excavator with a large tail swing like this, although the large curved mirrors do help to some degree.
The cab remains quiet, even when working at full revs with the door open. When the door is closed it becomes exceptionally peaceful so those who like to nap on the job will be happy, especially because the seat is capable of lying flat and has plenty of adjustments.
A few small conveniences such as auto power boost, automatic air conditioning, and a radio mute button on the front of the joystick add to the nice operating environment.
Sumitomo have cut back to just three work modes that are activated by turning the throttle dial to the preferred setting. 'Adjustment' mode gives a rev range of 900-1700rpm and is for fine control and lifting, it is set by turning the dial to the desired rpm. 'Heavy' and 'speed priority' mode increases the engine speed to 1800 and 1900rpm respectively.
The LCD monitor shows the engine and hydraulic temperatures as well as the fuel gauge in an easy-to-read darkened bar-type display. This screen also has the ability to store up to ten different hydraulic flow settings for a large range of attachments. The circuit can also be changed between single and double, acting for different attachments such as rock breakers or crushers.
Servicing, maintenance and durability
The SH350LHD-5 has an impressive amount of guarding as standard specification, including heavy plating on the dipper arm; a stronger bucket with additional wear protection; side guards on the upper structure with reinforced plates underneath; and full length track guards on the robust undercarriage.
Ease of servicing has been well-thought-out with remote mounted filters grouped in the hydraulic pump bay. Hydraulic oil changes are needed after 5000 hours while the filter needs replacing every 2000 hours and an inspection hole on the bottom of the fuel tank will make any mechanic's day should the need to access it arise through bad fuel or vandalism.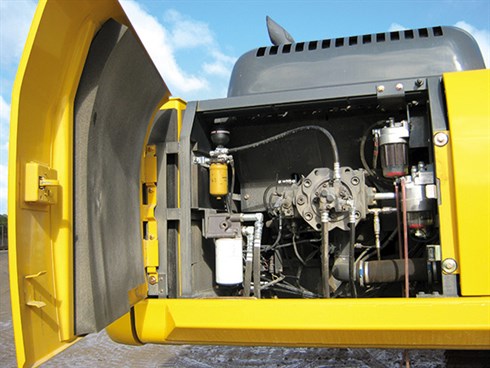 High-strength brass bushes have been used throughout the boom arm and buckets pins for 1000 hour or six-month greasing intervals.
Gary Douglas Engineers Ltd did a stunning job of the ROPS frame they built to fit over the Sumitomo's cab. I regularly see their work on a lot of different machinery and it is always well designed and finished to a very high standard.
Sumitomo build all their excavators in one factory located in Chiba City, Japan to ensure their products are all built and inspected to the same high standard giving the end user a more reliable machine.
Performance and handling
Mills Albert Ltd had the machine working on a construction site in Petone and Hartshorne was loading truck and trailer units when I visited. Hartshorne speaks highly of Sumitomo excavators as his previous Sumitomo clocked up over 10,000 hours with very few issues.
I jumped behind the controls to load the next few trucks and was impressed with how smooth the hydraulics were, even at full-reach I could move the bucket in all directions by even the smallest amount, making it suitable for even the finest jobs.
With the large bucket heaped with soil the SH350 remains stable throughout all functions. Its stability is helped by the long undercarriage and shorter dipper arm, keeping the weight in closer. Though I was only loading loose soil I could still feel the strength in the hydraulics when burying the bucket hard into the pile. Loading the truck and trailers were a lot easier than I thought. While tracking, the hydraulics would still share oil with all the other functions, making combined movements a breeze with no jerkiness.
Overall, I was quite impressed with the Sumitomo SH350LHD-5. It functions very nicely in all aspects and is a pleasure to spend time in.
For the latest news and reviews, subscribe to Deals On Wheels magazine here.
Keep up to date in the industry by signing up to Deals on Wheels' free newsletter or liking us on Facebook.