Skyrise Hire's new Snake Boom
---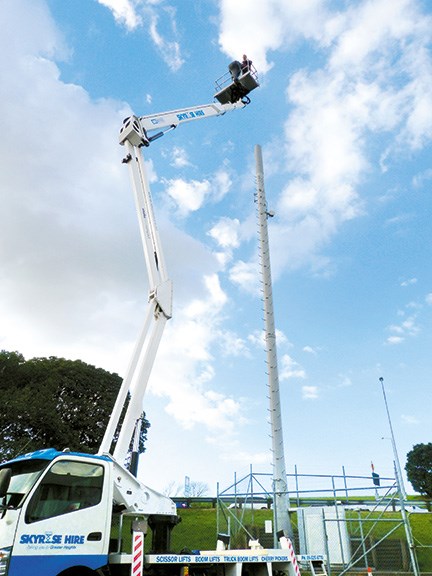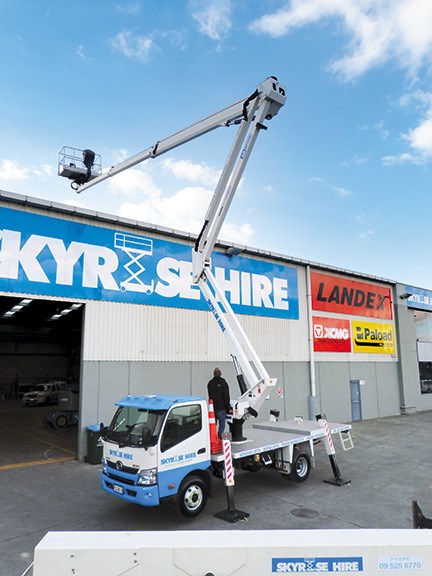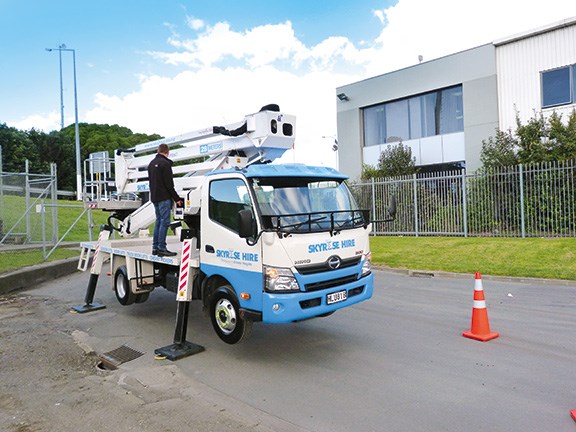 The small folded-up unit masks its big capability.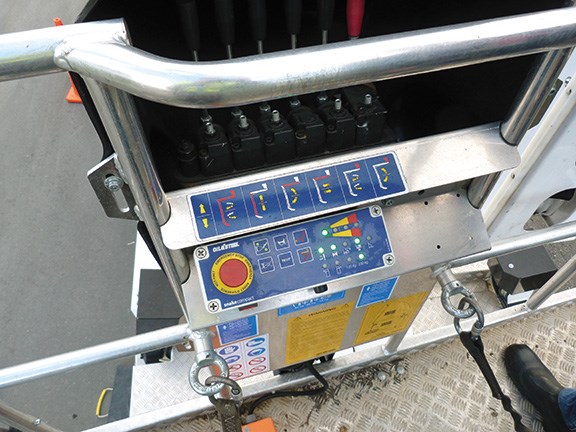 The panel on the platform has priority controls.

Accessing those hard-to-reach, high-up places has just become a whole lot easier, thanks to Skyrise Hire's new Snake Boom. Mounted on a manoeuvrable, easy-to-drive Hino 300 two-axle truck, setting up the unit to get to work only takes a matter of minutes — even in the tightest of spots.
Skyrise Hire's eye-catching blue and white access equipment is well-known around town and the Snake Boom is a striking addition to its fleet-list.
Getting to see the unit in action and finding the opportunity to go for a ride aloft proved to be somewhat more difficult than one would have at first imagined, given the unit's been in almost constant use for weeks at Auckland Airport, where security measures in place would have curtailed our efforts to take the necessary photos to accompany this article.
However, a small window of opportunity at the time the Snake Boom was in for a service at Skyrise's Penrose depot presented the Deals on Wheels team with the chance to go for a ride — nearly twenty-eight metres up in the air.
Skyrise Hire's general manager, Jamie Ryan, was at the ready, equipped with harnesses.
As the basket we're standing in reaches the halfway point upward, and the Hino that the rig's attached to is becoming smaller with every passing second, it becomes apparent that the operator really does have to know what he or she is doing and that it would be a very wise move indeed to gain all the necessary qualifications to 'fly' the machine.
To this end, Skyrise Hire runs courses for operators to gain accreditation to operate elevating platform machines like Snake Boom. The course is conducted as a half-day programme in which attendees are issued with a permit to operate if they prove themselves competent at the end of the programme.
The ride to the top of the 28-metre stretch was effortless and smooth, as was our descent, which Ryan deftly made, rotating the unit through 360 degrees both ways. This action provided a perfect demonstration of the Snake Boom's versatility in gaining access in situations where parking space for the vehicle is restricted.
The entire unit, when the hydraulically-operated stabilisers are deployed, is a fraction over 12 square metres, with the longitudinal distance being four metres, and just over three metres across the truck's deck.
To add to Snake Boom's versatility in manoeuvrability, the 'knuckle action' of the boom allows the unit to be elevated between two buildings, for instance, and then rotated to provide access to a rooftop. The basket has a further 90-degree rotation capability, increasing manoeuvrability.
Furthermore, the Hino 300's relatively-short wheelbase and exceedingly-tight lock allow for the whole rig to be driven into narrow access-ways.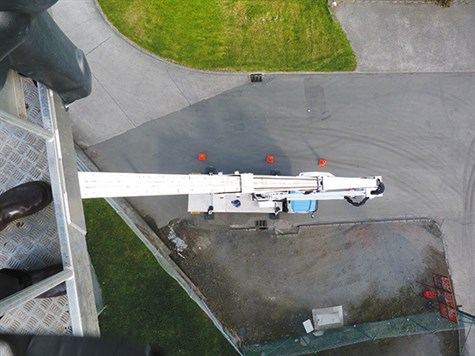 The Snake Boom is packed with myriad safety features. For instance, in the initial setup, there are a number of checks and balances that won't allow the machine to operate if the unit isn't sitting on a level plane. There is a spirit level beside the control panel, along with a green light that comes on when a safe working level has been reached.
The boom, elevating via a chain drive, activated hydraulically via the truck's PTO, also has a built-in safety mechanism whereby the boom can be lowered by hand in the unlikely event of engine failure.
Ryan says it's a slow process but it will get you back down in the end.
Many different safety features will inevitably be close to the hearts of operators as there will be people who will use the unit, so a more-complete safety feature list is set out below.
As for this magazine writer who went all the way to the top, he came back down to earth, very pleased he'd been up there.
Standard safety devices
Emergency button with engine stop
Locks for safety belts on platform
Two safety belts for basket
Fasteners for safety belts in basket
Hand pump for emergency lowering
Anti-collision device that prevents the superstructure hitting the truck cab
Arm lock when machine is not stabilised
Stabiliser lock when machine is open
Self-locking device on rotation unit
Momentum limiter
Priority of controls on platform
Maximum pressure valve on hydraulic circuit
Thermal protection devices on electrical system
Lock valves on all cylinders
Accessories fitted as standard
Truck engine start/stop control on both ground control post and platform
Control post
Internal trunking (in arms)
Power take-off engaged buzzer
Self-locking device activated on rotation
Device (on truck dashboard) to signal outriggers not in resting position
Document compartment on platform
220-volt AC single-phase electric power socket on platform
Metal guard for ground control console
Thermal protection devices on electrical system
Hydraulic platform rotation
Power take-off engaged signal light (on truck dashboard)
Over-centre lock valves on all cylinders
Pressure relief valves on the hydraulic system
Never miss an issue. Subscribe to Deals on Wheels magazine here.
Keep up to date in the industry by signing up to Deals on Wheels' free newsletter or liking us on Facebook.