Review: Sany SY215C excavator
---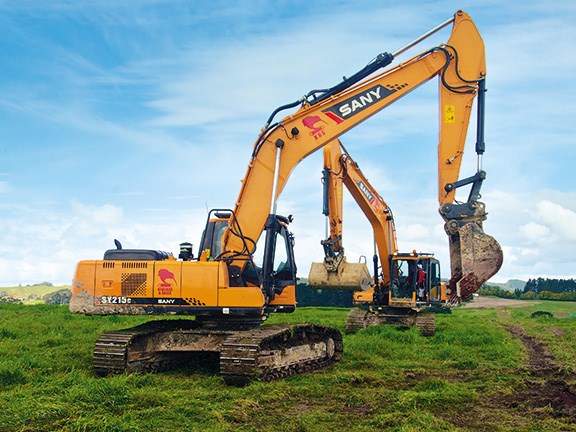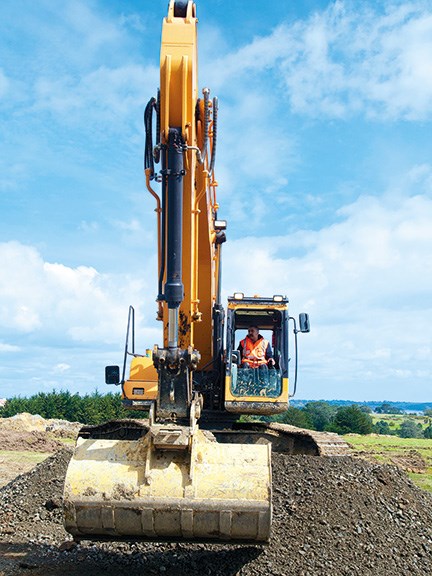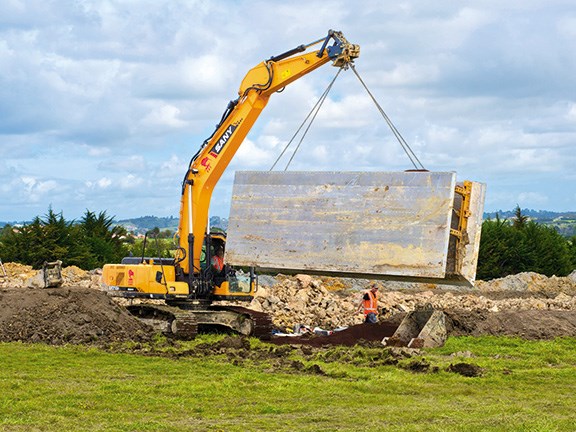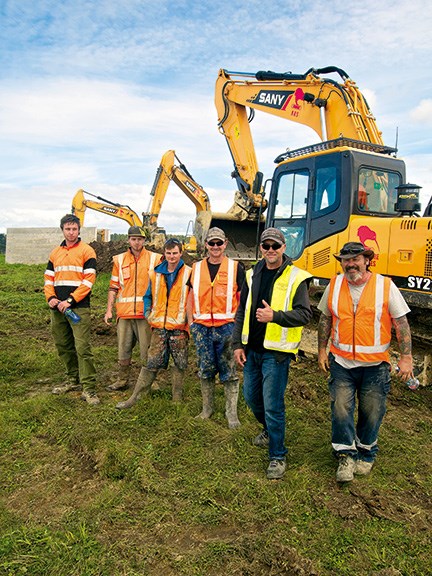 Luke Johnson (second from right) and his crew.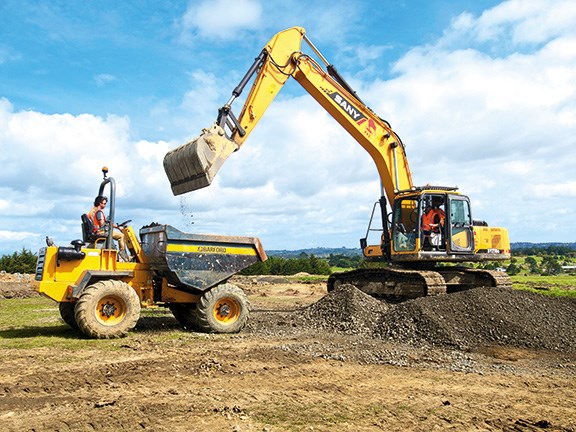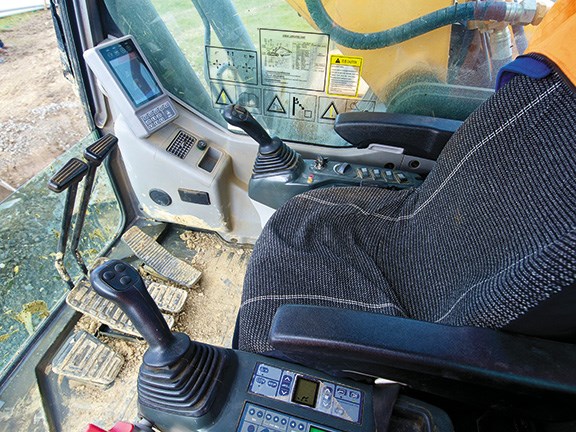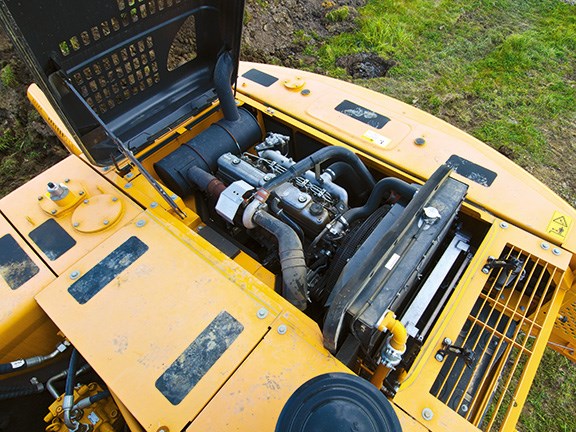 Another well-known Chinese brand of excavator has arrived in New Zealand and we thought it was time to put one through its paces.
On the south-eastern outer reaches of Auckland, lies the trendy seaside hamlet of Beachlands. Once upon a time, the place was a weekend retreat for city dwellers, but the last few years have seen it getting closer to assimilation by the ever approaching city footprint.
As if being threatened by the expanding City isn't enough, Beachlands is also expanding from within. Another new subdivision, which has recently become underway, is where we have travelled to for this story, as it's where Accurate Contractors Limited's owner, Luke Johnston, and his crew are working in unison with the hydraulic muscle of Sany.
Sany background
According to my research, Sany is China's largest manufacturer – and in terms of size, is the fifth largest in the world. The business produces over 500 different machine models; owns the largest excavator factory on the globe; and have fingers, well 'hands' (probably a better word) in the pies of Putmeizster concrete machinery and Palfinger.
As you can see, Sany isn't just a small fly-by-night operation, and is a seriously big player in the construction equipment industry. This makes it all the more interesting that a smaller operator (in our terms), such as Kiwi Hire has been handed the challenge of marketing the brand in New Zealand.
"My main reason for importing them was to have a bigger supply of quality gear at the right price," says James Worker, owner of Kiwi Hire and Sales. Currently the fleet sits at around 40 units and with another 10 excavators about to leave for New Zealand, it's hard not to be impressed, especially considering Worker has had the brand for just under a year.
Back to the story
Finding the site was fairly straightforward as it's not hard to spot three Sany machines in the middle of a farm paddock.
Usually one of the best ways to find the boss onsite is to look for a work utility, as they usually won't be more than 100 metres from it. Sure enough, working atop a quickly-diminishing stockpile of aggregate in a Sany SY215C excavator, we found Johnston.
After an exchange of greetings, approximately two minutes later, I was busy loading an onsite dumper. It was so quick, that my photographer was still getting his gear out of our vehicle, and it was awhile before he realised where I had gone.
With the dumper doing quick turnarounds, there wasn't a lot of time between loads and with 10 cubic metres being moved each time, it was a good opportunity to assess the capabilities of the machine, especially when careful manoeuvring was frequently required.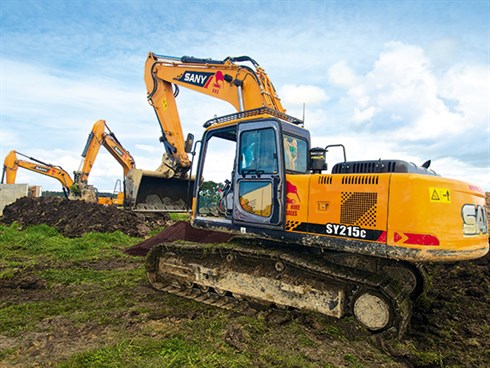 The machine
Powered by a six-cylinder Mitsubishi 6D34-TL engine that is rated at 153hp (114kW @ 2050rpm), the Sany SY215C crests the scales at 21,500kgs when attached to a standard digging bucket and has an operator sitting at the controls.
Folded up for transport, the overall machine length sits at 9680mm, although it can excavate out to 9885mm when in working mode. The bucket has a maximum dumping height of 9305mm and it can dig down to 6630mm.
Speaking of modes, like most other brands, the SY215C has four to select from – heavy-duty (full power); standard (90% of rated power); light-duty (80% of rated power); and breaker (90% of rated power). I think it's fair to say that most operators would rarely change out of heavy-duty operating mode.
Hydraulic system
Through a positive control system, the hydraulic oil is fed from the 239 litre tank through twin variable-capacity piston pumps at a maximum flow of 220 litres per minute. This enables a maximum digging force of 138kN at the bucket.
The cab
The cab interior is a well-designed functional area, with all the conveniences found in most other brands of excavators. Specifications on the Sany SY215C say that the cab has a positive-pressure ventilation system, which keeps the pressure inside higher than outside.
In theory, this should work fine when an operator is behind the controls for long stretches of time and the doors and windows are kept closed. Although the reality of this particular site is that with operators frequently climbing in and out of their machines, the doors and windows are kept open to help ventilate the cabs and for better vision, especially when digging drainage lines.
Back on the stockpile
In between loading the dumper, I scratch up the loose aggregate, trying to avoid contaminating it too much with the underlying clay. This is a good test of light precision work and my operating skills. It takes a couple of practice scrapes before I down-step the engine a mode and hit a nice stride.
To be honest, I'm quite pleased with how straightforward using the machine has become, and I feel confident that it will do what I expect. Even the balance of the machine when moving doesn't make me wonder if it will rock or suddenly judder unexpectedly, so my operating experience is a positive one.
The verdict
Stepping off the machine, Johnston, asks my thoughts on it? Not wanting to influence him, I bat the question back by asking him how he finds the Sany SY215C to operate. "Mate, I've used a lot of different machines, and these are good solid machines." he says.
I respond with an affirmative. At $160k for a brand new machine, the Sany brand does appear to represent good value for money.
A few minutes later, the excavator disappears to the other side of the worksite and is busy installing a shoring system for the deep trenching that is being carried out.
"The machines are being worked hard. We are having to trench down a long way in some areas, and the Sanys aren't finding it a problem at all," says Johnston.
I'm sure that we're going to see more of the Sany brand on a lot more worksites before too long.
Keep up to date in the industry by signing up to Deals on Wheels' free newsletter or liking us on Facebook.