Review: Cat 272D XHP
---
Innovation, versatility, and increased operator comfort make Fulton Hogan's new Cat 272D XHP skid steer loader, from Gough Cat, simply "Good as!" according to the new machine's operator, Gordy Wairama.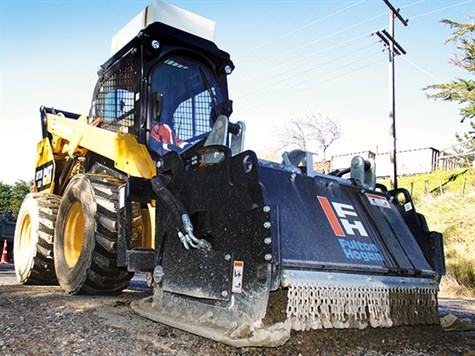 This new Cat skid steer loader, complete with the Cat cold planer/stabiliser PC310B XD attachment capable of planing up to 220mm deep, has been put to work performing road maintenance in the Central Hawke's Bay district, milling bumps in the road and stabilising failures, such as potholes, as part of Fulton Hogan's Waipukurau maintenance contract.
The innovative XHP hydraulic system of this new Cat D Series skid steer delivers a high level of hydraulic horsepower, says Goughs. This high-flow, high-pressure hydraulic system enables the machine to run the most power-hungry work tool attachments with greater efficiency.
The Cat 272D is a robust little piece of engineering, with impressive features, performance power train, and great operator comfort, says the company, adding that coupling this with the Cat cold planer attachment gives the operator an ideal tool for efficient and fast road maintenance.
It's nippy enough to move around efficiently, especially when there are time and traffic flow constraints, while still completing the job at hand with precision.
Caterpillar skid steers are known for their manoeuvrability, says Goughs, and the Cat 272D is no different. In fact, Fulton Hogan's operator, Gordy Wairama, was so impressed with the ease of movement and stability of his new ride, he reckons the steering is better than a car.
The cab
Gough's building and construction product manager, Paul Janovec, says, "This new Cat D Series skid steer features a sealed and pressurised cab with low noise levels, a heated air-ride suspension seat for a smoother ride, and an integrated rear-view camera for best-in-class visibility."
In Wairama's opinion this new machine is extremely comfortable and he's also impressed with the silence of the cab.
"It's so quiet, you can actually talk to the rest of the maintenance crew outside and hear what they are saying. Whereas with other machinery, it's quite noisy and the guys have to wear ear muffs around it."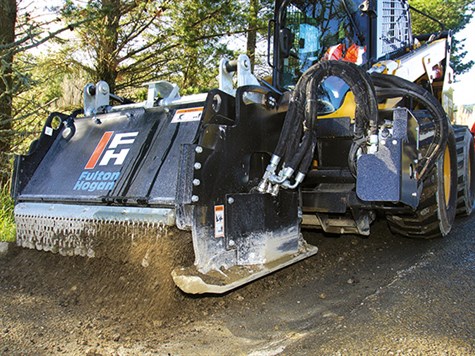 Control and safety
According to Goughs, with the seat-mounted adjustable joystick controls, Standard Sensitive Ride Control and hand/foot throttle features, any operator is bound to feel well in control, enabling more precise operation performance, stability, and productivity.
Caterpillar's intelligent levelling system (ILEV) provides industry-leading technology, integration, and exclusive optional features such as dual self-levelling, electronic snubbing, return-to-dig and work tool positioning.
The dual self-levelling system electronically and automatically levels the loader linkage when raising and lowering the lift arms. The system provides optimum material retention, whether truck loading material or handling palletised products. Electronic snubbing automatically cushions the descent of the lift arms, slowing downward motion just before the arms reach their stops.
The return-to-dig feature allows the operator to set the digging angle of the bucket and then to automatically recall the setting by depressing a trigger switch on the joystick as the lift arms lower. The work tool positioning feature allows the angle of the tool to be pre-set, and then to automatically recall the setting if the machine is repositioned.
For added safety, the Cat 272D has two emergency exits with a hydraulic accumulator that uses stored energy to allow the operator to lower the lift arms and level the bucket in the event of engine failure.
Engine
The Cat 272D XHP is electronically controlled by a Cat C3.8 engine providing high horsepower and torque while meeting US EPA Tier 4 Interim (EU Stage IIIB) requirements.
"This model produces enormous power. The auxiliary hydraulic horsepower is 150 litres per minute with 4061psi, making it an excellent choice for the work at hand on the roads in the Central Hawke's Bay," says Janovec.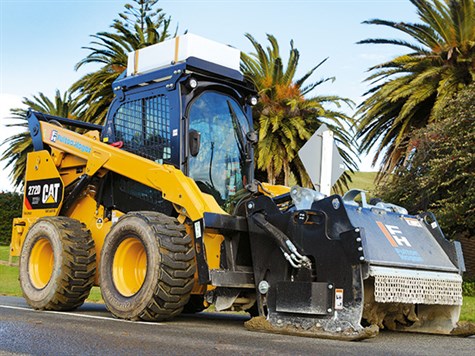 Changeable attachments
Operators can customise their Cat skid steer loader with a wide variety of over 30 different Cat work tool attachments, to easily match any specific application.
Initially, skid steers were developed for a single use and over the years these nifty machines have been partnered up with a variety of work tools to be used in a number of different applications.
Some of the Caterpillar attachments available include brush cutters, pallet forks, mulchers, trenchers and augers.
Charlie Fergus, Fulton Hogan's area manager in Napier, says that even though he was impressed with the very competitive price of the Cat 272D, with all its industry-leading features, the whole Goughs package: high performance machinery; leading technology; great back up support and service; is what has impressed him the most.
For the latest news and reviews, subscribe to Deals On Wheels magazine here.
Keep up to date in the industry by signing up to Deals on Wheels' free newsletter or liking us on Facebook.