Vermeer mini skid steer range
---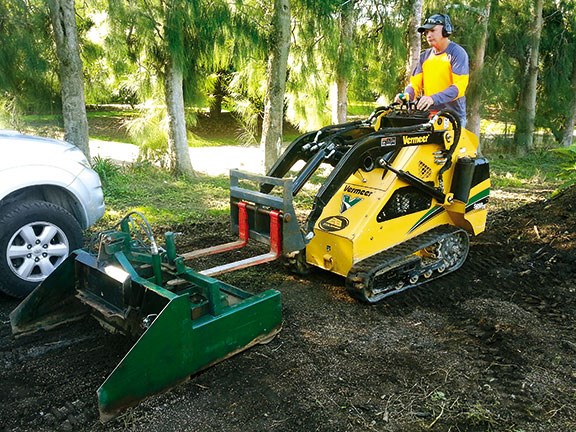 A large number of different attachments are available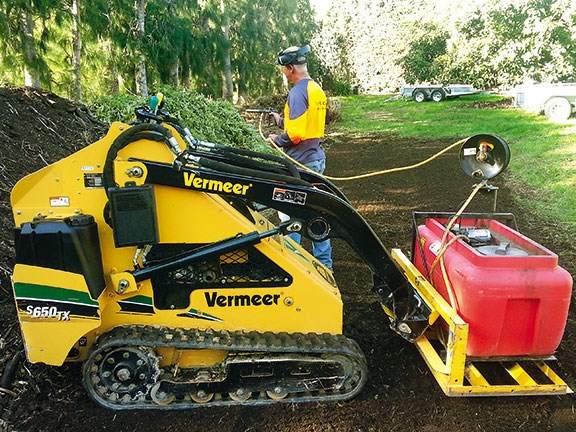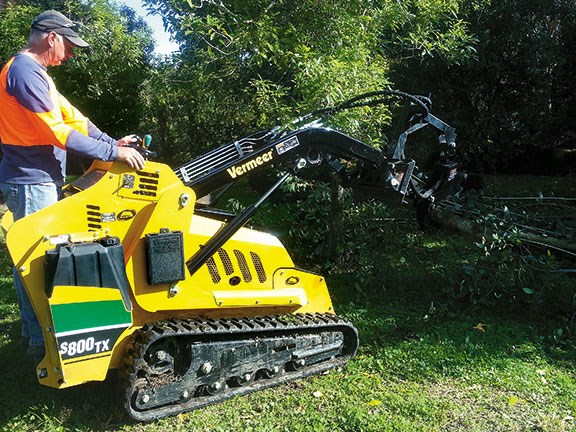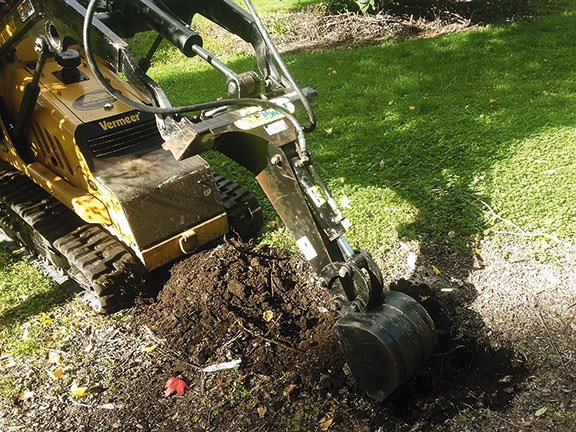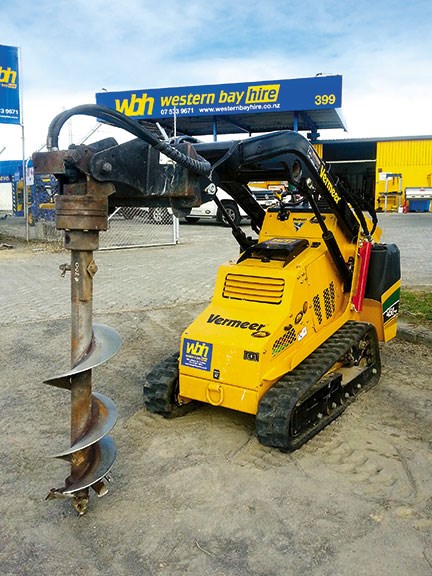 There are three models available: S450TX (1102.2kg), ST650TX (1220.2kg) and S800TX (1338.1kg)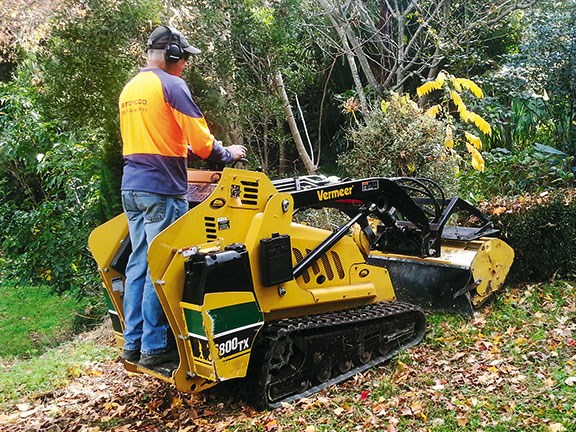 The park brake is applied when the operator steps off the platform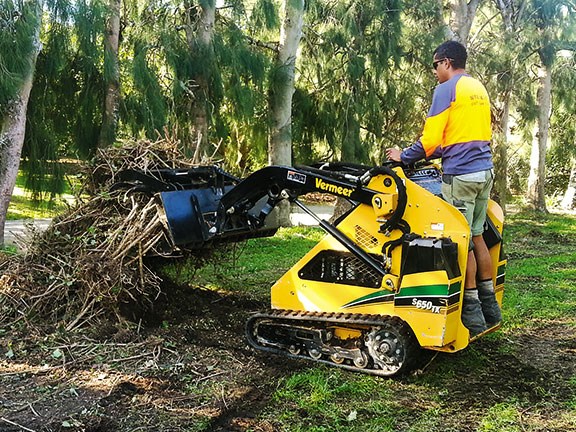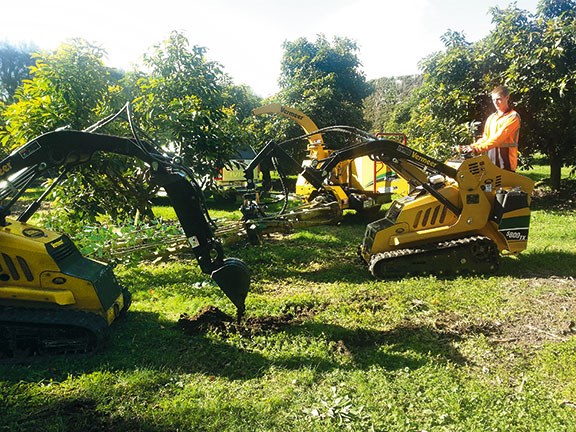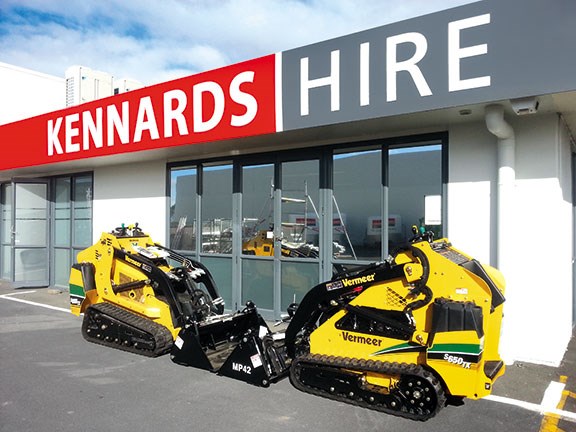 Kennards Hire has purchased eight new Vermeer S450TX skid steers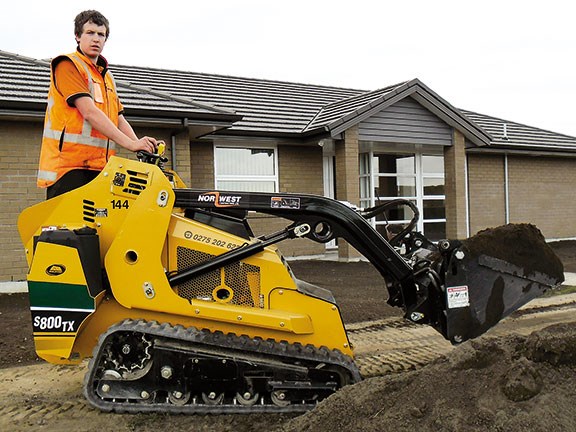 NorWest Contracting - S800TX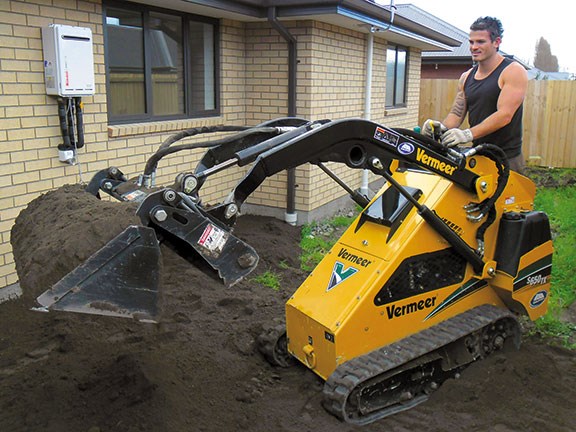 Styx Property Care - S650TX-2

The Vermeer mini skid steer range from AB Equipment has been designed and built to suit a multiple range of applications, says AB Equipment construction sales and marketing general manager, Rob Fuller.
"From landscape designers to do-it-yourselfers, the Vermeer mini skid steer is one of the most versatile skid steers on the market and represents great value for money," he says.
Available in track-driven models, the Vermeer S450TX, ST650TX, and S800TX are highly productive and can manoeuvre easily around tough worksites, reducing workloads in the process. In addition, Vermeer skid loaders boast a breakout force and lift capacity more commonly associated with larger skid loaders, says Fuller.
"Designed with the customer firmly in mind, the Vermeer skid steers can fit into small spaces and are also lightweight enough to use on most landscape surfaces," he says. "That's why, in recent years they have been voted best in their class."
S450TX is well suited to both the needs of the rental customer and landscape contractor, Fuller adds. The Kubota 24.8-horsepower (18.2kW) diesel engine provides excellent performance and is designed for those who use attachments that require greater engine torque.
Designed with the multi-tasker in mind, Fuller says the S650TX mini skid steer offers a versatile solution to construction and landscaping needs. The unit is equipped with a four-pump system to assist with both hydraulic and overall machine performance. For those tough, heavy jobs, the S650TX showcases a rated operating capacity of 1220.2kg and a tipping capacity of 857.3kg.
One of the most versatile skid steers on the market, the S800TX doesn't sacrifice an ounce of performance and is ready to take on anything. Its 35hp (26.1 kW) engine won't back down either from any job, no matter how difficult.
Steve Hunt, of Steve Co Landscape & Design, could be described as your typical Vermeer skid steer owner. Hunt has been in business in and around the Bay of Plenty for over 10 years and had owned several different types of skid steer loaders before settling on a Vermeer S650TX and S800TX.
Hunt makes no secret of the fact he prefers the strong and durable Vermeer undercarriage compared to all other models on the market. "The intuitive joystick controller is a great advantage in that it gives precise and accurate adjustment when trimming," says Hunt. "I'm also impressed with how the operator is well protected in a padded station with a spring-loaded platform."
However, the biggest part Hunt likes about his two Vermeer skid steers is that the operator is part of the crew. "It's not as if you are in a cab so it's actually possible, once you have put on the safety brake, to step off at any time to attend to something else. The two machines often work in tandem and that also helps to provide a more efficient working environment," he says.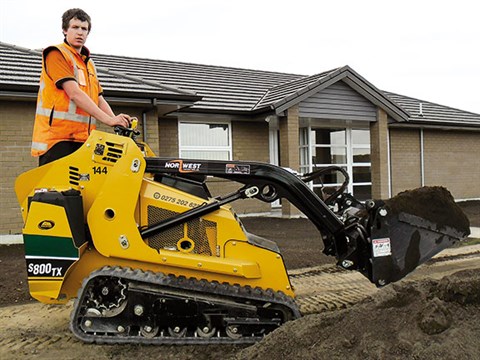 Vermeer skid steer loaders come with a full arsenal of easy-to-replace attachments. Steve Co is a full-service landscaping company which is often faced with a variety of challenges, including work around council parks and recreation amenities. As a result, Hunt has several attachments for his Vermeer S800TX and S650TX skid steers, including a four-in-one bucket, trencher, sprayer, rotadiran, brush and log grapples, augers, digger attachment, a levelling bar, and bulk bucket.
The S450TX, S650TX, and S800TX all come with a three-year or 3000-hour limited warranty coverage on the mainframe and boom loader arms. In addition, with 18 branches nationwide, New Zealand distributor AB Equipment offers a wide range of customer support options that are second to none.
Vermeer at home at Kennards
Kennards has been quick to establish its presence in New Zealand and AB Equipment has been just as swift to help the company settle in, with eight new Vermeer S450TX skid steers for its growing branch operation.
According to New Zealand general manager Tom Kimber, the experience the company has had previously with Vermeer products in Australia was an influence in the decision. The track unit was chosen over the wheeled minis in the hope that it will extend the utilisation of the equipment during the wet conditions that normally affect ground conditions around Auckland.
Kennards Hire is a family business that was established in Bathurst, NSW, in 1948 — coincidentally the same year Vemeer was founded. Kimber says Kennards Hire has grown into one of Australia's largest and most respected hire companies, with over 120 outlets.
The company now has nine branches in the Auckland region and one in Wellington. After all these years, Kennards remains family owned and is still committed to being the best hire company.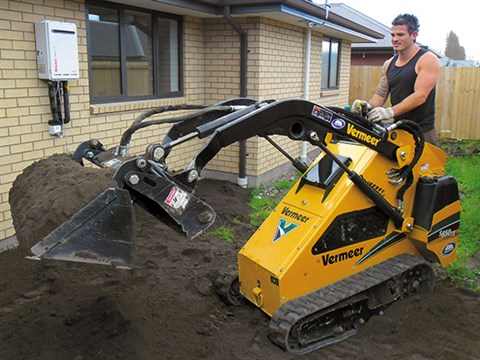 Christchurch contractors using Vemeer skid steer loaders
Christchurch contractors are big fans of the Vermeer skid steer loaders, says Vermeer. The three companies featured are involved in a wide variety of residential and commercial projects, many of which were created as a result of the Christchurch rebuild.
Contractors that have recently purchased Vermeer skid steer loaders in the Canterbury area include Easy Lawn, Styx Property Care, and Norwest Contracting. Each company has complemented its equipment with different attachments to suit its primary business focus, centered on lawn preparation for new housing. The range of attachments selected can be anything from a 4:1 bucket, auger, or harley rake, to a standard narrow bucket and multi-tool accessory.
For more information contact AB Equipment on O800 303 090 or visit abequipment.co.nz
For the latest reviews, subscribe to Deals On Wheels magazine here.
Keep up to date in the industry by signing up to Deals on Wheels' free newsletter or liking us on Facebook.