Test: Hitachi ZH200 hybrid excavator
---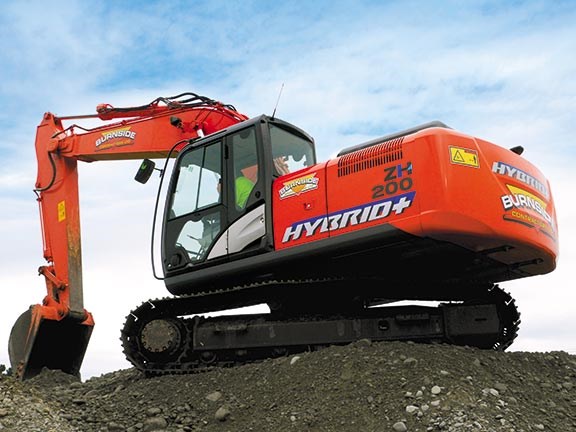 Fuel savings are said to be in excess of 20%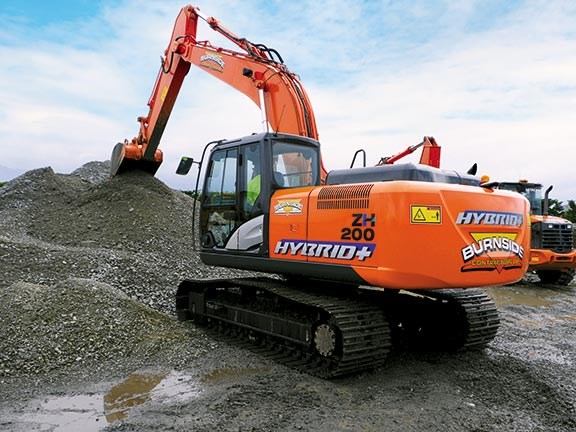 The country's first Hitachi hybrid has been imported by Phoenix Trading.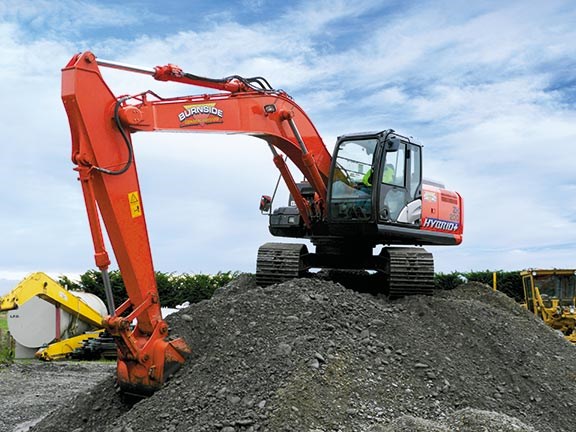 As the engine is run on low-revs, I'm not sure the turbo is needed.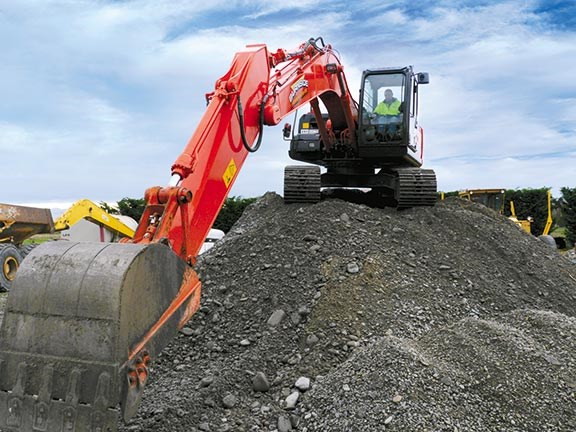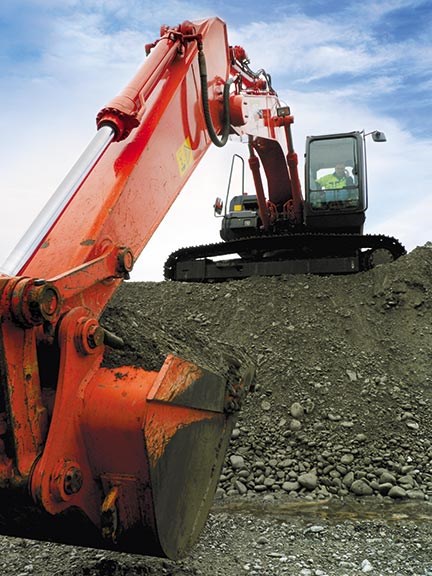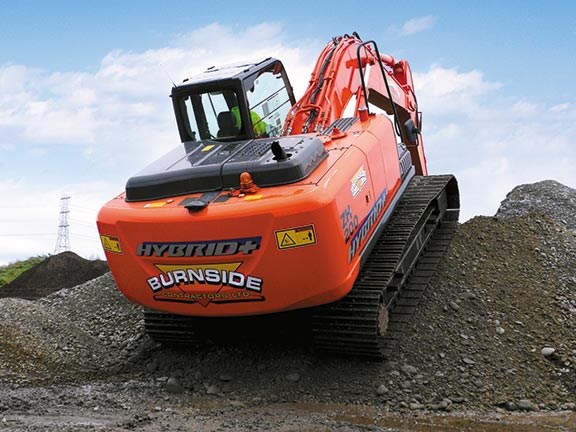 The engine didn't even drop a beat when climbing to the top of the pile in economy mode.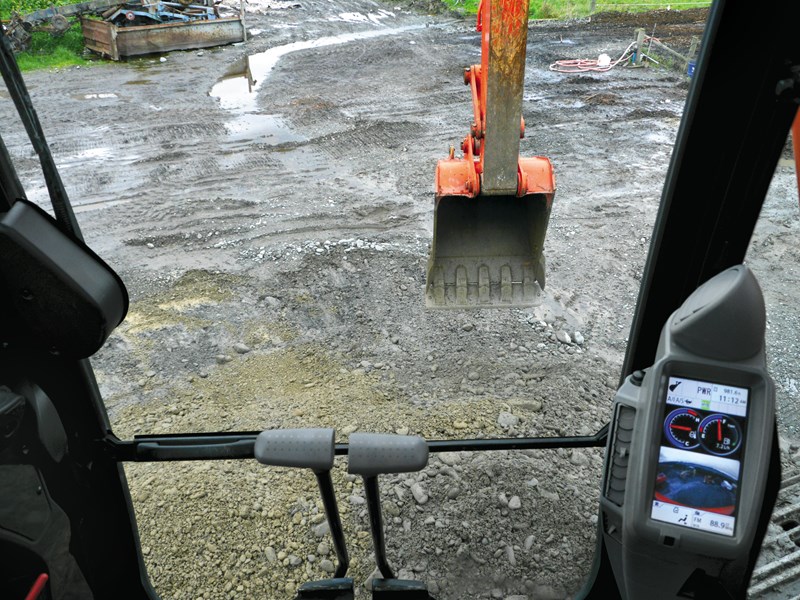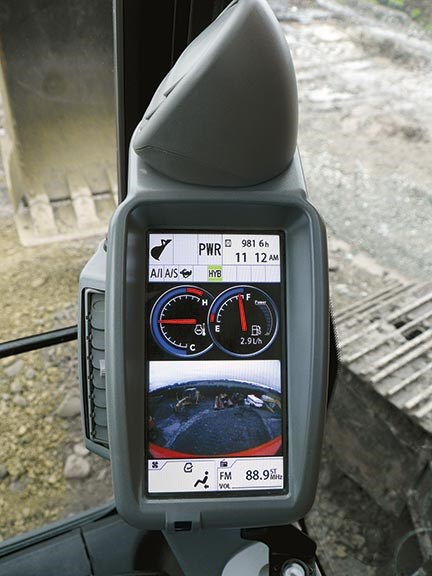 The display includes a rear-view camera.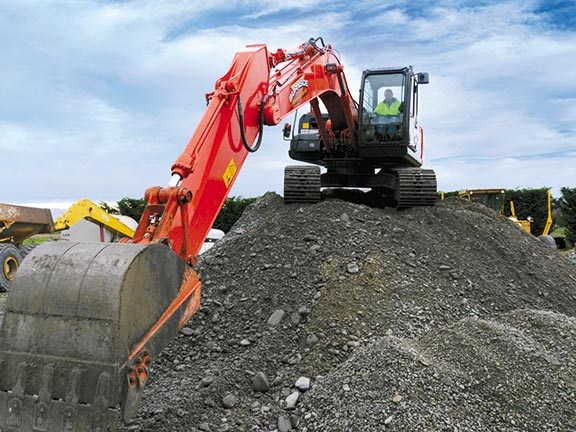 There was no big fan-fare or public announcement when the first Hitachi hybrid excavator landed on New Zealand shores, as Christchurch machinery dealer, John Taylor of Phoenix Trading 2002 Ltd, upped the stakes by landing the low-hour, 2011 Hitachi ZH200 ahead of anyone else.
Last month, while checking the final draft of Deals on Wheels, I spotted a large 'HYBRID' decal plastered along the side of a Hitachi excavator in Phoenix Trading's ad.
"Surely not," I thought to myself, while simultaneously dialling John Taylor's cellphone and emailing him.
Yes, it was the real deal I was told, and, as luck would have it, the machine had just arrived in the country. Taylor was happy for us to take a look over it and report back to our readers.
Granted, the machine is second-hand but, as far as I am aware, it's the first Hitachi hybrid nonetheless and, with less than 1000 hours on the clock, is hardly even run in.
Hybrid excavators
As I see it, the main purpose of hybrid excavators for their owners is primarily the lower fuel consumption, while the resulting reduced carbon dioxide emissions allow the all-important 'green stamp of approval'.
While hi-tech construction equipment, such as hybrid excavators, may get a snigger from some of the die-hard machinery buffs, this direction seems to be where construction machinery technology is currently heading.
With fuel savings said to be in excess of twenty percent by using hybrid technology, I am told that twelve months' worth of not paying for that extra fuel would fund the purchase cost difference between a hybrid excavator and a conventional diesel-slurping one.
In the 20- to 30-tonne range, my research shows there are a number of production hybrid brands available worldwide, with Komatsu, Caterpillar, Hitachi, Hyundai, Sunward, and Lishide being the brands we are probably most familiar with here in the South Pacific.
Locally, as far as I am aware, up until now, Caterpillar is the only hybrid excavator to be distributed in New Zealand, having just been joined by Komatsu.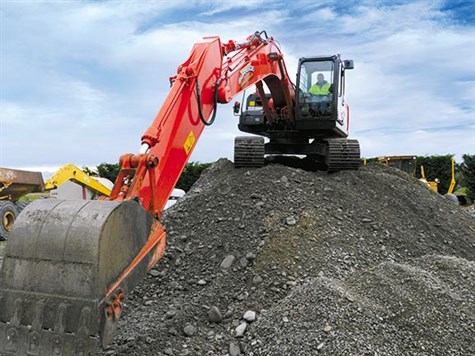 The Hitachi ZH200
According to the specs, our test 2011 Hitachi ZH200 hybrid tops the scales at 20,700kg, it being almost the same weight as the non-hybrid ZX200-3. Visually, you would be hard-pushed to differentiate it from any other conventional Hitachi of the same era, were it not for the large 'HYBRID' decals plastered along each side.
Once the covers are opened, however, differences are immediately evident. First off, the pump bay reveals three hydraulic pumps instead of the two you would normally see on its ZX200-3 and ZX210-3 stable mates. The extra pump is part of the energy-efficient TRIAS-HX hydraulic system, which is exclusive to the hybrid.
Hitachi literature also says a high-efficiency cylinder is fitted to the ZH200 hybrid excavator, "…that provides 1.5 times more pump discharge capacity than the cylinder on the ZX210-3". All this comes together to help provide greater accuracy and reduce pressure loss, which saves energy.
A bit of a closer look around the pump bay reveals an electric motor tucked in alongside the pumps, and provides an immediate clue the hybrid system is electrical. Moving up and across to the swing motor, an interesting setup of wires and hydraulic hoses are the only indication that here lies the energy gathering part of the hybrid system.
As I understand it, energy from the motion of the machine as it decelerates during a slew, is grabbed by the electric motor and sent to a capacitor for storage. As the machine begins a new slew, the stored electrical energy is then sent back to the electric motor, which in turn assists the hydraulic swing motor to accelerate.
Hitachi says that by using this system, the ZH200 hybrid excavator, when in power (P) mode, reduces fuel consumption and carbon dioxide emissions by twenty percent when compared to the conventional Hitachi ZX210-3 in P mode.
Engine
Like its conventional counterpart, the ZH200 hybrid runs a four-cylinder Isuzu AI-4HK1X engine, rated at 122kW (164hp), and fitted out to emission regulation EU Stage IIIA. As the engine on the hybrid excavator only needs to be run at low-revs, I'm not sure how necessary the turbo is.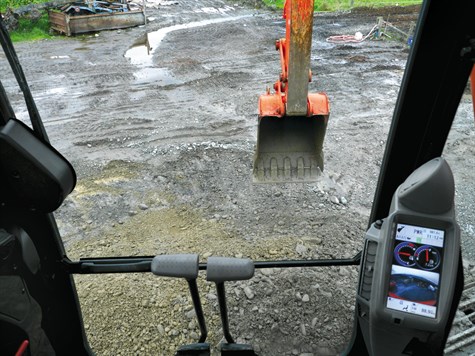 Cab
At a quick glance, the interior of the ROPS-Certified CRES C Cab does not appear much different to a conventional Hitachi ZX200-3, and features everything a modern day operator has come to expect from their excavator. The ZH200 hybrid also includes a rear-view camera. The only really noticeable interior difference is the dash readout monitor, which has a number of settings, including the ability to see how the ZH200's hybrid system is using its energy.
In operation
Newly decorated with Burnside Contractors' signage and still waiting for a bucket hitch to arrive, we have to be content with using the fitted digging bucket. A weed bucket would have been ideal, as the task today is the tidying up of stockpiled aggregate.
As I flick the ignition key and turn the throttle control around to its maximum power setting, my ears tell me the engine should be pumping out more noise than what I hear. Instinctively I glance down to make sure all is correct, before realising this machine is different to what I am accustomed to.
At full noise, the ZH200 outputs something like 1500rpm, as opposed to 2000-plus-rpm that most conventional excavator engines operate at. The low revs are sure to unsettle a lot of red-blooded operators who like the thrum of a powered-up machine.
For some reason, I expect the low-revving ZH200 could have a difficult time managing the fairly steep climb to the top of the stockpile. Just to make things even harder (because I can), I change the settings to see if the climb can be done in economy mode. As it turns out, the machine easily ascends the steep slope.
Once set up on the aggregate stockpile, I engage P mode for maximum thrust. This probably doesn't sound all that exciting to bystanders as the ZH200's engine still whispers along at around 1500rpm, but operationally the machine is amping (an appropriate word there) for action.
To be honest, I'm not too sure what I expected from the hybrid excavator, as it dug into its first few buckets of aggregate. Maybe some sign of the engine dying away would have had me shaking my head and muttering something under my breath, but the hybrid machine surpassed my expectations.
Sure, the machine didn't have a large bucket, which would have provided more load and digging resistance, but I did try to stall the machine out a few times. This only met with a very slight change in engine noise, before the machine continued on with whatever action I threw at it.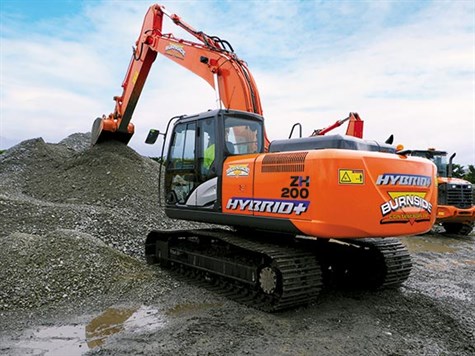 Fuel wise, the ZH200 hybrid's on-board computer hovered around 19 – 20 litres per hour when working at a consistent pace, although at one stage I managed to briefly push it through the 21-litre-per-hour barrier. A friend who runs a few older 20-tonne Hitachi Zaxis excavators, told me his machines burn around 23 – 25 litres per hour when doing similar work.
The verdict
Operationally, I found the Hitachi ZH200 hybrid excavator a very nice machine to operate, and other than getting used to the low-revving engine, I didn't really find it unlike a conventionally setup excavator. This should make any transition across from a conventional excavator a painless experience.
I'm quite sure hybrid machines such as this will be playing a big part of the future construction work in this country once buyers become comfortable with the technology. My prediction is more manufacturers will make their hybrid brands available here before too long. It's really a matter of them having to.
For the latest reviews, subscribe to Deals On Wheels magazine here. 
Keep up to date in the industry by signing up to Deals on Wheels' free newsletter or liking us on Facebook.