Profile: Sandvik QA331
---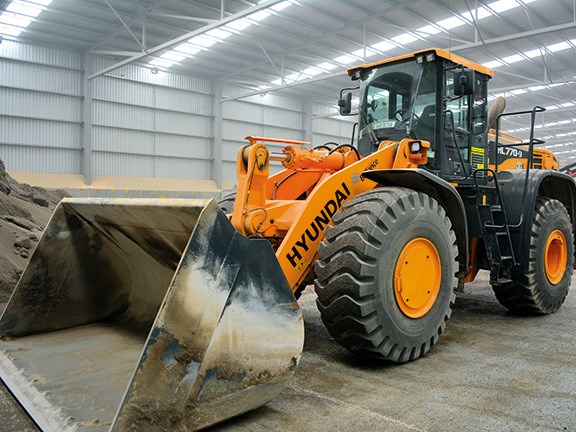 The HL770-9 features what the company calls the Ballance Spec, including full Nylex protective coating and front-wheel hub covers.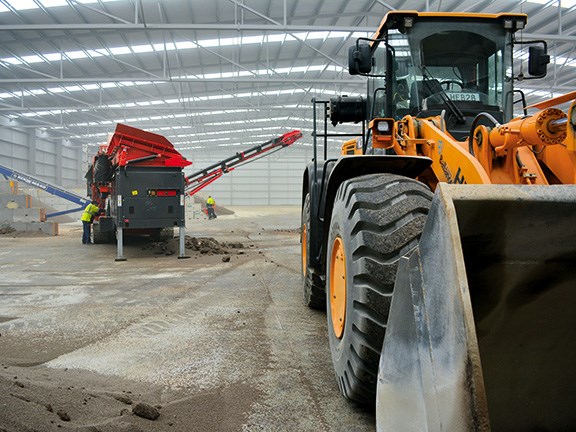 The Hyundai HL770-9 loader is also a recent addition to the distribution centre.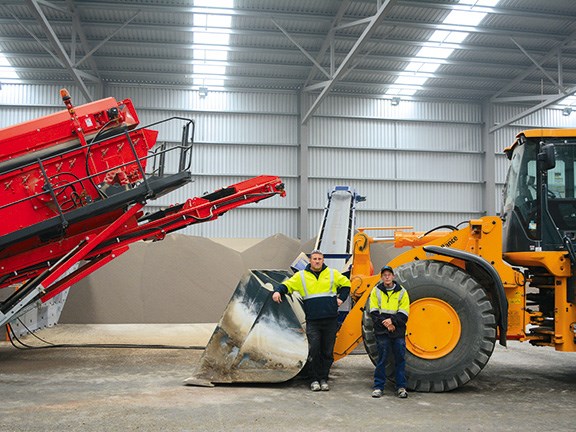 A rare halt to work for a quick photo of Ballance's staff.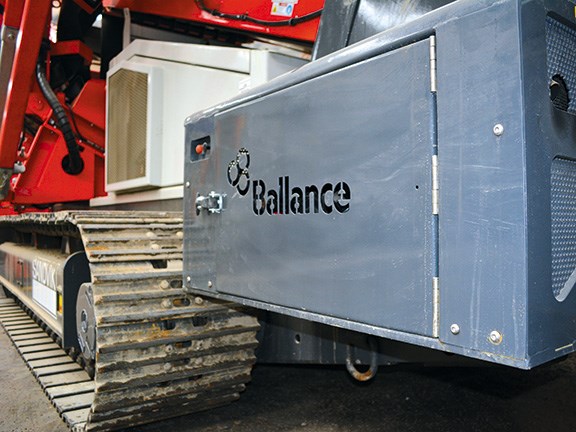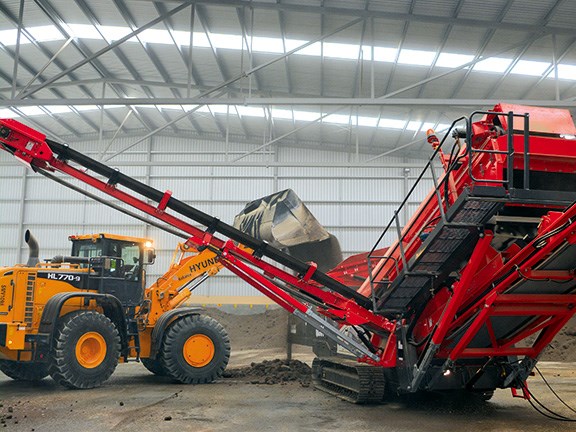 At the center of Ballance's Timaru hub is its new Sandvik QA331 screen.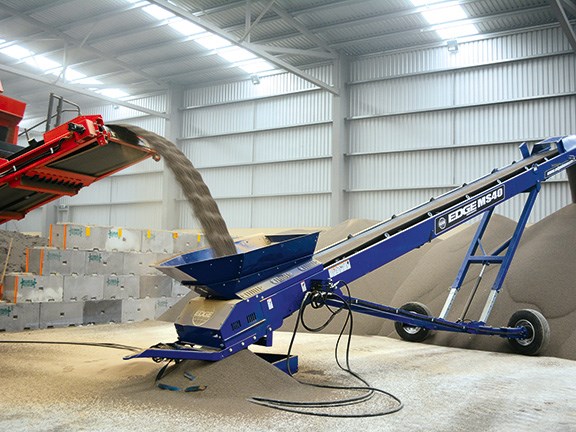 The Sandvik screens product into these wheeled conveyor units.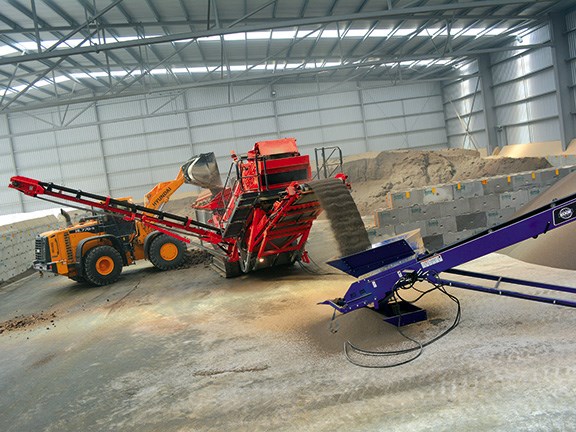 The main building is divided into bins for different products, with the tracked screen able to move between them.

Ballance Agri-Nutrients' Timaru hub is one busy place. To keep up with demand and ensure the best quality products head out the door, a new Sandvik QA331 screen has proven itself a vital part of the distribution process.
The 8000-square-metre Ballance Agri-Nutrients hub in Timaru is a hive of activity every day of the week, processing and distributing a large variety of products around the South Canterbury region.
To aid with both quality control and traffic congestion through the distribution centre, Ballance's Timaru team recently took delivery of a new Sandvik QA331 mobile screen. When I check in with project manager Miles Johnson, the Sandvik has only been on site for a month, but it is already paying dividends.
"It's a great addition to the operation," he confirms. "Its main task is to pre-screen, or scalp screen fertiliser prior to dispatch.
"We're looking for both foreign matter, like bits of packaging material, stones, tree bark, as well as hard, compacted lumps of fertiliser, which can sometimes occur naturally during the shipping process."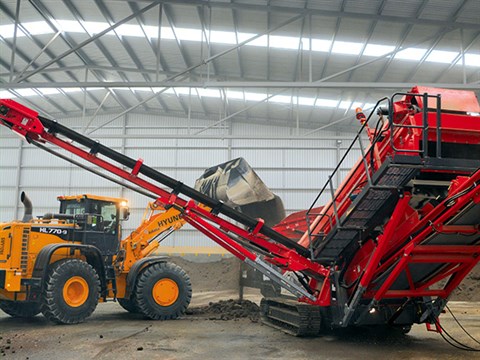 The hard lumps get sent off to the hammer mill to be broken down further prior to distribution. When you're dealing with 5000-tonne parcels of each of the many products that come through the hub, speed of processing is of the essence. A fert store's mix of products changes rapidly, so with all manner of high-siders, bath tub trailers and two-axle fertiliser trucks lining up outside, it's no surprise Ballance expects its equipment to work hard.
Hub manager Jock Cockburn agrees that the screen is already helping with the logistics of outputting a variety of products.
"We haven't been able to pre-screen material for the following day before now, but the Sandvik allows us to do that. In the springtime, when we will be running a nightshift as well, that's going to help no end with maintaining a consistent traffic flow through the hub.
"Of course, having that reassurance that big lumps of fert aren't making their way through to customers is also vital. All in all, the screen is already proving its worth and it has only been here a short time."
With so much product required to be output through the screen — and a product that can be so abrasive on machinery and hydraulic gear — Ballance looked to Sandvik distributor Porter Equipment to give it some peace of mind in the screen's protection and upkeep.
"Porter Equipment has given us substantial support," says Johnson. "It has a comprehensive service offering out of its Ashburton branch, so we are well looked after. In fact, having Porter's back-up behind the Sandvik name was an anchor point in the decision to go with the brand in the first place.
"Because of the nature of the material we're shifting through the screen, Porter Equipment supports us with a monthly preventative maintenance program. Regular maintenance is key simply due to the detrimental effect fertiliser can have on running gear."
Additionally sheet metal and hydraulics on the QA331 are protected by a number of preventative materials, including comprehensive Nylex protective coating coverage, as well as Denso tape and Lanoguard around hydraulic lines.
Johnson tells me the screen spends around 80 percent of the day processing within the walls of the Timaru hub. So why did Ballance opt for a tracked screen?
"At first it might seem an odd decision, but despite the machine never leaving the walls of the distribution centre, we still need the flexibility of a moveable screen.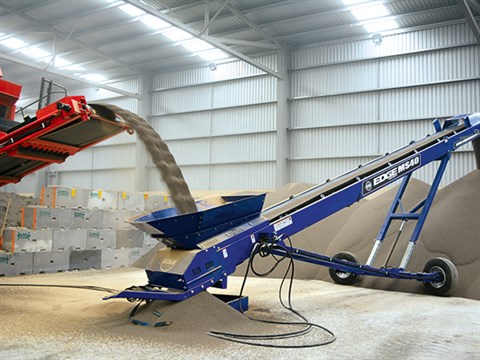 "The hub is 66 metres wide by 123 metres long. Inside we have a number of divided bins that feature any combination of product coming through. We need to be able to move the screen between the bins.
"We also lease the bulk store, so we didn't want to have any plant within the building that would need to be semi-permanently affixed to the floor," says Johnson.
The Sandvik QA331 is a mid-range sized machine, but with a large screening area that means production rates can remain high. The screen design is of the 'banana screen' style, meaning it can incline up to six degrees, keeping material on the screen box for longer which results in cleaner, higher quality product — a necessity for Ballance.
Designed with low running costs in mind, through better fuel efficiency from its 75kW (100hp) engine, the QA331 is also designed from the outset to offer uniquely high amplitude and speed with an adjustable throw, ranging between five and 8mm.
Porter Equipment can easily re-spec the screen to deal with certain products, a process that takes the distributor's tech team a couple of hours. But as Johnson tells me, that will only need to happen a couple of times a year.
"Still, when it does need to happen, it's good to know that Porter Equipment will manage that for us from woe to go.
"At Balance, we have a philosophy of continual improvement," concludes Johnson. "I think the addition of the Sandvik screen to our operation certainly underlines that." 
For the latest news, reviews and features, subscribe to Deals On Wheels magazine here.
Keep up to date in the industry by signing up to Deals on Wheels' free newsletter or liking us on Facebook.