Test: BOMAG BMP 8500 multipurpose compactor
---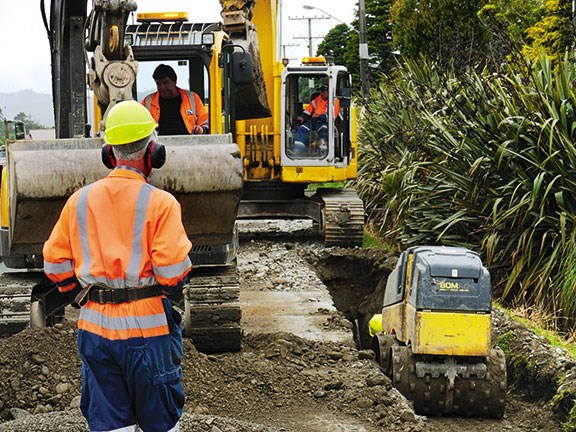 The BMP8500's remote system means one less team member in the trench.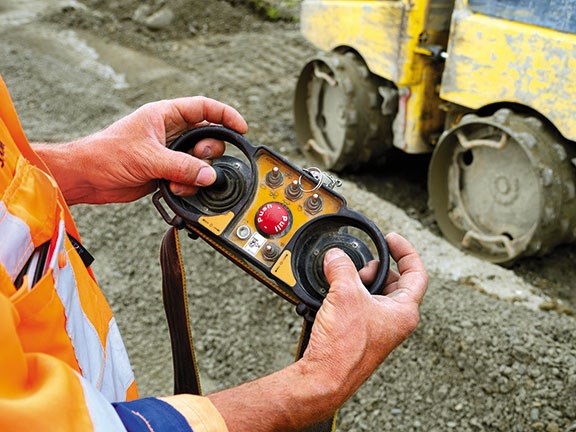 The operator can select between two travel speeds and two amplitudes, giving a total of four different compaction modes.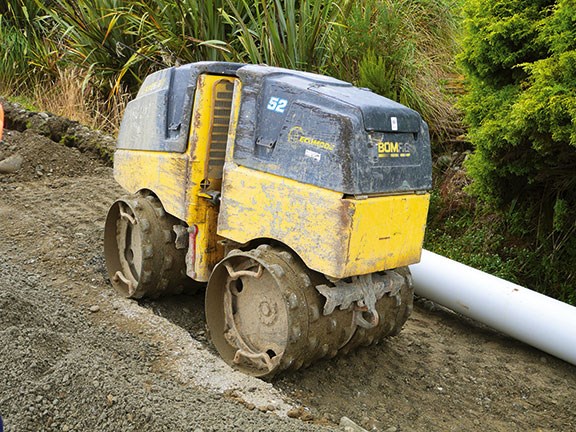 Extension rings can be added to the exciter drums, increasing the BMP8500's footprint by 240mm.

The remote-controlled BOMAG BMP 8500 multipurpose compactor Greymouth contracting firm Tru-Line Civil utilises for narrow drainage work might be diminutive, but it's a hard-working champion of the trench.
The West Coast of the South Island is famed the world over for its pristine tracts of native bush and kilometre after kilometre of dramatic sea coast, all muted thunder and mist as the slate grey rollers of the Tasman crash into shore.
There is plenty of interesting wildlife in this stunning region too — weka and weta patrolling the bush, backpackers and saw millers filling the pubs.
But here's one creature you won't find detailed in the Lonely Planet — one with a unique hard shell for protection, traction that will take it anywhere and one that is right at home in the claggy soil of a narrow West Coast ditch.
Designed specifically for soil compaction, the remote-controlled BOMAG BMP 8500 multipurpose compactor features vibrating drums up to 850mm-wide and a 1595kg operating weight, meaning it remains sure-footed without any risk of toppling over. It is purpose-designed for working in drainage ditch construction and on backfill, trenching, and pipe-laying projects.
And that suits Daniel Powell of Greymouth's Tru-Line Civil just fine.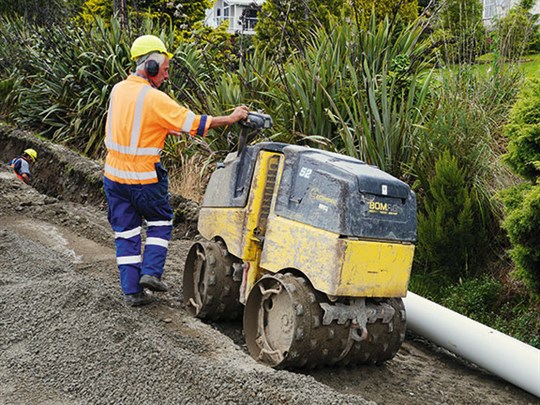 A long-time BOMAG advocate, Powell's company enjoys a proud history on the Coast, specifically in drainage work, cable installation, and directional drilling. Tru-Line Civil has also recently moved into aggregates screening, running a Sandvik screen, supplied by Porter Equipment, down on the banks of the Grey River at the north end of town.
"Because of the nature of much of our work, we place a lot of stock in robust light compaction gear," Powell tells me.
"We've tried several brands over the years and, to be honest, BOMAG just seems to have the edge over the competition in light compaction equipment as far as we're concerned."
Powell's team runs two BMP 8500s and three BOMAG BPR45/55 reversible plate compactors. "Now that Porters looks after the distribution and servicing of BOMAG gear, the relationship works even better for us. The Porter Group team has a bigger distribution network and that means if we need servicing or parts, we don't have to kick our heels waiting for anything."
In addition to the main South Island sales office located in Christchurch, Porter Group also has a service and rental branch in Greymouth.
"It's great that Porters are here in town," says Powell. "Obviously it's good from a technical support point-of-view, but having the ability to top up the fleet with hire gear if we ever need it is great too.
"We're doing a lot of UFB [ultra-fast broadband] installation work at the moment, working in the Greymouth CBD for the next three months, but we're also managing UFB install work in Nelson. Add that to our other day-to-day civil work and it means we can get a bit stretched on the machinery front from time to time, so being able to plug a gap with Porters' hire gear is an easy solve.
After leaving Tru-Line Civil's yard, I head out to Kaiata — a little hamlet about five minutes from town, northeast up the Grey Valley along State Highway 7 — to check out one of the company's two BMP 8500s in action on a drainage project.
Measuring 1897mm in length, 1275mm in height and with a 610mm-wide body, the BMP 8500 features a hydrostatic articulated steering system that adds to its ease-of-use in restricted environments.
The quietness of the machine's engine — a Kubota D1005 diesel — is impressive, as is its sure-footedness in the slippery trench it's currently working in.
The knobbled exciter drums, which feature the ability to switch between two amplitudes, can be fitted with extension rings, giving the compactor a footprint that's an extra 240mm wide for bigger ditches.
In addition to the dual-amplitude system, the operator can also select between two travel speeds, giving a total of four different compaction modes, all manageable through the convenience of the robust radio control system. This can be operated both wirelessly and wired-in, depending on environmental considerations, like difficult terrain or poor weather (hold your jokes about West Coast rain).
Incidentally, the remote control system also locks away inside a recess in the compactor's tough bodyshell when it's parked up for the night, which gives Powell and his crew extra peace of mind.
As I discover, the BMP 8500 is a clever wee crawler too. Not only does it feature Intelligent Vibration Control (IVC), which works to automatically optimise working speed in vibration mode for perfect compaction results, depending on the surface and terrain, but it also boasts an ECOMODE System. This system protects wear and tear on the engine and improves fuel efficiency by automatically switching the engine to idle if no control signal is received from the remote control unit for more than a few seconds.
"The remote control system is good from a health and safety point-of-view, as it removes one guy from the trench and means the operator isn't continually holding onto a vibrating machine," says Powell.
So while the BMP 8500 won't appear in any natural history guides to the West Coast, you might still glimpse it at the roadside on occasion, as Tru-Line Civil utilises it up and down the region.
For the latest reviews, subscribe to our Deals On Wheels magazine here.
Keep up to date in the industry by signing up to Deals on Wheels' free newsletter or liking us on Facebook.