Test: Yanmar ViO35-6B
---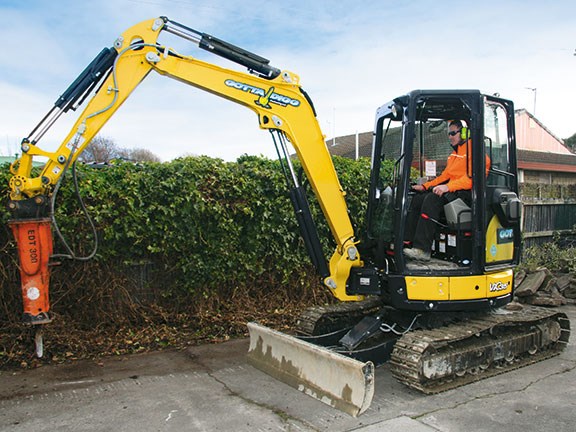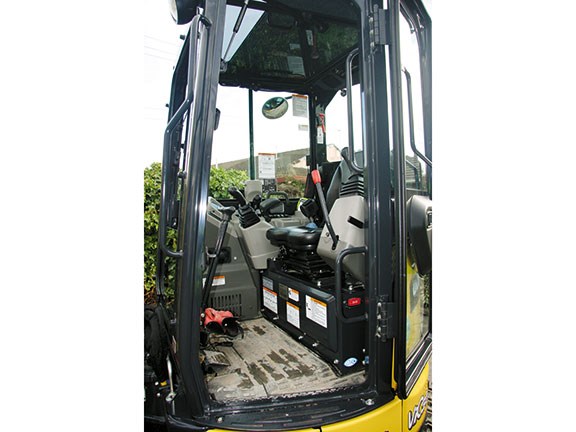 View inside the roomy cab, showing the engine stop safety switch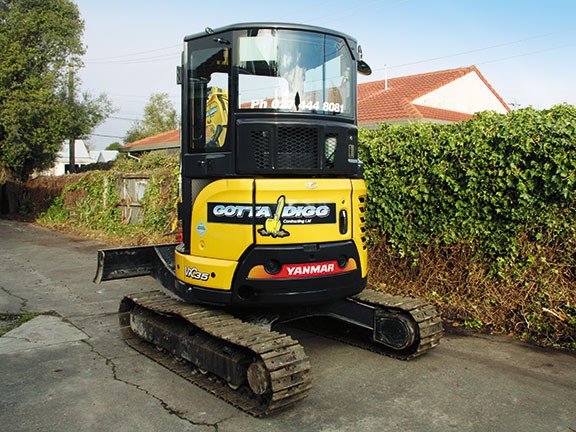 All Yanmar ViO series excavators have true zero tail swing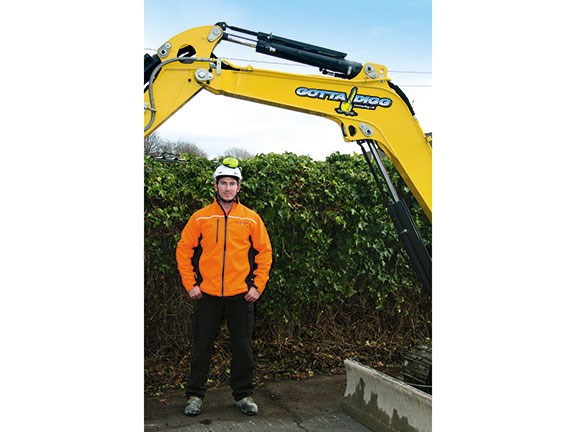 Curtis ready to start excavating a driveway on a new job
Introducing the most innovative, fuel-efficient excavator Yanmar has ever built. Lance Curtis of Gotta Digg was the first customer in New Zealand to take delivery of the new Yanmar ViO35-6B model.
On a cold wintery Christchurch morning we found his team putting out the site safety boards and Curtis proudly polishing his pride and joy, before starting a new job breaking up and excavating an earthquake damaged driveway.
Curtis and his father run two truck and two digger teams. They are currently working throughout Christchurch on earthquake repair jobs. Most of the current work is removing damaged driveways, but they also complete landscaping, drainage, foundation, site work and other general earthworks with their Yanmar machines. The older 3.5-tonne Yanmar has completed over 2500 hours of work and his latest Vio35-6B just a mere 200 hours.
Curtis and his Gotta Digg team have been residing and working in Christchurch for the past two years, since the earthquakes, taking on jobs throughout the city. We found them working on a new job on a driveway in Linwood. Originally from Nelson, Curtis and his father moved down to Christchurch with the prospect and volume of work currently available in the city and he says he enjoys having his father with him. "Its great to have my father working for me in the background, handling all the boxing work with the experience of 40 years as a builder. This enables me to get on with my digger work, which i enjoy even more due to the new machine."
"We have been living and working in Christchurch for the past two years and I reckon we will be here for at least another three years if the work continues to flow the way it is currently," comments Curtis. "We have completed well over 200 driveways so far."
Eager to give us a tour around his machine, Curtis points out all the features he loves about it. "We use 3.5-tonne machines, because size-wise they are perfect for working in driveways and the true zero tail swing, of course, means we can work in restricted spaces. This new dash 6 series feels more like you are operating a 5.5-tonne model and has heaps more power than its predecessor and overall feels much better to operate," he says.
"As a contractor, safety is our number one priority and focus, not only for the machine itself, but also on every site we operate on. The Yanmar is packed full of safety features. One most noticeable is a safety switch located right by the cab door or canopy entrance, so in any emergency situation, power can be cut from within the cab, or from the outside by simply flicking the switch," Curtis adds.
The chassis width, wider blade and a roomier cab overall make the machine operate and feel exceptionally stable. Yanmar has achieved this by increasing the track width by 190mm.
The cab, or canopy, is also compliant with ROPS/FOPS certified standards, adding to the safety of the machine and operator environment. With added stability, generous operating space and easy to use controls, the overall operator comfort and safety levels in this Yanmar are said to be excellent.
"The standard hydraulic quick-coupler makes changing buckets and attachments fast and easy. With the exception of fitting and removing the safety lock pin, the entire operation is performed electronically while you are seated in the comfort of the cab," Curtis says.
Yanmar offers the hydraulic quick-coupler as a factory option and the machine is designed with this in mind, so digging and breakout forces are not compromised.
Curtis then talks us through the new electronic dash. "You can see the fuel usage as you operate and having an on board digital clock and calendar means you can monitor your daily work hours on a particular job with ease."
The new digital operation control system allows an operator to monitor up to three months of operational history. Because this state-of-the-art system centralises control of machine operation information and maintenance support information, it makes it easy to maintain a timely, efficient service process.
The advanced-technology zero tail swing ViO35-6B features an electronically-controlled Tier-4 engine and dramatically-evolved hydraulic system. Curtis remarks that the auxiliary hydraulics are easy to use and connecting different attachments was simple.
The machine comes standard with eco and auto-deceleration/idle modes for even greater control over operational efficiency. Curtis says, when you jump out of the cab, the machine will auto idle very quickly and efficiently.
All of these clever tricks mean Yanmar can say the new ViO35-6B now delivers up to 20% less fuel consumption than previous models, without sacrificing any of the well-known Yanmar power that's made it known as one of the most productive excavators around.
The Vio35-6B can also be a very easy machine to service. The innovative design puts virtually every major component — engine, hydraulic system, starter, generator, battery — right at one's fingertips, with routine filter and grease fitting checks easier and quicker than ever before.
For the latest reviews, subscribe to our Deals On Wheels magazine here.
Keep up to date in the industry by signing up to Deals on Wheels' free newsletter or liking us on Facebook.