Komatsu & Topcon combine with dozer technology
---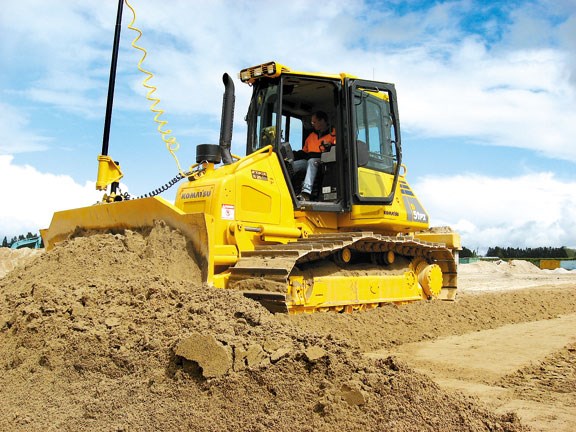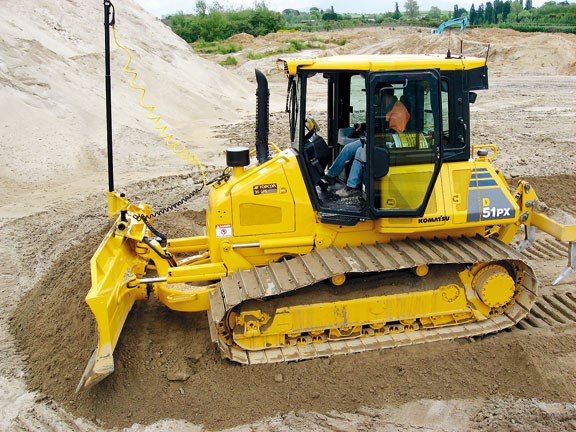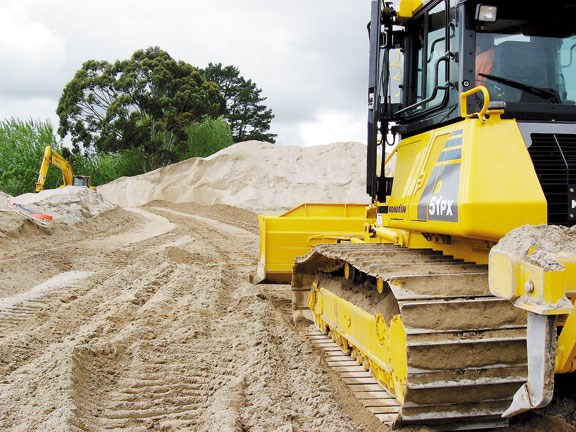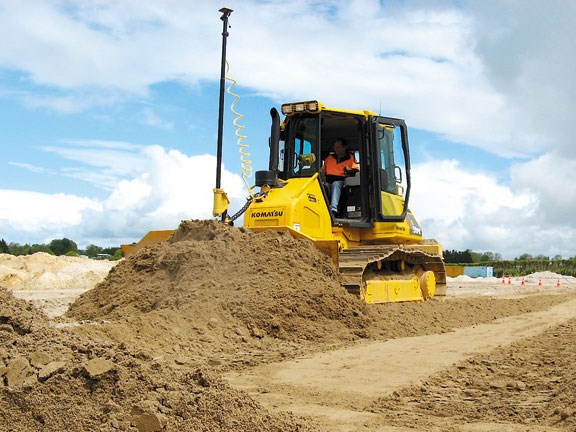 Komatsu NZ and Topcon distributor Synergy Positioning Systems, recently held a New Zealand-wide roadshow to promote the benefits of 3D-MC2 high-speed dozer system and Komatsu's new D51EX-22 dozer
The Komatsu D51EX-22 dozer is Topcon-ready
Cab-forward design allows for uninterrupted view
Topcon's new system means dozers can replace graders for final trim work
Final trim can be carried out at higher speeds
More accurate than GPS
Steve Haines, Komatsu NZ's national sales manager, says the advent of the Komatsu D51EX-22 and Topcon's 3D-MC2 system is the most exciting technology to hit New Zealand shores in a very long time.
"We believe Topcon's 3D-MC2 high-speed dozer control system and the award winning Komatsu D51 dozer are set to revolutionise the construction industry - and the two are ideally matched."
The Komatsu D51EX-22 comes out of the factory 'Topcon-ready' so it can be fitted with machine control quickly and economically.
Haines says small-to-mid-size dozers fitted with PAT [Power/Angle/Tilt] blades - such as the D51 - are proving an ideal match with the latest machine control systems, as they are incredibly versatile in a whole range of construction tasks, from bulk earthworks through to final trim."
And now with Topcon's new 3D-MC2 high-speed dozer system, contractors are finding dozers can replace graders in carrying out final trim work.
"Because they can doze at grader speeds - in second or even third gear, at up to 12-15km/h - and trim to grader accuracies, they can be on a site from go to whoa.
"Contractors can use this combination for the initial site clearing, through to bulk earthworks and shaping, finishing off with final trim to a high degree of accuracy - without the need to ever bring a grader on to the site," he says.
The D51EX-22 dozer is a 13-tonne, 97kW hydrostatic drive machine fitted as standard with a straight PAT (power/angle/tilt) blade and factory plumbed to take Topcon 2D and 3D machine control systems.
It features a unique cab-forward design, tapered bonnet and integrated ROPS/FOPS, giving the operator an uninterrupted view to the blade corners and front of the tracks.
This cab-forward design has been achieved by moving the radiator to the rear - which also allows for excellent access to the radiator for easy cleaning, as well as access to engine and transmission components.
Power on the D51EX-22 comes from Komatsu's ecot3 SAA6D107E-1 common rail direct injection, water-cooled, emissionised, turbocharged, after-cooled diesel, rated at 97kW and driving a Komatsu designed and manufactured dual-path hydrostatic transmission.
The dozer is also available as a low ground pressure (swamp) machine, the D51PX-22, which has an operating weight of 13.1-tonnes.
"In addition to being machine control-ready, our D51EX-22 incorporates a number of technology leading features that make it a highly productive, reliable machine," Haines says.
"At 97kW, it has the highest horsepower of its direct competitors, while the high-capacity PAT blade makes it a very versatile machine, working with machine control, or stand-alone."
Other features on the D51EX-22 (as well as others in Komatsu's new small dozer range) include:
Hydrostatic transmission controlled by Komatsu's patented Palm Command Control System (PCCS)
A pressurised air conditioned cab with the same cab damper mounting system as on larger Komatsu construction dozers
Komatsu's just-released Komtrax system as standard
Topcon's 3D-MC2 allows dozers to carry out final trim work at speeds two to three times faster than dozers fitted with conventional machine control systems.
The high-precision hydraulic control software, inertial sensor technology and multi-constellation GNSS receivers that provide more than 100 blade position checks per second allows final trim to be carried out in second or third gear, at speeds of 8-12kmh.
"Contractors are finding that the speed and productivity of a dozer fitted with 3D-MC2 means it can replace a grader for the final trim aspects of a project, delivering accuracies of at least 50mm or better - and at grader speeds," says Mike Milne, managing director of NZ Topcon distributor Synergy Positioning.
"Essentially, it allows contractors to work at grader speed, but using a dozer - plus the 3D-MC2 system is also more accurate than normal GPS; so operators can get to final levels in fewer passes."
Milne says dozers used to be just bulking machines; now they can do bulk work and trimming - and they can keep working in wet weather or poor underfoot conditions because they are on tracks rather than wheels.
Read in-depth machinery reviews in the latest issue of Deals On Wheels magazine, on sale now.
Keep up to date in the industry by signing up to Deals on Wheels' free newsletter or liking us on Facebook.