Hyundai HL780-7A wheel loader
---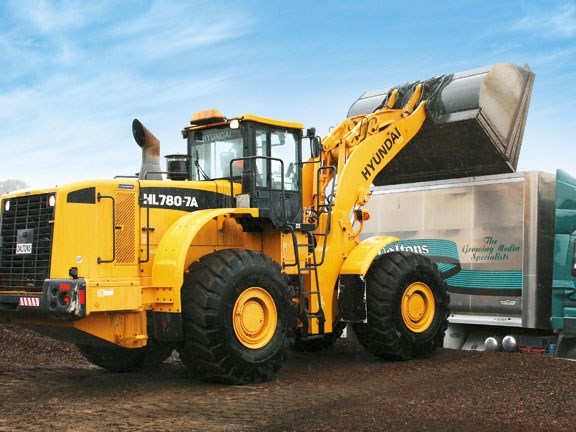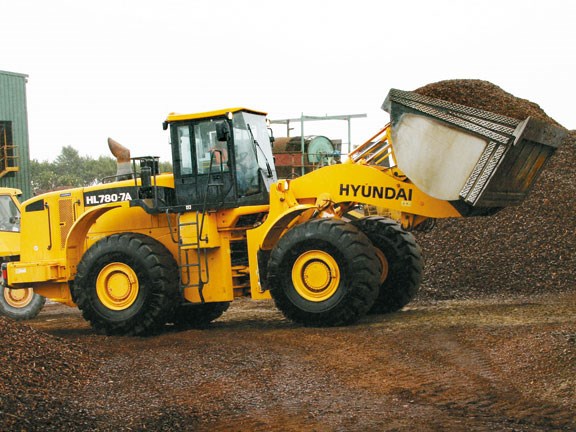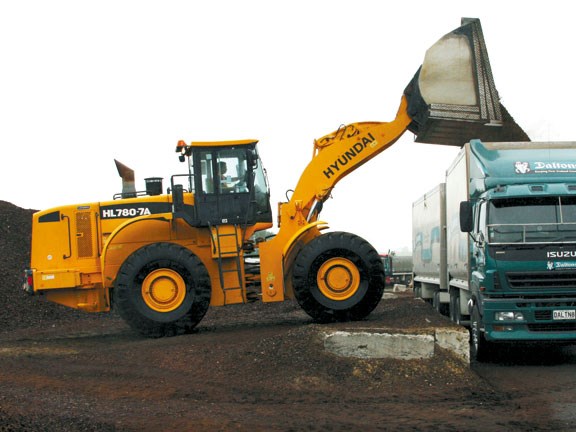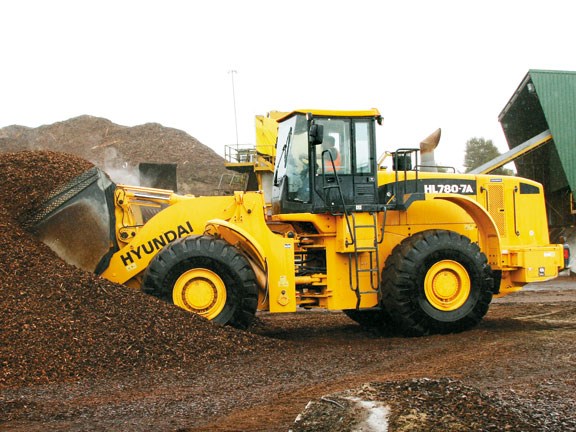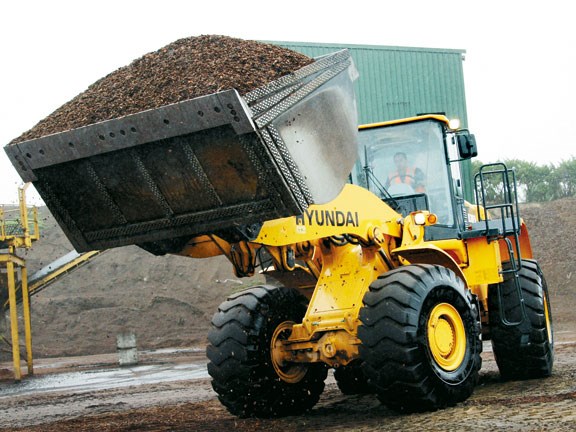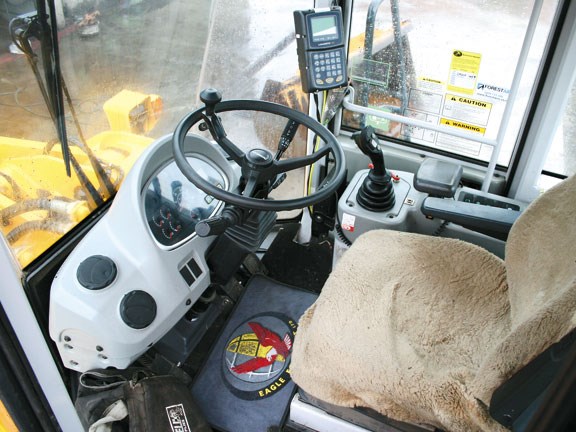 The Hyundai HL780-7A is a 30-tonne wheel loader designed to move loads quickly, regardless of the weather
Easy to use joystick controls
Large bucket capacity
Excellent traction for wet conditions
Soft-ride hydraulics
Smooth automatic gear changes
Able to shift large volumes of product in a short space of time, Eagle Equipment's Hyundai HL780-7A is a 30-tonne wheel loader that is ideal for those big jobs. It is the largest wheel loader in the Hyundai range.
Daltons is a large-scale Matamata-based company that supplies bark, compost and sand to landscape companies and garden centres throughout the North Island. The company runs 18 wheel loaders alongside several other machines on its 28ha former open cast sand quarry property.
Fitted with an oversize bucket, the big Hyundai HL780-7A has a bucket capacity of 7.9m³ level, or 13m³ heaped. The 100m³ truck and trailer unit can be filled with dry bark in approximately five minutes.
Busy wheel loader
While the wheel loaders aren't stressed from lifting heavy quarry rock, they operate 19-hours a day for three months of the year during the busy gardening season, and long hours before spring during annual stockpiling.
"The Hyundai loader will run from 5am until 6pm most days of the week,"
Edgecombe says. "We are here five days during the week and a half-day Saturday. The winters are slow as far as product going out the gate, but we spend a lot of time stockpiling for the spring."
The HL780-7A is also called upon to load the 15m³ compost hoppers, and to turn the compost stockpile rows in between.
Engineering and appearance
With a 3.7m wheelbase, the HL780-7A is a large machine. Once inside the cabin, all-round visibility was excellent so it was no trouble to reverse, and the heated external rear vision mirrors were of a good size too. Inside the cab are two additional rear view mirrors.
Noise was kept to a minimum inside the cab and, with the airconditioning unit, I have to say the Hyundai was really comfortable and easy to drive.
There's plenty of open space inside the cab with a couple of places to put things. The combined analogue and digital dash was easy to read and includes an on-board computer diagnostics system.
Performance and handling
To move off, fit the seatbelt, release the park brake, press the joystick-mounted lower button, then the adjacent toggle switch for the direction you want, and away you go.
Once going, my first impression was the controls were overly sensitive for a 30-tonne wheel loader but, after just a couple of loads, I smoothed out my actions on the joystick, and that made quite a difference.
The soft-ride hydraulics ironed out many of the typical bumps around the yard to make the driving easier, more comfortable and safer on this 29,300kg loader.
We had the HL780-7A in auto transmission mode, so each time I drove into the compost pile and the engine began loading up, I pressed the top joystick-mounted button to change down a gear (or more if required) to gain that extra drive into the stack. I could feel there was plenty of engine and hydraulic power to spare while taking massive 13m³ bites of compost in one hit.
Eagle Equipment territory manager Grant Hawke spec'd Daltons' Hyundai HL780-7A with a vehicle proximity sensor on each rear guard, plus a Groenveld automatic lubrication system to ensure the right amount of greasing is done on the correct points, at the right time. Hawke also arranged the front and rear wheel guards for the HL780-7A.
Behind the rear grill, the hydraulically operated remote cooling fan is linked to several engine related temperature sensors, for the most efficient cooling operation and fuel saving.
Transmission
A top speed of 34kmh is attained through a four-speed 4WD hydrostatic torque converter drive system, with three reverse gears.
All the automatic gear changes were so smooth that I couldn't even detect them. Hyundai has definitely got this right on its latest version hydrostatic transmission system.
Comfortably fast
Barron says it is a comfortable loader.
"I like the seat and anyone can use it with the joystick. I can move an 800m row in 40 minutes. A few years back it took a guy two days to move two rows, the loaders were that small. The truck drivers love it because they want to get home at night, they want to get loaded and gone, not sitting there for half an hour."
Accessories
Even though bark only weighs about 350-400kg per cubic metre, it all adds up when loading up to 100m³ on a truck and trailer unit, especially when wet. Dalton's Hyundai HL780-7A is fitted with a Loadrite Pro load weight sensing device, and the wet loads might come down to 90m³. At the front of the joystick is a button that is pressed with each load to add up the total weight of the truck's load, to ensure weights remain within spec.
Read in-depth machinery reviews inthe latest issue of Deals On Wheels magazine, on sale now.
See a range of used wheel loaders for sale.
Keep up to date in the industry by signing up to Deals on Wheels' free newsletter or liking us on Facebook.