Hitachi ZX360W-3 wheeled excavator
---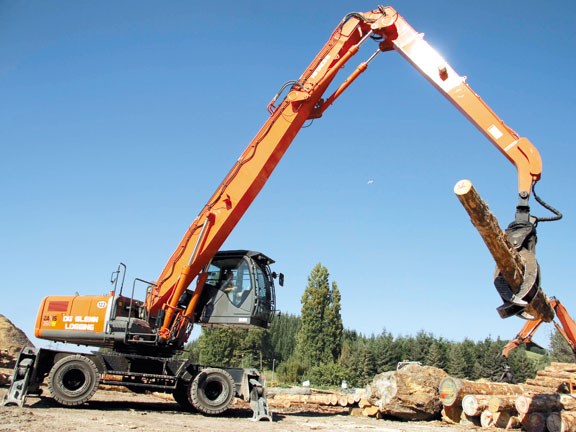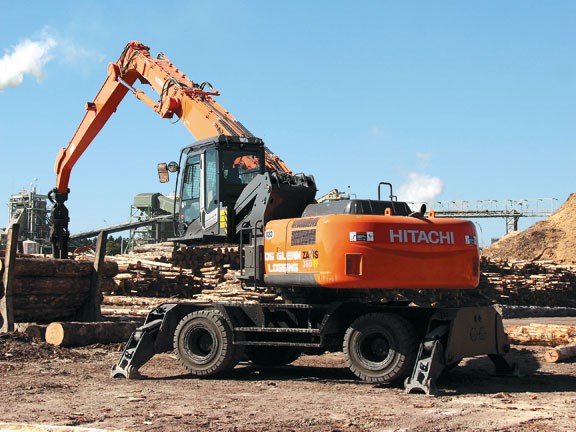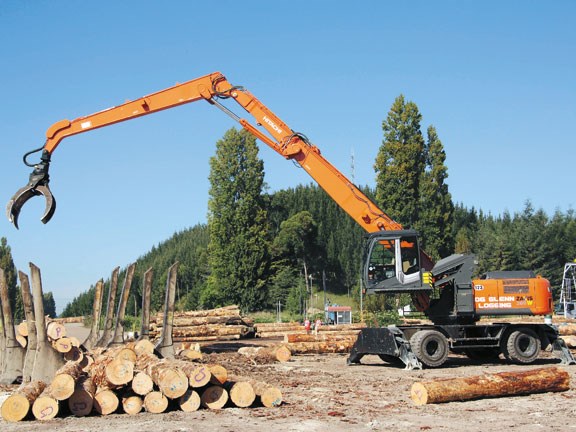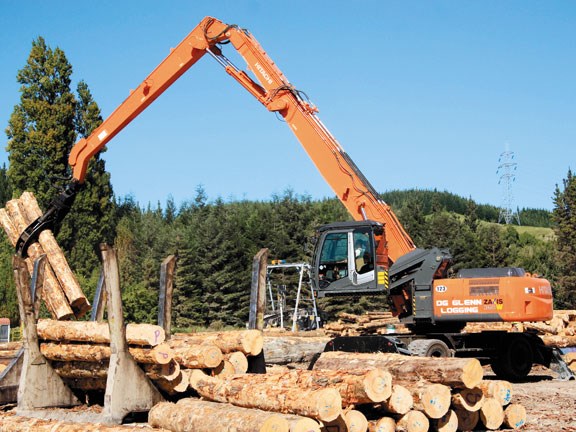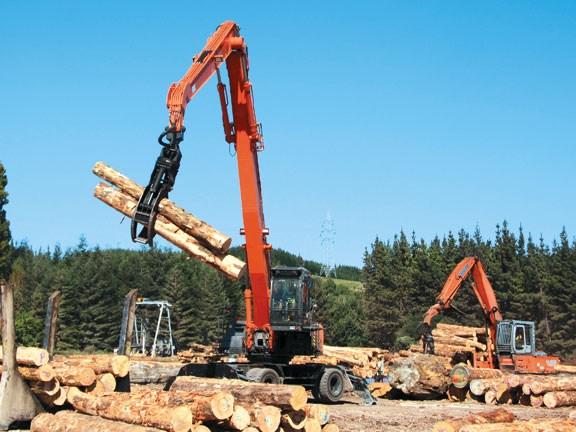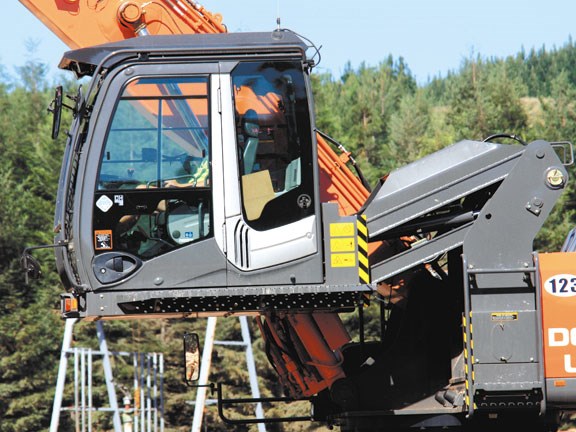 DG Logging reaches new heights with its Hitachi ZX360W-3 wheeled excavator
Versatile
Comfortable cab
Long reach
Solid operating platform
Plenty of power and hydraulic lifting ability
The first 36-tonne Hitachi ZX360W-3 wheeled excavator delivered into the country was purchased by forestry contractor DG Glenn Logging, complete with an impressive 16m boom/arm reach, hi-rising cab and Ensign grapple.
Behind the wheel of the new ZX360W-3 is Matthew Glenn, son of company owner, Dennis. From inside the air-conditioned cabin, which is raised 3m off the ground, Matthew's role is to sort and stack the logs as they come off the QC (quality control) deck. The logs are then placed in bunks for wood going direct to the mill by way of wheel loader, with export logs separated out from there.
The processing yard is capable of averaging 2500-tonne per day when demand requires, with Matthew handling around 60-70% of this.
Operations manager for DG Glenn Logging (DGL), Rob Scurr, says that the rubber tyres don't damage the yard as much as the old tracked EX300, and the mobility of the wheeled excavator makes it a more versatile machine.
"If Matt finishes sorting and loading early the loader can go and do different tasks more easily than a tracked machine.
"It has also got a lot more reach than the last machine, so it means [Matthew] can have more sorts stacked around him and he can run for longer if the wheel loaders don't come and clean him out."
The Hitachi ZX360W-3
Referred to by Hitachi as a "material handling machine" - and suitable for a wide variety of applications - the Hitachi ZX360W-3 weighs in at 36,500kg. It is powered by a turbocharged four-cylinder Isuzu 4HK1X engine and is capable of producing 188hp (140kW) @ 2100rpm.
Fitted with outriggers for a solid operating platform, the highly mobile wheeled machine also features a two-speed powershift transmission and variable displacement axial piston type travel motor, as well as all-wheel drive and oscillating front axles, and is capable of a maximum speed of 14km/h. The two main hydraulic pumps also provide ample swing and lifting power with a maximum oil flow of 236 L/min.
Both Rob and Matthew comment on its power, hydraulic lifting ability, versatility, and frugal fuel consumption of the material handler, and Matthew adds that he has already noticed increased intervals between filling the 500-litre fuel tank compared with the earlier tracked machine.
Boom and arm
With a 9.7m boom and 6.70m arm combination, the ZX360W-3 has a maximum working reach of 16.05m and height of 17.08m, making it ideal for the sorting and high-stacking work DGL chose the machine for.
"Basically, I've got more reach - I'm tidier. The guys on the wheel loaders, they have to come in and clean me out all the time now, and if they don't I can just carry on making new stacks," Matthew says.
Service
Given the complete dominance of Hitachi excavators in CGL's fleet, Rob says there were natural synergies with parts and technical support by sticking with Hitachi for the wheeled excavator/material handler.
"We were pretty keen to be able to get a machine in that all you had to do was hang a grapple off, and everything else was Hitachi parts, so if we have any problems it's easier to deal with."
An operator's view point
From the cabin, Matthew can choose any height that suits him, up to a maximum operating height of 5.9m. He also comments that from an operator's viewpoint, the high-rise cabin is great to work from because it gives an exceptional view of the job site, although the elevated view took a little getting used to.
"I normally work at around 2-3m, but wouldn't necessarily go up to 6m because it's very high and quite nerve racking."
At its full 6m high extension, Matthew says looking down into a loading application you can't really see much, but, "it's great for high stacking".
See a range of used excavators for sale.
Read in-depth machinery reviews in the latest issue of Deals On Wheels magazine, on sale now.
Keep up to date in the industry by signing up to Deals on Wheels' free newsletter or liking us on Facebook.