Doosan DX140LCR excavator
---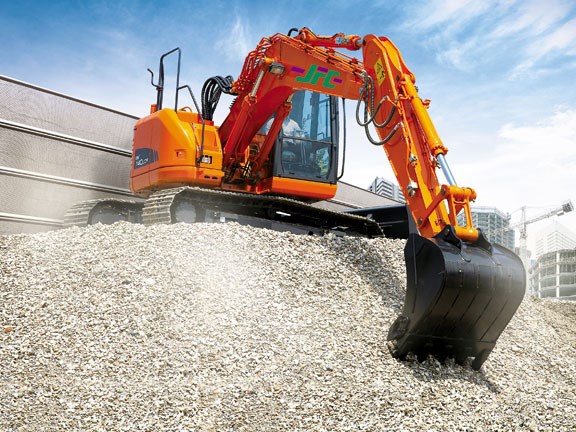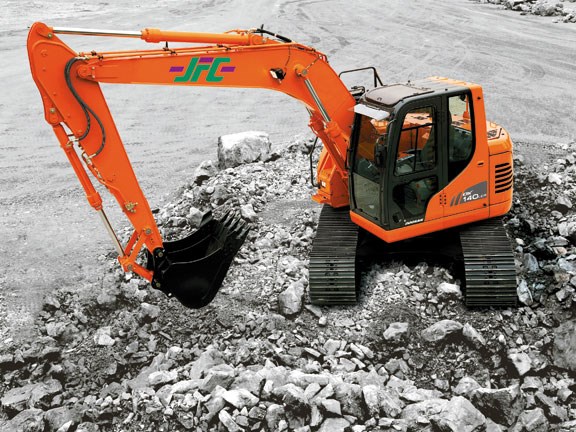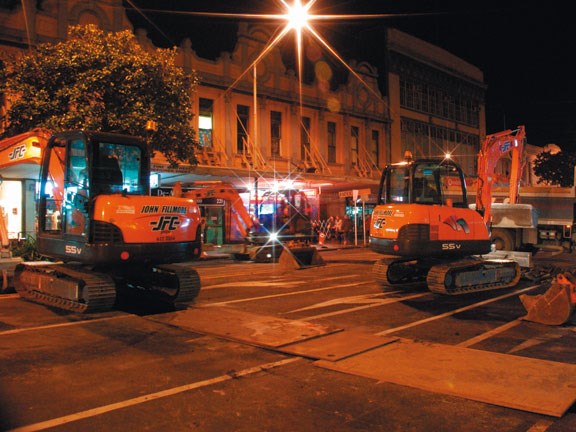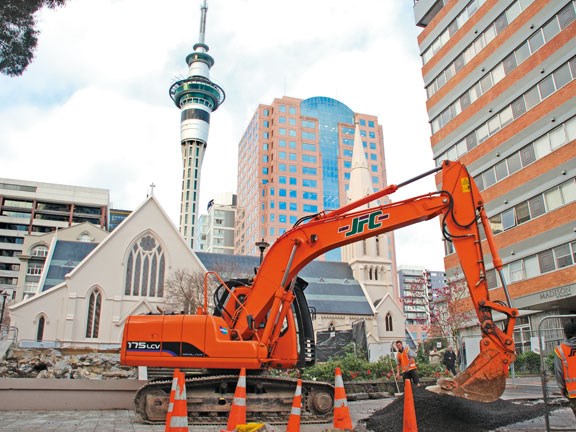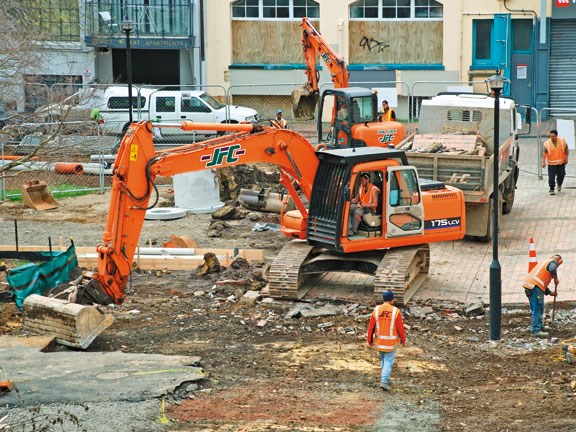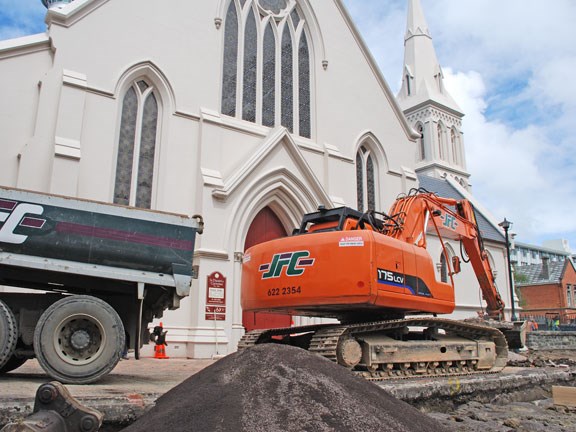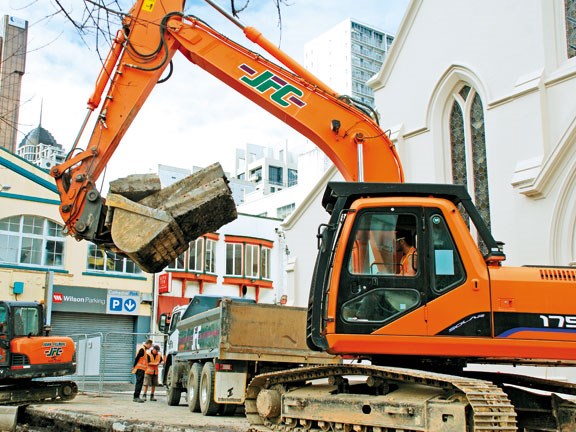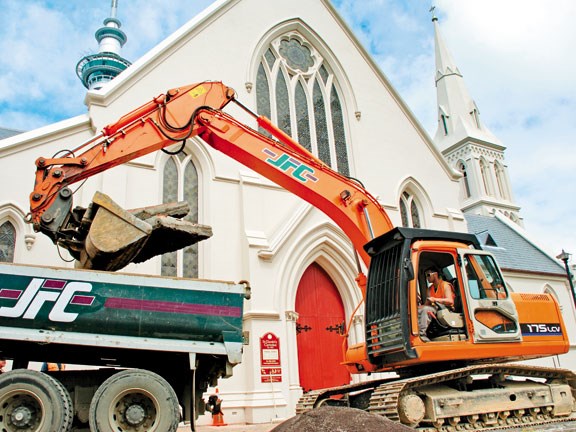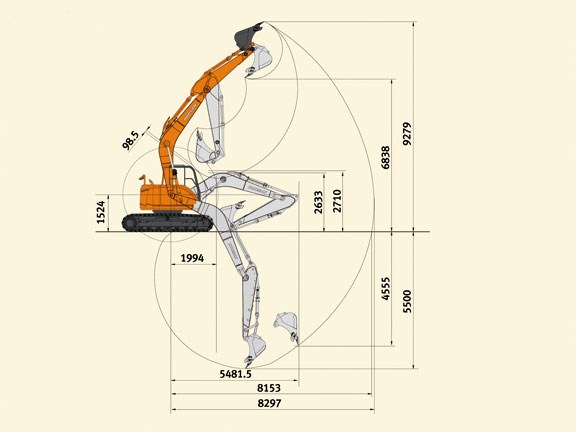 When Auckland construction firm JFC needed to replace two 14-tonne Doosan excavators, the DX140LCR – a new model with a near zero tail-swing – seemed to be the natural progression
Near-zero tail-swing for easy manoeuvring in tight spaces
Curved counterweight to reduce over-hang at the rear
Easy access panels for maintenance
Clear visibility in the cab
Colour control screen
Quiet engine noise
Tier III engines comply with emissions regulations
JFC Ltd is a construction company that undertakes a lot of projects in the Auckland CBD, including parks, drainage and roading. Often working in tight spaces, the company's machines need to be compact enough to work in narrow city confides yet powerful enough to do the job.
With a tail-swing radius of just 1480mm, the DX140LCR hydraulic excavator is ideal for construction in confined city spaces.
"They [the two DX140LCRs recently purchased] have the power without being too big, they tick all the boxes, and the operators love them as they have all the creature comforts and are very well balanced," owner Sam Fillmore says.
Tail-swing radius
A main feature of the DX140LCR is the machine's near-zero tail-swing, which enables it to easily manoeuvre in tight spaces. It is also extremely stable, even when fitted with long front end equipment. In addition, it has a 3/1-tonne curved counterweight that extends around the rear of the cab, reducing over-hang to almost non-existent.
The engine
The DX140LCR has a four-cylinder engine at the rear, rated at 108hp. It has three modes: Standard, Power and Economy. The Standard setting is a mid-rpm (1850rpm) set-up that delivers around 70 percent of the excavator's hydraulic power; Power delivers 1900rpm, with 100 percent hydraulic power delivered with full engine speed; Economy is 1750rpm, with reduced hydraulic power.
Access panels
There are hinged doors on the counterweight that allow easy access for servicing and maintenance and panels on the slew motor and alongside the engine. One compartment houses the battery, fuel cooler and air filter, while the other has the main hydraulic pump and diesel filters. These doors are opened by the ignition key and have no protruding handles.
Cab features
The DX149R's cab is comfortable and spacious. It has a wide doorway, easy to access with grab handles and step, and a new 7-inch multi-function colour monitor. This gives operators clear information regarding engine rpm, fuel level, hydraulic oil and coolant temperatures and also acts as a monitor for the reversing camera.
The cab has a pillar-free window to improve visibility to the right-hand corner.
Safety features
Boom and arm hose rupture protection valve
Overload warning device
Cabin top/Front guard (ISO 10262, FOGS standard)
Travel and swing alarm
Rotation beacon
Lamp on counter weight
3500kg counter weight
Large handrails and step
Punched metal anti-slip plates
Seat belt
Hydraulic safety lock lever
Safety glass
Hammer for emergency escape
Right and left rearview mirrors
Travel alarm
Emergency engine stop
Hydraulic system
The heart of the system is the e-EPOS (Electronic Power Optimising System). It allows the efficiency of the system to be optimised for all working conditions and minimises fuel consumption. The new e-EPOS is connected to the engine electronic control via a data transfer link to harmonise the operation of the engine and hydraulics.
The hydraulic system enables independent or combined operations
Two travel speeds offer either increased torque or high speed tracking
Cross-sensing pump system for fuel savings
Auto deceleration system
Two operating modes, two power modes
Button control of flow in auxiliary equipment circuits
Computer-aided pump power control
Read in-depth machinery reviews in the latest issue of Deals On Wheels magazine, on sale now.
See a range of Doosan excavators for sale here.
Keep up to date in the industry by signing up to Deals on Wheels' free newsletter or liking us on Facebook.