Caterpillar 836G compactor
---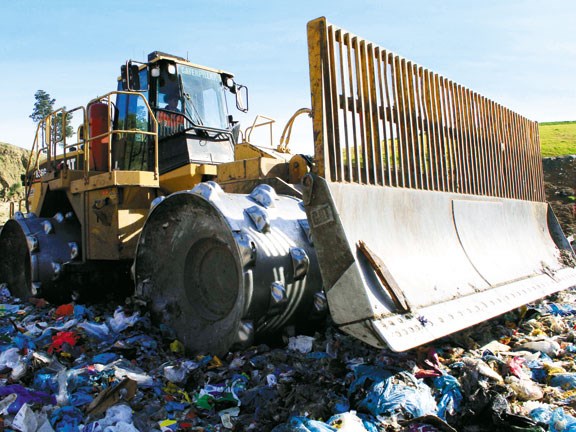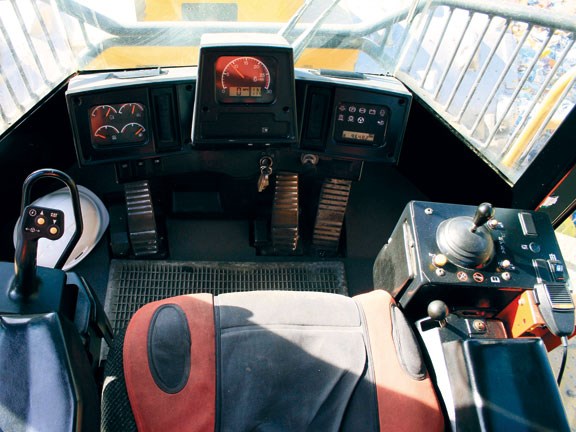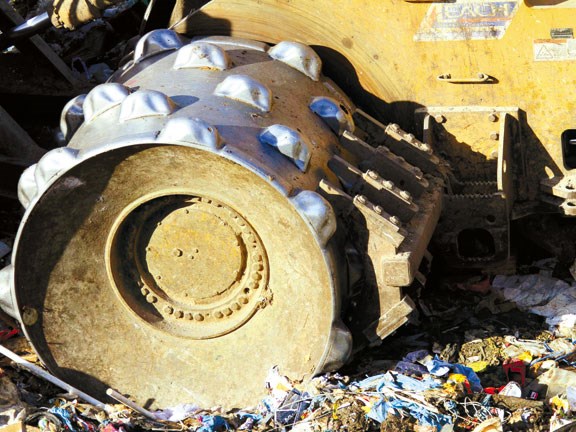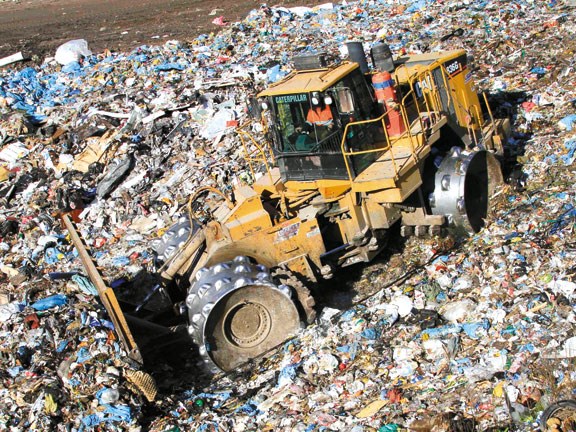 Caterpillar produces a large range of soil, landfill and asphalt compactors, going right up to the biggest, the 836H landfill machine
Relatively simple to operate
Very quiet and comfortable cab
Joystick steering
Massive wheels offer plenty of ground surface stability
Huge weight improves compaction rate
H G Leach & Co Ltd is a Thames Valley company employing 66 full-time staff spread across several divisions. In 2001 it added a modern landfill site to its existing Tirohia quarry, and today its divisions include transport, barging, quarrying, composting, forestry and power generation.
The professionally managed landfill is large, and the base has a special 500mm composite liner to collect leachate, which is treated offsite. At the present rate the softer Breccia rock andesite quarry will be exhausted in seven years; already more than one million tonnes of solid waste has gone into the 8ha landfill - a quarter of its capacity, and a very heavy compactor is required to further reduce waste volume.
Initially, a 27-tonne Hanomag compactor was used but the massive 54-tonne Caterpillar 836G was able to improve the waste compaction rate by 30-35 percent.
Leach's Caterpillar 836G was purchased in 2004 and has clocked up 9648 hours working six to eight hours a day. Its prime objective is to reduce the cubic metre waste in order to extend the life of the landfill.
Performance and handling
Driving the 54-tonne 836G turned out to be a lot smoother than I expected, particularly after looking at the sheer size of the Caterpillar and the massive spikes (called tips) in the wheels.
The large 1720mm diameter by 1397mm wide steel wheels offer plenty of wheel to ground surface area. You can't even feel the effects of those big tips either.
The big Cat steers with a pair of joystick controls - the left one instead of a steering wheel. To move the 836G left you push the joystick over to the left, and push it right to turn right. To drive forward you depress the lower trigger at the front of the joystick, and to reverse you press the upper trigger. Neutral is in the middle, and when driving slowly the transmission let me change direction without having to stop.
The blade rise/fall control is on the right joystick. At the base of the blade control is an unused automatic speed setting, used for large landfill sites.
Inside the large and very tidy lined ROPS cab, the operator's workspace is ultra-quiet.
A pair of Cat-sized large external rear view mirrors gave me a clear view of the rear, backed up by an ultra-wide convex panorama interior mirror.
Initially, I wasn't impressed with the steering lock, until I later thought about the ultra-long 10.182m length of machine, and how easily it could unglued if the steering lock was greater and you happen to be working the wrong way on a slope.
Getting the vehicle stuck is something to keep away from according to operator Stephen Warren. He reckons it's pretty easy to do and a nearby excavator is required to help to extract it.
"The main challenges are its sheer weight and size. It's not something you want to put into a tight spot without having a way to get out!" he says.
Not having a blade tilt makes vehicle placement quite important, although it's easy to move a lot of rubbish with a 5193mm wide straight blade.
"It's a bit hard to try and grade coming off a bulldozer - it doesn't give you enough 'fall', but you do get used to it and learn what you can and can't do. The good thing about this is I can push two or three truck loads at a time - she has plenty of horsepower and low-down torque!"
To prevent general rubbish sticking to the steel wheels, each wheel has a series of dovetailing steel "striker bars" that fit between the wheel "tips".
See a range of compactors for sale.
Specifications
Number of cylinders Six-cylinder turbocharged Cat 3456 diesel engine
Capacity 15.8L
Max power 392kW (525hp) at 1900rpm
Fuel tank 795L
Transmission Two forward and reverse speeds, powershift, all-wheel drive with planetary reduction at each wheel, with 448mm maximum wheel travel
Length 10.182m
Height 4549mm
Width 4280mm, wheel drums
Width 5193mm, at blade tips
Blade height 2222mm
Blade weight 3120kg
Blade capacity 19.8m3
Wheelbase 4550mm
Ground clearance 596mm
Steering Articulated
Turning radius 8737mm, outside corner of blade
Wheel drum width 1397mm
Wheel drum diameter 1720mm
Tips per wheel 35
Operating weight 53,682kg with blade, fully loaded

Keep up to date in the industry by signing up to Deals on Wheels' free newsletter or liking us on Facebook.